Have the freshest free hiking tips sent to you each month!

Buying Used Outdoor Gear:
Advantages
& Disadvantages

by Diane Spicer

Used outdoor gear for hikers can run the gamut:
cruising distressed piles of returned items in going-out-of-business sales

thumbing through jumbled heaps of clothing at yard or garage sales

trolling online for a bargain.
Here's how I buy used hiking equipment.
Note: This is just friendly advice, and of course you will filter these tips through your own "common sense" meter.
Common-sensometer?
Bring it hiking, too!

Where to find
used outdoor gear

If you are new to this hiking thing, before you go shopping be sure to look through my tips for what makes the best hiking gear.
If you've been hiking for awhile, you have a mental, if not physical, list of the outdoor gear that you want, need, or crave.
You can try shopping for discount hiking gear.

But why can't some of that gear on your list be used hiking equipment?
No reason, no reason at all.
But where are you gonna find it?

Here are three places I look when I'm in the mood to try a new brand or a new hiking technique and don't want to commit to brand new, sometimes expensive, hiking gear.

Online used gear deals

Proceed cautiously with your quest for cheap hiking gear in the virtual world.
You can't touch it, try it, or look the seller in the eye.
Therefore, you want clear color photos and detailed descriptions of the hiking gear you are considering.
No photos, no deal in my humble opinion.
Having scared you a bit, go ahead and consider these places for a gear deal:

Ebay can be a gold mine for cheap hiking gear, but be careful to closely examine the photos for signs of wear and tear or damage. You have recourse if the deal doesn't turn out to be such a bargain.




Craigslist can be useful, but it's not as tightly monitored as Ebay so I'd only use it to get a feel for what prices are for a particular piece of used outdoor gear.
If you don't have a clear photo to work from, ask for a new one.
Pay  particular attention to "failure" areas on the gear: seams, zippers, points of contact, anywhere that will be bent or twisted or rubbed.
How will you know
if the price is right?
Look at the price range for a new item.

Then ask how old the item is, how many times and how it was used, whether it's ever been cleaned or repaired, and why it's being sold.

Do a "gut check" to determine if you're comfortable with the price.

Try a bit of haggling, just to see how firm the price is. Offer 10 - 20% less than the asking price, even less if you like to be aggressive.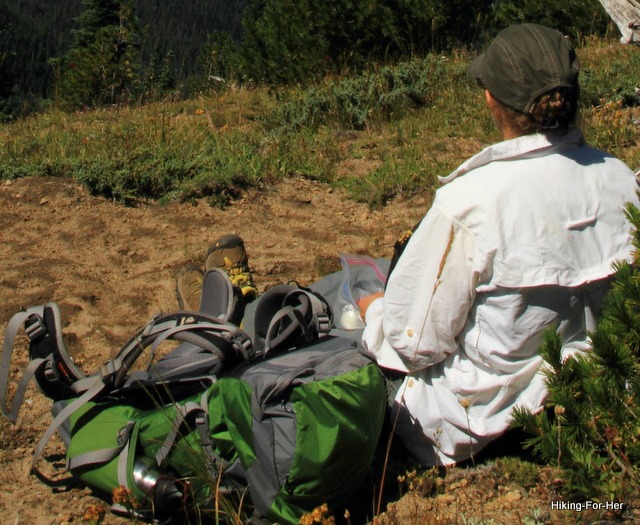 Maybe used outdoor gear is the way to go if you punish your packs like I do!

Hiking gear stores

Gear stores have the best hiking gear (thank you, Captain Obvious).
So it makes sense that they would have a rental department so they can put that hiking gear into the hands of every hiker in the area.
But when that rental gear comes back, it needs to be "end-of-life'd" to make room for newer gear.
And that's where you come in.
Chat up an employee in the rental section and ask what happens to that used outdoor gear.
The answer may be periodic sales, where you will behold a vast array of cheap hiking gear that you can pick up, try on and examine for flaws.
Or you may hear that they dump the gear at particular second-hand gear stores.
Which you will head to immediately, right?
Be sure to buy your "informer" a cup of coffee for the great insight!
Interested in a "best used gear stores" list for the U.S.?
Used gear websites

REI Co-op sells their lightly used and returned clothing and outdoor gear at a steep discount.


That's a great move for keeping stuff out of a landfill, & it's great for you!

Check out their pre-loved gear when you're on the hunt to fill in that hole on your gear list for an upcoming hiking trip.

Or when you're just starting out on this adventure called hiking!

Read about the 14 member rewards that are yours when you join this gear cooperative, including an annual rebate on your purchases.





Another approach to selling
used outdoor gear

Not surprising to know that some folks make a living by gathering up used hiking gear and selling it to other hikers looking for a bargain, right?

The best website I've found is connected to a Canadian outdoor gear co-op that I joined many years ago: Mountain Equipment Co-op.
They call it their community gear swap, and you'll call it an easy way to hunt for used gear.
This co-op is right upfront about "buyer beware", but is committed to recycling used outdoor gear on its website and taking a chance on the honesty of its sellers.

Be sure to read through their tips for buying and selling outdoor gear, as well as their rules for using the gear swap.
Another website that merits a look is GearTrade.
This site carries the Better Business Bureau logo, and if you click on it, you can see their track record for customer complaints.
One more idea

There are very few places that offer ridiculously low prices for outdoor gear, sometimes rivaling used outdoor gear prices.
SteepandCheap is my go-to place when I'm considering used gear but just can't find it using the methods outlined above.
The thing I love about this store?

Sometimes they can match, if not beat, used prices.
Heed this advice, too

When you buy used outdoor gear, you inherit other hiker's problems.
And carrying a gear repair kit becomes extra important when you're using gear that has already seen some trail miles.
A few tips before you go
gear shopping...

Trusting people is one thing.
Jumping in blindly to a used outdoor gear deal is another thing.
If you're going to part with your money, be sure you can file a complaint, and be heard, if something goes wrong.

Look for a mechanism to make a deal gone wrong with this unscrupulous used gear seller publicly available to future buyers.




Pay attention to rating mechanisms to get a feel for how often the gear doesn't match the description or photo posted by a seller.

If you're going to meet the seller, do so in a busy public space. Consider bringing a friend with you, or at least letting someone know where you are.



You might want to skip the unknowns in a bargain hunt by buying used outdoor gear directly from a trail buddy or hiking club member.
REI Co-op is also reliable and has good customer service.

One more place to hunt: local schools that rent gear to their students, and need to turn it over regularly due to storage space constraints.

Happy Bargain Hunting
Use these tips to sell your own used
hiking and camping gear, too!

Home page > Best Hiking Gear >
Used Outdoor Gear
Some of the links on this website take you to great outdoor gear and clothing that will keep you safe and happy on the trail.
When you purchase through these links, Hiking For Her may receive a small percentage of your purchase total, although it costs you nothing extra.
Didn't find what you were looking for? Use the blue TOP button
on the right to jet back up to the search box.
Why wait a whole month?
Plus, there's never enough room in the newsletter to share it all, so why miss out on exclusive Hiking For Her giveaways, limited time gear deals and discounts, freebies, updates, and more?

A short, info packed weekly email update will keep you current on all things hiking!
When you sign up to receive this update, you are agreeing to Hiking For Her's privacy policy.

Don't miss out!

Read more about these hiking weekly updates
HFH Policies


Save Time & Money


Hiking For Her's weekly emails keep you current on hiking & backpacking news:


flash giveaways
timely deals
steep discounts
freebies
trail changes


resources

Free, fast, fun info for you, every week of the year