Enjoy Happy Trails, the free monthly newsletter from Hiking For Her.

Receive a free resource: Hiking Layering System Explained

Hiking Kids:
What Do They Need
To Hit The Trail?
by Diane Spicer
Great question, right? What exactly do hiking kids need from the adults who take them hiking?
Motivation, for starters.
Why do kids hike?

Kids hike because...

Adult family members value hiking and want to instill trail values like persistence and goal setting.
Staying active is a family goal, and hiking fits into the exercise plan.
They are part of organized outdoor time: Boy Scouts, Girl Scouts, Campfire Kids, church groups, schools. Maybe gaining hiking skills is secondary to the social activities, but who cares? These hiking kids are soaking up trail wisdom through their pores.
They attend summer camps that may emphasize hiking and outdoors skills. If you use hiking trails near the camps, chances are you will bump into kids hiking to/from overnight adventures or day hikes.
Hiking kids have lots of off-the-leash unscripted fun, so different from day to day schedules.

Some kids like to run ahead and scope out the terrain

Best gear for hiking kids

If you've read this far, you have an interest in kids on the hiking trail, regardless of why your kids are interested in hiking.

So let's get down to the nitty gritty of hiking gear for kids, beginning with backpacks.
You want safe, happy little ones!

Hiking backpacks for kids
You can't put an adult pack on a child sized body.
Well, you can, but you're defeating the purpose of the pack and setting up a conflict of interest between gravity and young bones & muscles.
A large backpack encourages overfilling. Too much gear = too much weight on developing hip and knee joints, not to mention the spine.
I think it's a good idea to have the kids carry their own water and food, but probably not much more than that until their bodies have the strength for it.
When that occurs differs with kids, but keep in mind the epiphyseal (growth) plates at the ends of the long bones. If the child is continuing to add height, the plates haven't fused.
So don't put too much stress on the leg bones by carrying an overloaded pack.
For some pointers on how to select a backpack, check out my suggestions here.
For tips on selecting the right girls backpacks, start here.
Boys backpacks? Gotcha covered here.

Or maybe a
lumbar (fanny) pack
might be the best way to start with really young or small framed kids.
Best places to shop for kids backpacks

Many gear companies are catering to hiking families.
Some of the gear is too cutesy to be of much use for anything beyond a short day trip over flat ground. But some of it seems durable, and worth a look.
REI, a well run and reputable gear coop, is a good place to start looking at kid's backpacks for straightforward day hikes. They offer a generous return policy, as well as a platform to buy and sell used gear.
Not a member yet? Look at dozens of rewards here.

You will want more advanced features for backpacking trips, such as
waist belts,

sternum strap,

mesh panels to divert sweat and heat away from the back,

adjustable straps so the pack can grow with the child, and

lots of pockets for storing "treasures" found on the trail.

What to put on their feet?
Next up: foot wear.
Sore feet create cranky hiking kids, which in turn creates stressed adults.
Don't get on the trail with anything less than supportive footwear.
No flip flops,

no gym shoes,

no bare feet,

no street shoes without arch support,

no too-big hand-me-down hiking boots.

No kidding!! (as in no kids will go out on the trail with you again)
If you're serious about creating happy hiking kids, please heed my warning. Foot wear will make or break your attempts.
Blisters, bruises, rubbed raw spots - they hurt you, right? Imagine how much pain they inflict on small feet whose bones are still developing!
Check feet often, keep toenails trimmed, and nip trouble in the bud with some first aid.
Visit REI and Backcountry and SteepandCheap to look for sales and bargain bin pricing on everything for the trail, but footwear in particular. I feel your pain of watching kids outgrow perfectly good shoes.

Other discount hiking gear as well as used gear are also options for you.
Other hiking families are usually great sources of information, too.
And don't be shy at trailheads or when passing families on the trail - ask for advice and feedback on the gear they are using.
The right socks are
just as important as boots

And please don't neglect to put the appropriate socks on your kid's feet.

You want hiking kid's feet to be comfortable, so avoid socks which are too bulky or hot.
And there should be no chance of rubbing against the foot wear with each step.
Need a little hiking sock info?
Blister prevention tips here.

Outdoor skills hiking kids need

Once everyone is wearing the right stuff and motivated to hit the trail, there are some basic skills to impart to them.

How to make water crossings fun and safe

When my kids were little, I brought along (or they carried in their packs) water shoes like these on most hikes.
Once we reached a stream crossing or a lake, my son and daughter got a chance for a little soothing hydrotherapy cleverly disguised as play time.
I don't recall even one case of blisters on my offspring's feet, so I'm hoping that my advice makes sense to you.
But they didn't wear these shoes for hiking (see footwear tips above).
Read about safe water crossings here.

Keep the kids hydrated
As I mentioned above, I'm in favor of hiking kids carrying their own food and water. But I didn't say it had to be boring.
Water bottles come in a dizzying array of colors and styles.
You can personalize them, too, which appeals to younger kids.
Or you can purchase a water bladder (hydration system), if the back pack accommodates it (most do).
Some kids are thirsty all of the time, and stopping often for water breaks takes the whole group out of a pleasant hiking rhythm. So a bladder may be the way to go.
Keep an eye out for BPA as an additive to plastic bottles. I'd recommend metal bottles - they dent rather than crack if they happen to slip out of small hands.
Trailworthy clothing choices for kids
Clothing for hiking kids is pretty basic.
If your child is at all outdoorsy, you probably already own sturdy pants, shirts and jackets.
Just be aware that some clothing is wind and rain proof, others not so much.
Educate yourself about the distinction between "water repellent" and "water proof" - it may become very important if you have to hike back to the trail head in a driving rain storm.
Clothing should be loose fitting to allow full range of motion for arms and legs.
Carrying a change of clothing for puddle-face-planting-prone kids is also a great habit to get into.
Hats are a must-have item for blocking excess solar radiation, biting or stinging insects, wind or rain.
Tip: Bring a change of clothing for each kid to ensure happy trails.

Sunscreen and insect repellents need to come along on every hike.
But you already knew that, you smart hiker!

Hiking nutrition for kids

Hiking nutrition depends upon the preferences of developing taste buds AND good understanding of how important hiking nutrients are for growing bodies.
I'm not going to lecture you about good food choices.
But keep in mind that your child's body is working a lot harder when out on a hike.
Supplying a steady stream of energy in the form of complex carbohydrates is going to keep your child in a hiking frame of mind.
Avoid candy bars (simple sugars, laden with fat) because they lead to a "crash and burn" cycle in terms of blood sugar.
Instead, go for dried fruit (raisins, apricots, raisins, cherries, blueberries, pineapple, papaya). Young taste buds can be trained to enjoy the sweetness and not miss the refined sugars at all.

Experiment with the kid energy bars on the market, but be forewarned: they run sweeter than the adult versions, so sample them yourself.
My kids never had much attention span for a lengthy lunch during a hike. They would eat a little, just enough to kill their hunger pangs, and then be off exploring.
So I knew I needed to sneak in a big bunch of nutrition in a small space.
Sandwiches didn't work.
Instead, I packed small chunks of cheese, chicken, and fruit in small containers.
Off came the lids.
A little smorgasbord was spread quickly on a convenient log or rock.
I relaxed as I watched the nutrients being efficiently uploaded into the little gastrointestinal tracts (sorry for the biology lingo, it's just the way I'm wired).
I also encouraged my hiking kids to carry snacks in their pockets.
They were in charge of how much, and how often, to eat.
Selecting the ingredients from the bulk bins at grocery stores gave the kids a sense of power over what their particular hiking snacks were going to contain.
Choices varied from season to season, year to year.
Of course, Mom had veto power over any unwise bulk bin choices! She who pays is the decider!

Lunch time!
Food as fuel is very apparent when hiking with kids.They hit the wall faster than you do.
So make lunch time a special event.

Lunch sacks can be something simple like a brown paper bag with stickers on the outside.
This can be decorated by busy little hands while you're making sandwiches the night before.
I found that the more I involved my hiking kids in the planning and preparation process, the better they liked trail time.
You can also let your kids select their favorite hiking snacks to tuck into a backpack pocket.
Make trail time more fun and safer, too

Gear is important to an enjoyable hiking experience.
But so is knowledge.
Talk with your hiking kids ahead of time about what to do in case of an animal encounter, sudden weather changes, or other unexpected events.
You might not have time in the moment to give clear instructions such as "never run from a cougar".

If your child knows ahead of time what to do, it may save a life.
Consider what would happen if you were to be separated from your child.
Would s/he know what to do to stay safe? Spend some time going over the basics.
I don't think it's too much of a stretch to train your hiking kids in basic first aid, starting when they're in lower elementary grades.
The higher their comfort level with putting on band aids or cleansing a wound, the easier it will be for you to take care of their needs.
Or yours, should an unforeseen event occur.
Give your hiking kids a heads up about poisonous or venomous plants, animals, and insects which could be encountered on the trail.
Little curious hands should know better than to pick the glossy leaves of poison ivy, or to reach under a log in snake country without looking first.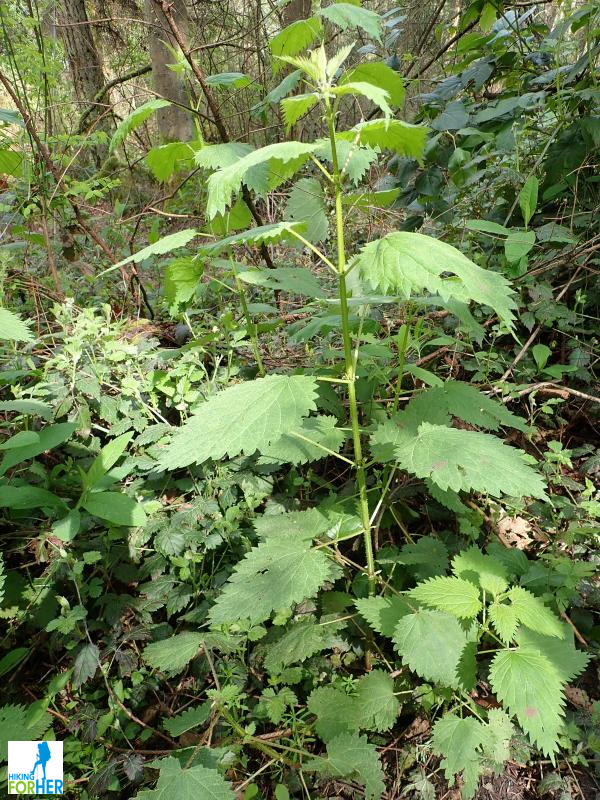 Teach your kids which plants to avoid, like this stinging nettle that can tower over a little one's head

A fun family project
Make it a fun family project to put together a family first aid kit to ride along in an adult's backpack.
My kids always enjoyed carrying a few "special" band-aids in their pockets, Scooby Doo for my daughter and Sponge Bob for my son.
More trail tips
for hiking with kids

Carry a few diversions in your pack, for when you need to buy just a bit more trail time.
Here's a

great optical tool

you can turn the kids loose with - magnify lichens, moss, pine cone scales, bugs, marmot poop for endless fun!
Say you need to cover another half mile to a planned camping spot, or there's still a mile to go back to the trail head.
Pull out a small surprise, to occupy small hands and minds.

A new taste treat always worked with my daughter.




My son preferred a mental diversion: a word game, an I Spy sort of game, or hearing a story made up on the spot as we hiked along.
And don't overlook the power of just observing what is in front of you.
Watching a bug crawl up a log could take hours!
It's often the adults who get restless, so channel your inner mindfulness and enjoy the show.
Make the most of your
outdoor family time
Pay careful attention to the questions your kids ask you on or about the trail, and use them as opportunities to open up new doors.
How about a memory games with an outdoor theme?
Building memory skills will pay off at school, too!
If they're old enough to read, provide a few field guides to pique their interest. Select some with great photos, and make it a game to find the "real thing" on a hike.
And just between you and me, kids who hike have better eye-hand coordination and balance than "city kids" with limited exposure to the outdoors.
Let them balance on that log, or do some rock hopping.
Builds strong muscles, too.
As kids get older, their interests and gear needs change.

For some tried-and-true gift suggestions for hiking kids, try these.
Discover The Forest has a nice resource page for activities, give it a look here.


Hiking kids are magical!

Hiking kids are a welcome sight on a trail. I always grin when I see them.

Although I love meeting families in my wanderings, sometimes I cringe at how unprepared they seem.
It's a fact of the trail that you cannot predict what's going to happen, no matter where you take your children.
But take some time today to prepare your hiking kids mentally and physically for tomorrow.
Then relax and watch the magic of trail time happen in your family. The great memories are priceless.
And if you'd like to share your favorite family trail, it would be an honor to see your photos. It's easy to do right here.

Hiking With Kids
Most of the links on this website are informational, but some are affiliate links. What does this mean?
If you purchase through the links after examining the products, you don't pay anything extra. But Hiking For Her receives a tiny percentage of your purchase price.
This is a good thing! It keeps lots of free hiking information flowing to you. Thanks for your support, it means a lot.
Hiking For Her: Hiking tips you can trust!