Enjoy Happy Trails, the free monthly newsletter from Hiking For Her.

Receive a free resource: Hiking Layering System Explained
Discount Hiking Backpacks:
Best Deal For You?

by Diane Spicer
Discount hiking backpacks - just another way to say cheap backpacks right?
Wrong.
There's a big difference between a great discount and cheap hiking gear, and I'm about to share it with you.
Discount hiking backpacks
versus
cheap hiking backpacks

When backpacks are discounted, they are usually end-of-season and will sit around gathering dust if they don't find their way into a hiker's gear locker.
When backpacks are cheap, they are made of inferior materials.
This just makes sense, doesn't it?
Which one should you buy?

There are perfectly legitimate reasons to buy as cheaply as you can.
And there are compelling reasons to make an investment in high quality hiking gear which stays with you season after season, such as a backpack.

Discounted gear
You should buy a discount backpack when you:
don't really care about a particular brand or set of features;

are just starting out as a hiker and aren't sure which

types of hiking

you'll stick with;

find yourself in a jam and really, really need a backpack - and the discount pack is the only one that suits;

like to swim against the current and shop for backpacks when snow drifts tap against your window;


are a bargain shopper; saving money makes your heart sing.
Cheapest hiking backpacks
You should buy a cheap backpack when you:
are on a tight budget and can't squeeze an extra cent out of your wallet for a higher quality backpack at this time;

need the pack for only one hike (or hiking trip) and won't be using it again;

are buying it for someone who isn't greatly interested in hiking and will probably only wear it once;

know the pack is likely to get trashed, lost, stolen or shredded by wild animals (!).
Where to find
good discount backpacks

Every reputable gear store, whether on line or "real", has a bargain bin section.
Words and phrases to watch for:
outlet

deals

mark downs

clearance

save up to _%

coupons

rebates

discounts

just reduced
Here's an example of a long list of deals at REI Co-op.

My favorite places to apply my detective skills, using that list of words I just shared, are found at the bottom of this page under "save money".
Why do I love them as sources of discount hiking backpacks?
More shopping tips
for discount backpacks
Sometimes you have to "join" to get the best discounts, like with The Clymb.

Only you can decide if being on an email list is worth it.

Best advice for hunting for the perfect pack?

Is cheap really
so cheap?

By now you've been on Planet Earth long enough to figure out that you get what you pay for.
This is starkly true with hiking gear.
You're putting your safety and comfort on the line whenever you put your feet on a hiking trail.
Why take chances with a sub-standard backpack (or any other hiking gear) that will fail to perform?
And if you score a cheap deal but have to replace the backpack, add those two costs together, multiply by the inconvenience, and see if your bottom line comes out ahead.
Can you tell I'm not a big fan of cheap low quality backpacks?
Re-read the reasons for buying one (above), and then make your decision about whether or not to "invest" in one.
Because you're buying way more than a cheap backpack - you're buying your ability to carry the ten hiking essentials to keep yourself safe.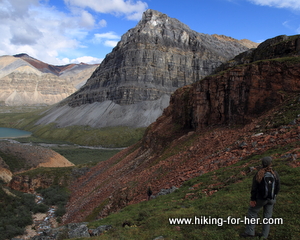 Hiking backpacks -
a few tips for selecting one

I'm guessing you're reading this page because you're on the hunt for a hiking backpack (yes, I realize I'm a genius).
(Ha!)
So here are a few thoughts on how to buy discount hiking backpacks, based on decades of shopping experience with full price, discount and cheap gear.

Please don't purchase a pack based on price alone.
You should also consider these variables.
Also, be really clear about how you're going to use the backpack:

protecting important survival gear from the elements

hauling around your electronic devices

minimalist hiking needs like carrying food and water

dual duty: for work or school, plus hiking

dual duty: airline carry on pack, plus hiking
You won't regret putting a little thought into your selection of the best hiking gear for your needs, I promise!
And once you have your perfect backpack, use these tips on the best packing techniques right here.

Home page > Best Hiking Gear >
Discount Hiking Backpacks
Hiking For Her: Hiking tips you can trust!