Have the freshest free hiking tips sent to you each month!

Packing A Backpack
In 3 Easy Steps

Packing a backpack seems like a no brainer.
Just dump your heavy hiking gear in the bottom, and light stuff on top.

Or maybe the least used gear on the bottom?

What about bulky but lightweight gear like a tent?

And where should the food go?
Hmm, perhaps there's a bit more to packing a hiking backpack than you'd first think.
Need some tips on how to buy the best backpack for your trip? Read this.
Wondering if you've got all of the best hiking gear?
Now that these questions are out of the way...

how to pack your backpack pointers, in three easy steps.


Packing a backpack,
Step One: reduce volume

The very first step in learning how to pack your backpack might be counter-intuitive: lay out all of your backpacking gear in a circle around you.
To be really precise, a pre-step in packing a backpack is to go over all of your gear to look for rips, abrasions, non working zippers or fasteners, or anything else that would cause you trouble on the trail.
Think beyond good weather scenarios, to determine if your gear would stand up to wind, rain, snow, extreme heat or other conditions.

You'll notice that some of your hiking gear is bulky (jackets, sleeping bag, tent), some of it is a fixed size (cook pots, stove, water bottles), and some of it is "stuffable" into the nooks and crannies of your pack.
To reduce the volume of your gear as much as possible as you're packing a backpack, use stuff sacks and compression sacks.
Make the decision about water repellency -vs- water proof based on your hiking destination. 


Not only different levels of weather resistance, but different volumes, will be needed as you develop your taste (craving?) for outdoor adventures.
Stuff, compression, dry bags - 
  what's the difference?

To answer that question, let's look at some examples of each of these storage options before you begin packing a backpack.
STUFF SACKS:
Stuff gets stuffed into your stuff bags, you pull the draw string closed and lock it with a plastic cord lock, and voila! everything is in one neat, compact parcel.
Now you can stuff it into your pack wherever it will fit.

But there's more to it than that.

You can go two ways with purchasing a stuff sack:
1. Inexpensive, relatively durable, reasonably water repellent and available in various colors and volumes like these stuff sacks,
2. Just a bit more costly but ultralightweight (meaning less fabric and therefore a higher probability of tearing) and weather resistant, made of sil nylon with reinforced seams that can take the punishment of being used as a food bag ("bear bag" hanging from a tree) like these stuff sacks.
Both of these examples have something you really want: a pull handle on one end to help you pull out your gear.

You can also attach a carabiner to the pull handle to hang it.
COMPRESSION SACKS:
To reduce the volume (i.e. squeeze all the air out) of your hiking gear such as sleeping bags and hiking clothing, you will absolutely want to use compression sacks.
Reduce the volume, save room in your pack!

Compression sacks are different from stuff sacks because they have at least 3 straps that run from one end to the other, with a handle on each that you pull as tightly as possible.
This shrinks the volume of the bag by forcing out air.

Cinching down the straps keeps the air out and reduces the volume by up to one third.
Water repellent compression sacks like this one are good enough if you're going to keep the sack inside of your backpack or tent at all times.
Step up to water proof compression sacks like these if you absolutely want to remove the possibility of moisture.

I use three different volumes (color coded) of compression sacks on my trips to segregate my socks and underwear, bulkier clothing, and sleeping bag.
DRY BAGS:
Let the name reassure you that whatever you put into it - food, socks, maps, electronics - will stay dry.
But expect to pay more for this reassurance, because the materials need to be durable and able to omit water under tough conditions.
In my humble opinion, investing a few more dollars into a dry bag gives me peace of mind as I'm packing a backpack to head off into the wilds.

I always double bag my camera or other electronics even in a dry bag, but that's just me. Trust only goes so far, right?
These dry bags make great food storage bags that you can hang easily with a D ring on one end, or a carabiner that you bring along.
You don't need a compression dry bag for food (crunch!), but one like this will make sure your nutrients don't rehydrate spontaneously in a downpour. It has a vent that helps drive air out, sparing you the indignity of kneeling on the bag.
Not sure about food handling precautions at your campsite? Here's good advice.
Be sure to turn down the top on a dry bag at least 3 times to ensure a watertight seal, and keep it away from sharp rocks.
Random tip: Always have at least 2 carabiners clipped onto your pack. You never know when they'll come in handy, but they will, trust me!
For a compression dry sack that is as lightweight as possible, try this one. It makes packing a backpack even easier.

Step Two: what goes where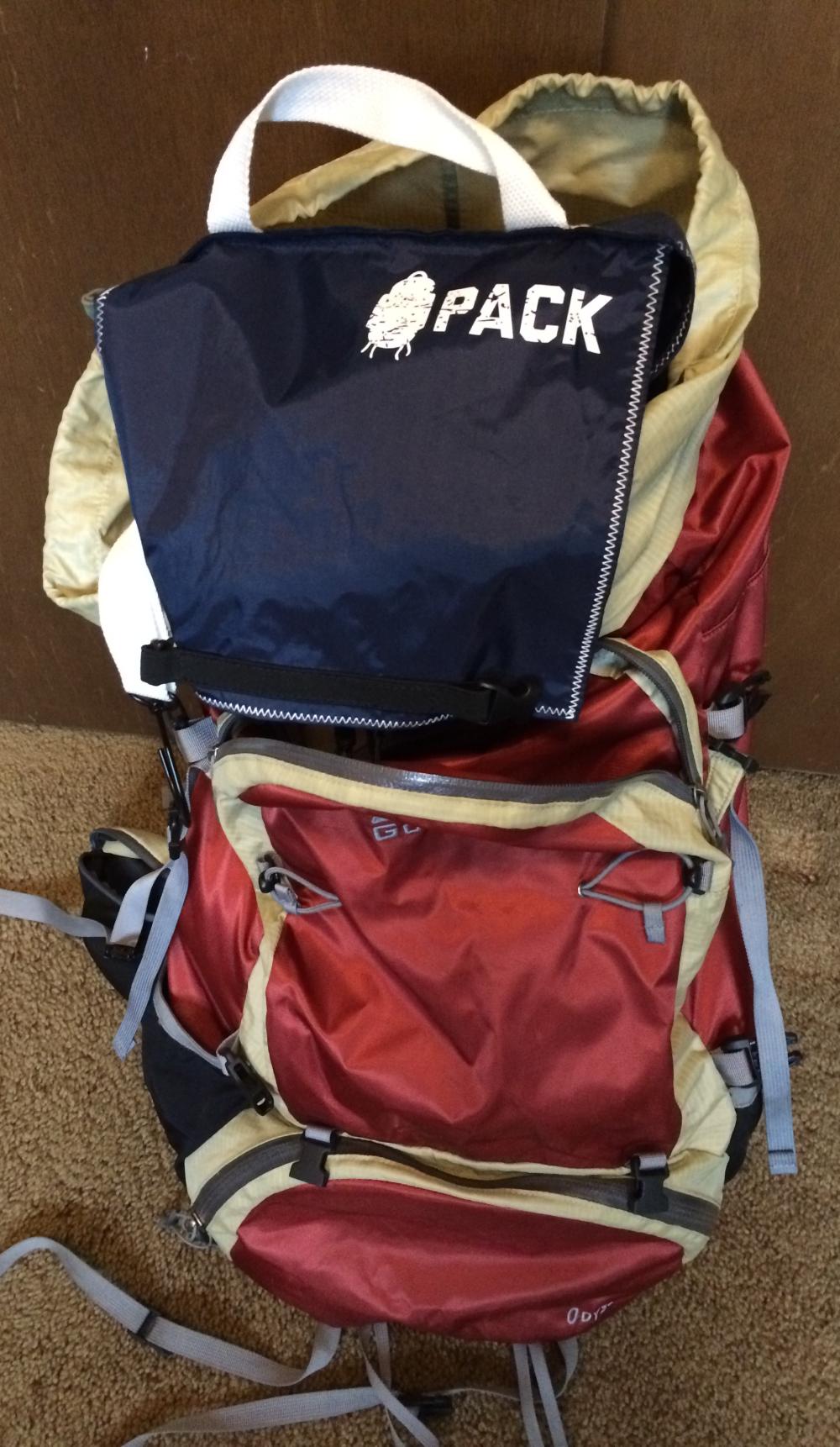 Now that you've tamed your volume problem, turn your attention to putting your gear into your pack.
We'll assume that you have a top loading backpack, and that you're packing a backpack at home rather than at a campsite.
Your spine is what's most important here. Use it as a point to steer by as you are packing a backpack.

Drop your lightweight but bulky sleeping bag (in its weather resistant compression sack, right?) into the bottom of your pack, away from your spine.




Pack other light items around it on the bottom of the pack, things like cook pots, stove, fuel bottles or extra clothing in smaller stuff sacks. Make use of every nook and cranny, especially in your cook pots.

I keep my "sleeping clothes" (clean long underwear top and bottom, clean socks, wool or fleece hat) in a small stuff sack at the bottom, too.




Now shift your attention to your center of gravity - the area closest to your spine. Heavy items like food and water (hydration reservoir) should be layered above that bottom layer near your back.




To keep these heavier items from shifting, stuff more clothing or your tent/rain fly/tarp around them. Decide if you prefer the convenience and organization of stuff sacks, or want to stuff "free form".




Always segregate your fuel bottle from your food: fuel at the bottom, wrapped in plastic, just in case of a leak.




If you use a

collapsible sleeping bag pad like this one

, you will attach it to the outside of the pack with straps when you're all done packing a backpack.

If you use an

inflatable sleeping bag pad

, you can use one of the external pockets for storage, or stand it up lengthwise inside the pack if it fits. If it's really tiny, it rides along with your sleeping bag at the bottom.

The large top zippered pocket(s) will hold your frequently used gear such as maps, compass, GPS, trail snacks, hat, gloves, bandanna, lip balm, sunglasses and sunscreen.

Smaller pockets hold your first aid kit, bug repellent and head lamp -  items you hope not to need but want to get to fast when you do.




Store your very small

personal hygiene kit

in a zippered pouch inside a zip locked plastic bag to minimize odors. Always stash it with your food in your "bear bag" outside of your tent. Note that toothpaste is really smelly and therefore enticing to bears, so consider using baking soda during your trip.


Also have your rain gear handy in an external pocket if the weather is unpredictable. Don't be the hiker digging through the backpack in a downpour, getting everything wet and

risking hypothermia

.

Decide where tent poles will go: inside the pack, in an external pocket lashed down tightly, or under the top lid of the pack (not recommended).

Ditto for hiking poles, although it's easiest to put them, tips up, into an outside pocket so you can grab them fast.




Don't neglect to snug up the compression straps on the outside of your pack once you're finished loading up. This keeps everything in its place, reducing the possibility of a shifting load at an undesirable time.

Anything else sharp (crampons, microspikes, tools) needs to be wrapped in protective materials and stowed inside your pack, or on the outside of the pack with the tips covered.

Carry duct tape wrapped around a water bottle in an external pocket for field repairs.


Also carry a few safety pins, plastic zip tie downs & closures, needle, thread and plastic bags for innovative patch & repair jobs.




My personal preference: avoid having lots of things attached to the outside of your pack because they snag and catch on things along the trail, causing a loss of balance and/or stride length.




Don't clip or hang cups or bottles or pots on the outside of the pack for the same reasons. Plus it just looks and sounds junky!



Step Three: stability and
load shifting test

Once there are no items of hiking gear left around you, put on your pack and take a walk.
A long walk.
Imagine your load as you visualize yourself crossing a slippery log or clambering over rocks.
If anything makes you feel tippy (top heavy) or dragged down (bottom heavy), go home and repack.

If you're clanking and clunking and can't hear yourself think, go home and repack.

If things are shifting and you feel like you're a grumpy mule, guess what you should do!
There you have it!

All set?

Now you've got a packing system that will make you smile on the trail.
Tip: Memorize what goes where, or write it down for future trips.
Then you can concentrate on more important things, like your backpacking menu.
So there you have it: Packing a backpack in three easy steps - can't get much easier than that!
Need a review of how to pack? Watch this video.
Let me know if you have questions about packing a backpack for your next hiking trip by using the CONTACT link at the top left of this page.
Home page > Best Hiking Tips > Packing A Backpack
Didn't find what you were looking for? Use the blue TOP button
on the right to jet back up to the search box.
Why wait a whole month?
Plus, there's never enough room in the newsletter to share it all, so why miss out on exclusive Hiking For Her giveaways, limited time gear deals and discounts, freebies, updates, and more?

A short, info packed weekly email update will keep you current on all things hiking!
When you sign up to receive this update, you are agreeing to Hiking For Her's privacy policy.

Don't miss out!

Read more about these hiking weekly updates
Save Time

Save Time & Money


Hiking For Her's weekly emails are the best way to find out about current hiking:


flash giveaways
timely deals
steep discounts
freebies

trail news

resources




Free, fast, fun info for you, every week of the year