Enjoy Happy Trails, the free monthly newsletter from Hiking For Her.

Receive a free resource: Hiking Layering System Explained

Hiking Gift Guide 2022:
Amazing Choices
For Your Favorite Hiker
(Including Yourself)

Using this best Hiking Gift Guide 2021 and on into 2022 will make you look like a genius!
These gifts are selected by a seasoned hiker (me) with your favorite hikers in mind.
The theme?
Self care
So include yourself as you look through these gift ideas for hikers and backpackers.
Because everyone needs a little care these days!

Here's why we focus on caring
for our gifts to hikers

Maybe your favorite hiker doesn't pay enough attention to recovery after a tough hike.
Or doesn't plan ahead to meet unforeseen trail conditions.

You want your hikers to enjoy lots of hikes each year, right?

And to do it as safely as possible.

So give a gift that says you fully support self care!
Just between you and me, it's typical for a hiker to ignore to self care.
The selections in this hiking gift guide will get her thinking more about this important subject.
More hiker self care tips here.

How to navigate this Hiking Gift Guide

For your convenience, this Hiking Gift Guide 2021 is organized into appropriate gifts for three types of hikers:
Just to be clear
about this hiking gift guide

Hiking For Her received some of these items (hat, gloves, wallet, towels, headlamp) for inclusion in this gift guide from Deep Creek PR.
Hiking For Her is  a participant in the Amazon Services LLC Associates Program, an affiliate advertising program designed to provide a means for sites to earn fees by linking to Amazon.com and affiliated sites.
The links to the gifts in this Hiking Gift Guide take you to Amazon. It costs you nothing extra to support this website with your purchases.
Now let's go gift hunting!

Is your hiker an organization freak?
(Or in need of a nudge?)

A safe hiker doesn't just show up at a trailhead and start walking.
It takes some deliberate planning to gather all of the information and gear needed for a successful hike.
That's why some hikers love to make lists.
Others?
They might need a little help from you ;)
So this section of the Hiking Gift Guide is here to help you help them get organized. Win win!
Hybrid card wallet

Important documents should come along on every hike. A driver's license or state photo identification card are two important examples.
Medical lists of medications, allergies, and the like can become important if your hiker needs assistance and can't speak for herself.
Photos of her cat? Optional ;)
But how can this paperwork be kept safe from the elements?
A plastic bag works, until it doesn't.

On the other hand, this handsome little Allet Hybrid Card Wallet with a ripstop nylon exterior will stand up to trail grit and moisture year after year, and looks way more classy than a ripped plastic bag.
But there's even more to make it a trailworthy gift for your hiker.

This made-in-the-USA wallet has a slim footprint with its vertical design.
It will slip easily into an outside pocket of a backpack.
And its weight, less than one ounce, won't make a dent in a backpacker's inventory.
Several color choices make it easy to pick her favorite!
Bonus: It features RFID technology to keep the contents of the wallet private, making it a great choice for travel as well as every day use.
A clever micro pen
There are some hikers who are old school paper and pen. But those two items are hard to come by on a trail, unless you plan ahead.
This handy little Allett Micro Pen can be carried in the seam pocket in the wallet above, making them a dynamite duo for getting together a list and keeping it safe.
Notice the quality of the stitching and materials. Also note how small and sleek that pen is!
But this gift keeps on giving!
This 3.3 inch long, lightweight pen will be handy all on its own at the trailhead, left in the car and used for jotting notes after a hike.
Or take it along on your hike to make notes in your trail journal (tips for keeping one here). It's a great size to fit into a backpack pocket!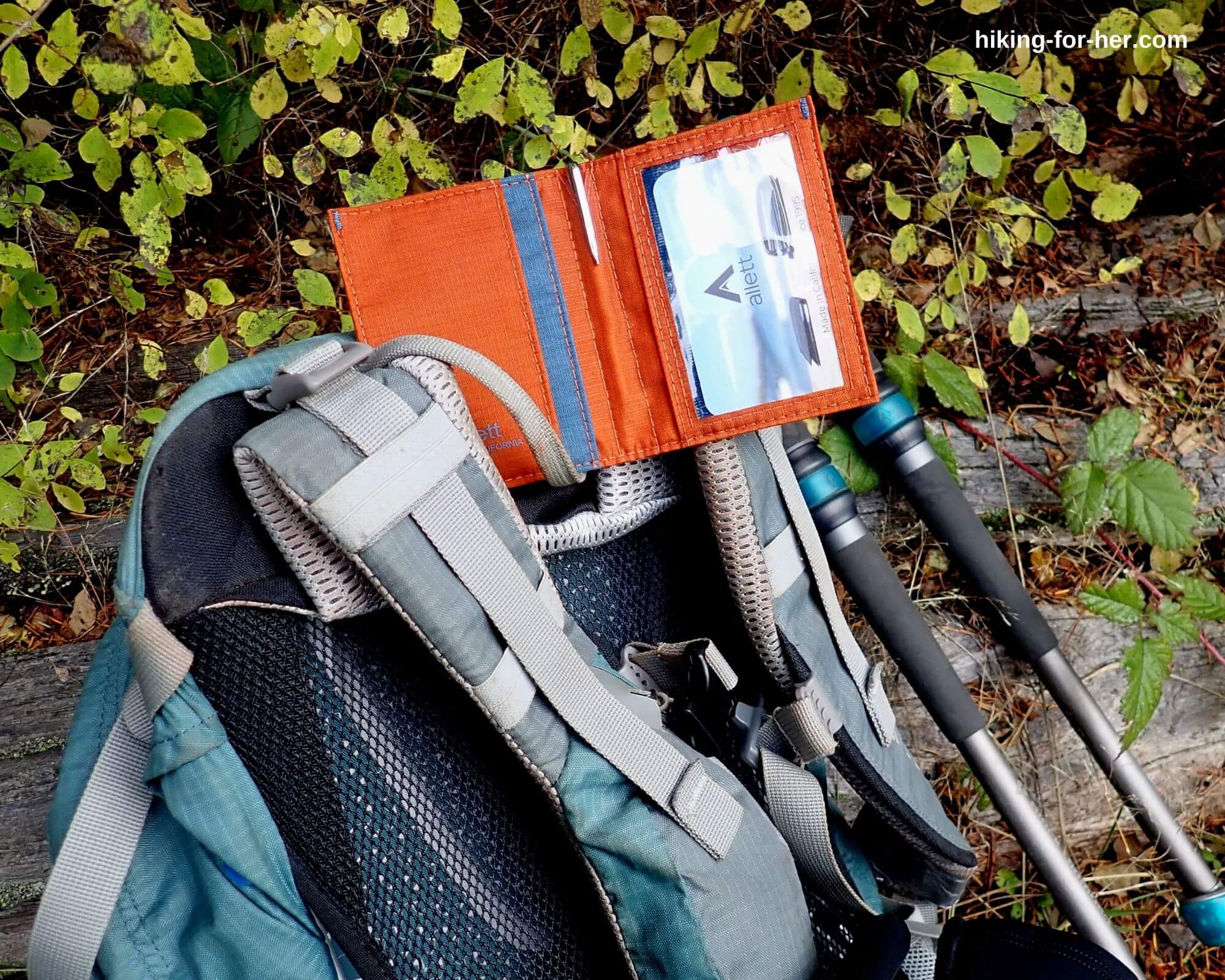 Keep everything together and away from the weather
More notes on the pen:


The stainless steel sleek design makes it easy to hold.

And it uses replaceable ink-cartridges, making it a long lived gift suitable for Eco-conscious hikers.
You can pair it with a waterproof trail journal, too.

Here's a good 3" x 5" spiral bound choice. The clip on the pen (see above) will keep things together.


Duffel bag for trailhead organization

For serious organizers, this Freeway Longhaul 75 duffel bag is a dream come true.
Here's what I love about it:

Three massive compartments, which can be dedicated to pre-hike, hike, and post-hike items

Full view top opening, easy to get into even on dark early morning winter hikes
4 roomy exterior pockets, to hold 4 categories of important hiking stuff: hydration, nutrition, extra clothing and navigation
Simple to transport into and out of the car with 2 top handles, 4 grab handles on the sides, plus a removable shoulder strap
Moisture and abrasion resistant bottom means durability

24.8" W x 12.8" D x 13.75" H footprint makes it easy to find a spot for it in any vehicle

Get, and stay, organized before and after a hike with this duffel bag.

And of course it can be repurposed for travel, off season storage, and lots more.

A thoughtful, useful gift for your hiker!

---

Gift Guide 2021:
Safety First choices in this hiking gift guide 
for everyone's peace of mind

Let's state the obvious: every hiker who puts boots on trail needs to be thinking about her/his own safety.
Step away from the car, walk five minutes in any direction, and boom! anything can (and sometimes does) happen.
Think extreme weather events, taking the wrong turn, an injury.
Use this section of the Hiking Gift Guide for safety first gift ideas, to make sure she always has what she needs in her backpack.

Illumination

This is one of the most important pieces of gear on the Ten Essentials list (see the rest here).
Why?
Because if you can't see where you're going, you'll make bad decisions if you need to keep moving in darkness.
A headlamp is a superior choice for hikers, over a handheld flashlight.

This Fenix HP25R V2.0 headlamp is a great choice for any hiker (I carry one myself on every hike, no matter how short).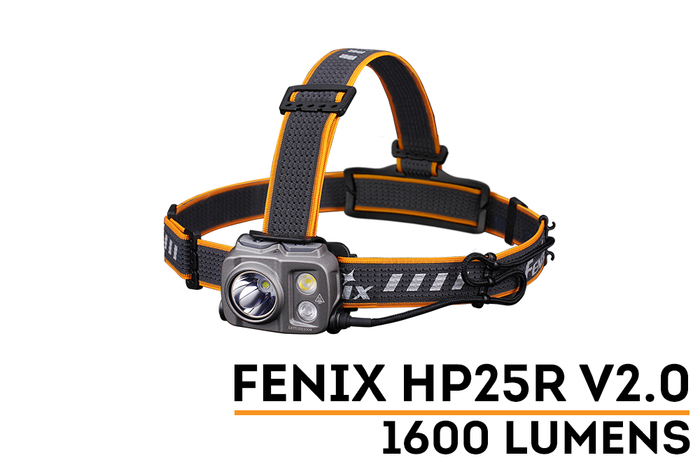 Reason #1:
It is USB-C rechargeable, thanks to a built-in charging port. The 5000mAh high capacity battery will give illumination up to 400 hours on the lowest mode. As with any battery, ambient temperature really matters, so keep this little beauty tucked into a vest pocket during cold weather.
Reason #2:
If you're going to carry illumination, make it a strong light emitter. This headlamp can pump out a 1600 lumen spotlight, reaching 317 yards. It will also give you a wide-angle floodlight, or an auxiliary red light (protective of night vision).
Reason #3:
 Your hiker won't wear a headlamp that is uncomfortable. The design of this one makes it a good bet that it will fit snugly without pinching or binding. It can also clip to a helmet if she scrambles or climbs.
There you have it, three great reasons to gift your hiker with this functional, durable headlamp!
It might be the smartest pick in this entire hiking gift guide, in terms of safety!


Hydration

Water is life.
Plenty of water is also psychologically soothing when something goes wrong.
Help your hiker out by gifting her with these water bottles.
And not just any water bottles!
Vapur 1L Wide Mount Anti-bottles can be described by all of these words:
reusable
foldable
storable
BPA free

attachable
freezable
sustainable
Wow!
Add a flip cap and an easy to clean wide mouth design and you've got quite a water bottle for any hiker to bring on a hike.
And if your hiker has to travel to her hiking destinations, a bottle like this makes passing through an airport and staying hydrated a breeze.

No need to purchase water bottles once she's through security!

Just find a fountain, and fill 'er up.

Does your hiker have a dog trail buddy?

It's important to keep them hydrated, too.
The Vapur - Ez Lick Portable Dog Water Bottle is designed to make it much easier than the "cup the hands" impromptu water bowl trick.
Collapsible, so it's easy to take it out only when needed.
More hiking dog gift ideas here.

Take extra clothing for a hike

This is another smart hiking essential.
Even when the day time temperatures are reasonable, an unplanned overnight (or longer) can spell trouble.

So it makes sense to stash a jacket in your backpack.
But I also recommend that head and hand coverings, year round, be carried in the bottom or side pocket of a hiking backpack.
Not only for comfort, but to guard a precious resource: body heat.
This hiking gift guide offers some good head and hand cover choices for your hiker. Let's see why.
Cold weather hiking hat for women hikers
If your hiker has long hair, and wears it up or in a ponytail, this is a marvelous hat for her.
Based on personal experience, trying to shove a bunch of hair under a hat can lead to a head ache.
And wrangling a bun or ponytail through the back of a ballcap is frustrating.

This TrailHeads Trailblazer Ponytail Cap avoids those problems while keeping head, neck and ears warm.
More to love about this hiking cap:

The hat bill is generous, to keep glare from sun and snow out of the eyes.
The ear warmer fabric can be flipped up for temperature regulation.
So this is a great all around cold weather hat for your hiker. I'm enjoying mine on the chilly shoulder season trails!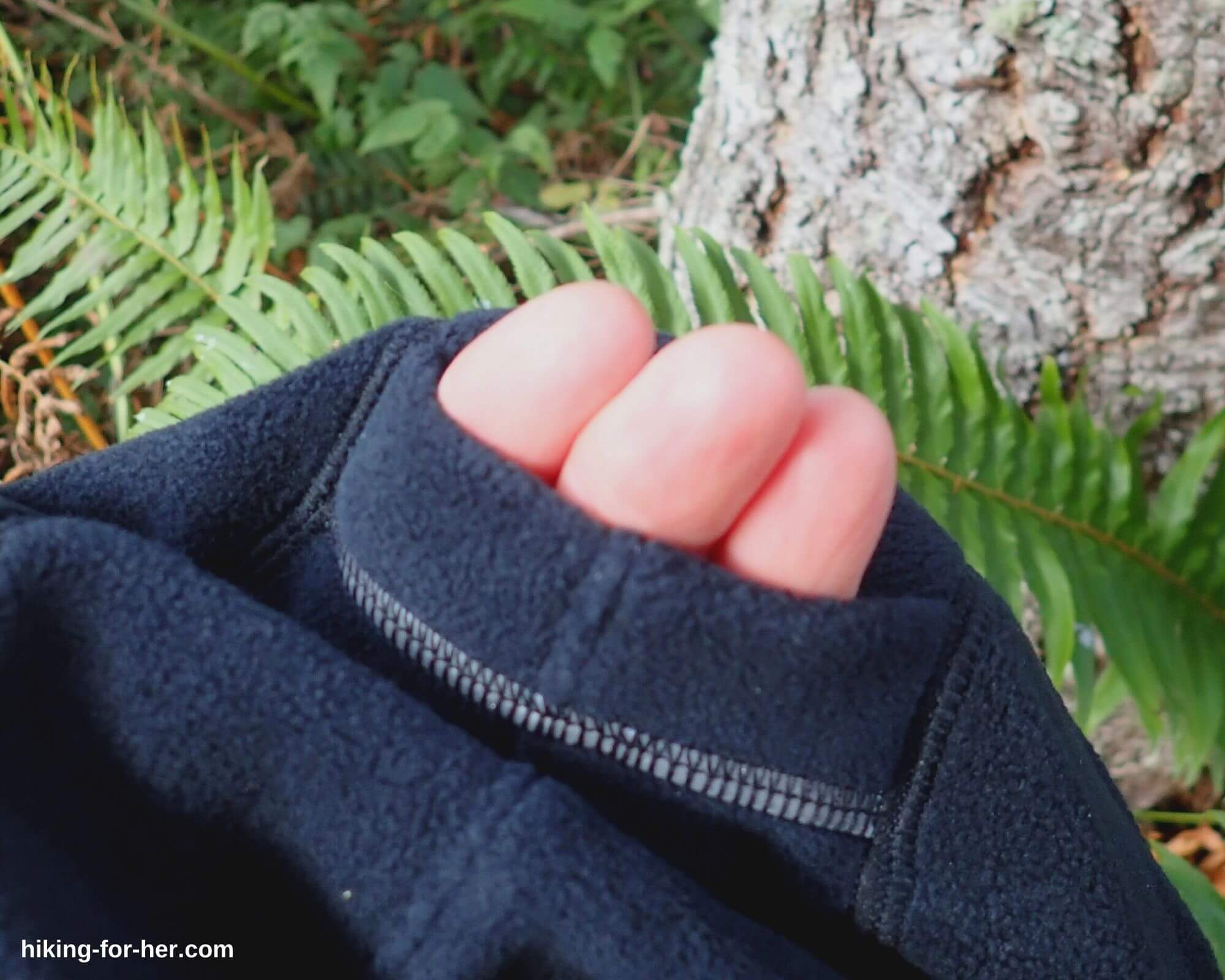 I can put at least 3 fingers through the hole in the back of the hat, meaning you can fit a lot of hair through it!

Warm gloves and mittens for your hiker
are a smart choice in this hiking gift guide

I'm here to tell you that you can never, ever have too many gloves and mittens as a hiker.
But we're a picky bunch.
We want our hands covered and warm, of course.
But we need hand dexterity to unzip backpack pockets, wield our hiking poles, and open our water bottles (see above).
TrailHeads Convertible Cold Weather Running Gloves are great for hikers, because of all the reasons just mentioned.
They also clip together so they stay together in your pocket.
The reflective color is a bonus on a gloomy winter trail.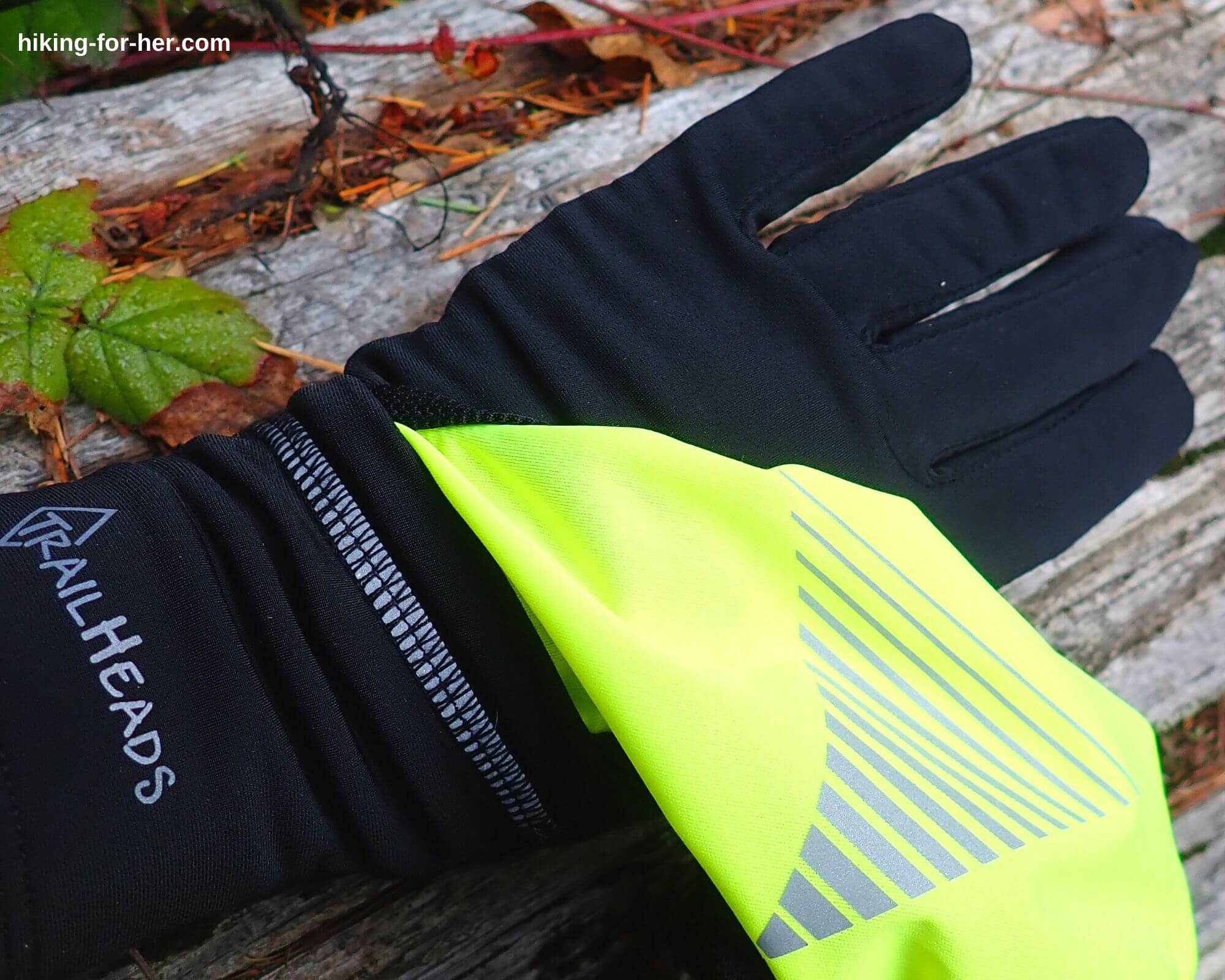 Cover up the fingers with the bright fabric for a more waterproof experience on a damp hiking trail
TrailHeads Convertible Mittens are for those who want to keep all four fingers encased in one piece of fabric, and have a thumb available.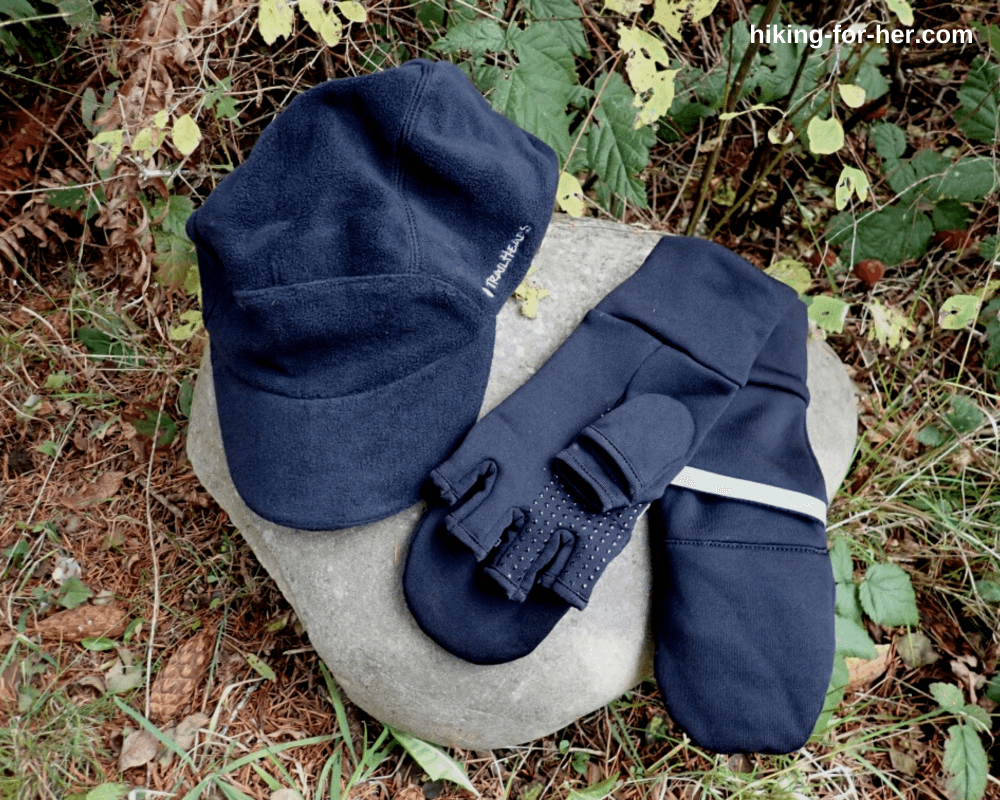 Pair the convertible mittens with the hat, and your hiker will be all set to brave the weather.
But because they are convertible, hand dexterity is not compromised. Peel back the "mitten" fabric and tuck it into its little compartment (see gray line on mitten above, that's where it is).
Voila! Insta-fingerless gloves!
Tip: Gloves versus mittens is a personal preference.
You might have to ask a few sneaky questions to find out what she prefers.
---

Make your Trail Athlete smile
with these Hiking Gift Guide picks

Every hiker is an endurance athlete, whether s/he claims that title or not.
Hiking is a great sustained workout, meaning muscles might complain during the hours of a hike.
And afterwards.
Your hiker can be proactive about muscle aches and pains with these supplies.

A good towel for hard working hikers

There are several ways to make good use of these lightweight Lightload Extra Strength Towels, both on and off the trail.
Tuck these tips into your gift package!

If muscle cramps are a problem during a hike, soak a towel in cool surface water and take a break while the towel's cooling effect does its magic.
If sweat runs into eyes, mop it up with a towel!
Need extra sun protection on the back of the neck? Stuff the edge of a towel beneath a hat, and keep UV rays from reaching tender skin.
After a hike? Soak a towel in Epsom salt (these are my favorite) plus warm water, and feel the Ah! sensation as the electrolytes travel to the muscle cells.
These towels are strong enough to stand up to anything your hiker dishes out.

And they arrive in a compact form, to save space in a backpack until needed.


Roll with it
Sore muscles respond well to being rolled with a massage roller, an inexpensive substitute for a sports massage.
This medium density example of a roller is great for beginners because it's comfortable to hold and use.

You can individualize the pressure, moving between sore spots, from the hips all the way down to feet.

It might look like a torture device, but muscles will relax and tight spots will disappear beneath its touch.

Help your hiker shorten recovery time with this amazing little tool.


Stretch it out
Foot cramps and tight calves take away the pleasure of a hike.
Ditto for the pain of plantar fasciitis.
| | |
| --- | --- |
| But here's something proactive that can be done about the discomfort: use this ProStretch Plus® - Calf Stretcher. | |
---

Your hiking gift guide
is all wrapped up
A gifting pun!
Wrap up these gifts, and you'll be helping your hiker toward great self care.
And that's a priceless gift to give her. 
Because a relaxed, safe hiker is a happy hiker.
Thanks for stopping by to check out the 2021 hiking gift guide!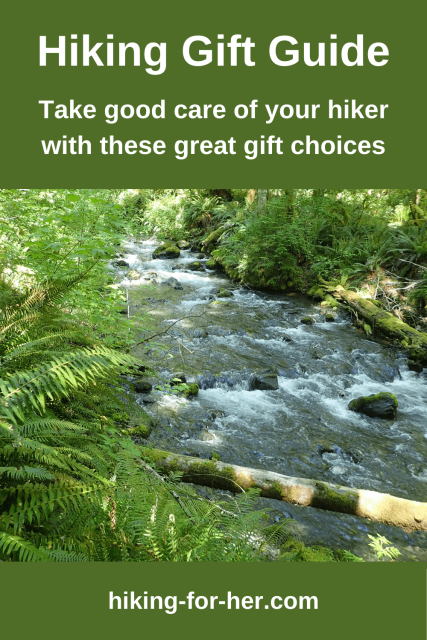 Need even more hiking gift suggestions? Try these.
Home > Hiking Resources >
Hiking Gift Guide 2021/2022