Enjoy Happy Trails, the free monthly newsletter from Hiking For Her.

Receive a free resource: Hiking Layering System Explained

Hiking Self Care:
Best Tips To Stay In (Better) Shape
For The Trail

by Diane Spicer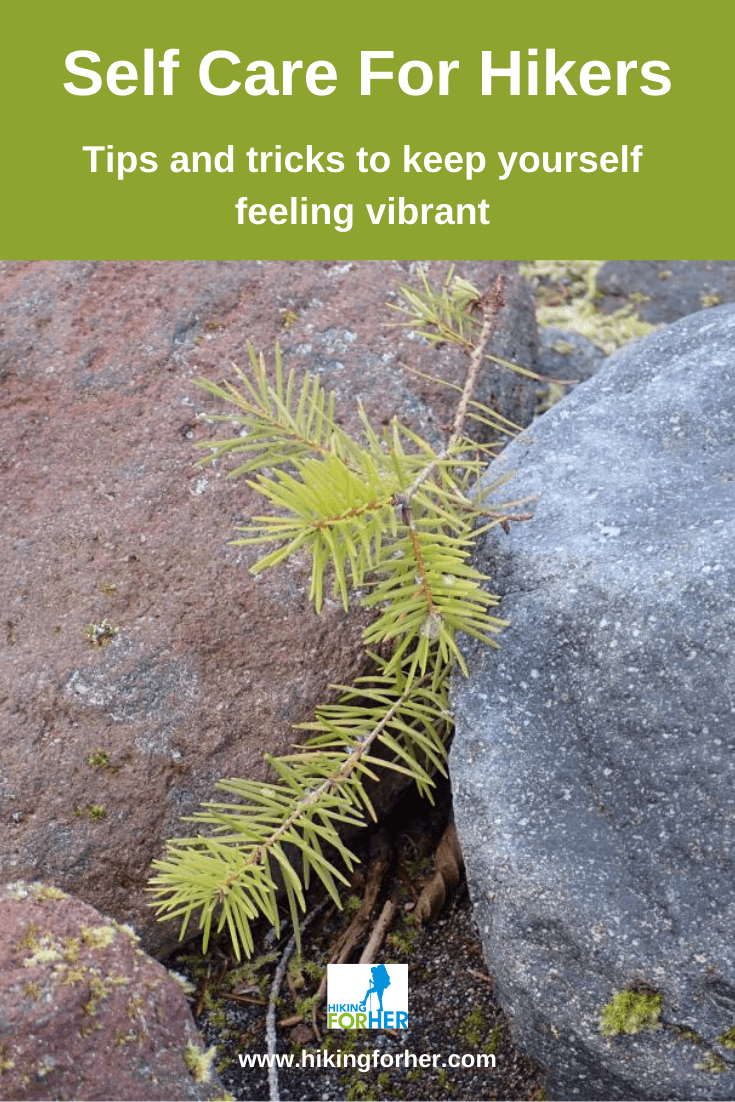 Hiking self care is not something I see discussed very much on hiking blogs.
I've often wondered about this.
Is it because hikers are tough and just "suck it up" when something hurts?
Or is it because nobody in the health care realm teaches how to prevent problems before they start?
Could it be because it's just too time consuming to attend to an issue before a hiking injury occurs?
Things like:

hot spots and soreness on your feet


signs that

your pack

is too (fill in the blank: big, heavy, small, flimsy, tight)



After all, there's a waterfall/peak/lake/camp site to bag, and you're burning daylight!
Does it really matter?
I suppose it doesn't matter what the real reason is about why we don't discuss hiking self care.
But it matters a lot to me that you stay out of pain and stay safe on the trail.
That's why I'm focusing my training as a naprapath and a medical massage therapist on this topic, to bring you some easy, do-able suggestions for taking care of your hard working hiking body.
By taking good care of yourself on a hike or backpacking trip, you keep yourself safe and focused.
Time to go shopping for some great self care tips!
Best hiking self care strategies
to try today

This laundry list of tips is just a suggested starting point, so just skim through and vow to try at least one easy self care tip after your next day hike or snowshoe trip.
If you're a backpacker, you'll definitely use these tips to keep yourself going day after day.
These suggestions work for runner and skiers, too, especially cross country folks who need endurance and stamina.

Your hiking body
Swollen feet and ankle strategies
Using hiking compression socks

Foot injury prevention strategies for hikers

Stretching before, during, and after the hike
Ten essentials are essential for a reason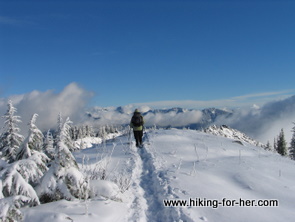 Hiking self care is worth it in every season because it extends your mileage and enjoyment.

Peace of mind as a hiker
Avoid or deal with getting lost
 I have become clear about at least one thing: 
self-care is never a selfish act - it is simply good stewardship of the only gift I have, the gift I was put on earth to offer to others.
~Parker Palmer

Heed the important message
of pain

All of these tips rely upon you to pay attention and be willing to receive, and act on, the messages your body is sending to your brain.
Please don't deny that pain is a message to be heeded.
That "gut feel" that something is wrong is your best friend when you're out on a trail - it's hard wired into your instinct for self preservation.
And not wanting to take the time to re-lace a boot that's rubbing your ankle is saying something a bit unflattering about your trail priorities.
Your feet and legs are your ticket home!
So please make it a priority to take care of yourself, so you can enjoy your outdoor adventures for decades to come.
Just a bit of hiking self care tough love, from me to you!
Four important ways to be
a strong hiker

Are you in shape for the types of hiking you want to do?
Would you like to be in better shape as a hiker?
This hiking infographic offers a strategy!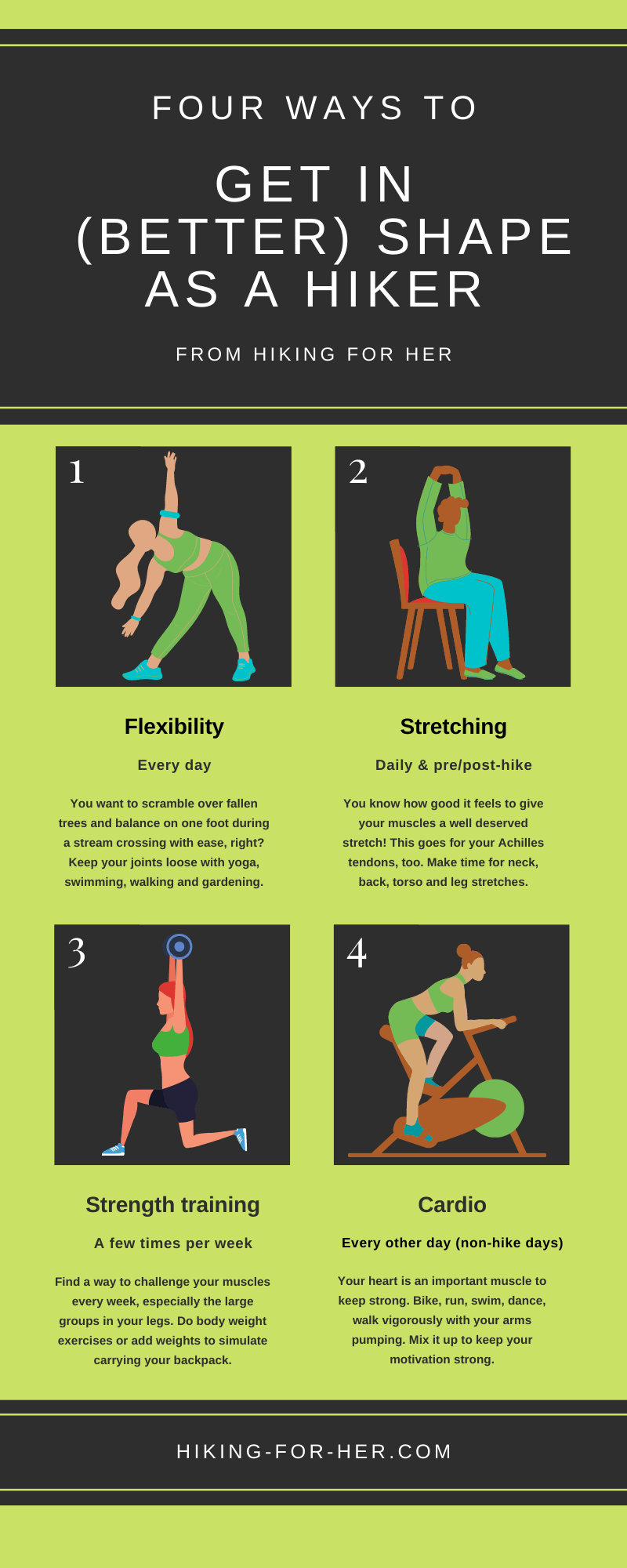 Hiking Self Care
Hiking For Her: Hiking tips you can trust!