Enjoy Happy Trails, the free monthly newsletter from Hiking For Her.

Receive a free resource: Hiking Layering System Explained

Are You Hiking With Arthritic Knees?
Some Useful Tips

by Diane Spicer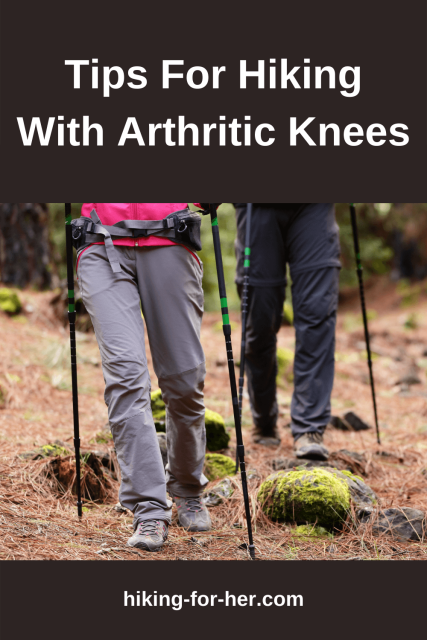 Hiking with arthritic knees adds another layer of planning to a hiker's list.
Along with bringing the Ten Essentials, you'll need to read your body, manage your discomfort levels, and know when to modify your hiking plans.
Which is nothing new for a hiker with osteoarthritis, right?
These tips are meant to help you work within the physical constraints you are experiencing.
And maybe show you new ways to approach being a hiker with arthritic knees.
Tips from personal experience
hiking with arthritic knees

Because I'm hiking with 65 year old knees, I've been forced to learn a thing or two about how to take care of what I've got left, and work around what I've developed over the years.
Allow me to share nine ways to manage as a hiker with arthritis.
Walk every day
Staying active, even when your knees ache, is important.
So walk, every single day, year round!
Go for the amount of time and distance that makes sense for you each day, but sneak in a walk on non-hiking days, no matter what.
Throw in some variety: different surfaces, a change in supportive footwear, an exploration of a different part of your neighborhood or city.

You're doing great things for your muscles and knee joints, but also your heart and your mental health, every time you take a walk.
Conditioning for conditions

If you're not a year round hiker, approach the summer hiking season with caution.
Don't jump right into a strenuous hike after a winter of relative inactivity. Your knees will not enjoy this!

Instead, gradually increase the amount of conditioning time in the spring, beginning with short easy hikes to take stock of how your knees react.
Things do change from year to year, and you don't want to be caught by surprise.
Lots more conditioning tips for you here.
Try yoga

Does yoga benefit hikers with arthritic knees?
Great question.
Only you can answer it for your particular circumstances.

Take a few yoga classes to see if there will be any benefit(s) to your hiking body, especially your knees.

I've noticed an increase in flexibility and less joint pain after a vinyassa flow class.
But you can also try yin yoga (passive poses held for longer amounts of time) for a less loading bearing workout.
Here's the book I use to explore the poses that feel best.
Hydration

Drink more water every day with each passing year.
Why?

An aging body is drying out, an inevitable but unkind hiking truth.
So protect your cartilage and keep it as plump and operational as possible by carrying a water bottle with you everywhere you go.
Develop a few new habits:

Stash a full bottle in your car, within arms reach for when you're stopped in traffic.
Tuck another one into your bag and sip while you're waiting in line.
During a hike, you have two choices for increasing your hydration levels:

Carry more water (added weight, somewhat counterproductive for arthritic knees).
Excellent eyesight
How does this help you when you are hiking with arthritic knees?
You want excellent depth perception so you don't step in a hole and wrench your knee (or ankle).
Ditto for stream crossings, navigating talus piles, stepping over blow downs, and who knows what else the trail throws at you on a hike.
Be proactive about knee protection!

Safe trail navigation may require bifocal or multifocal lenses, and that's just one more sign that you're aging.
You might want to ignore that fact...

But think about protecting your already sore knee joints by avoiding trouble on the trail!
Have a yearly eye exam to track changes.
Invest in a pair of prescription sunglasses with good UV blocking, not a cheapie pair at the supermarket.
Slow down and really look at obstacles or tricky footing before you plunge ahead.

Pacing is important
when hiking with arthritic knees

Re-set your expectations for hiking with arthritic knees by adjusting your mental AND physical pace.
Some days you'll feel better than others, so your pace must vary on each hike.
Don't beat yourself up because last time, it only took half the time to make the distance.
Going slowly provides a different type of trail time, so sink into this experience and be grateful you're sucking down fresh air!

Trail tips:

Have a list of hikes you want to do, arranged by "my knees feel great today" all the way to "something short and easy is best today".
The pace of your hiking season also might have to change.
Example:

I keep another list of hikes arranged by elevation gain/loss.
If I reach a point in the season where my knees flare up, I switch over to flatter, easier trails.
The take home message:
Every day is a new day on the trail. Listen to your knees!

Cozy up to an ice pack

Ice your knees after a hike, even on days when you don't feel you need to take this precaution.
This requires a little bit of planning ahead, to have a cooler full of ice or an instant cold pack waiting for you back at the trailhead.

If you can apply cold water/snow midway through your hike, so much the better. That's when a bandana comes in handy!
Consider carrying a frozen gel pack deep inside your backpack, too.

Lots more anti-inflammatory hiking tips here.
Modify your gear

If you think ultralight gear is "too" expensive, what value do you put on your knee mobility?
It's not just ultrabackpackers that should count grams/ounces.

There have been vast improvements in gear weight over the past few years which are of great benefit when hiking with arthritic knees.
Over the years, I've switched out my gear for lightweight stuff that keeps a spring in my step.
Sore knees in general
Not sure if you have arthritic knees, but know that your knees are sore during or after a hike?
Check out my general tips for managing sore knees as a hiker.
Tips for hiking with arthritic knees
from an expert
Now that you've heard from me, let's turn to a professional who works with folks with arthritic knees.

Dr. Alyssa Kuhn is a physical therapist, arthritis specialist, and founder of Keep the Adventure Alive.
She's sharing three tips for hiking with arthritic knees, in her own words, because she believes that pain shouldn't slow us down on the trail.
I like the way she thinks!
Use trekking poles
"Trekking poles do wonders for the knees!
Oftentimes people with arthritic knees have the most difficulty traversing a decline because of the pressure it can put on our knees.
When using poles, they help to decrease some of the stress by using your arms to assist in a downward movement.
Using your arms can provide the support you need in order to decrease the irritation on your knees and prevent excessive swelling afterwards.
These can truly be a game changer."
For more details on hiking and trekking poles, read this.


Strive for balance
"Make sure your balance is adequate if you are going to be doing lots of hiking.
Balance can sometimes be missed in our fitness programs, but it is truly one of the most vital.
Most hiking terrain is uneven. If your ankles and feet aren't ready to work hard to keep you stable, you may begin to experience more knee pain.
In order to set yourself up for success when hiking you should be able to stand on one foot for at least 20 seconds in control and then complete at least 5 single leg deadlifts each side."

Warm up, and then hit the trail

"Warm-ups can be extremely effective.
When we are heading out for a hike, most of the time we just get right to it, skipping the warm up phase.
When hiking with arthritic knees, a warm up can really help to decrease the pain you feel during and after.
Doing the right movements can help to allow you to become more aware of your body.
Exercises like hip hinges, inner thigh stretches, side stepping, and backwards kicks can really get your glutes and hips fired up and ready to work!"
Dr. Kuhn has more to say in her Ultimate Arthritis Guide, available here.

Hiking with arthritic knees
can be done!
If you're living with osteoarthritis, you might feel tempted to slow down, hang up your backpack, and live with the pain.
Please consider a different sort of temptation: a hiking bucket list plus lightweight gear, and the will to push through and keep hiking by using these tips.
You can join the band of elders hiking with arthritic knees. We get 'er done despite our limitations!

More elder hiking tips and encouragement for you right here

Home > Older Hikers > Hiking With Arthritic Knees
Hiking For Her: Hiking tips you can trust!