Ultralight Backpacking Gear Tips
To Make The Transition Easy
by Diane Spicer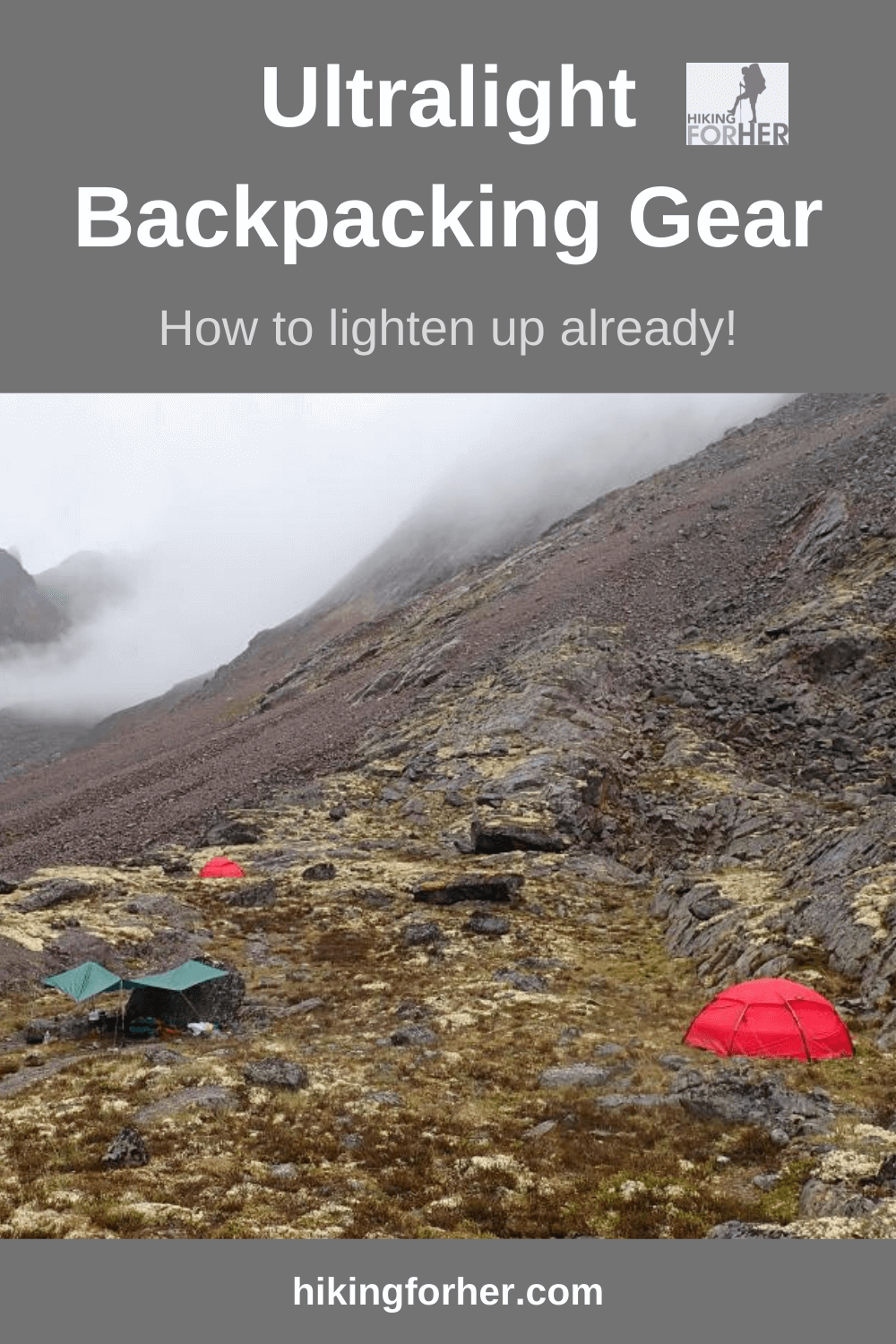 Ultralight backpacking gear (UL) is aimed squarely at backpackers who want to shave time and effort off their hikes.
Their motto: "Fractions of ounces matter".
This type of hiking appeals to a minimalist, someone who wants to go fast and light without being burdened by creature comforts.
This is in contrast to a traditional backpacker who, from the UL perspective, is a plodder carrying way too much weight.

Ultralight backpacking equipment is designed to ease the anxiety of any hiker who has a particular base pack weight target to achieve.
So if you're headed into the backcountry, or are contemplating a thruhike, the ultralight backpacking approach should be on your radar.
Base pack weight defined
Base pack weight = backpack + what's in and on it, minus food, water, fuel or anything else consumed over the duration of the hike.
To be considered lightweight, base pack weights need to stay around (or under, which is the target of fierce competition) 20 pounds, or ~ 9 kg.
Ten pounds (4.5 kg) is the maximum target weight for an ultralight backpacker.
Clarification on weights
NOTE: These weights are for U.S. hikers, and the numbers vary depending on where you are and who you're talking to.
UL backpacking can become a competitive sport in certain hiking circles!
For me, these gear weights are astounding. I started backpacking in the late 1970's, carrying up to one third of my body weight in heavy gear.
Ready to explore UL backpacking gear?
Let's take a stroll (because we're going fast and light, rather than heavy and burdened) through what sets ultralight backpacking equipment apart from the regular stuff.


Fast and light hiking:
historical origins

One of the first people to notice that traveling light was the way to hike was Emma Gatewood. Her late-in-life Appalachian Trail adventures make me proud to be in the female hiker clan.
A climber (among other things) named Ray Jardine receives most of the media credit for the origins of the ultralight backpacking equipment philosophy, which makes sense coming from a guy who defied, and defeated, gravity again and again.
The book can give you some great trail insights even if you're not interested in lightening up the the nth degree.
And there's a chapter written by a woman to shed light on female hiker trail issues.
I highly recommend it!


Non-negotiable facts about hiking

The planet we live on enforces certain rules.
These rules are annoying to hikers in general, but particularly onerous to lightweight and ultralight backpackers.
Rules such as...

One liter of water weighs 2.2 pounds pretty much everywhere.




Your body

needs

at least 2 liters, minimum, per day for kidney function and hiking performance.

Your core temperature must be maintained regardless of

weather

conditions. Staying warm requires regular ingestion of fuel known as food.

Your food can be

dehydrated

, but must be ingested in a hydrated state for proper digestion and release of steady energy.




Your basal metabolic rate (BMR) requires roughly 1000 calories (more correctly referred to as kilocalories, but not commonly used) per 100 pounds of body weight to remain operational.




Hikers need

way more calories

than that, because they're working hard regardless of how much the backpack weighs.

Weight on your feet "costs" you more effort than properly distributed weight on your back.

Hiking boots

-vs-

trail shoes

is a discussion you need to have with yourself.



All of these facts lead to a hiker's natural curiosity about how to reduce the weight of backpacking gear.
Which leads us to considering whether or not ultralight backpacking gear is a good choice for your trail time.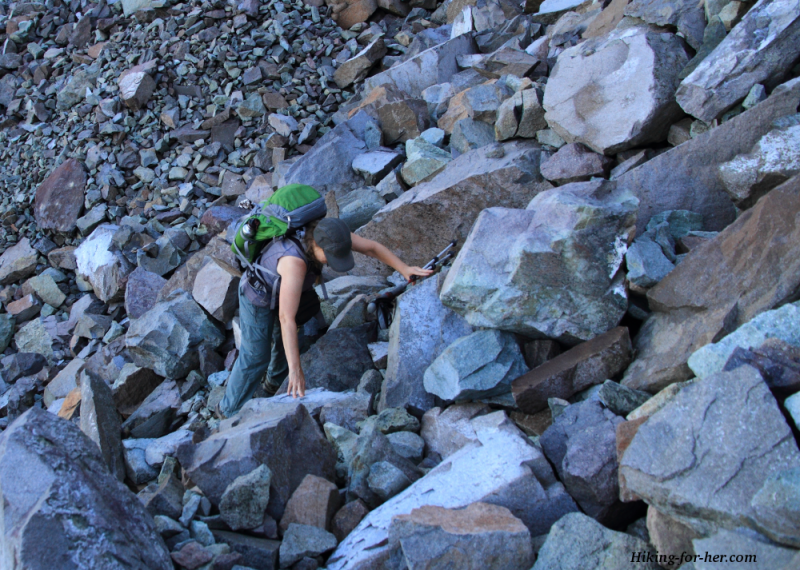 Gravity is not a hiker's friend

Ultralight gear options to consider

What kind of backpacking gear delivers function and form without a lot of annoying gravitational tugging?
A sarcastic hiker might respond: expensive gear, that's what!
Indeed, it takes some coin to purchase the highest end lightweight backpacking equipment, but it could be the best investment you ever made if it spares you a sore back and gives you more time to explore the backcountry.
Start with basic necessary gear:

If you adhere to the RayWay of Mr. Jardine, you should be sewing your own lightweight hiking gear which saves weight!
Some gear stores will rent ultralight backpacking gear, something I highly recommend before making an investment in any hiking equipment with a high price point.
This company, ULA Equipment, offers several versions of ultralight packs with really interesting features, and they do business in a unique way:
All of their gear is manufactured in house, and shipped free, in the United States.

Their gear is only available through the company, so all packs are in stock and ready to ship.

Gear is designed by hikers who know how to tackle a trail when weight matters, but so does volume for a bear canister and other gear.
They provide expert fitting advice via Skype, and digital photos, so you'll be satisfied with the fit.


How to get started
with ultralight backpacking gear

You don't want to succumb to sticker shock and walk away from ultralight gear.
You don't want to pass up a chance to lighten your load.
So choose the middle ground and explore your ultralight backpacking gear options one day at a time, with no pressure on yourself to achieve a particular base weight.
Read some reviews

Start with something easy.
Read what some of the gear testers have to say about lightweight gear.
Then decide if you need to be a fanatic about weight, or just want to shed a few pounds of pack weight.

Here's a little advice on how to avoid feeling intimidated if you're just wading into the world of ultralight backpacking gear, and why going lighter and lighter is kind of a silly way to frame things for a hiker.
And here's a great choice for your hiking bookshelf as you evolve, or dive into, ultralight backpacking gear:
Trail Tested: A Thru-Hiker's Guide To Ultralight Hiking And Backpacking

Try this gear strategy
If you're just beginning to entertain the wonderful idea of a lighter pack on your next backpacking adventure, I recommend the following strategy.

Don't run out and buy anything new.
Instead, get a reliable scale and record the weight of every piece of backpacking equipment you now possess.
If you need to purchase some gear, do some comparison shopping and take note of the weights.
Select the lightest gear possible within your budget.
This ultralight pack review will help you get started.

Map out your hiking goals

Next, sit down with maps and guidebooks and decide what your upcoming hiking season looks like.
Then consider which gear you can leave at home, or swap out for new ultralight gear.
Questions to ask yourself:
If you're staying in temperate areas, do you need to carry a sleeping bag? Maybe

just a liner

or a quilt will do.


Can you stay warm and dry, and indifferent to insects or rodents, under a

tarp

?

Is a sleeping pad necessary?


Do you really need an extra shirt or back-up pair of pants? If you're dressing for fashion, be ruthless with your choices of

athletic clothing

.

How can your sleeping system can be lightened up with no loss of warmth? Use a backpacking quilt.


Will you have access to abundant sources of water? Maybe only

one water bottle

is required.

How heavy of a rain jacket will you need (shell, double layered)?
Can your tent stakes be left behind?
Will one trekking pole be enough?

Examine every piece of gear you're currently carrying, including your camp kitchen equipment.
Lightweight and durable

 titanium cookware

 is a great idea regardless of where you're headed, perhaps paired with an alcohol stove (unless they're banned where you're hiking; read up on backpacking stoves here).
On and on it goes, the merry chase of "What can I leave at home?"
Subtitle: "Shaving the ounces bit by bit"
Have some fun with it!
Slow down to avoid overwhelm
I caution you to avoid getting sucked into the black hole of shaving off ounces along with a necessary margin of safety and comfort.
It's great to lighten up, but not at the risk of you not getting back to the trailhead in one piece.
Caching supplies along a long trail for thruhiking or section hiking is of course the best way to lighten your load. 
This includes gear replacement, such as hiking shoes, socks, and stove fuel.
But slow down a minute.
Caches make sense as long as you've:
plotted your course carefully

factored in "oops" days so you don't have to forego food or water

vowed to stick to your plan once you're on the trail

set aside enough cash for "in town" days when your supplies haven't shown up as scheduled
So be sure to map out resupply opportunities, factoring into account shorter store hours in rural communities, holidays and week-ends when stores will be closed, and how much effort it will be to arrive there during store hours.
Again, this takes dedicated effort and time, but it's well worth it for a successful backpacking trip. The weight of your gear is not your only consideration as a backpacker.
Trusted UL backpacking gear companies

Now it's time to consider which gear you can afford to switch over to ultralight versions.
I have done this, one big item at a time, over several years, and found it to be a nice gradual transition that didn't shock my check book.
Accept the irony that less is going to cost more.
Expect the names of the ultralight backpacking gear companies to be different than the usual suspects.
Several companies specialize in lightweight hiking equipment to appeal to a select group of hikers.
Begin to investigate companies such as:
Ultralight backpacking gear:
does it make sense for your hiking plans?

Only you can decide whether or not to invest time, brain power and money into lightening up your pack.
No matter where you decide to shed weight, please realize that you're way ahead of where hikers were just a few decades ago.
Take small steps to trim the weight of your hiking gear, and never pass up a chance to ask questions, pick up someone's pack and mentally weigh it against yours (with permission, of course), or read about what other hikers are doing.
Send any questions my way.
I don't claim the title of ultralight backpacker (yet), but I am definitely making an effort to go lighter each season as I replace my worn out hiking equipment (beyond Ziploc bags acting as stuff sacks, and ditching my heavy tent).
I'm taking a sensible, rational approach with the goal of lightening up as I age. I love to talk about the merits, and drawbacks, of ultralight backpacking gear.
Feel free to contact me.
Home page > Best Hiking Gear >
Ultralight Backpacking Gear
Hiking For Her: Hiking tips you can trust!