Enjoy Happy Trails, the free monthly newsletter from Hiking For Her.

Receive a free resource: Hiking Layering System Explained

Hydroflask For Wine Drinkers:
A Hiker's Review
by Diane Spicer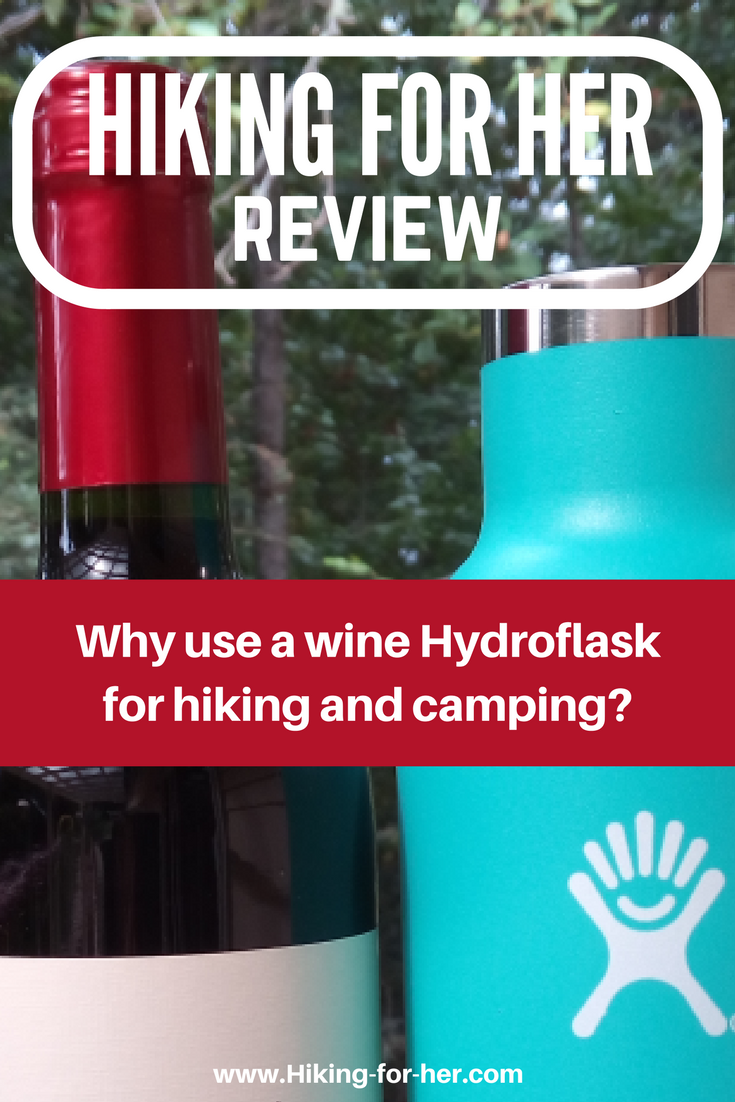 This Hydroflask for wine drinkers review offers a hiker's perspective on outdoor equipment which some might consider optional to your enjoyment of the trail.
And others might consider an essential element of a memorable hike.

But before we get rolling...
Disclosures in this Hydro Flask
wine tumbler and bottle review

I am an affiliate for Hydro Flask and Amazon, meaning I receive a small percentage of your purchase price if you buy a Hydroflask product after reading this Hydroflask wine tumbler review using this Amazon link.

What this really means is that I know Hydro Flask offers trail worthy products, and I use them myself on every hike.
So when they sent me their newest products for wine drinkers, I was eager to put them through their paces - like I do with all products that I review.
No one paid me to write these words.
All photos, comments and opinions in this review belong to Hiking For Her.
And as always, you will read a fair and balanced review.
Putting the best outdoor gear into your hands and your backpack is what Hiking For Her is all about.
Hydroflask for wine:
first things first

There are all kinds of hikers in this world.
And that's a very good thing, isn't it!
So it was with no small amount of amusement that I recently stepped around a lovely young couple who had decided to enjoy a picnic lunch on a flat boulder right beside (some might say IN) the trail.
Here's the thing:

They were sharing a bottle of wine.
An actual, real glass bottle of white wine.
Yikes!!

My first thought was "Which one of them had to lug that heavy, sweating bottle up the trail?"
Then my thoughts turned to safety.
Then to the temperature of the wine.
And I had to fight the urge to tell them that they needed  Hydroflask for wine lovers equipment!
I hope they're reading this Hydroflask for wine lovers review, because it will make their lives (and maybe yours) much simpler and safer on the trail!
So let's get to it.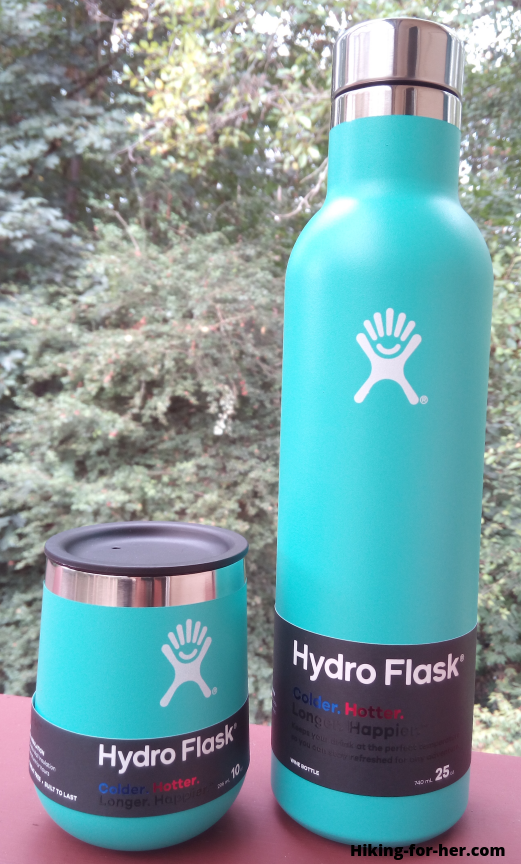 A nice pairing!

First thoughts on carrying a wine flask

Let's be realistic.
Bringing a large metal wine bottle and metal tumblers on a ten day backpacking trip into the backcountry is not going to happen.
Or at least it's not going to ride along in MY backpack!
But for day hikes or overnights, hey! Why not?
And car camping?
Definitely. That's why I'm writing this review of Hydroflask for wine!

Product specifications

Here's where we size up the volume and weight these little beauties will require in your backpack or car camping storage.

Hydroflask wine bottle

Height: 11.5 inches (292 mm)

Empty weight: 15.5 ounces (440 grams)

Volume: 749 ml
The bottle is constructed of stainless steel, with a double walled vacuum insulation design (thus solving my temperature concerns noted above).
The lid is insulated as well, and touted as leak proof.
We'll see!

Hydroflask wine tumbler

Height: 4.1 inches (105 mm)

Empty weight: 6.2 ounces (175 grams)

Volume: 295 ml
Same materials and construction as the bottle, with a BPA-free and phthalate-free press-in lid that sits snugly inside the tumbler.
And these little things are seriously cute ;)

Hydroflask wine bottle and tumbler experience

I'm a fan of red wines.

But not usually on a hiking trip!
However, I fully appreciate how sometimes sacrifices must be made for a thorough and complete gear review.
So I emptied my favorite wine into the Hydroflask wine bottle, grabbed the matching Hydroflask wine tumbler, and off I went.
I've already reviewed Hydroflask insulated units for both hot and cold beverages, so I knew how tough and durable they are.
Bu I had some questions about putting wine into one:
Would metal make the wine taste weird?

Would the press-in lid be necessary for the tumbler?

Would the wine stay at the right temperature even on a hot day?
Let's tackle (or toast to) those questions.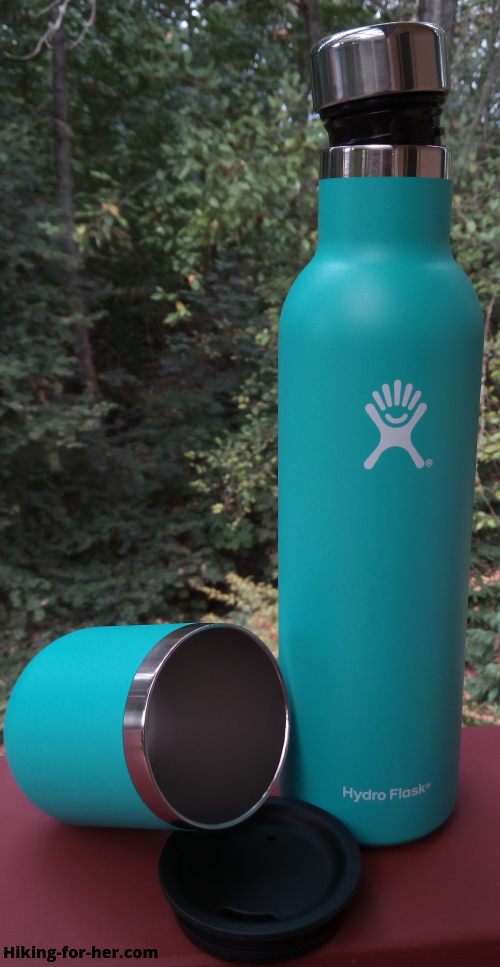 Wine in a metal bottle?

Skeptical as I was, my first sip from the wine tumbler was a bit tentative.
No worries!
After being bottled up in a stainless steel container for several hours, the wine tasted just as it does at home.
There was no indication that it came out of a stainless steel bottle.
And I'm guessing that if I did a blind side-by-side taste test with ten of my best trail buddies, not one of them would know the difference between glass bottled or cardboard boxed wine and the Hydroflask bottled wine.

To be extra stringent for this review, I hiked with the Hydroflask wine bottle where the sun could beat down on it - in the outside mesh pocket of my pack facing the sunlight.
The tumbler lid - necessary or not?

I've never sipped wine through a lid, "to go" and sippy cups of wine not being my thing.
So I decided to taste test my wine without using the tumbler lid at first.
After a few sips, I inserted the press-in lid and noticed that it stayed nice and snug each and every time I took a swig.
I mean sip.

After a few sips of wine, it was logical to perform a scientific experiment on behalf of you, dear reader:
Here's my analysis of the data:
I'd bring the tumbler lid along for the ride hike, but only press it into service (ha! get it?) if I was strolling with my filled tumbler to a viewpoint to catch the sunset.
You never know when those rocks on the trail will try to exert their authority over your ankles.

And don't overlook the fact that this tumbler can be used for a lot more than fermented beverages, if you so desire. That's when the lid might make more sense.

Also take note: exuberant toasters celebrating a milestone achievement on the trail, insert the lid so as not to waste one drop of precious wine.

Satisfying answers to my questions!

Bringing a wine filled bottle along on a hike was a new experience for me.
It made me look at the functionality of the mesh pockets on my backpack in an entirely new light.
A few words about price

If you're just starting out as a hiker, spend your money on good boots and socks.
But if you've got a full gear locker and really want to enhance your enjoyment of quiet evenings at camp, or special trail lunches, get one of the Hydroflask for wine bottles with matching tumblers.
Wine lovers who car camp should also add these to the kitchen box.

You have a beautiful array of colors to choose among beyond the mint green you see here (which can look turquoise to some color blind husbands who will not be mentioned).
And these products are solidly built to last forever.
In fact, they come with a lifetime warranty, which you can check out for yourself.
A re-usable Hydroflask wine bottle which you can re-purpose for other trail chores (try that with a glass bottle!) is an investment, which pays for itself over time.

A 10 oz tumbler? Ditto.


Hiking gift tip
Looking for a wedding gift for your favorite hiking couple?
Or to celebrate some other milestone?
You just found it! Add a special bottle of wine, and you're all set.
NOTE: You can put carbonated beverages in this flask, and it won't affect the seal. So maybe a bottle of bubbly?

Celebrate a special day on the trail

Many people mark birthdays, anniversaries, and other milestone events by planning a hiking trip.
Personally, I love being on the trail on my birthday!
And wouldn't it make someone feel special when you add her favorite wine to a birthday lunch or anniversary dinner while sitting beside a flowing stream?
Now you have the technology to safely transport wine, keep it at an ideal temperature, and serve it in style along side the PBJ sandwiches: Hydroflask for wine.

(Seriously? PBJ on her birthday? Let's talk.)
Hydroflask for wine drinkers:
you'll love these features

So just to recap (small pun):
The Hydro Flask wine bottle gives you an attractive outer coating and a double walled 18/8 pro grade stainless steel vacuum insulated interior.
The bottle is easy to grip, the lid is easy to screw off as well as to replace with one hand.
It accommodates one bottle of wine, and keeps that wine at the same temperature for at least 4 hours (the amount of time I can vouch for personally).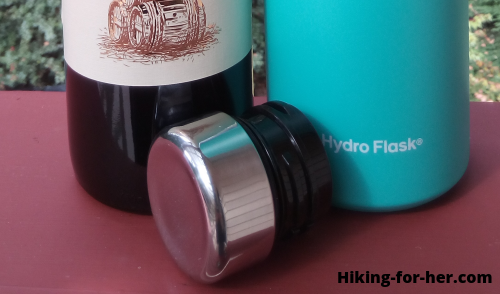 The wine tumbler is similarly constructed, but the lid presses into the mouth or can be omitted.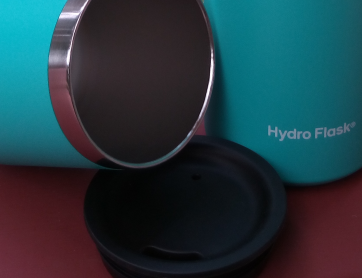 And because hikers like gear that has more than one function, think about how you can use the bottle and tumbler once you enjoy your wine.
Because the heavy duty insulation will keep cold beverages cold, and hot ones hot, for hours, you have plenty of possibilities.

Morning tea or coffee in your tumbler?

Rehydrating milk over night and want it icy cold for a granola/milk lunch?

Crossing a glacial melt stream on a hot day? Fill 'er up!

You're probably way ahead of me here on how to use Hydroflask for wine drinkers in ways that have nothing to do with wine.
I shall leave it to you.

Questions about this
Hydroflask for wine drinkers review?

Great!
Now check out these unique wine transport units from Hydroflask at Amazon.

Home page > Hiking Gear Reviews >
Hydroflask For Wine Drinkers Review
Hiking For Her: Hiking tips you can trust!