Enjoy Happy Trails, the free monthly newsletter from Hiking For Her.

Receive a free resource: Hiking Layering System Explained
Hydro Flask Cooler Cup
Review:
Something New
From A Great Company

by Diane Spicer
This Hydroflask Cooler Cup review shares all of the details on a new offering from this maker of all things insulated.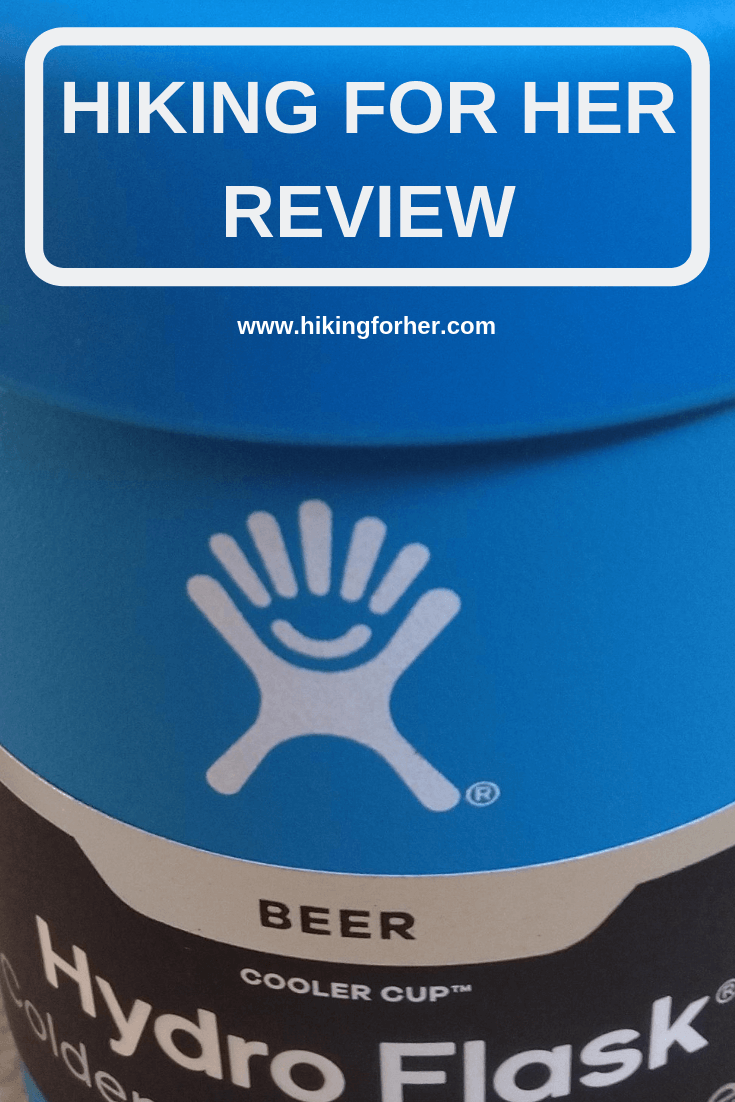 A Cooler Cup was provided free of charge from Hydro Flask for this review. This review was not paid for or influenced in any way.

Hiking For Her is a Hydro Flask and Amazon affiliate.
What does this mean?
All of the opinions and photos in this Hydro Flask Cooler Cup review belong to Hiking For Her.
You're getting only the facts you need to make a decision about using this new product.

So what's a
Hydro Flask Cooler Cup
?
That's what I wanted to know, too!
The answer:
It's two pieces of outdoor gear in one design:
an insulated mini-cooler for your canned or bottled beverage
-and-

a 12 ounce cup to keep whatever you're drinking hot or cold.
So how does it do that?
Hydro Flask Cooler Cup review:
specifications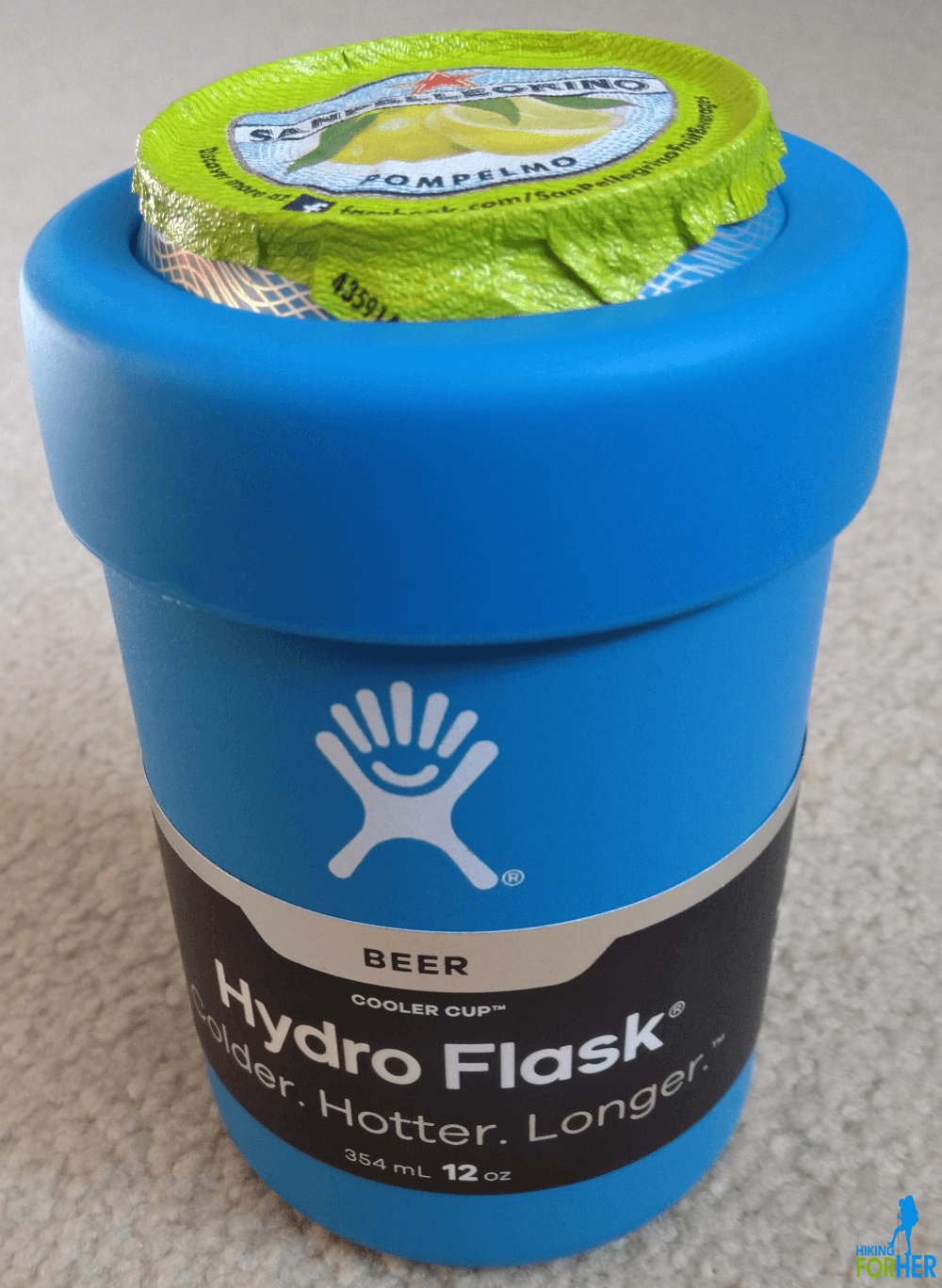 Note the silicone sleeve for holding your beverage in place. It has another purpose, too, so keep reading.
This cup is constructed of 18/8 Pro-Grade stainless steel.
2.9 inch diameter

4.5 inches tall

0.6 pounds

That's plenty of room for a can or bottle of your choice.

The Cooler Cup is BPA-free and phthalate-free (non toxic).
The silicone sleeve is designed to form a collar around your bottled or canned beverage.
Note that this beverage holder/cooler is fairly large and heavy, compared with hiking gear you'd pack for a multi day backpacking trip.
And you won't be toting bottles and cans of cold beverages on a long day hike, will you?

So where could this cup be used most effectively in your outdoor plans?

Let's think creatively
about using this cup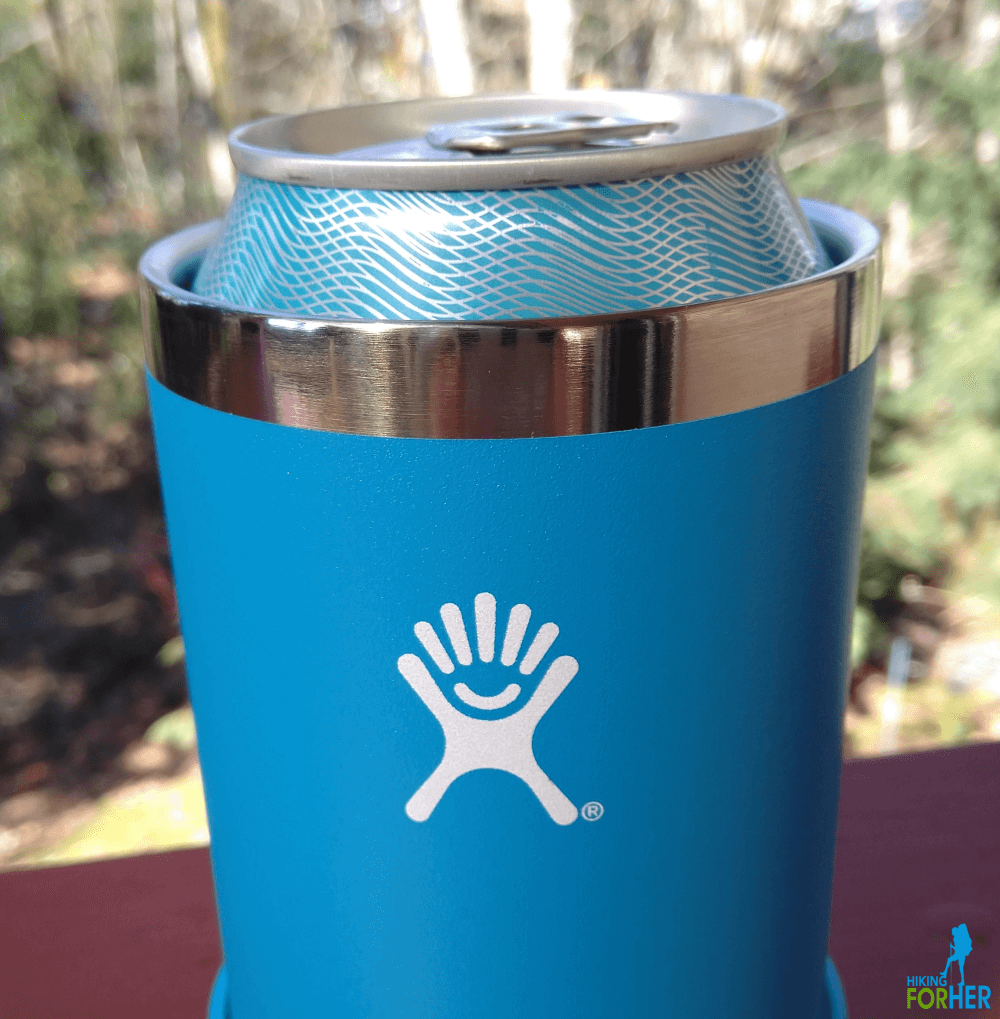 Looks right at home on a picnic table!
Think versatility for car camping:
The silicone sleeve will hug a narrow bottle or a can.

The cup keeps the contents chilly while you search for those extra tent stakes you're sure you packed.

Slide off the sleeve, pop it onto the bottom, and you'll be able to sip your beverage from an insulated cup with a stable base.
Tip:
Color code your cooler cups so you don't catch someone's cold while enjoying your own cold beverage.

More beverage enjoyment
options

Think "a big cooler filled with delicious drinks" waiting at the trailhead after your day hike.
Fish out your beverage from the depths of the full size cooler, slide it into your personal mini-cooler cup, & enjoy those first few cold sips.

Set it down as you take off your boots.


Then work on putting away your gear, knowing that you're going to have lots more coldness to look forward to on the drive home.
Got any snow lying around your campsite?

Mix up your favorite slushy right inside this cup, and take your time enjoying it (clean snow only, of course).

Or use this cup while lounging around at home as you plan your next backpacking trip!
Hydro Flask Cooler Cup review:
what I liked
I've taken a look at other Hydro Flask products (see below), and remain impressed with their commitment to good design and quality.
Stainless steel is durable and won't pick up the flavors of whatever you put into it.
The powder coating on this cup will keep the color of your choice in place through many seasons of camping: I know this for sure, based on my other Hydroflask products.

On this Cooler Cup, I really liked the fact that I can use the silicone sleeve to protect the bottom of the cup when I set it on rough or uneven surfaces.
I also like its size.
It fits well in my hand, and at 12 ounces has enough capacity for a snug hold on my 16 ounce can.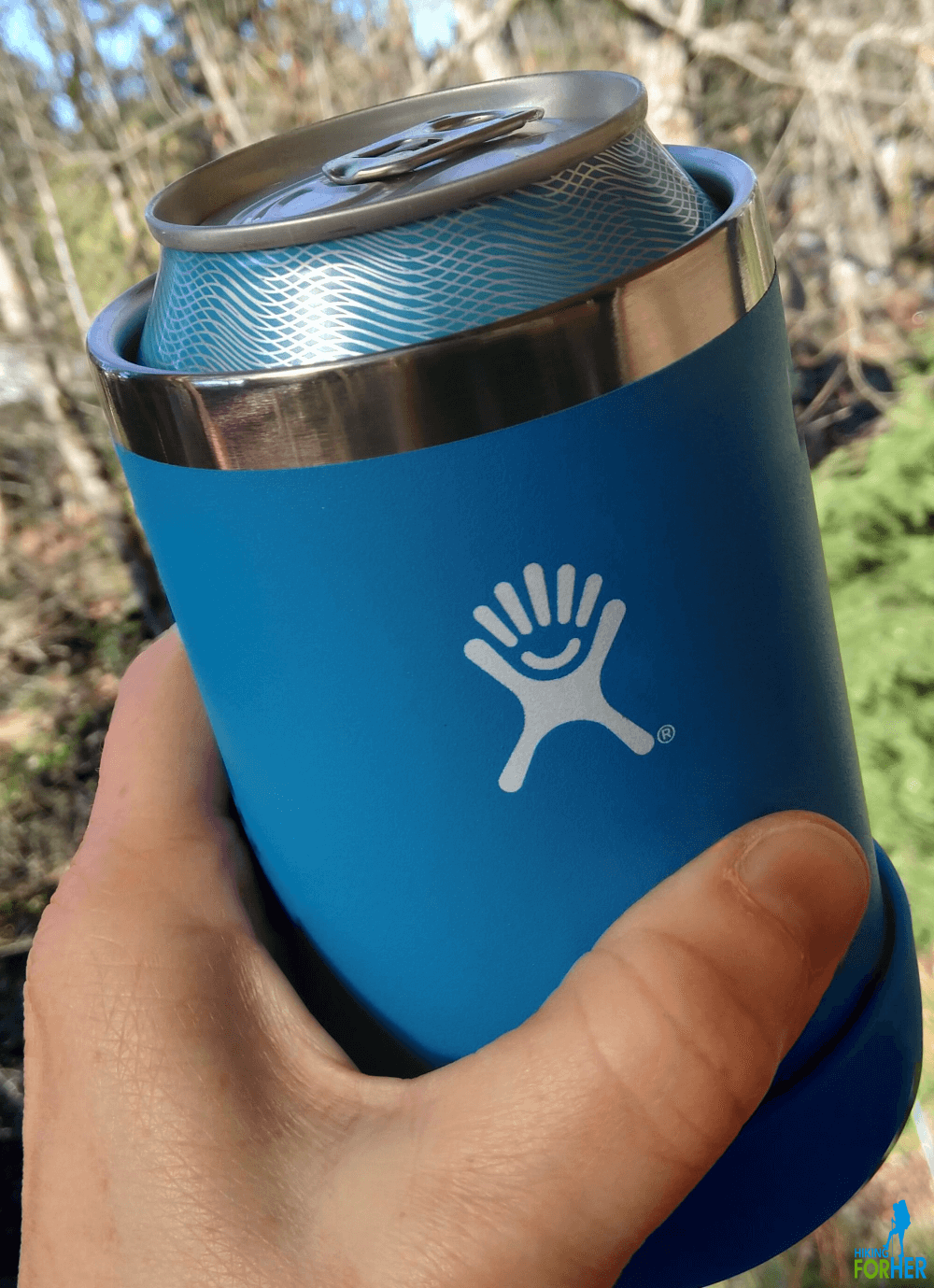 The silicone liner is now a washable cushion for the bottom of the cup when I set it down on the ground
Condensation doesn't form on the outside of the cup, which makes it easier to grip.
The bright blue "Pacific" color makes me smile!

Not a blue person?

There are 5 color options at the time of this writing; check them out here.
Be nice to this cup, and you'll be using it for a long time!
Wash by hand in hot, soapy water

No bleach, chlorine or abrasives necessary

And then there's this:
Hydroflask cooler cup review
conclusions
This cup is durable, won't transfer odors or tastes thanks to solid stainless steel construction, and the colorful finish will remain looking great no matter how many times you handle and clean it.
A Hydroflask makes an exceptionally welcome gift because the quality of construction is front and center.
So think about a Hydro Flask Cooler Cup to solve your next gift giving dilemma, from kids to busy adults to a gardening grandmother.
More Hydroflask goodness
for you
Read about other Hydroflask options in these Hiking For Her reviews:
Happy Hydroflask-ing!
Home page > Best Hiking Gear Reviews >
Hydroflask Cooler Cup Review
Hiking For Her: Hiking tips you can trust!