Enjoy Happy Trails, the free monthly newsletter from Hiking For Her.

Receive a free resource: Hiking Layering System Explained

Kuhl Hiking Pants Review:
Get All The Details Here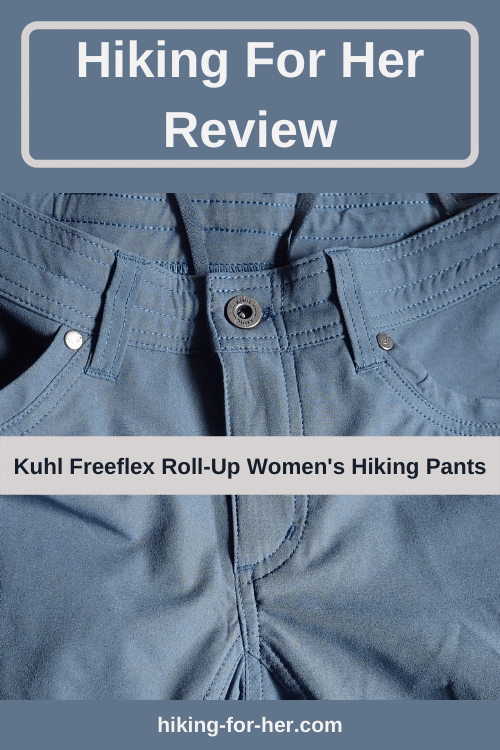 This Kuhl hiking pants review has one purpose: to take you through what this particular piece of hiking clothing has to offer you when you're looking for a great pair of hiking pants.
My goal is to make shopping for the best clothes to wear on a hike a lot easier.

What are we looking at in this
Kuhl hiking pants review?

This Kuhl hiking pants review focuses on the Freeflex Roll-up Pant, waist sizes 2 - 16 with inseams available in 30, 32 and 34.
They look like this when they are rolled up (and unroll to full length hiking pants):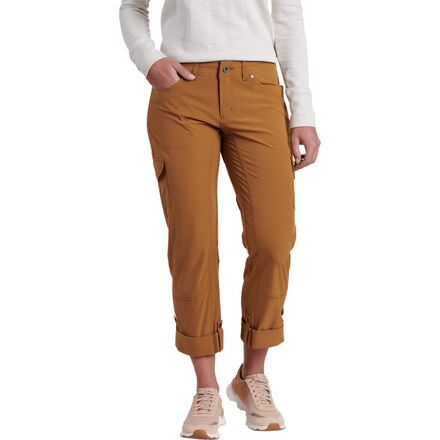 Disclosures and notes in this
Kuhl hiking pants review

I've been using Kuhl hiking clothing for a long time, so I was enthusiastic when a pair of them was headed my way at the suggestion of Kuhl.
While I did not pay for these pants, I did wear them in various settings and terrain (rocks, mud, stream crossings) to see what they have to offer for female hikers.
I'm ready and willing to share my unpaid comments on their merits as hiking pants with you.

All comments and photos in this Kuhl hiking pants review belong to Hiking For Her.
You pay nothing extra for these pants if you purchase them here, while HFH makes a small commission for sharing these details with you, win-win.
You can see the full line up of Kuhl hiking clothing here.

As with any Hiking For Her review, you get only the facts and an unbiased opinion on the trail worthiness of the item.
There is no reason for me to gloss over or omit any details, and certainly no incentive to push these hiking pants on you.
I only write these reviews to share what works!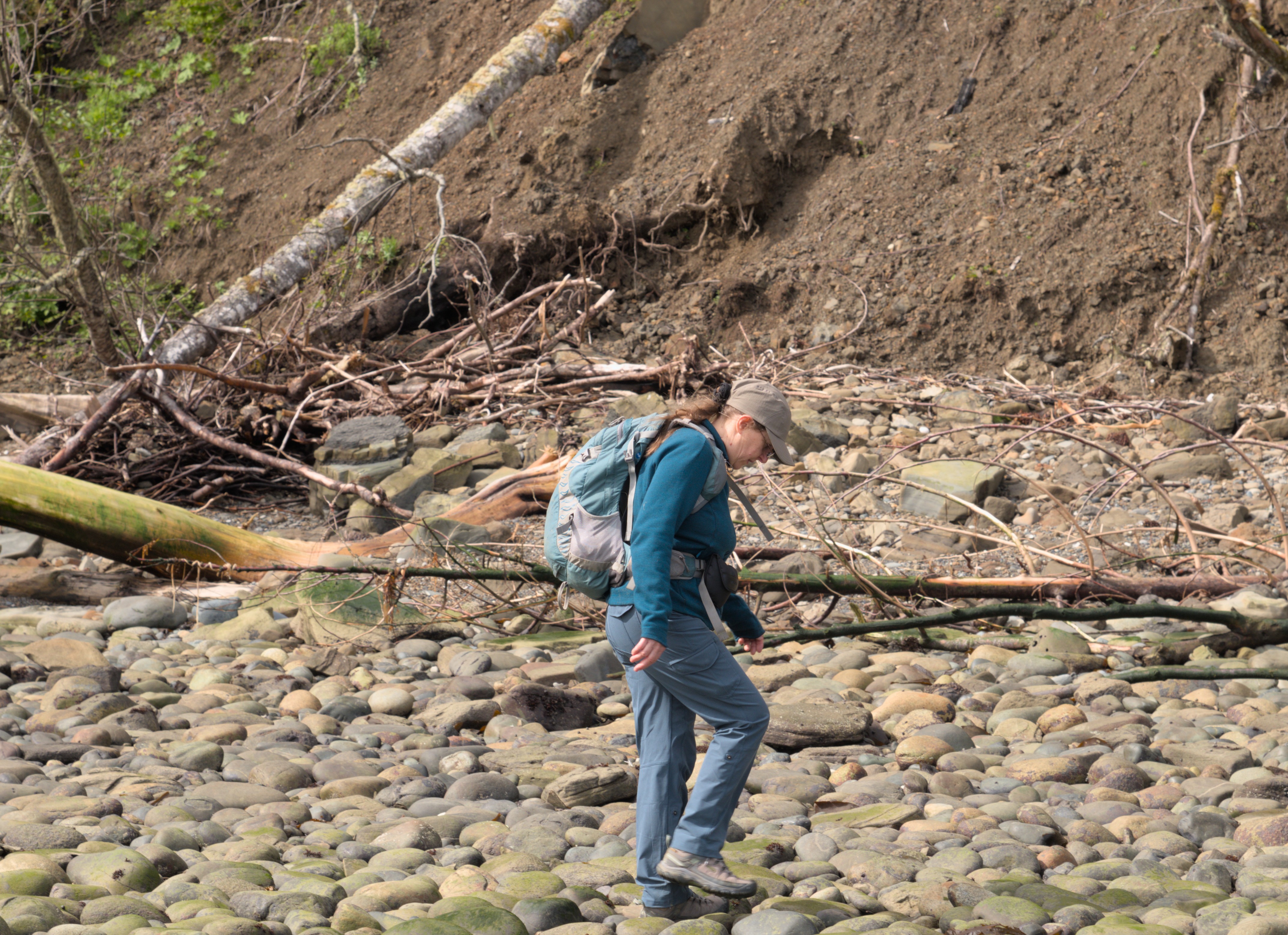 Testing the Kuhl Splash pants in color Rainstorm (luckily, no rainstorm in sight)

Kuhl hiking pants review:
technical specifications

Skip this part if you don't care about the construction and materials in your hiking pants.
But I urge you to think about them, because good performance and durability are what you're buying with your money.
Hiking clothing comes in various grades of quality, with the price tag reflecting how the item is designed and made using various fabrics and materials.
Here's what these pants offer you as a female hiker:
50% polyester, 50% new polyester fabric for fast drying & moisture wicking

Water-resistant finish
UPF 50+ sun protection
Mechanical stretch (holds shape and rebounds)


Fit and feel of these
Kuhl Freeflex hiking pants

Mid-rise at the front
Contours into high-rise at the back
Fitted through hip and thigh
Relaxed leg, 15 ½" bottom opening
Snaps secure the pant leg inseam adjusters

Hidden snap closure on both back and thigh pockets
Moderate waist adjustment via tie string
Trail performance of the Kuhl
Freeflex pants

I picked a really juicy hike to give these pants an initial test:
over 6 miles on a salt water beach with both high and low tides
plenty of slippery seaweed covered rocks, barnacled logs and massive slimey tree trunks
fresh water stream crossings flowing into the bay
and not one but two rain squalls
I was determined to get these pants as dirty and wet as possible, and I think I succeeded!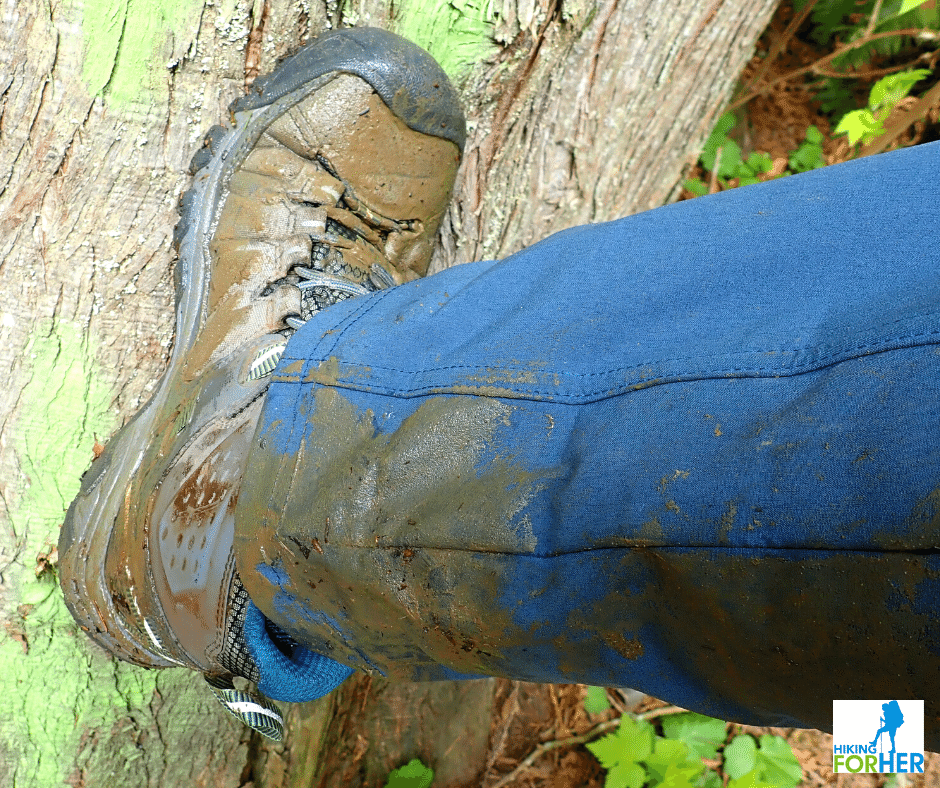 FYI: These pants came out of the wash looking great.
The day started off cool and cloudy, and the first rain shower hit about a mile into the hike. I donned my rain jacket but not my rain pants in order to see how these pants handled the windy rainy spell.
They dried quickly, even when the sun refused to come out. The mud patches dried a bit more slowly but I was able to brush off the dried dirt within an hour or so.

About three hours later, a more vigorous rain squall hit and the pants were dry within 20 minutes afterwards.
Mud patches kept accumulating, due to the wet footing, so were still wet when I got back to my car.
Didn't soak through to my skin, however, so I was a happy hiker.

What I really like about these hiking pants
Remember, these are my personal opinions and might not matter to you in the slightest.
But I'll share them anyway, in my attempt to give you a complete picture of these hiking pants.

The fabric is so forgiving!
Kuhl describes the fabric as "lightweight softshell with stretch", and it's exactly that.
The stretchy material is lovely against the skin and so useful when lifting legs to clamber over a muddy pile of rocks.
I never had a sense of being encased in fabric working against my movement. Rather, the fabric flowed with my movements.
So important when you're an active outdoor woman!
Secure pockets galore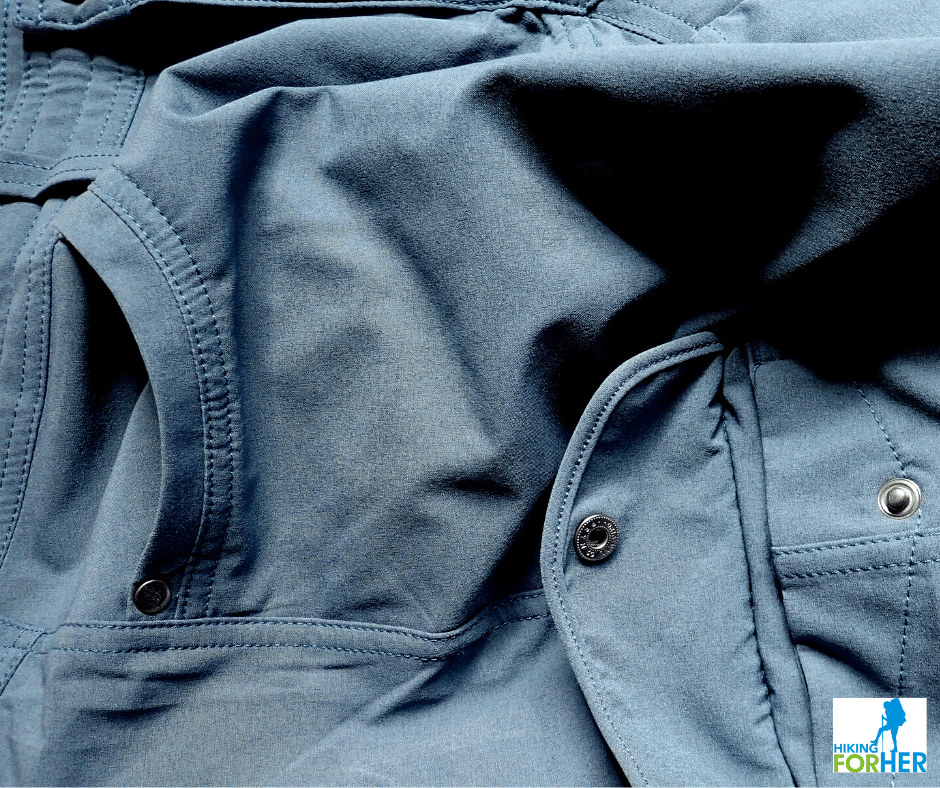 You can see the nice details on the pockets
Can a hiker ever have too many pockets on her hiking pants?
Never!
These pants give lots of options for stashing your snacks, personal items, phone, and trail finds.
The two back pockets snap shut, in case that's where you want to securely stash a wallet or phone.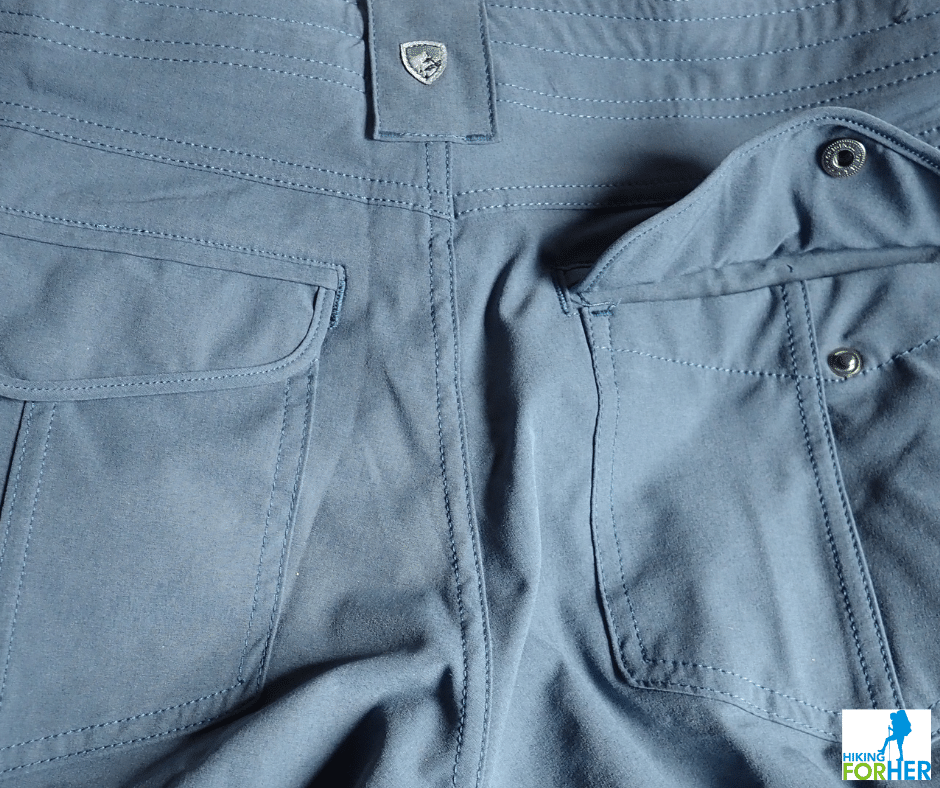 Note the hidden snap, for a more streamlined look

Petite hikers will love these hiking pants
I love how these pants are available in three different lengths:
Because I'm short, the 30 inch inseam was the perfect length while wearing my high rise hiking boots.
They also worked well with my post-hike sandals, not too long or too short.
And I expect they'll look good with my low cut trail shoes, too.

Easy to vary the length

Stream crossing coming up?
Roll up the pants a few times and snap them in place to keep them dry.

The sun finally came out and you're heating up?
It's fast and easy to transform these hiking pants into a ventilated capri style with the snap inseam adjuster, see photo below.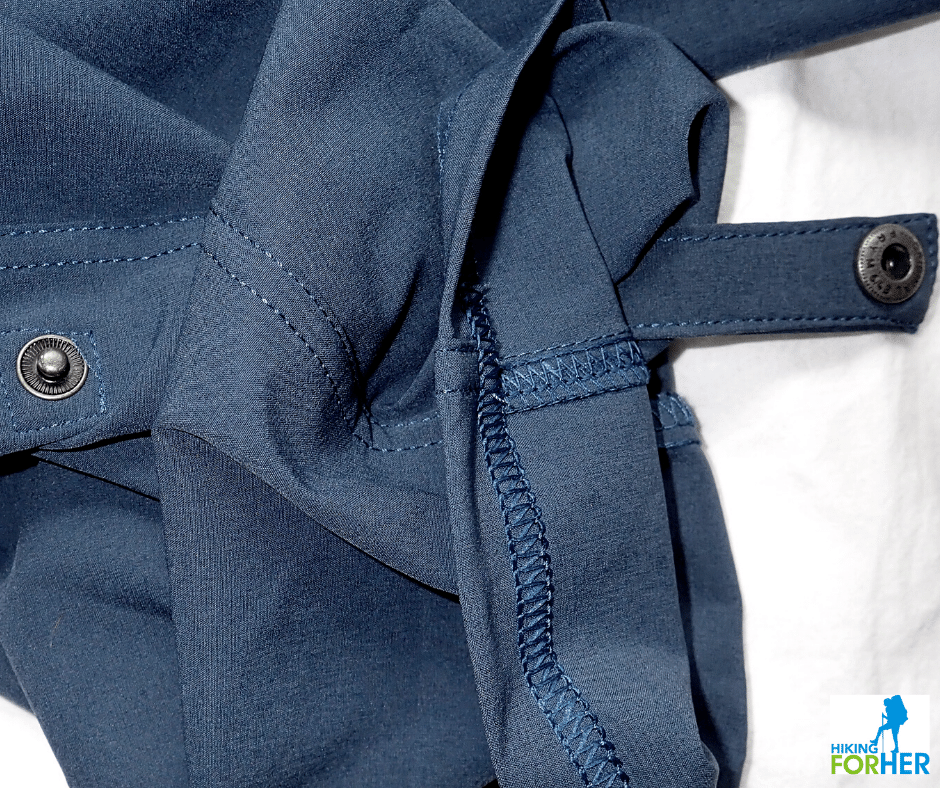 You can't feel the leg tab inside the pants leg when the pants are full length, in case you're wondering

Anything I don't like
about these hiking pants?

There are just two quick things I'd like to note in this Kuhl hiking pants review.

Not for rugged and/or cold adventures

These hiking pants are lightweight, as stated.
The downside? They probably won't stand up to week after week of abrasive rocky trail work where you're scrambling around on boulders or rock climbing up to summits in the backcountry.
Ditto for winter trails.
You'll be cold in these pants unless you have a base layer on underneath them, and probably waterproof rain pants over them.
I share these comments as a four season hiker and snowshoer, with both a summer and a winter clothing layering system.
Bottom line: If you're sticking to moderate summer trails, these pants will perform splendidly for you.
Sizing inclusivity please

I'm not picking on Kuhl in particular, just a general comment on all women's hiking clothing:
The size range could be extended beyond waist size 16 so more women can enjoy these pants.

Kuhl hiking pants review:
Hiking For Her conclusions
I love the comfort and adjustable versatility of these pants.
The relaxed fit allows for free leg and hip movements.
The stretch/rebound material won't get saggy around waist or knees.

They dry quickly after rain showers or stream fordings.
Plenty of secure pockets!

They come out of the wash looking great (line dry them for longevity).
Although they are too thin to wear for winter hiking, these pants will be a great addition to your three season hiking gear lists.
REI Co-op carries Kuhl women's hiking pants in regular, petite and plus sizes here. You can also check Backcountry here.

Home page > Best Hiking Gear And Clothing Reviews >
Kuhl Hiking Pants Review