Enjoy Happy Trails, the free monthly newsletter from Hiking For Her.

Receive a free resource: Hiking Layering System Explained
Jelt Review:
A Belt For All Seasons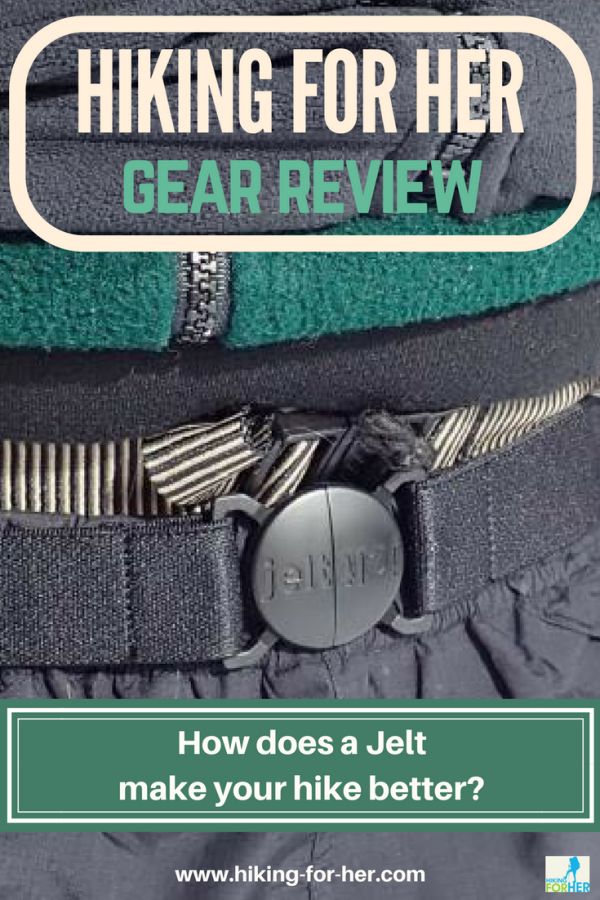 This Jelt review is designed to get you acquainted with a smart little piece of technology you might be tempted to call a belt.
And you wouldn't be wrong!
But there's more to a Jelt Belt than holding up your hiking pants.
Before we go any further...

Disclosures in this
Jelt review

There's not a lot to disclose other than the fact that I purchased this Jelt belt with my own money, as a gift for my trail buddy (and husband).
As with every Hiking For Her gear review, the reason you're reading about this piece of hiking gear is because it works on the trail to solve (or even better, avoid) aggravating problems.
There is no financial relationship between Jelt and Hiking For Her.
If you purchase your Jelt through this Amazon link, a small percentage will be diverted to Hiking For Her without costing you anything extra.
Let's get started!
Jelt review:
design features

Ever face these problems on the trail?
Your back is chafed because your pants slip down below your backpack's hip belt with each step - rub, rub, rub away the skin.

Your slippery rain pants ride up or down, causing a commotion with your layering system and letting in cold air.

The bulky buckle on your current hiking belt competes with the buckle on your backpack, your camera case, or both. Ouch!

The belt you're wearing now has seen better days - or is just one step away (maybe literally) from catastrophic failure.
Fear not!
A solution has arrived.
It's called the JeltBelt.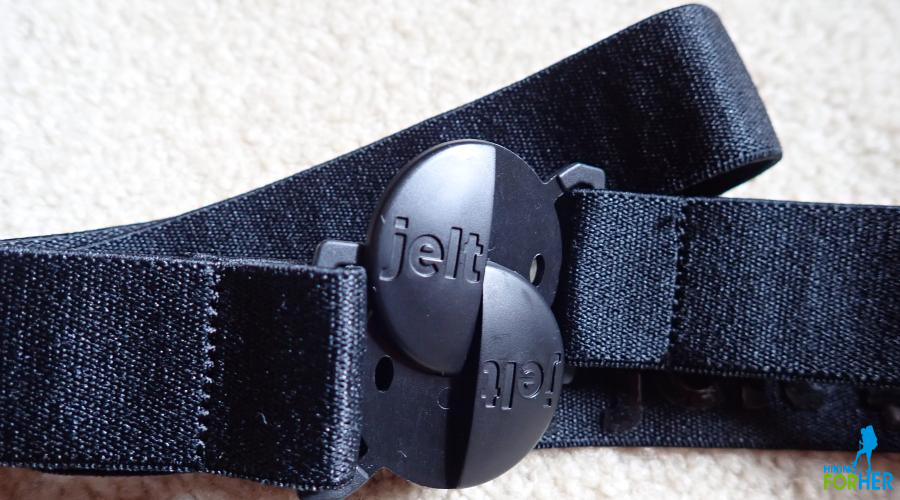 So what's different?
You probably already have a belt you use on your hiking pants.
But is it made from recycled water bottles?

Was it packaged on 100% recycled cardboard?

Is it leather free, and therefore vegan friendly?

Will it last and last, thus reducing your carbon footprint?

This company demonstrates a commitment to environmental sustainability!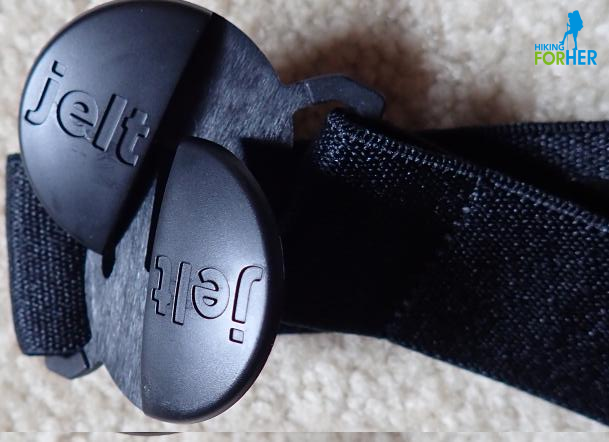 The non-metal buckle is easy to secure and undo with one hand.
Makes it easy to do your business during a hike.

Won't react with metal sensitive skin.

Bonus: You won't have to remove this belt when going through security at the airport, right?
The flat buckle doesn't stick out, thus solving the frustrating trail problem of competing buckles noted above.

Here's the real magic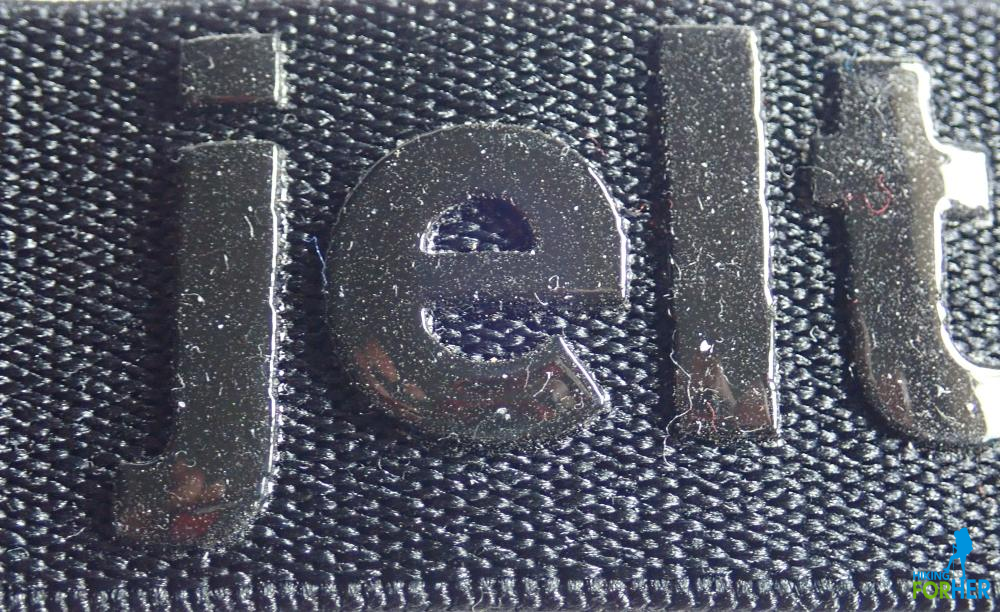 A JeltBelt deploys grippy inner gel, placed along the inner length of the belt, to hug your waist band from all angles.
And doesn't it just make sense that it spells out Jelt?
A Jelt is super light weight, so it won't drag your pants down.
It rolls down small when you don't need it.

And it's stretchy enough to get the job done after second lunch on the trail (or Bloat Day(s) of the Month).
For all these high performance reasons, Jelt = happy trails.

Woman owned
USA company

It's important for a woman's hiking website like Hiking For Her to note that Jelt is a female owned U.S. company.
The belt was invented by a mother looking for saggy pants solutions, and has since blossomed into a myriad of belt choices.
Jelt gives back

One of the nicest facts I can share in this Jelt review is that this company gives back to the community in several ways.
Social entrepreneurship: Jelt supports a small Montana community with jobs.


Philanthropy: A portion of every sale is donated to Warriors and Quiet Waters Foundation, THRIVE, and 1% For The Planet.




Jelt employs incarcerated women via the

Montana Correctional Enterprise (MCE) Program at the Montana Women's Prison.
For these reasons, Jelt is a Certified B Corporation, which is a designation earned through business practices such as these, emphasizing a business model built upon integrity and transparency.

Time to get your Jelt!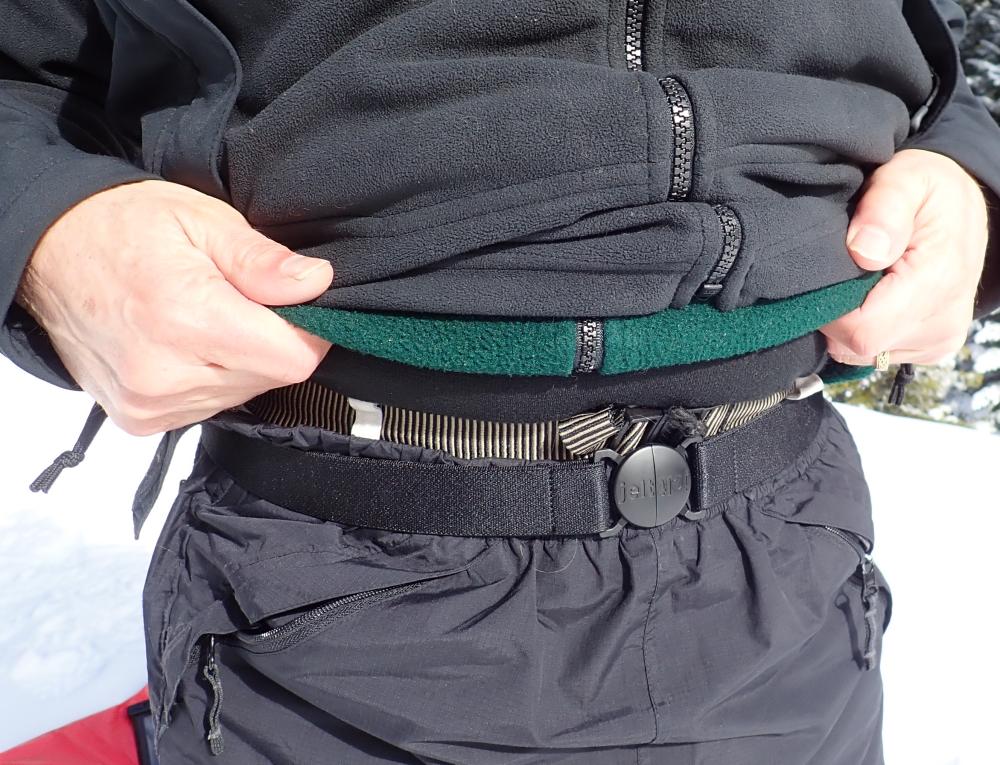 That's all of the facts for you in this Jelt review.
Now it's time to take a closer look at all of the colors and styles Jelt offers.
No need to stay with basic black, unless you want to!

Home page > Hiking Gear Reviews >
Jelt Hiking Belt Review