Title Nine Hiking
Clothing Review:
Is It A Good Fit For The Trail?
by Diane Spicer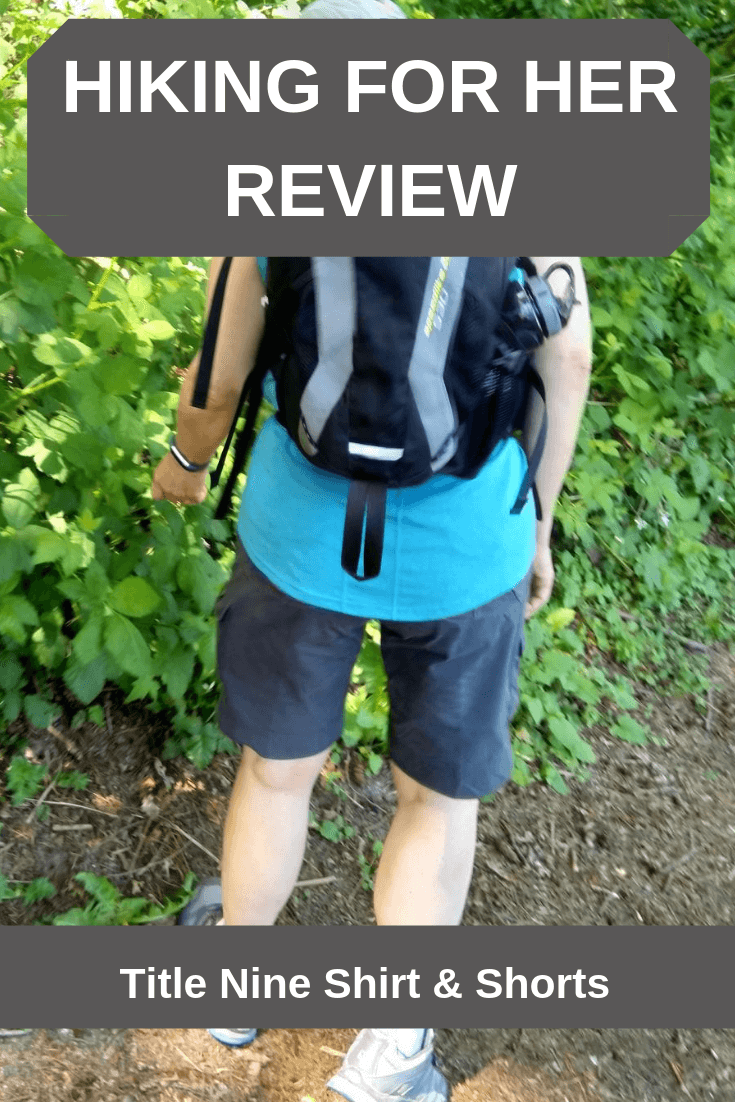 This Title Nine hiking clothing review was written to give you the details on a shirt and shorts combo for female hikers.
The question:
Is this clothing suitable for the trail?
Before we answer that question, a few disclosures.
The hiking apparel was received free of charge from Title Nine.
All of the comments and opinions in this Title Nine hiking clothing review belong to Hiking For Her.
HFH is a Title Nine affiliate, which means two things:
Hiking For Her has confidence in recommending their clothing to you.

You pay nothing extra for purchasing through this website while HFH receives a small percentage of your purchase price.
In other words, you discover great clothing for your outdoor adventures, Title Nine earns a great customer (you!), and HFH has fun sharing all the details on good trail wear.
Now let's start answering that question!
The clothing in this
Title Nine hiking clothing review
I demand high performance from my hiking outfits, and I'm willing to bet you do, too.
That's why every Hiking For Her review starts off with the down and dirty details on materials and design.

This one is no different, so let's get to it.
KUHL Free Range shorts
The fabric is what KUHL calls "bi-component", a blend of 68% cotton and 29% nylon with a bit of spandex.
What does that mean to you as a hiker?
It will be stronger and will dry faster than 100% cotton fibers.

And has enough stretchability to make you smile, but no frowns from bagginess.
That all adds up to fabric that can keep you comfortable and protected as you tackle stream crossings, crawl through blowdowns, perch on a rock at a viewpoint - you know, all the fun stuff you get to do on a hike!
Details:
11 inch inseam (also available: 6.5 inches)

Mid-rise waist with zipper and snap 

Two waist pockets

2 thigh (cargo) and 2 back pockets, with snap closures

Belt loops

UPF 50 sun protection

Sizes 2 - 14

Six color choices; "Carbon" pictured above in this review

Price at the time of this review: $69 US
Title Nine Vibe tank top
The fabric in this shirt is 82% poly/14% cotton/4% spandex, with something called drirelease (for faster drying), a registered trademark of Optimer Brands.
This Title Nine hiking tank top is available in sizes XS - XL.

It promises a lot for $29 (US):
Trail performance
Now that we've got a clear picture of what this hiking clothing offers, let's set the scene for the review.
Ideal trail conditions for shorts and a sleeveless shirt:
Luckily, along came an 83F day in May, which is a weirdly hot day in the Pacific NW.
Perfect for testing the moisture wicking, breathability and comfort levels of this cute hiking outfit! 
Shorts
The shorts hit just above the knee (11 inch inseam on a 5'3' frame), which makes sense for hiking through brushy areas or doing a lot of uphill work.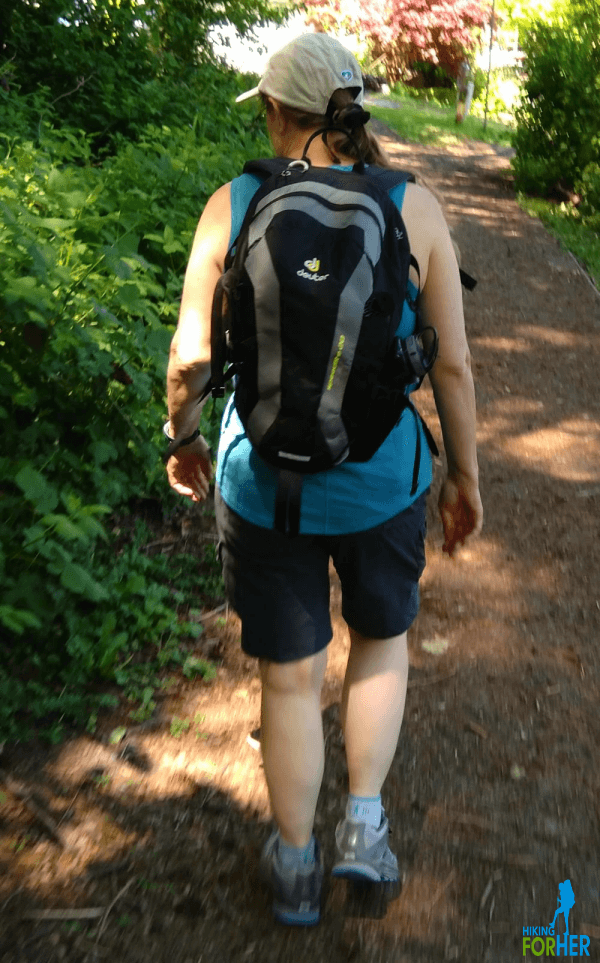 Whew! A bit of shade on a hot day. Notice the contour of the sleeveless arm openings - great ventilation but adequate coverage under my backpack straps.
The shorts are what I would call mid-weight. 
I didn't hesitate to plop down on a granite boulder and rest against it, wearing this hiking clothing.
I also splashed through a creek and got the bottom of these shorts wet - and I learned that they dry quickly on a warm day!
These high quality, well constructed shorts handled the sweating, the dirt, the motions every hiker makes on the trail, and managed to look good at the end of the hike.
Wow!
Tank top
The sleeveless Vibe shirt has a generous under arm cut, providing plenty of freedom for putting on a backpack, using trekking poles, or reaching for a handhold on a steep trail section.

Although my back and neck got sweaty (per usual on a hike), the shirt sopped up the moisture so I didn't feel clammy when I was in the shade (a notorious flaw in regular cotton shirts).
And I noticed that after lunch, the shirt was dry already - comfortably ready for the trek back to the trailhead.

What I really loved
about the shorts
The plethora of pockets!!
Two pockets sitting at the waistline are rather shallow, just right for a few energy chews to pop into your mouth, or your SPF 30 lip balm.
The front thigh pockets are cargo style, nicely tailored and roomy enough for car keys or a snack.
Nice touch: a slightly longer tab gives you a good grip to flip open the pocket.

They lock down tightly with a snap, to prevent you from losing anything important when you bend over.
The back pockets are smaller than the thigh pockets, but plenty big enough for whatever you prefer to stash back there.
They also feature the same handy tabs.
What I loved
about the shirt
The Vibe tank top felt buttery soft against my skin, which is welcome when I'm sweating buckets and want to avoid chafing.
The neckline was just right under my backpack, not too revealing when bending over, and not binding.
The longer contours of the shirt protected my waistline from any rubbing from my backpack's hip belt - no riding up while walking, either.
And such a pretty color!
A note or two
about sizing
We all have unique preferences, not to mention contours. 
Because these clothes are designed and tested by women, you won't run into some of the usual sizing issues.
In my experience, both the shirt and shorts run true to size, but be sure to take a close look at the Title Nine sizing chart before you order.

I offer a few additional notes about sizing in this Title Nine hiking clothing review to help you figure out if this is the right trailwear for your next hike.
Shirt sizing
Heads up: The arm holes on the shirt have a generous cut.

I love the freedom that gives me, but you might think it gapes a bit.
If you're wearing a sports bra, I don't think you will have any modesty issues, but I included photos of me in the shirt so you can judge for yourself how much shoulder and back skin is exposed.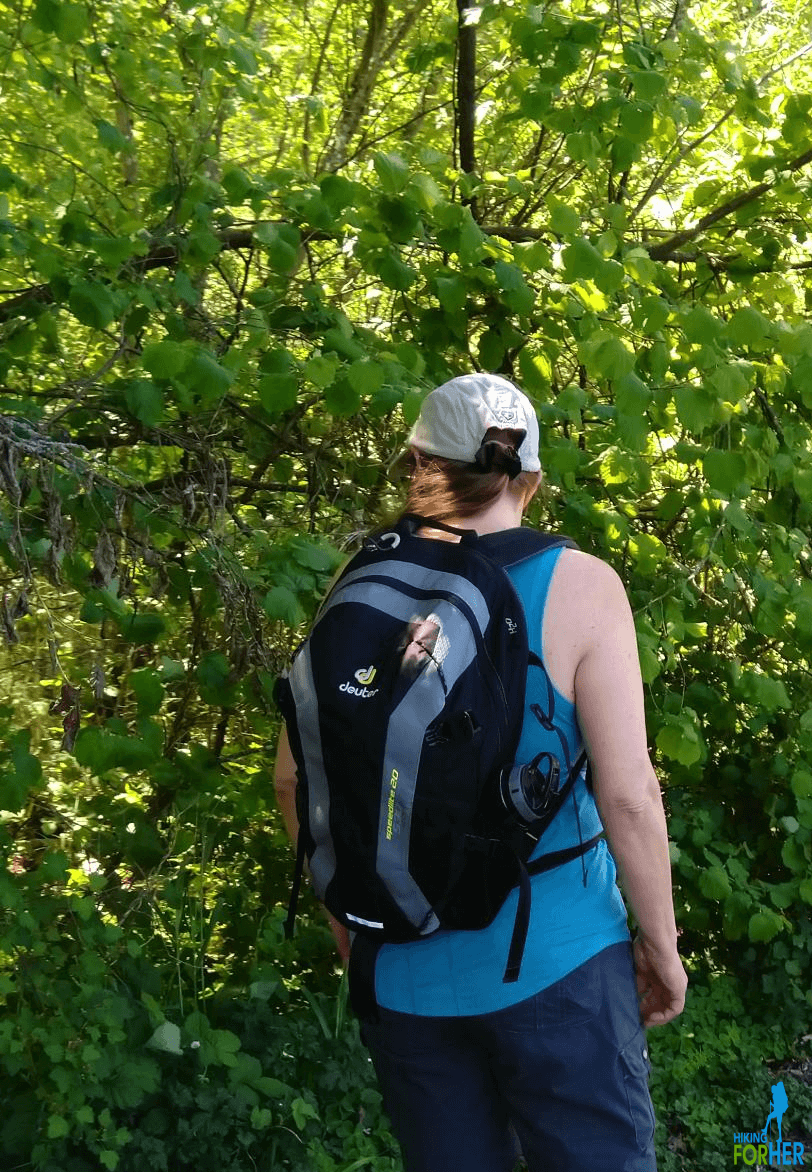 Sleeveless freedom of motion

Hiking shorts fit
If you prefer looser clothing for hot weather hiking conditions, consider going up one size.
These shorts have a fitted feel that might be too binding in your regular size for sweaty legs working hard on a hike.
Because I like my hiking clothing on the roomy side, I went up a size and  was quite satisfied with the fit of the waistband and leg room.
Plenty of room, but not baggy

A pair of thin tights underneath can bring these shorts into cooler hiking weather, too
If in doubt...
Read the thorough reviews left by customers on the easy-to-navigate Title Nine website.
Each reviewer not only shares her experience with the clothing, but also lets you know whether or not her experience might fit your situation by revealing:
So helpful!
The Title Nine company
Title Nine was named intentionally in 1989, to highlight the federal civil rights amendment passed in 1972 requiring gender equality in all aspects of public education.
This page takes you to the pre- and post-Title IX statistics, showing big gains in education and sports for women.
It also highlights some amazing female athletes you've probably never heard of, despite their important groundwork.
Wyomia Tyus

Chrissy Piper

Raven Wilkinson
Great guarantee
Title Nine stands behind their clothing to give you the feel and fit you're looking for as a hiker.
Love that amazing guarantee!

Your new sports bra headquarters!
Under that comfy, moisture wicking shirt you're going to need an equally comfy, moisture wicking bra.
Title Nine offers you lots of options for that unicorn called "comfortable, high performance sports bra".
Check out their offerings in cup sizes A through DDD+ here
Title Nine
hiking clothing review
conclusions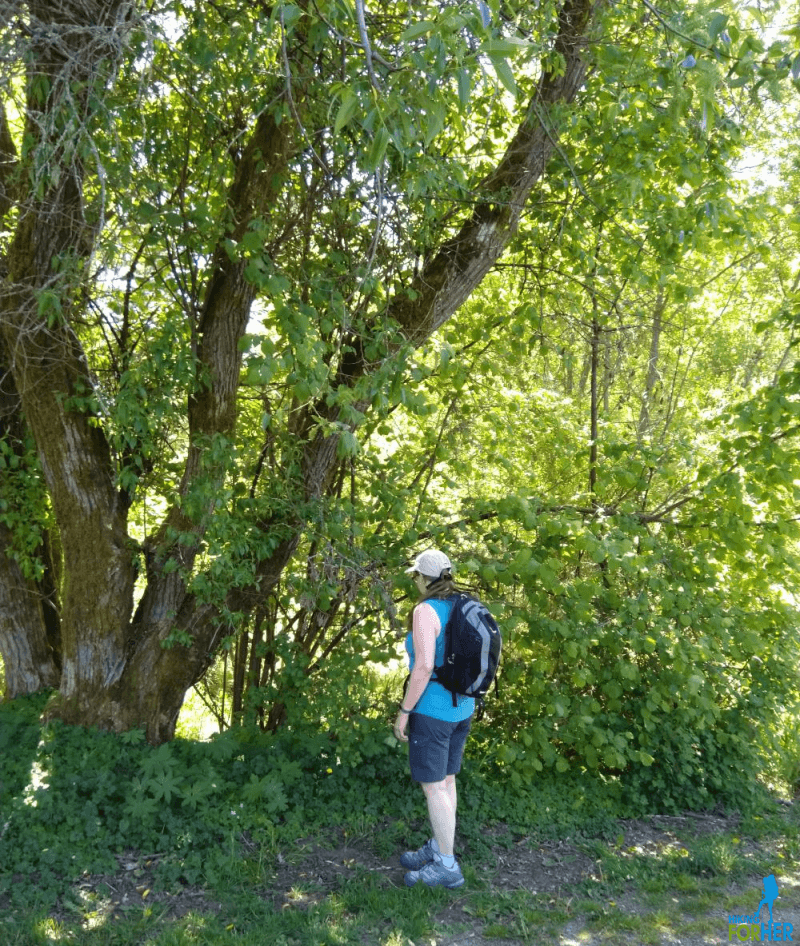 Stay cool, protected and happy on the trail!
It's tough to find the right combination of hiking shorts that can stand up to trail grit paired with a high performance wicking shirt that feels good.
But this combo nails it.
Title Nine offers you highly suitable clothing for your next warm weather hike, for all sorts of reasons: moisture wicking and fast dry fabrics, comfortable fit, nice details...
But why save it for hiking days? 
This pairing of shirt + shorts is going to be pressed into service for trips to the grocery store, leisure time at my favorite coffee shop, and daily neighborhood walks.
Plenty more great hiking clothing options for you at Title Nine, so hop on over and take a look.
Home page > Best Hiking Gear Reviews >
Title Nine Hiking Clothing Review: Shirt + Shorts 
Hiking For Her: Hiking tips you can trust!