Enjoy Happy Trails, the free monthly newsletter from Hiking For Her.

Receive a free resource: Hiking Layering System Explained

Best Hiking Skirts:
Do They Exist?

by Diane Spicer
Hiking skirts!
Or maybe you call them walking skirts?
Regardless of name, what do you think of this question: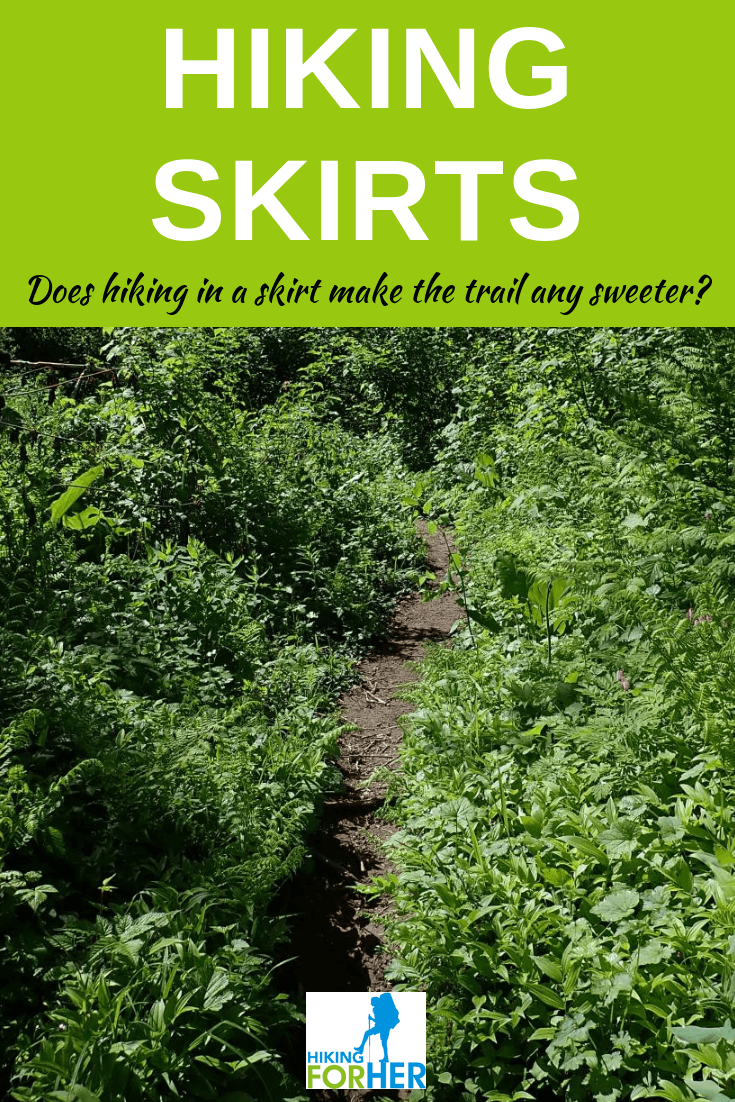 The question surfaced because I've been fascinated by this idea for women hikers ever since I saw a woman hiking the Pacific Crest Trail in a skirt that reached to her knees.
And I began to wonder whether hiking in a skirt was a good idea.
Historically, skirts have been used by both genders.

Back in the "olden days", women always wore skirts, regardless of the activity.
And men have worn kilts in the outdoors for generations.
But are they a good idea for hikers?


Why wear hiking skirts
on the trail?

Let's get right down to the nitty gritty of best trail skirts questions for your type of hiking:

Is a hiking skirt practical?
Can bare legs be

realistic when you're hiking off trail through brush and mud?

Is a

modest hiking skirt designed to give you freedom of movement while it covers all of your assets when hiking up hill?
Does a skirt make answering Nature's call any easier?

For a look at some answers:

This forum kicks around the question from multiple angles: freedom of movement, ease of answering Nature's call, ventilation ...

have a look for yourself.
Trail skirt update

UPDATE:
Here's a skirt I find to be worthy of your attention, because I own one and it rocks.
It's now a skort, with built in shorts to make things even easier on the trail.

This hiking skirt features:

a neutral color to hide dirt and blend in with surroundings
a slight flare for ease of movement (I bought mine one size up to give myself extra leg and waist room)

moisture wicking fabric so my sweat doesn't stay on my body
a bit stretchy so it moves with me
reasonably deep pockets for lip balm and hair ties

belt loops for attaching trail stuff with a carabiner
generous range of sizing

and it can be worn into town after a hike if you select a hide-the-dirt color
I've got one hanging in my hiking clothes closet for all of these reasons!


More hiking skirt choices
for every season on the trail
If you really get into this hiking skirt thing, you'll need several types to manage temperature and moisture levels.

Get started with the best selection of hiking skirts here.

Not just for the ladies!

Hiking kilts for men offer the same advantages that women's hiking skirts do, including ventilation and freedom of movement.
And I'm not the first woman to notice that a man in a kilt or skirt is worth a second look.
Your turn to chime in

I hope you'll share your own experiences if you definitely DO or DO NOT like to hike in a skirt. Many women hikers would like to learn from your experiences.
Send in your comments and opinions about the wisdom or down side of wearing a skirt on the trail - it's really easy to do using the form below.
And thanks in advance for being willing to share with your trail sisters.
One last question:
Should skirt wearers have a secret handshake or something?
Clan of The Skirt Hikers!

Just a note:
While I appreciate guys who are enthused about their skirt experiences for outdoor sports, I won't be posting any more of their comments here. I want this page to focus on female hikers and hiking skirts, keeping with the theme of this website.

Hiking In A Skirt: Pros and Cons
Do you have a strong opinion about this? Share it!
What Other Visitors Have Said About Hiking Skirts
Click below to see contributions from other hikers to this page...

Home page > Best Hiking Gear >
Hiking Skirts

If you make or market skirts for hiking women,
please contact me directly. I'd love to talk with you.
Hiking For Her: Hiking tips you can trust!