Enjoy Happy Trails, the free monthly newsletter from Hiking For Her.

Receive a free resource: Hiking Layering System Explained
Backpacking Tent Reviews: Which Design Is Best For You?
Backpacking tent reviews: easy to find.
Not always easy to swallow.
Here's what I mean

If the person writing the information is being paid by the company making the gear to write it, how objective can s/he really be?
Personally, I avoid commercial backpacking tent reviews for this reason. Who wants to waste time reading words that might be just about moving product out the door?
[OK, call me a sceptic. Guilty as charged.]
Let's go over a few "best backpacking tent" features for you to consider as you peruse all of those glossy potential info-mercials which are available:
That way, you'll swallow the facts, not the hook.
Backpacking tent reviews:
know the buzzwords

The basic question to consider when reading a backpacking tent review revolves around the choice of tent design:
Which footprint will give you maximum room for minimal weight?
Expect the word  "seasons"  in relation to a backpacking tent. 
Here are your choices:
*Summer or hot climate, sometimes called "two season".
*Three season: pay attention to the temperature ratings and the features which are claimed to make this tent fit for colder weather.
*Year round/all season/four season (convertible) - be careful about taking this tent into really rugged conditions. You might need an expedition grade tent if you'll be bombarded by snow and wind.

*Winter camping: carefully read actual eyewitness accounts of how a person can survive extreme cold and snow conditions in this tent. Your safety margins get really thin in cold weather.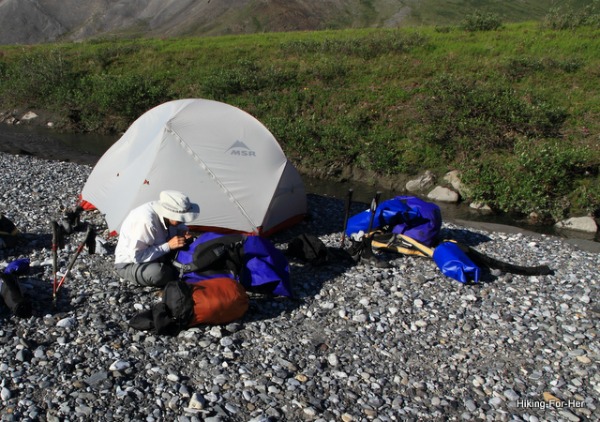 Backpacking tent reviews need to be written by folks who spend lots of time with the tents!

More backpacking tent buzzwords!

Believe it or not, there are more buzz words, revolving around the intended use rather than the season:
*Mountaineering: designed for hard core hikers in rugged terrain! These will be expensive, and may specify summer -vs- winter conditions.
*Ultralight (lite): for minimalists who can't be bothered with lugging around luxuries like a tent floor.
Now you know!

Now that you're up to speed on tent jargon, you can use these buzz words correctly to hone in on the info which pertains to the type of backpacking you are planning.
Of course, it's fun to read ALL of the reviews, if you have that kind of time on your hands!
Tip: Read the specificiations carefully, even before you consider the price point.

What else to look for?

Here are other ways to spot quality backpacking tent reviews:

Find an outdoor writer who generates a lot of information about the outdoors, not just one piece of backpacking gear.
If a person shows a long standing commitment to getting the right gear into your hands, you can trust them much more than a revolving list of contributing writers who dabble in writing about backpacking gear.
Certain magazines can be credible sources for backpacking tent reviews.
I'm always on the lookout for

bloggers

who seem to "get" what makes a great piece of backpacking gear, so I'll be sure to pass those along to you here.
And time permitting, I will review backpacking tents which I happen to spend time in.
Each summer I find myself in at least one "new" tent - new to me, that is.
So I've developed a mental list of "go to" companies which I trust with my hard earned money.
Be sure to check back once in a while to see which tents I feature.
It also gives me a GREAT excuse to hit the nearest gear store, in search of the hottest backpacking tents.
What's your favorite
backpacking tent?

If you have suggestions or good resources on backpacking tent reviews, please send them along.
Thank you!
I'll share them in my free monthly newsletter, Happy Trails, for all of us to benefit and learn from.
Haven't signed up yet for this easy way to get all of the freshest hiking tips? Use this handy little blue box!

Home page > Best Hiking Gear > Hiking Tent Reviews >
Backpacking Tent Reviews