Enjoy Happy Trails, the free monthly newsletter from Hiking For Her.

Receive a free resource: Hiking Layering System Explained
Best Tent Tips:
What To Know
BEFORE You Purchase
By Diane Spicer

Best tent tips revolve around the basic purpose of a backpacking tent: to keep you safe and comfortable in any kind of weather when a cozy hotel room is definitely not an option.

That's why the best backpacking tents are well constructed, feature smart designs, and require a minimal amount of effort to carry, set up, take down, and care for.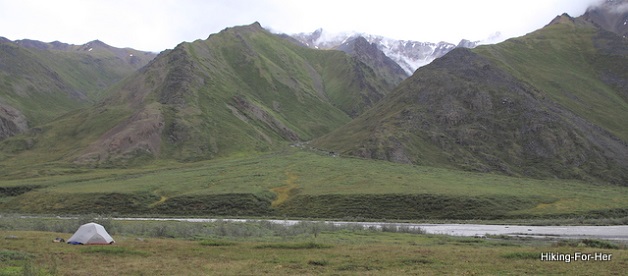 Use these best tent tips to keep yourself warm, dry and happy when you're far from home.

Let's be careful...

So let's be careful to go through the best tent features you need to consider when you want to know how to buy a tent.
I'll provide questions to pose to yourself as we move through my best tent tips.
Oh, Yes!
I encourage you to crawl inside as many tents as possible.
Stretch out in them, zip and unzip every zipper, even collapse them and try to set them up, if the salespeople are amenable to this idea.
And they should be!
Better yet, rent a few tents and give them a go.
Or beg, borrow, or ... well, just beg or borrow.
There's one more way out of the tent dilemma: use a backpacking tarp! This eliminates the (what I consider fun) ordeal of choosing your four walls.
If a piece of fabric hanging over your head does not spell comfort or safety to you on a backpacking trip, let's dive into the features you need to know before purchasing a tent.
Best tent tips:
BASIC FEATURES
Every tent has exactly the same function: protection against the elements.
But backpacking tents take it to the nth degree: survival through all types of weather, with no options to bail if things get too dicey.
So my best tent tips for backpackers include paying close attention to the construction of the tent.
Function depends upon form.
Let's take a tent tour as we sniff out the best tent tips, shall we?

Tent floor

The first of my best tent tips looks at the durability of the floor, preferably one piece of material (synthetic, such as nylon or polyester) to avoid leaks.
You want the floor to be able to take a pounding.
Your gritty boots, hiking poles, and other sharp or abrasive gear needs to be dragged in and out of the tent each day.
So be sure the tent floor is durable enough for the type of hiking trip you're planning: rocky -vs- sandy terrain, wet -vs- dry, you get the idea!
Shape

I'm sure you are well aware that there are many varieties of tent shapes. So best tent tips should include a few words about them.
You need to consider which of these you crave most:

head room once you're inside the tent;

leg room when you're stretched out in your sleeping bag and want to avoid sleeping in the fetal position - it's hard on achy muscles;

a high degree of protection from wind, rain or snow;

room for boots and packs near the door.
At this point you might be wondering, is it possible to find a backpacking tent with all of these features?
Yes, but be prepared to pay a premium for it! Sure wish that wasn't on my list of best tent tips, but there it is.
Walls and ceiling

The steeper the walls, the more interior space you will have (I know, sounds completely obvious but hey! you have a lot to think about, so I'm being excruciatingly clear here.)
A domed tent will give you plenty of head room.
If you're tall, or there's going to more than one of you in the tent (this includes rambunctious dogs), be sure you visualize EVERYONE in the tent sitting up during a lengthy rainstorm.
No crouching in corners deluding yourself that you can make this work, please!
Questions to ask:
Can all of you lie down comfortably AND simultaneously?




Is your gear stowed in a dry place, without being shoved up against the tent walls?




Does the top of your head contact the ceiling when you're sitting up and thrashing around while changing clothes?



It's going to be important for you to drag a sleeping bag, a backpack, your boots, and other gear into that tent and be absolutely sure you'll wake up the next morning dry and comfortable.
So don't be sucked in by the latest, greatest tent design (they change a bit every year).
Your bottom line: "Is it functional for the way I backpack?"
Tent seams

This brings us to the un-sexy but important topic of tent seams on our discussion of "best tent" tips.
If you can afford a tent with factory sealed seams, GO FOR IT.
For most backpacking tents above a certain price point, this will be a non-issue, as sealed seams are standard.
But I always check the label, just in case, given my less than pleasant tent history.

I started backpacking when we carried canvas tents (early 1970's).


Eventually I could afford a lightweight nylon tent, which seemed like heaven until the seams began to blossom with large water drops during a particularly eventful thunderstorm on Isle Royale in Lake Superior.

I wouldn't wish that cold wet experience on anyone!
So here's one of my most important best tent tips: sealed seams are THE way to go.
If you can't purchase a tent pre-sealed, be sure you purchase sealer and do a thorough job at least a week before your backpacking trip.
This will be a smelly, tedious job (work in a well ventilated area). But flash forward to yourself shivering uncontrollably in a leaky tent - then grit your teeth and just do it.
Finally, test your seam sealer job or factory sealed tent with a garden hose "downpour"!
That's one of my favorite best tent tips! Especially if you can enlist the help of someone else while YOU stay inside the tent to observe the seams!

Rain fly
Next comes an additional layer of protection between you and the elements: the rain fly.
By the way, I know why they call it a fly. If only I had been holding my camera when the wind decided to teach me that particular lesson.
The rain fly will fit snugly over your tent without touching it in many (if any) places.
Some flies go all the way to the ground.

Others leave quite a bit of the tent exposed.

Some overhang a doorway, others don't.

Your expected weather conditions will dictate your decision on this piece of gear.
A good rain fly must be waterproof (just like your hiking gear) and it must be made for your exact tent.
If you're sure the weather will be warm and dry (arid regions or ideal summer conditions), don't bother bringing the rainfly.
This is especially true if you're a star gazer.
Concerned about every ounce of your hiking gear?
Tent poles & stakes

So how are you going to hold up the roof, walls, and rainfly of your outdoor abode?
Poles!
And tent stakes, too.
Or not.

Freestanding tents are not going to use many poles or stakes.
In calm, mild weather, this can save some weight in your backpack.

In tumultuous weather, be forewarned!!
I have personally witnessed two separate events when a freestanding tent lifted off the ground like the space shuttle.
So I'd calculate your risk of losing your poorly staked tent in windy weather at 50:50 or so ;)

Things to consider with poles: weight, ease of use, and construction material.
Lightweight is great, but flimsy is not. Be sure the stakes are not going to bend easily (beneath the weight of an unexpected snow fall, perhaps, or a clumsy hiker).
I've seen decent poles made of aluminium, carbon fiber, and some really high tech composites.
But really high on my list of best tent tips: avoid cheap fiber glass poles. They snap easily.
What's your back up plan?

Have a back up plan if one or more tent poles is damaged.
Carry or make use of:

Any of these can save you from a wet, windy, miserable night.

FYI: Wet duct tape does not bond well with wet tent poles. Be forewarned - it was on my list of best tent tips, right?
If you happen to lose a tent pole, will your hiking pole be an adequate replacement?
Test out this theory at home, in case you come to an unhappy conclusion. Since you're bothering to read these best tent tips, you might as well do the homework!
How many poles?

How many poles do you need to carry?
As many as it takes to give you the functionality you need!
I know. That's an unsatisfying answer.
So ask yourself:
A bigger tent, more poles. Reasonable conclusion, no?
Not necessarily.
But perhaps longer, more flexible poles, more prone to breakage.
Will you be carrying the rain fly?
Some of them require poles to keep them away from the entry area or vestibule.

If you're leaving the rain fly behind, be sure to take any rain fly associated poles or stakes out of the gear bag to lighten your load.
A few pole tips

Collapsible poles are a great idea, because they "snap" back together using a cord system which anchors the poles together while allowing the poles to "break" and therefore bend into small pieces.

This provides two important features: a small footprint in your backpack, along with fast and easy assembly at your campsite.
Not all tent poles are alike.

Some poles are curved in particular places to fit into particular tent areas.

Other poles must be inserted into the outer fabric sleeves of the tent before other poles.

Some poles are color coded, and if it's too dark to see, you will have to struggle with locating the right ones by feel.
Tip:
Make it a point to get familiar with your tent poles before you need to get your tent up in a hurry.
Please don't skip this!
I say this in many emails to hikers asking about tents, so I'll say it here in capital letters:

SET UP AND TAKE DOWN YOUR TENT AT LEAST ONCE BEFORE YOU LEAVE ON YOUR BACKPACKING TRIP.
Sorry to shout at you, but I really mean it because your safety may depend upon it.
If you want to get really serious, drag your new tent out to a park or into your yard.
Read the directions.

Then set it up, from memory. In the dark. With no flashlight.

Bonus points if a stiff wind is blowing. For extra fun, turn on the lawn sprinkler
Who says the best tent tips have to be boring? And the neighbors will get a kick out of it, too.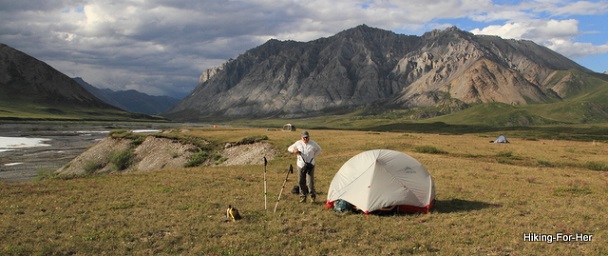 Taking down and storing your tent shouldn't be a chore.

Anchoring options

You want to anchor your tent once you get it set up. Don't rely upon the weight of your sleeping bag and other gear to keep it stationary.
So here are some specific Best Tent Tips related to tent stakes.
Tent stakes must stand up to a lot of tugging or shoving into unyielding ground.
You don't want to be carrying flimsy metal stakes which easily bend and twist - a waste of space and potentially dangerous if they become unusable.
Use an aluminum stake like this one, and avoid any problems.
Plastic rant
I personally dislike plastic stakes, for these reasons:

They can blow around in windy weather.




They always seem to crack after a few seasons.




Dirt gets impacted into their grooves and adds to their weight.




They're big and clunky in the stuff sack.
On the positive side, they're lightweight and cheap. (But maybe too flimsy to ward off trail vampires).
A few more staking tips
If you have a free standing tent, be sure you stake it down unless you want to admire your beautiful tent's underbelly as it sails into the sunset.
Also be careful about tents which must be fully staked out to be functional.
If you're camping on rocky ground, or on terrain which does not include conveniently placed trees, your tent may not be useable. Bummer!
Tent doors:
one or two?

Along the lines of "how many creatures will be inhabiting your tent", ask yourself how many doors you want.
This is a critical "best tent" tip!
I've purchased tents with one door when I was hiking by myself exclusively.
I also have a backpacking tent with two doors. What a time saver!
Each person is assigned a door, and there's no waiting around in the cold dampness for the other person to get settled in the evening, or for them to get dressed in the morning in order to exit the tent.

Makes midnight trips to the woods a lot easier, too, if you don't have to crawl over someone to get to the only door.
One more tent door consideration: If the zipper gets stuck on one door, you're not trapped in your tent. Don't ask me how I figured that out!! I just randomly threw it on my list of best tent tips.
Tent door tip
Any door should be covered by two layers of fabric:
Zippers

Speaking of zippers, avoid metal and look for well constructed plastic zippers. It's possible to replace tent zippers, but it will be pricey.
Windows should also feature sturdy mesh construction, although don't expect separate zippers to be the norm.
But if tents make you feel a bit claustrophobic, look for one with a lot of windows or overhead mesh.
Good idea for ventilation in hot, dry climates, too.
Just be careful that you don't sacrifice safe shelter for visibility or a cool breeze.
 

Ground cloth a.k.a footprint

Do you need a ground cloth beneath your tent?
Great question! It richly deserves a place on my list of best hiking tips.
If you hike where rain and humidity are non-events, you might be tempted to skip this optional tent feature.
I'd caution you to rethink this in light of the fact that it's difficult, if not impossible, to replace the floor of your tent.
A ground cloth lengthens the life span of your tent.
And if you hike where moisture is expected, YES!! you need a ground cloth to keep you and your gear warm and dry.
But that doesn't mean it has to cost a lot.
Trace the shape of the bottom of your tent onto paper.
Then purchase a sheet of heavy gauge plastic. Use the tent template to make your own custom fitted ground cloth!
Or play it safe, and purchase the one recommended for your tent.
It will have grommets for the tent poles to go through, giving you the assurance that it will stay put as you squirm around in the tent, trying to get comfortable in your sleeping bag (or perhaps other sleeping bag related activities).
Field repairs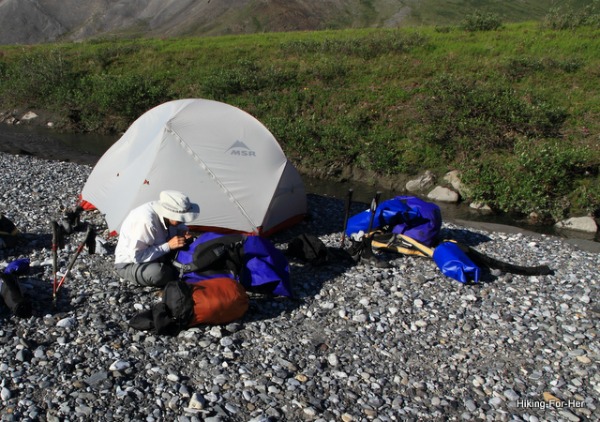 If you use your tent often enough, bad stuff will happen to it.
A wandering spark from a camp fire will create a hole.

A sharp edge will slice a wall.

A seam may fail.

A zipper will jam.

After investing thoughtful consideration and money into your tent, don't forget the insurance.
Huh?

Carrying an insurance policy called a repair kit is the way to go.

Check out this lightweight tent repair kit.
Bonus: You can use it on other hiking gear, too: clothing, boots and more.

Best tent colors

A few words about choosing the color of your tent. This is often overlooked as an important tent feature, but it must be included on my "best tent tips" or I'll feel like I let you down.
Here are the pivotal color questions:

Do you want to be visible from a distance?

When I hike solo, I like to keep a low profile - literally!
The opposite is true when I heli-hike. I want a brightly colored tent like this one in case of needing fast helicopter rescue in vast terrain.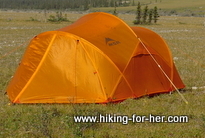 More questions before you choose
a tent color
Do you like to wake up to bright sunlight in your face?

If you're backpacking through dense forest or other dark areas, choose a light colored tent so precious rays of sunlight can enter and wake you in the morning.
How heat tolerant are you - inside your tent?

Dark colored tents get a lot of solar gain, so factor that in for your trip. If you have a layover day planned (or need one unexpectedly), laying in your tent mid day will NOT be fun.
Also consider the insect population where you're headed.
You may need to use your tent as a haven, and if it heats up too much (think dark green, navy blue), you will need to choose between your sanity and heat stroke.
Interesting side effect of this decision: increased moral fiber. Bet you didn't expect that on my list of best tent tips!
Internal storage options

A useful tent design should include versatile interior storage options.
Look for a tent with gear loops on the ceiling.
Use these loops for drying your damp clothing, hanging a flashlight when you need to repack your backpack before you head out the next day, or any number of uses which I cannot predict ahead of time.
A tent should have at least one mesh storage pocket sewn onto one of the lower non-door walls.
These are handy for:
storing your glasses while you sleep,




holding non-scented lip balm or other "must haves" like facial tissues before you drift off,




safely storing reading material away from the doors, and




giving you a place to stow small items that you don't want digging into your back after you fall asleep.
Wrapping up
best tent tips

Well, that about covers my best tent tips.

Unless I left off something important that you're still wondering about.
My list of best tent tips might not be complete yet, so send me your questions and I'll not only answer them, but update my information.
Thanks in advance for helping out your virtual trail buddies!
And for even more best tent tips so you can choose the perfect backpacking tent, read this!
Home page > Best Hiking Gear >
Backpacking Tents > Best Tent Tips