Enjoy Happy Trails, the free monthly newsletter from Hiking For Her.

Receive a free resource: Hiking Layering System Explained
Inexpensive Gifts For Hikers:
Give The Best For
25 Dollars Or Less

by Diane Spicer
In the United States, inexpensive gifts for hikers are referred to as "stocking stuffers" during the Christmas season (rather than cheap hiking gifts).
Which is an excellent gift idea!
Stuff one of these gifts into a brand new pair of hiking socks any time of the year, and you're on your way to making your favorite hiker's eyes light up with appreciation.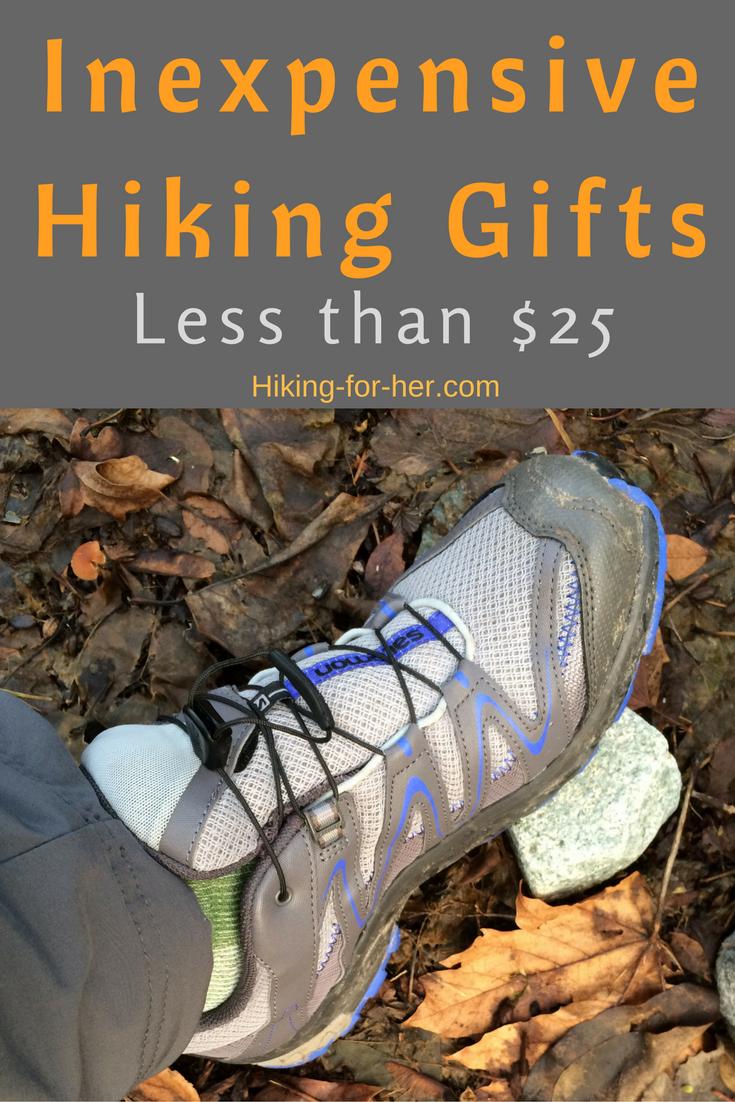 Great gifts for hikers under $25:
can it be done?

An inexpensive unique gift for a hiker can go in two directions:
Something that makes her a bit more comfortable on the trail.
Something that keeps her safe on the trail.
If you're lucky, you may find a hiking gift that gives the gift of comfort, safety, AND a personalized twist that says you put some thought into it.
So that's what we're going for here, right?
Comfort and safety are baked into these thoughtful yet inexpensive gifts for hikers, all under 25 dollars at the time of this writing:

Hiking apparel to keep her temperature regulated and protected from the elements
Hydration options
Great tasting trail snacks for energy and stamina

Let's name some names now:
inexpensive gifts for hikers

Let's circle back through that comfort and safety list, calling out some specific gift suggestions.
Inexpensive hiking clothing choices
Every hiker can appreciate these lovely ways to thermoregulate and protect skin from temperature extremes.

Lots more inexpensive options at REI Outlet - the place to score excellent deals on well made, durable hiking gear.

Hydration options make great
inexpensive gifts for hikers

These are great because you can choose a favorite color or design, and for $25 you can buy more than one.

The beauty of this hiking hydration gift?
You can fill it up with some great trail snacks (coming up next) and make it an extra fun surprise.
And to make sure her hiking water is clean and safe, gift her with her very own lightweight Lifestraw water bottle with filter. This costs more than $25, but gives her a safety factor which is priceless on the trail.


Great trail snacks
Every hiker has food preferences and flavor favorites.
But all hikers need fast burning carbohydrates and excellent hydration.

These options give you a chance to individualize your gift, according to her tastes:
For even more trail worthy choices, read this.

For gluten free and paleo hiking snack options, go here.

Post-hike recovery help

Sore muscles are common with hikers, and here's an effective yet inexpensive way to deal with that problem:
Don't forget the best inexpensive gifts for hikers

Think of her feet!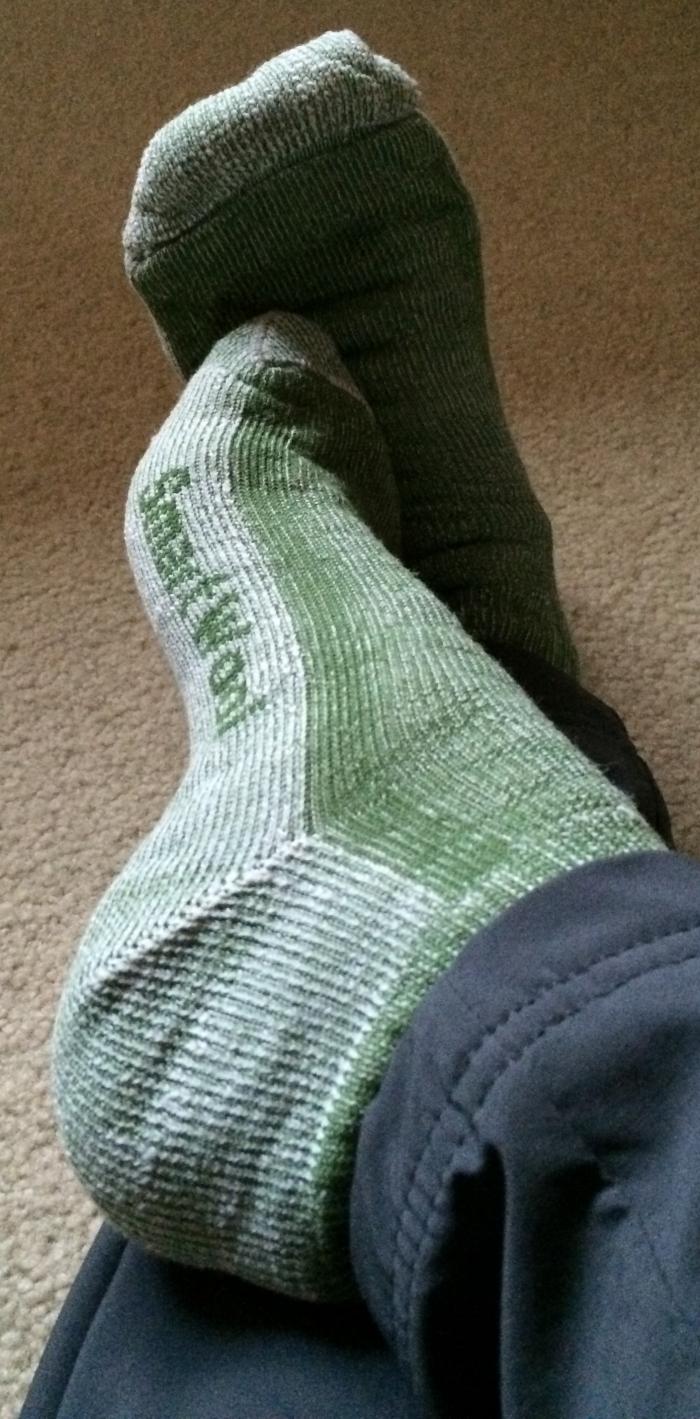 Sock heaven! Send your hiker there with a great pair of high performance hiking socks.
Why not surprise your hiker with a pair of high performance hiking socks in a bright color or fun style?
My favorite brands and styles on the hiking trail include:
They have proven themselves to be durable, comfortable and fast drying.

And yes, these socks are worth every penny!
Read why hiking socks are so important to your hiker here.
You can stuff a few goodies into the socks for extra gift giving goodness, or what I like to call an "over the top" hiking gift.
Keep reading for a few hints about fun hiking stuff to stuff.
In your socks, your mouth, or a handy pocket.
A few fun yet inexpensive
gifts for hikers

Speaking for all female hikers everywhere (ha!), you can never have too many lip balms in your hiking backpack or pants pocket.
Here are my favorite hiking lip balms to protect lips from sun or wind damag
Lysine balm to prevent cold sores triggered by UV exposure
Wait, there's more!
And ditto for hiking chocolate. No such thing as too much!

Or just pick one of these, and you can't go wrong!
Just in case
On the vanishingly small chance that you have hikers who don't like lip balm or chocolate (is that even possible?):
Trustworthy gear merchants
known for their deals

The difference between cheap hiking gear and quality hiking gear doesn't have to be a huge leap, if you know where to shop for camping and hiking equipment.
If you'd like to pick something out with a high quality name brand on it to gift your favorite hiker(s), try these trusted gear suppliers!
A non hiker's guide to selecting
the perfect gifts for hikers

If you've never set foot on a hiking trail, and have no plans to do so any time soon, AND you need some hiking gift ideas for an outdoorsy woman or man in a hurry, read this.
And if your hiker giftee is a child, read these specific gift giving tips.

But you're not out of options yet!

Inexpensive gifts for hikers is a huge topic.
Here are 9 more great gift ideas for people who love to hike.
Feeling better about finding
inexpensive gifts for hikers?

I certainly hope so!
Pick a few of these gifts for hikers and enjoy watching the smiling eyes.
You're a great human being to pick thoughtful gifts for the hikers in your life! Maybe you deserve a hiking gift today?
(just a thought...)
Home page > Best Gifts For Hikers >
Best Inexpensive Gifts For Hikers
Hiking For Her uses affiliate links on some pages.

You pay nothing extra to purchase great gear that has been trail tested and HFH approved, but (small miracle alert) HFH receives a small percentage of your purchase price to keep the lights on (so to speak) when you purchase using the links.

Thanks for your interest in keeping the best hiking tips flowing freely! Much appreciated.
Hiking For Her: Hiking tips you can trust!