Enjoy Happy Trails, the free monthly newsletter from Hiking For Her.

Receive a free resource: Hiking Layering System Explained

2023 Hiker Approved Gifts:
A Guide To The Best
Outdoor Gear And Clothing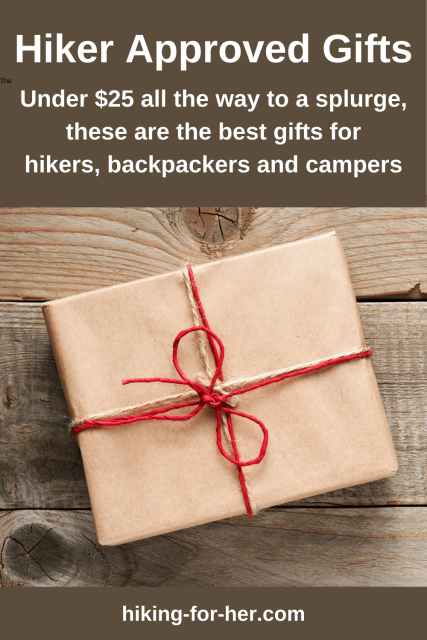 Hiker approved gifts, coming right up.
You must have someone in your life who loves to be outdoors.
I can relate, since I am one of those people who MUST have time outside every day.

Which means I've been hiking, backpacking and camping, in all kinds of weather and terrain, for decades.
That's how I know what works and what doesn't in the great (and sometimes cold and damp) outdoors.

To make gift giving easy for you, I've pulled together this year's list of hiker approved gifts for outdoor lovers.
It's what I give my loved ones.
And what I'm recommending when people ask me for great gift ideas for hikers, campers and backpackers.

Hiker approved gifts:
your guide to the best hiking presents

This gift guide is organized by outdoor activity:
Dayhikers
Backpackers
Car campers
Then within each category, like this:
Under $25
Under $50
Splurge time!
Jump to the hiker approved gifts you're interested in:

Hiking For Her's promise to you with
this hiker approved gifts list
Only the best of the best outdoor gear and clothing are found on this list of hiker approved gifts.
I don't mess around with my comfort and safety when I hike, backpack and camp.
So if something is on this list, it has earned the right to be here.
Each gift description tells you why it's a great pick for that type of outdoorsy person. I also note whether it's a safety item, a comfort item, or just for fun.

And for your convenience, I provide links to each of the hiker approved gifts so you can dig deeper and select the right color, size or other personalized details.
The links go to my affiliates, companies I've used for a long time and trust to deliver great products that stand up to hard outdoors use. 
Your price does not go up if you purchase through these links.
Hiking For Her earns a small percentage, the only way to keep the electrons humming along on this website. Thanks for considering this way to support HFH.


Best gifts for dayhikers

A dayhiker returns home at the end of each hike. So she doesn't need a tent or a stove.
Here's what she does need!

Gifts for dayhikers: under $25

Safety items don't have to cost much, but do bring peace of mind. Here are two I always recommend.

The first is an emergency kit.

Its purpose is to provide shelter (called a bivvy bag as a nod to the idea of bivouac, an emergency shelter in place maneuver) .

It also provides a means to attract the attention of other hikers if needed: a low tech but effective whistle.

Bonus: a tinder cord for fire starting.


SOL Emergency Bivvy with Rescue Whistle and Tinder Cord | REI Co-op
HART Outdoor Day Hike First-Aid Kit | REI Co-op




The other safety item is something every hiker should carry, a basic first aid kit like this one.

The zippered pouch keeps the generous array of first aid products both organized and clean.

There's even moleskin to treat blisters!

Bundle these two gifts together, and your hiker will know you care about her safety on the trail. Such a thoughtful yet inexpensive gift!
And let's not neglect your hiker's comfort. A sit pad in one of these fun colors will keep clothing dry, backside warm, and ants out of pants!
Or you can kneel on it, protect your lunch from damp ground, or any other creative way to put it into good use on a day hike.
Pretty sweet gift for less than $10!

Sit Pads
These are a few other inexpensive things that any hiker would love:


Gifts for dayhikers: under $50
Sometimes your dayhiker has to choose a short hike, just a few hours.
And that means she doesn't have to carry much, except the bare minimum of the Ten Essentials.
Here are two lumbar (also called waist or fanny) packs that would be great for a short dayhike!

These packs are comfortable, lightweight and geared toward the safety of having a jacket, extra snacks and a headlamp along for the ride.
Here's a slightly larger version for a longer dayhike, still in our price range.
It's what I carry.

Read my review of it here.
REI Co-op Trail 5 Waist Pack | REI Co-op
For an extra safety margin, year round, she should carry a neck gaiter.
It can be used to trap body heat being lost through the head and neck, and as an emergency towel, for starters.
I've used mine to wrap around my cold hands, put on top of my sit pad for extra insulation, mop sweat from my brow, and wrap up delicate animal skulls I chance upon in my wanderings (maybe TMI?).


Gifts for dayhikers: splurge!

If your dayhiker is a birder or wildlife observer, these binoculars are a great present. 

You can also see more Nocs on Amazon.


Best gifts for backpackers

You already know that these folks disappear for weeks at a time and come back hungry and tired.
So help them build their safety and comfort gear lists with some of these hiker approved gifts.
We'll start with little things that make a big difference.
Gifts for backpackers: under $25

The reality of backpacking is that sometimes you have to set up, or tear down, a tent in darkness and less than ideal weather conditions.
And that means putting a lot of stress on tent stakes to just-go-in-dammit!

These lightweight but rugged titanium tent stakes with reflective cords will make that job a lot easier.

Titanium Ascent Tent Stake by Vargo Outdoors
Here's another safety item, a pack liner.
These are much sturdier than a garbage bag, which may be what your favorite backpacker is using currently.
Give them an upgrade to keep vital safety items like a sleep system and a stove dry and safe from marauding rodents.
And who wants wet trail mix?

Nylofume® Pack Liner
Comfort on a backpacking trip is a bit harder to achieve than being prepared for inclement weather.
Gifts for backpackers: under $50

A pair of low gaiters is priceless in sandy or rocky terrain.
They are definitely a safety AND comfort item, because they protect feet against chafing or blistering.
Gaiters come in different styles, based on the footwear your backpacker is wearing: high cut boots or low hiking shoes.
For the full story on gaiters, read this.

One of the things a backpacker might miss on the trail is a steaming cup of really good coffee. This coffee press, paired with some coffee, would make a great gift.

AeroPress Go Travel Coffee Press | REI Co-op
A backpacking umbrella is useful in so many ways, and probably not something your backpacker already owns. This one features a carbon fiber skeleton to keep the weight down and the rain and sun off the face and shoulders.

Silver Shadow Carbon Umbrella by Six Moon Designs
If the whole idea of backpacking umbrellas is new to you, read this.
Gifts for backpackers: splurge!

Is your backpacker a thruhiker or section hiker?

That means she is gone for long periods of time, getting on and off trails to resupply and rest.

Give her this useful and fun little pack to help with town to trail transitions.

It weighs less than 3 ounces, sure to please any backpacker.


Summit Bum™ Classic by Thrupack
If you're concerned about the safety of your backpacker, look into these gift options:

Best gifts for car campers

Car campers can also be hikers and backpackers.

But here's the thing. They like their comfort! That's why they pack a lot more, and spend more time at campsites.
Here are some gift ideas for car campers that are just a bit different.

Gifts for car campers: under $25

Every camp kitchen needs one of these little folding tables.
Ditto for around the fire circle when a hot evening beverage needs a place to rest.
You can join 2 together for more surface area, and not give up a lot of packing space in the car. A comfort item that pulls its weight on your camping gear list!

Ultralight Folding Table by Cascade Wild


Gifts for car campers: under $50

If the idea of your own table at a campsite is appealing, but you need something a bit more sturdy than the one above, take a look at this ingenious design.

Field Hopper Table by SOTO Outdoors



Here's the perfect thing to put on the table: a rechargeable radiant source of light.

400 lumens worth!


It has 6 light modes with two color choices, useful for transitioning from chores to quiet time inside the tent.

It also provides a built-in powerbank with USB port for charging small devices.

Nite Ize Radiant RL2 Rechargeable Lantern | REI Co-op

Gifts for car campers: splurge!

NB20000 Power Bank by Nitecore

Keep all electronic devices charged up at a campsite using this ingenious little power bank.

Lightweight
Small pocket size
3x USB/USB-C QC output ports
And here's the perfect comfy spot to enjoy your campsite, a chair that makes you say "ah!" at the end of a day outdoors.

Kelty Lowdown Chair | REI Co-op
Here are even more chair options so you can pick exactly the right one!

You might also like to explore my take on putting comfort at the top of the list while camping! Lots of great gift ideas.


More gift ideas for
hikers, backpackers and campers

Remember that friendship is a gift that lasts. Spend heaps of time outdoors with those you love.
This website makes it easy to find what you need to do that.
I should mention that giving a gift card is always a good move. This gives your recipient a chance to pick something she's been yearning for.
I'll leave you with more Hiking For Her gift guides, in case nothing on this list of hiker approved gifts seems right for your favorite person.
Thanks for caring about your people enough to spend time finding just the right gift.
They are lucky folks!
Home page > Best Hiking Resources >
Hiker Approved Gifts For All Types Of Outdoors Lovers