Enjoy Happy Trails, the free monthly newsletter from Hiking For Her.

Receive a free resource: Hiking Layering System Explained

Car Camping For Hikers:
Base Camp To Save Time

by Diane Spicer
Car camping for hikers makes sense when you want to maximize your trail time, cut down on transportation costs, and tap out an interesting hiking area over several days.
Driving to and from a trail head takes time, so if you camp nearby, you can arrive there early to beat the heat - or get a jump on hordes of other hikers.

Car camping for hikers also makes sense on a vacation which targets several hiking areas within a short period of time.

Car camping eliminates the hassle of wasting time on the road, yet gives you flexibility.

And it provides some of the comforts of home, if you plan things right.

These tips will streamline the process of car camping for hikers who want to get away from it all, using an established campground as base camp.
Car camping for hikers:
best organization tips
before you leave

Your decision to use car camping as a base camp approach to day hiking is a smart one.
But it won't feel so smart if you leave something critical behind, like the stove or water containers.
Let's take no chances!
Car camping for hikers:
camping gear you need

You want all the comforts of home - without having to hire an extra van to haul your stuff.
So you'll have to do comfort, along with safety, in a minimalist fashion.
These planning tips for smart car camping will also minimize your chore list and leave you plenty of time for knocking off those day hikes on your bucket list.
Let's start with what's really important:
Your camp kitchen:

use a kitchen box
You know those deep plastic containers with lids?
Get one.
Then fill it with all of the things you will be reaching for when it's time to put a meal on the picnic table at your campsite.
When you get home, clean up everything and store it, ready to go on a moment's notice, next time the car camping for hikers urge strikes.

Car camping tip:
You will open and close this box innumerable times, so choose your lid wisely.

A lid which clicks tight with just a little pressure is going to save you some headaches, such as chipmunk raids on the potato chips, or spilled sticky stuff in the car.
Here's the 24 gallon Rubbermaid type I use, and I must say it has held up well for nearly double digit years of use.
Plus, it slides nicely into the back of the car, or into the gear locker during the off season.

---

Your kitchen box checklist
I just did an inventory of mine, so I wouldn't forget anything on this list of recommended camp kitchen items.
Free pdf version for your convenience! (coming soon)

Now, let's look at car camping for hikers safe food storage options.

Food storage
while car camping:
non-perishable items

Your destination determines your food storage options.
If you're in a campground which provides animal proof storage containers or lockers, please use them!
A fed animal? A dead animal.

Or an aggressive, aggravating nuisance.

Of course, your car can become your food storage unit.
But if you need your car to travel a few miles to a trail head, and your food is left behind so it doesn't fry inside a locked car in direct sunlight, you'll have to think through how to keep it out of the clutches mouths of the neighbors.
If rodents are your most formidable enemy, a second storage container like your kitchen box will keep your non-perishable food locked down tight.
The worst that could happen? Mouse poop on the top, signifying the disdain of the locals.

If bears are known to inhabit the area and you need your own storage method (these are not usually provided at primitive campgrounds), a bear canister is less hassle than hanging your food from a tree.
Perishable food
storage options
Your perishable items will need a cooler containing a block or bags of ice.
And only you can determine which size you need, anywhere from 30 quarts to over 60 quarts of capacity.
With coolers, you can go a little crazy, or stick to your minimalist principles.
You can also choose soft sided, or hard sided coolers.
I'm going to put in a plug for hard sided options, for these reasons:
Downsides of a hard sided cooler?
Car camping tip:
As with your kitchen box, choose the lid wisely.
No surprise that a cooler with a well designed, tight lid will cost more than the cheapo Styrofoam tub at the dollar store.
Think of buying a good cooler as a long term investment in your car camping success!

| | |
| --- | --- |
| | Minimalist cooler choice for 24 hours or so of coldness, from a trusted name in camping gear: Coleman |
If you know that car camping for hikers is the path for you, now and well into the future, invest in a cooler that will hang in there with you over the years to come without fail.

YETI coolers are known
for many things
YETI has figured out how to put together 3 important features in a hard sided cooler:
Lightweight construction for durability and to lighten the load when you have to move the cooler from vehicle to campsite

Long lasting cooling power, with users raving over the days (not hours) their food stayed cold

Also protects food in freezing temperatures, so if you plan to do winter camping, this cooler will keep your chicken or tofu from becoming ice pops

The down side?
Again, as with all well made, durable gear pitched at car camping for hikers, remind yourself that you're in this camping thing for the long haul.
You can also press this cooler into service during a power outage or natural disaster, to keep food and medicine from spoiling until electricity becomes available again.

User friendly features:

Haul handles so you can share the load

Also has recessed handles for solo trips

T latch design for secure lid fit

Drain plug for easy draining



---
Car camping for hikers:
cooking your camp meals
I'm a huge fan of Coleman, and my camping gear from them has lasted for years and years.
The Coleman stoves are easy to set up, easy to use, and pack down small enough to perch atop the food cooler in the car.

This Coleman Triton Series 2-burner stove is similar to my older model, and has the same nice features for a camp stove:

Note these admirable features in a camp stove:

Excellent control of burner heat

Two burners so you can do two big tasks at once: use a 12 inch frying pan while you're boiling water for pasta in a 10 inch pot




Helpful wind screens

Removable grates for easy clean up

Wondering how to wash dishes & what cooking gear you'll need to whip up a meal?
You can adapt some of my backpacking kitchen ideas, available here.

---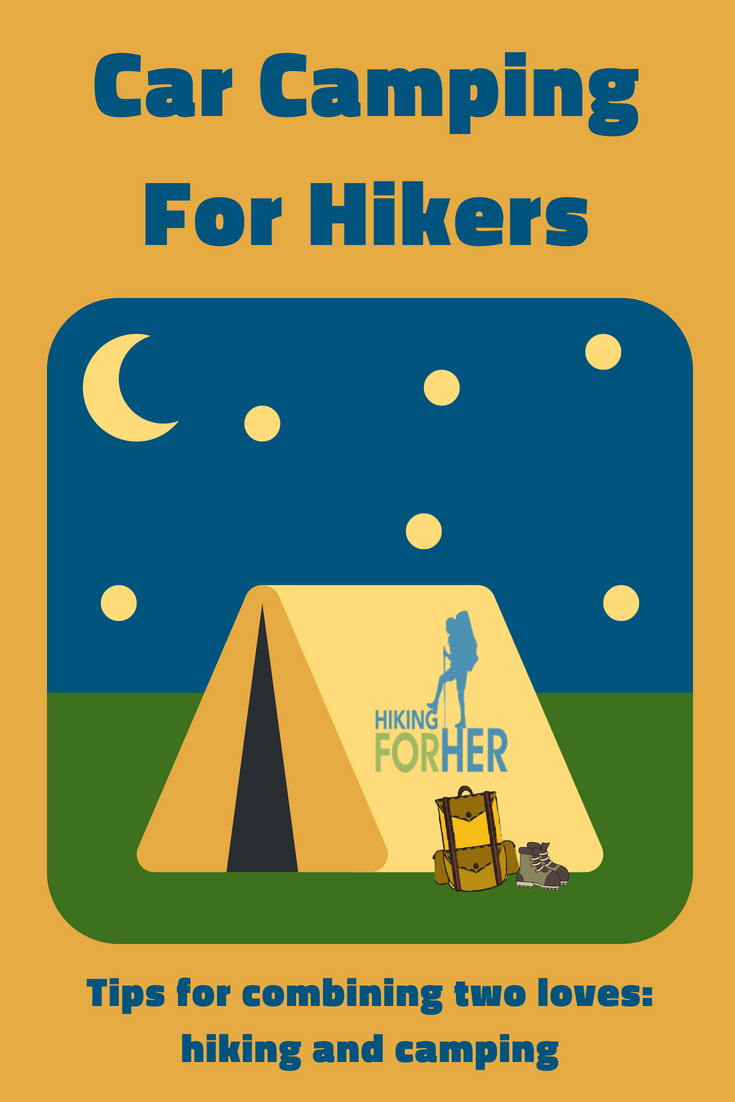 ---

Water transport and storage
at your campsite:
an important decision in
car camping for hikers

Staying with our modular approach, take a look at this 5 gallon (20L) "water cube".
| | |
| --- | --- |
| | |
These water containers have the benefit of a small footprint for storage at home and during transport, while expanding to show you exactly the volume you're after.

Opaque, hard sided water containers won't do that for you.

These cubes collapse down with a few gentle pushes, and fit easily within a durable flat bottom tote bag, like this 25L one from Patagonia (a name associated with sustainability):
---

Illumination options
while car camping
The thing that always catches me by surprise is how luxurious life at home is: flip a switch for instant light.

So another thing that you should pack in your tote bag: illumination options.
As night falls around your campsite, you'll need to:
light the path you travel to and from the bathroom

illuminate your table or chair if you're playing cards, writing in your journal, or making lunch for the next day

find stuff quickly in your dark car or tent
Wandering away from your campsite
in the dark
If you've got a headlamp, be sure you have enough juice in the batteries to last for all of the trips to and from the car, to and from the bathroom, etc.
Recommendations for best headlamps here
Having your illumination on your head makes for easy hands free dexterity.
Just be sure to realize that wherever you look, you're blinding any oncoming traffic!
A flashlight can be useful not only while camping, but at home, too.
Campsite illumination
Nightfall is a magical event in car camping for hikers.
And there's something so cozy about a lantern sitting on a stump or picnic table when darkness falls.
I love my vintage Coleman lantern!
This newer (but still solid Coleman design) version can use 2 types of fuel, giving you some flexibility when on the road.
It throws plenty of light for at least a 10 foot radius, making it possible to do close work.

You can put it on a pole for a softer, wider circle of light, thanks to its wire handle.

---

Comfortable seating
Your days will be spent hiking, which means you'll come back to home, sweet home with achy legs and a tired back.
Pull up a soft rock and take your boots off!
Or use a collapsible chair, like this one:

I love how the side stash pocket can hold my journal, Kindle, plus my headlamp, while I sip a cup of tea as I enjoy the luxury of a padded seat.

Or during breakfast, I can place my camp mug in one cup holder, my phone in the other, while I dig into my oatmeal.
But here's the best part: this chair folds up small and slides into its cylindrical carrying case, so you don't have to devote a lot of room to it in the car.
Or on the camping gear storage shelf back home.

Have a backpacking chair?
No reason it can't come along on your camping trip!
Read about good backpacking chair choices here.
---
Shelter from the
(hopefully not predicted) storm
With a campsite as your base of operations, you can have a more luxurious tent than you would haul along on a backpacking trip.
That's the good news.
The bad news: you will pay for the luxury of more head and leg room, larger doors for easy access, more protection from rain.
And you'll pay in three ways:
Higher price point

Heavier footprint

Longer set up time
You can do what I do, and bring along your roomiest but still lightweight backpacking tent, the Hubba Hubba two-person tent with rain fly and footprint:

The double doors make it easy for one person to slip out for a midnight trip to the bathroom without disturbing the other camper.
The rain fly (not shown) provides a vestibule, so taking off dirty, soggy footwear is not the chore it would be inside the tent.

Or you can invest in a larger tent, if your camping party exceeds two minimalist people or includes a rambunctious dog or three.
This REI Co-op Kingdom four person tent has some nice features for car camping in mild, dry weather, like plenty of head room:

---
If you're looking for a really sturdy tent that can stand up against rain and wind, provides a lot of internal space including ample head room, yet is easy to set up with color coded clips and poles, take a look at the Mountain Hardwear Mineral King 3 Tent:


The full coverage fly (not shown here) makes it a given that you'll keep water out of your living space, yet have adequate ventilation options.
It comes with a footprint to protect the floor, something not a lot of other tents will offer.

It even has 5 storage pockets to stash a headlamp, tissues, anything you'll need overnight.

---

Camp fire supplies
& safety tips
Something very amazing happens when I sit in front of a crackly campfire after a long day on the trail: peace and tranquility wash over my tired body.

And it's a privilege I don't get to have while backpacking, so I savor my campfire moments.
So take this heartfelt car camping advice:
To make it easy to get one started, as well as to put it out safely, you'll need to tote along some supplies (so perhaps 2 rugged tote bags are in order).
Load up on fire starters like paper, wood chips, or dry tinder like pine cones or grass.

Car camping for hikers tip:

A lighter is much more reliable than matches in windy weather, and has the advantage of not getting soggy in wet weather.
Keep it in a small pouch in your fire starter tote, or risk losing it completely (which can put the kibosh on a fun camping trip, or make it a necessity to meet the folks at the next campsite).





Use these SOL All-Weather Fire Cubes when you're too tired to fuss with shaving wood chips with a pocket knife, or too hungry to search for tinder to coax a fire into being.

Consider these as your essential kindling in all types of camping weather.

Important car camping for hikers safety habit:
| | |
| --- | --- |
| | Dedicate a bucket or other water receptacle to sit by the fire, in case a gust of wind or popping sparks causes your fire to get too big or to spread outside the designated fire ring. |
This foldable Sea to Summit Bucket (10L) can double as a kitchen sink, a hair and hand washing station, a hamper inside the tent for dirty clothing, or a berry picking bucket (should you wander into enough ripe huckleberries to fill it up).
Car camping for hikers:
don't forget some fun stuff

So what good would a car camping for hikers list be, without some fun stuff?
Here are a few of the things I pack just because I love to use them while I'm camping.


Strings of light
Create the illusion of fairyland with these MPOWERD Luci Solar String Lights + Charger.

Or light the exterior of the tent for up to 20 hours so no one trips over the stakes.
Or highlight the pathway between tent and picnic table, with these 10 LED lights on eighteen feet of cord.



Solar powered illumination
When I want soft light without worrying about batteries, I bring along this BioLite SunLight solar light.
It's inexpensive and very small (ice cream sandwich size), but the 100 lumens are perfect for reading, gear repairs, or other close work.
It could also be used as night light in the tent (not that any of us hikers are afraid of the dark!!)

Leave it in the sun to charge while you're off on your day hike, and know that you'll have up to 50 hours of illumination.
If you're really serious about solar power at your campsite, invest in this BioLite BLXL Solar Kit, complete with a solar panel, lantern and USB power storage.

| | |
| --- | --- |
| | It solves one of the most vexing problems of car camping for hikers: keeping your devices powered up during a long trip. |

Tarp for shelter from
changing weather conditions
This REI Co-op tarp can be pitched over your picnic table and kitchen set up, to keep the raindrops from running down your neck while you're brewing your morning coffee.

Sitting and kneeling pads
We forget how comfortable our daily lives are, with carpeted floors, padded seat cushions, and soft beds.
This REI CO-op sit pad can be pressed into service when you've gone to the river bank for some serenity.
Or when car camping for hikers involves some clean up chores that require you to kneel, like pot scrubbing.

| | |
| --- | --- |
| | With a bit of caution to avoid rocks or sparks, you can kneel on it when you're building and enjoying the campfire. |

Sleeping pad
worthy of a princess
I was recently gifted with a Therm-a-Rest NeoAir XLite sleeping pad, and there's no way I'm ever going camping (or backpacking) without it!

Comfort, easy to deploy and deflate, and not too noisy.

---

Car camping for hikers:
what did I forget?
Hopefully you'll never have to utter that sentence at a campsite, if you've used these tips for car camping.
But maybe I've overlooked a tip or trick that you'd love to share here on this page!
Contact me and let's make this car camping for hikers resource list as good as it can be!
Or maybe you're ready to head out there and claim a campsite for your day hiking adventure! Don't go hungry, though.

Home page > Best Hiking Tips >
Car Camping For Hikers: Best Tips

Some of the links on this page and elsewhere on the Hiking For Her website point to affiliates, meaning you get great product recommendations for your purchases.
HFH will receive a small (single digit) percentage of your purchase price, but it costs you nothing extra to enjoy these great products from reputable companies.

Thanks for your support!

Hiking For Her: Hiking tips you can trust!