Enjoy Happy Trails, the free monthly newsletter from Hiking For Her.

Receive a free resource: Hiking Layering System Explained
What's The Best Hiking Food
To Take On A Hike?

by Diane Spicer
Regarding the best hiking food for the trail, every hiker has the same basic question:
Because the best hiking food is so much more than just muscle fuel, there are several ways to go about selecting food for your next hike - lots of different ways to answer that burning question!

Let's play around with a few of them!
You never know which one will spice up your life, right?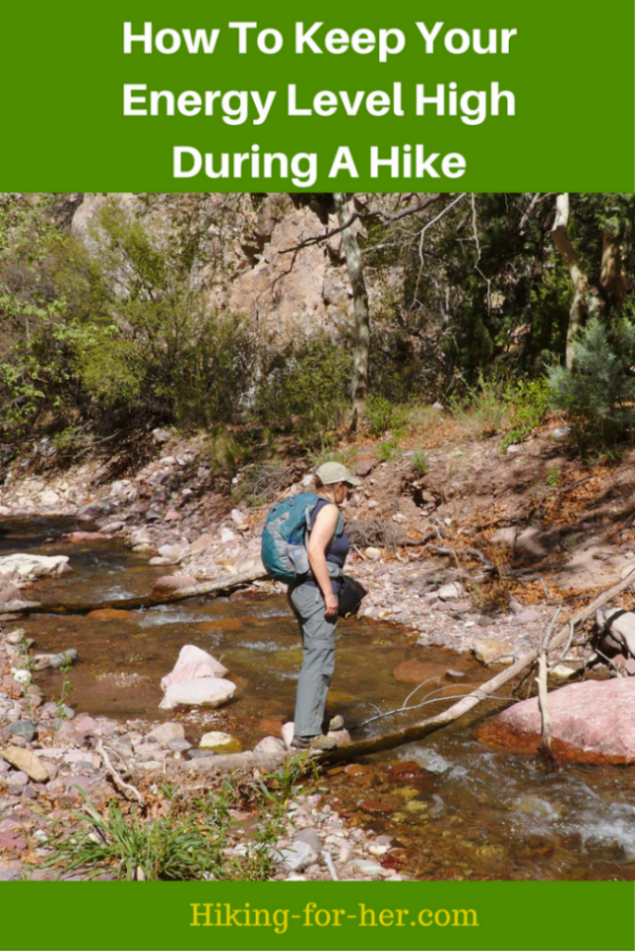 Hiking food choices
for day hikes
and backpacking
For hikers, there are lots of specific questions about what to eat on the trail during a day hike or backpacking trip:

What kind of food is best to bring?

Am I packing the right stuff?
Should I eat normal portions, or is it ok to eat more?
How many calories per trail snack make sense for my body?
What are my options for lightweight dehydrated food?
Will eating the same hiking food day after day harm me?
And a few "women only" questions
about hiking food

Your selection of food might be wrapped up in all sorts of subconscious messages and beliefs that you picked up from family or media:

Will carrying a pack help me lose weight if I cut back on hiking calories?
What consequences will follow if I just give in to my huge trail appetite?
Will heavy, calorie rich food like nut butters and cheese make me fat?
So let's look at Hiking For Her resources you can use to select the best foods for your backpacking trip or day hike.
We'll use five different approaches.
Nibble on this smorgasbord
of hiking food options

Approach #1:
A smorgasbord/buffet of information

If you like to dip into something, take a small bite, and move on, start here with an overview of hiking nutrition.

You can also choose exactly the type of trail food that you're interested in:
Or you can jump right into the fun stuff, like this: trail mix for energy!


Hiking nutrition
nerd

Approach #2:
Nutritional Nerd
Have I got the goods for you, or what??
I have a background in human biology, meaning I've taken, and taught, lots of courses on how food molecules are broken down and used in the body (biochemistry).
Interested in taking a little tour with me through the wonderful land of calories (hiking energy) from carbohydrates?
Here's the pivotal question for any hiker on the trail:
Do you have the right mix of carbohydrates, fats and protein?
Shake things up
with your hiking food

Approach #3:
Shake up your day hike and backpacking food habits!
If you've been eating the same hiking snacks, hike after hike, maybe it's time to take a closer look at your options.

This is especially true if you don't have the energy and stamina you want on the trail.
And even more true if you don't know what to eat on a long hike.

It's also mandatory if you feel sick, bloated, or foggy headed during a hike.
If you're ready to try something completely different, consider the merits of seaweed hiking snacks.


Going through a change?

Approach #4:
It's that time of life! What should I eat during menopause when I hike?

A woman's body changes drastically during puberty - remember that whole hormonal chaos?
And it changes drastically again during perimenopause and the subsequent years spent shutting down the female reproductive system.
If you're nearing the age of 45, or are between 45 and 60 years old,  these menopause hiking nutrition tips are for you!
Post-menopausal hikers will appreciate these tips as well.
Swallow more
of this hiking food...

Approach #5:
A bit radical!
Examine something that most people are surprised to hear called a food nutrient: hiking water.
Your hydration level is really important to your trail performance. Ignore it at your peril.

And I include every female hiker in the "endurance athlete" category, regardless of how far or how hard you do/don't hike.
Why?
Because if you move, you sweat and lose water through your open mouth.

That makes water your best friend forever on the trail.
More tempting nibbles...

I hope you enjoy clicking around all of the hiking nutrition information I've put together for you.
If you're ready to get down to business, you might want to take a look at my Fast Facts nutrition booklets.
Home page > Hiking Nutrition >
Hiking Food
Hiking For Her: Hiking tips you can trust!