Have the freshest free hiking tips sent to you each month!

Best Hiking Food
For The Trail

Regarding the best hiking food for the trail, every hiker has the same basic question: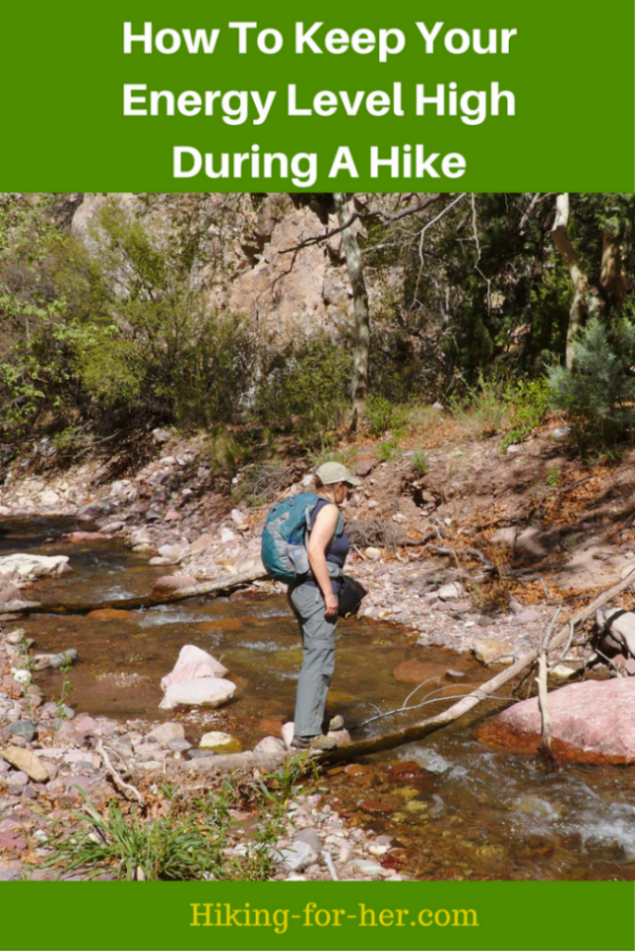 For female hikers, there are lots of specific questions about what to eat on a hike:
Am I packing the right stuff?
Should I eat normal portions, or is it ok to eat more?
How many calories per trail snack make sense for my body?
What are my options for dehydrated food?
Will eating the same hiking food day after day harm me?
And of course your selection of food can be wrapped up in all sorts of subconscious messages and beliefs that you might have picked up from family or media:

Will carrying a pack help me lose weight if I cut back on hiking calories?
What consequences will follow if I just give in to my huge trail appetite?
Will heavy, calorie rich food like nut butters and cheese make me fat?

Approaches to selecting
the best hiking food

The best hiking food is so much more than just muscle fuel.
That means there are several ways to go about selecting food for your next hike.
Lots of different ways to answer that burning question, how to keep your energy level high on a hike.

Let's play around with a few of them!
You never know which one will spice up your life, right?

Nibble on this smorgasbord
of hiking food options

Approach #1: A smorgasbord/buffet of information to nibble on.
If you like to dip into something, take a small bite and move on, start here.
You can choose the type of trail food that you're interested in:
Or you can jump right into the fun stuff: trail mix for energy!


Nerd it

Approach #2: Nutritional Nerd
Have I got the goods for you, or what??
I have a background in human biology, meaning I've taken, and taught, lots of courses on how food molecules are broken down and used in the body (biochemistry).
Interested in taking a little tour with me through the wonderful land of calories (hiking energy) from carbohydrates?
Here's the pivotal question for any hiker on the trail:
Do you have the right mix of carbohydrates, fats and protein?
Shake things up

Approach #3: Shake up your day hike food habits!
If you've been eating the same hiking snacks, hike after hike, maybe it's time to take a closer look at your options.
This is especially true if you don't have the energy and stamina you want on the trail.
And it's mandatory if you feel sick, bloated, or foggy headed during a hike! It's possible that going gluten free will free you from these issues.
If you're ready to try something completely different, consider the merits of seaweed hiking snacks.

Going through a change?

Approach #4: It's that time of life! What should I eat during menopause when I hike?

A woman's body changes drastically during puberty - remember that whole hormonal chaos?
And it changes drastically again during perimenopause and the subsequent years spent shutting down the female reproductive system.
If you're nearing the age of 45, or are between 45 and 60 years old,  these menopause hiking nutrition tips are for you!
Swallow more
of this hiking food...

Approach #5: A bit radical!
Examine something that most people are surprised to hear called a food nutrient: hiking water.
Your hydration level is really important to your trail performance. Ignore it at your peril.

And I include every female hiker in the "endurance athlete" category, regardless of how far or how hard you do/don't hike.
Why?
Because if you move, you sweat and lose water through your open mouth.

That makes water your best friend forever on the trail.
Are you returning the compliment by drinking enough water?
More tempting nibbles...

I hope you enjoy clicking around all of the hiking nutrition information I've put together for you.
And if you're ready to get down to business, you might want to take a look at my Fast Facts nutrition booklets.
Home page > Hiking Nutrition >
Hiking Food
The HFH Pinterest hiking food page might give you a few new ideas.

Or stop by my Facebook page for a little hiking inspiration and to say howdy!

Didn't find what you were looking for? Use the blue TOP button
on the right to jet back up to the search box.
Why wait a whole month?
Plus, there's never enough room in the newsletter to share it all, so why miss out on exclusive Hiking For Her giveaways, limited time gear deals and discounts, freebies, updates, and more?

A short, info packed weekly email update will keep you current on all things hiking!
When you sign up to receive this update, you are agreeing to Hiking For Her's privacy policy.

Don't miss out!

Read more about these hiking weekly updates
Save Time

Save Time & Money


Hiking For Her's weekly emails are the best way to find out about current hiking & backpacking news:


flash giveaways
timely deals
steep discounts
freebies
trail changes


resources

Free, fast, fun info for you, every week of the year