Have the freshest free hiking tips sent to you each month!

Spring Hiking Gear List:
Be Ready For Mud
And Showers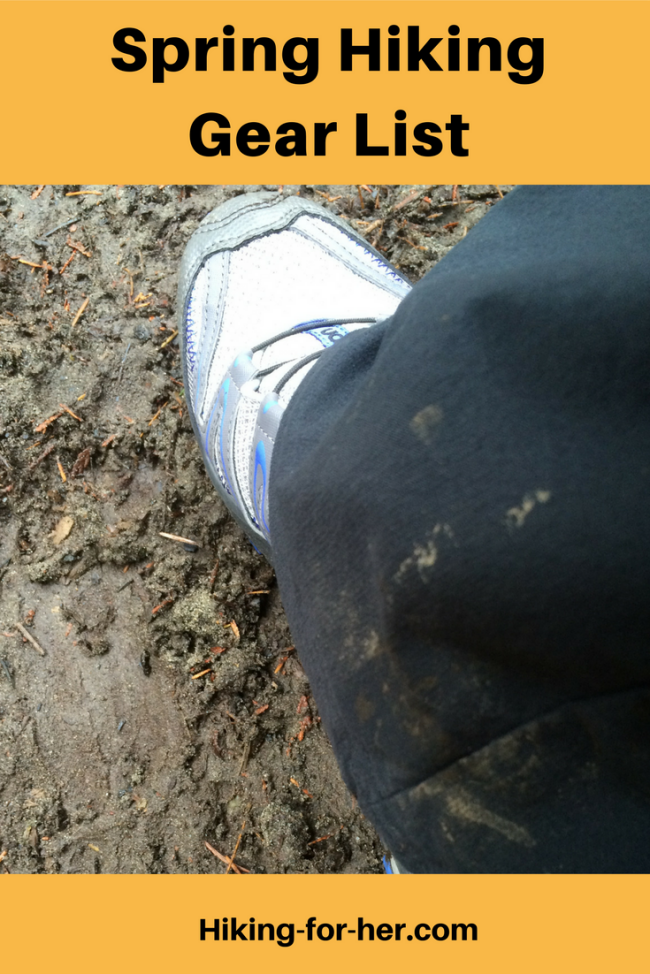 by Diane Spicer

Using a spring hiking gear list makes good sense during the early season of fast changing weather and variable trail conditions.
Regardless of where you hike, spring can bring windy gusts, cold precipitation, lots of mud, and fog.
Get ready to meet those conditions and understand what to wear hiking for spring conditions.
Spring hiking gear list:
the basics

Comfort
Safety
Fun
Those are the 3 pillars of your basic spring hiking gear list.
To begin, let's stick with the basics of comfort and safety. We'll add in fun items at the end of our list building.
Comfort basics for
happy spring hiking

If you hike year round (snowshoe hikes, winter hiking, or strenuous daily walks in a nearby park) you are probably conditioned to cold temperatures.
But if you're just starting off your hiking year with a spring hike or two, don't be caught off guard by how chilly it can be - especially if you're hiking under evergreen tree cover or in a place where spring cloud cover is the norm.

In the spring season, more daylight hours and modulated temperatures will make your trail time longer.
Also harder.
So you need to bring extra food and water (as the Ten Essentials preaches).

And you need to be careful about gauging the weather.
Comfortable clothing
for spring trails
To stay comfortable on a chilly hike, choose a spring hiking outfit that will layer easily to provide at least 3 layers between you and the cold spring drizzle.
Base layer: no need for long underwear, but don a pair of leggings and a well fitted sports bra. If you aren't prone to feeling the chill of spring on your lower body, skip the leggings.
Mid layer: a long sleeve wicking shirt and water repellent nylon pants. Depending on temperature, a pull over fleece top in a mid-range weight is also great to handy in your pack.

Outer layer: a water proof jacket and rain pants should ride along in your backpack until you need them.
Not sure which brands and styles are best? Read these tips on exactly what to wear hiking.

Safety basics
for a spring hike

In spring, you'll be facing winter run off and snow melt.

That means wet conditions for your feet, along with unstable trail conditions such as mud holes, rock slides, eroded tread, slippery tree roots, and swollen impassable creeks.
Sometimes you just can't avoid stepping on slippery tree roots on a spring hike
Waterproof footwear that comes up over your ankles is the way to go, quite literally.
If you plan to rock hop through the mud and roaring creeks, think again: any time you hop, you put yourself at risk for a fall.
It's much better to blast through the mud, and carefully pick your way around dicey sections of trail, in snug boots with good tread.

If a water crossing looks too wild for you, do the smart thing: turn around.
Mark the trail in your hiking journal for later in the season, when the crossing will be as easy peasy as possible.
Practice your water crossing skills at that time, until your confidence in reading spring water levels is strong.
If you hike where mosquitoes are a nuisance, spring is a great time to check your supply of insect repellents.
Also consider whether or not to bring a bug net on your hike. It weights nothing, but can keep you sane and safe from the blood thirsty hordes.


Now for some fun
on the spring
hiking gear list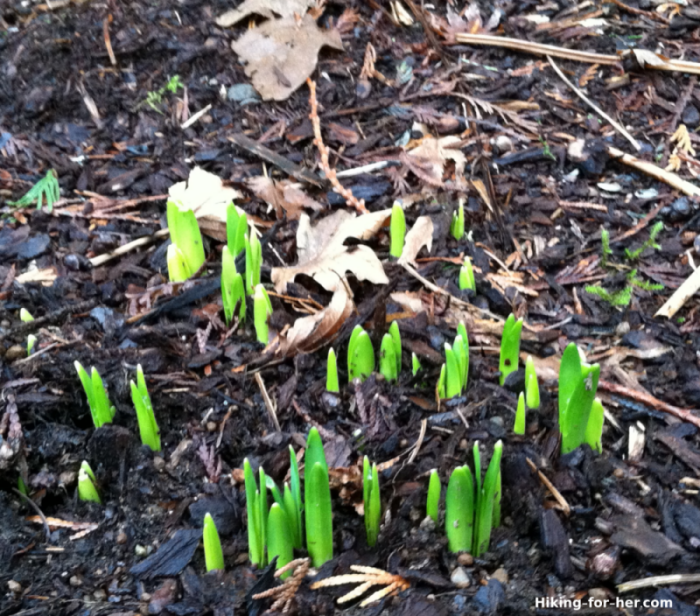 Fresh green shoots breaking through the thawing soil along a springtime hiking trail
Spring is Mother Nature's time to wake up and stretch.
Revel in all of the shades of green surrounding you!

It's also the time to catch a glimpse of spring babies:
hatchlings making a racket in a nest towering over your head,

shy fawns peeking from behind mom's legs.
Bringing along a field guide on a spring hike adds a lot of enjoyment when you spot a plant you'd like to name, or a bird perched along the trail.
Favorite hiking gear guide suggestions, right here!
With the wild spring weather, rainbows are a common occurrence, so have your camera along in your hiking camera pack.
It makes sense to carry your photography equipment in a dedicated pack, out of the stormy and wet conditions.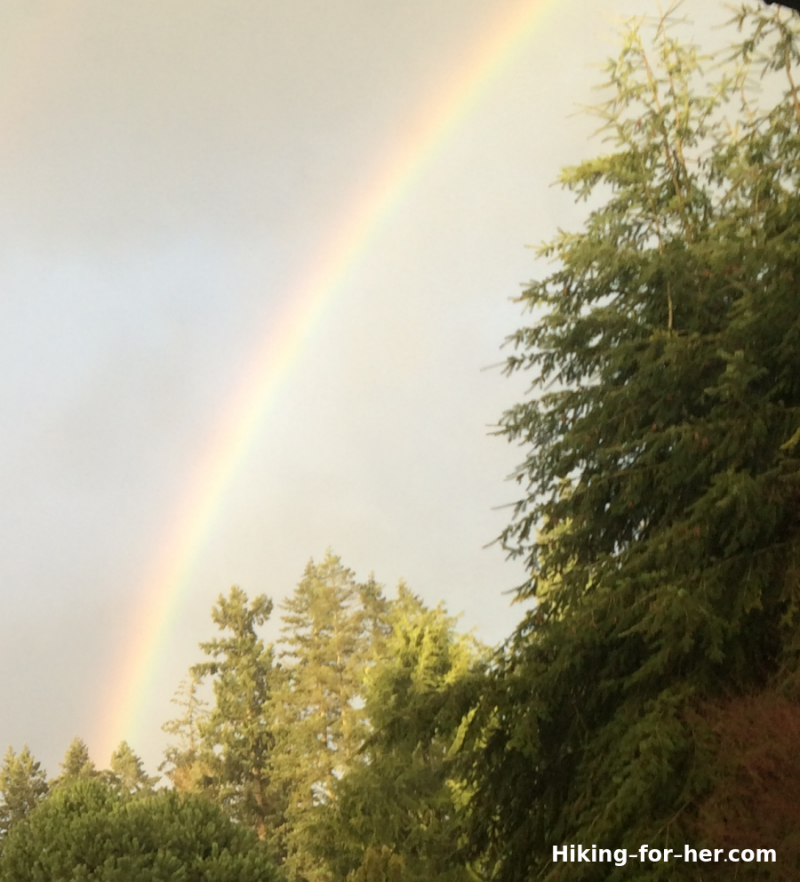 Your pot of gold at the end of this rainbow is somewhere over the trail

Spring hiking gear list:
worthy additions
for comfort and safety

Every hiker has a particular set of "must have" hiking equipment, depending on what spells comfort, safety and fun for you on the trail.
Don't be shy about adding the gear that makes you feel great on a spring hike.

Examples:
If you get cold easily, beef up your spring hiking clothing list with fleece gloves and a balaclava.
Don these when you stop moving, to ward off hypothermia.
My favorite comfort item on a spring hike?
A piping hot drink to enjoy when my hands and feet get cold.
A double walled Hydroflask carries the hot water.
I add my favorite tea bag to my cup (green tea has lots of antioxidants!), and enjoy a freshly brewed steaming cup right there at my lunch spot.
Or brew up a fresh cup with your JetBoil!

Food is a safety item!
You might be surprised by the amount of calories your body will burn through just to keep your internal temperature steady.
And that translates into a huge appetite.
Be prepared with extra portions of your hiking lunch.

These tips will get you ready.
And take these hiking snack suggestions seriously - they're chosen for taste but also for nutrient density to keep you going.
Enjoy your spring hikes!

That's the bottom line, isn't it?

Enjoy the changeable weather, the fresh green sprouts of life, and the sounds & smells of Nature waking up after a long sleep.
Laugh at the mud on your pants.

Take lots of pictures, and be sure to post your favorite spring time hike here, for all to enjoy.
Lots more hiking tips here!

Home page > Best Hiking Tips >
Spring Hiking Gear List
Didn't find what you were looking for? Use the blue TOP button
on the right to jet back up to the search box.
Why wait a whole month?
Plus, there's never enough room in the newsletter to share it all, so why miss out on exclusive Hiking For Her giveaways, limited time gear deals and discounts, freebies, updates, and more?

A short, info packed weekly email update will keep you current on all things hiking!
When you sign up to receive this update, you are agreeing to Hiking For Her's privacy policy.

Don't miss out!

Read more about these hiking weekly updates
HFH Policies


Save Time & Money


Hiking For Her's weekly emails keep you current on hiking & backpacking news:


flash giveaways
timely deals
steep discounts
freebies
trail changes


resources

Free, fast, fun info for you, every week of the year