Spring Hiking Gear List:
Mud And Showers
Here We Come

by Diane Spicer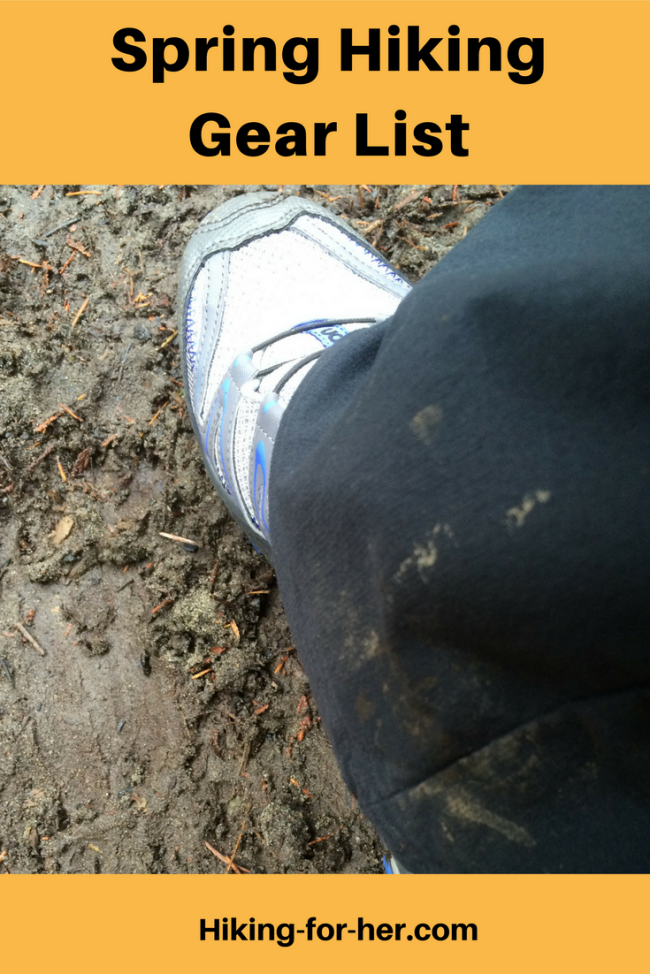 Using a spring hiking gear list makes good sense during the early season of fast changing weather and variable trail conditions.
Regardless of where you hike, spring can bring windy gusts, cold precipitation, lots of mud, and fog.
Get ready to meet all of that gracefully as you understand what to wear hiking and what to have in your backpack for spring conditions.
Long story short: your basic spring hiking gear list
Backpack with rain cover

Ten Essentials


Clothing layering system, ending with waterproof or water repellent outer layer

Waterproof boots

Trekking poles

High calorie food


Water, or a means to treat surface water
Details & additions to list below


Spring hiking gear list:
the basics

Comfort
Safety
Fun
Those are the 3 pillars of your basic spring hiking gear list.
To begin, let's stick with the basics of comfort and safety.
We'll add in fun items at the end, because it's always important to have some fun on a hike, right?
To start building your list, let's get a few things out in the open about hiking in cool weather conditions.

Basic facts for
happy spring hiking

If you hike year round (snowshoe hikes, winter hiking, or strenuous daily walks in a nearby park) you are probably conditioned to cold temperatures.
But if you're just starting off your hiking year with a spring hike or two, don't be caught off guard by how chilly and damp it can feel - especially if you're hiking under evergreen tree cover or in a place where spring cloud cover is the norm.
It might also surprise you to know that temperatures plunge about three and a half degrees for every thousand feet of elevation gained, something to be prepared for (mentally and physically) on a mountain trail that starts low and ends high.
All of this adds up to being prepared for wild temperature fluctuations plus moisture.
And that's where clothing technology comes in.
Comfortable clothing
for spring trails
To stay comfortable on a chilly hike, choose a spring hiking outfit that will layer easily to provide at least 3 layers between you and the cold spring drizzle.
Base layer: no need for long underwear, but don a pair of leggings and a well fitted sports bra. If you aren't prone to feeling the chill of spring on your lower body, skip the leggings.
Mid layer: a long sleeve wicking shirt and water repellent nylon pants. Depending on temperature, a pull over fleece top in a mid-range weight is also great to handy in your pack.

Outer layer: a water proof jacket and rain pants should ride along in your backpack until you need them.
Not sure which brands and styles are best?
Wondering about which fabrics make sense for spring trails?

Tip
Bookmark this page and return to it for fall hiking tips, too.
Or use the Hiking For Her fall hiking clothing and gear guide
Carry extra protection
from the elements
If you get cold easily, beef up your spring hiking clothing list with fleece gloves and a balaclava.
Don these when you stop moving, to ward off hypothermia.
More tips on how to keep hands warm here

To insulate your torso, use a hiking vest that can be taken off when you're feeling warmer.

And spring is when a waterproof rain cover like this one for your hiking backpack comes into play big time.
Moral of the story for springtime hikers:
 Stay warm, don't try to get warm.


Safety basics
for a spring hike

In spring, you'll be facing winter run off and snow melt.

That means wet conditions for your feet, along with unstable trail conditions such as mud holes, rock slides, eroded tread, slippery tree roots, and swollen impassable creeks.
Sometimes you just can't avoid stepping on slippery tree roots on a spring hike
Waterproof footwear that comes up over your ankles is the way to go, quite literally.
Hiking gaiters protect your pants and backside from mud splatters and snow.
It's much better to blast through the mud, and carefully pick your way around dicey (and maybe icy) sections of trail, in snug boots with good tread.
Carry boot traction devices and don them when needed.
If you hike where mosquitoes are a nuisance, spring is a great time to check your supply of insect repellents.
Also consider whether or not to bring a bug net on your hike. It weights nothing, but can keep you sane and safe from the blood thirsty hordes.

Water crossings
As a smart hiker, you've consulted your map before you even left home. You know how many water crossings there are, and have a rough idea if any of them are without bridges.
Always be prepared psychologically for a washed out bridge. Just because it's marked on a map, or noted in a trail description, does not guarantee that it will be there for you.



If you plan to rock hop through the roaring creeks, think again: any time you hop, you put yourself at risk for a fall.
If you have to do it, use your trekking poles for stability and to probe ahead of your feet.

If a water crossing looks too wild for you, do the smart thing: turn around.
That's the good thing about creeks and rivers: they'll be there waiting for you next time ;)
Mark the trail in your hiking journal for later in the season, when the crossing will be as easy peasy as possible.
Practice your water crossing skills during those low water levels, until your confidence in reading spring water levels is strong.
More spring hiking
safety tips

In the spring season, more daylight hours and modulated temperatures will make your trail time longer.
Also harder.
So you need to bring extra food and water (as the Ten Essentials preaches). There are tips waiting for you below.

You also need to be careful about gauging the weather.

Now add some fun
to your spring hiking gear list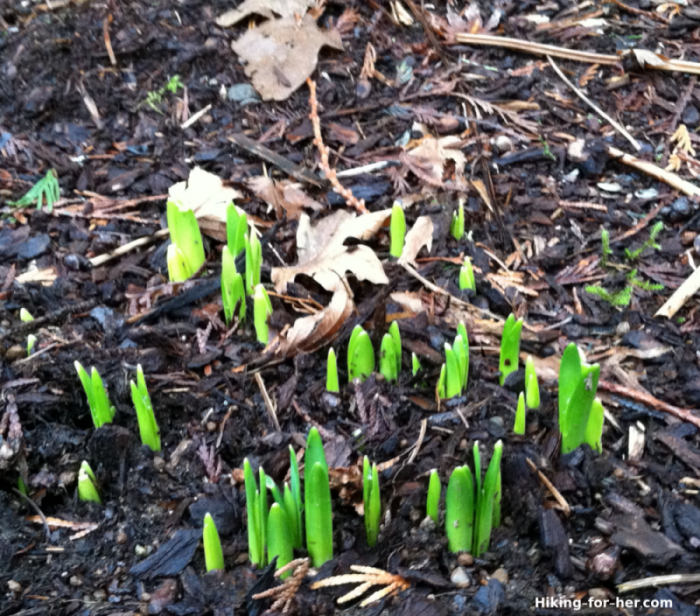 Fresh green shoots breaking through the thawing soil along a springtime hiking trail
Spring is Mother Nature's time to wake up and stretch.
Revel in all of the shades of green surrounding you!

It's also the time to catch a glimpse of spring babies:
hatchlings making a racket in a nest towering over your head

shy fawns peeking from behind mom's legs
Bringing along a field guide on a spring hike adds a lot of enjoyment when you spot a plant you'd like to name, or a bird perched along the trail.
Favorite hiking gear guide suggestions, right here!
Please budget time for simply breathing, listening, and drinking in all of the fresh odors and textures of a spring trail.
Sit on a dry rock, just off the trail, and keep your senses tuned for what happens after ten minutes of silence.

In wild spring weather patterns, rainbows are a common occurrence, so have your camera along in your hiking camera pack.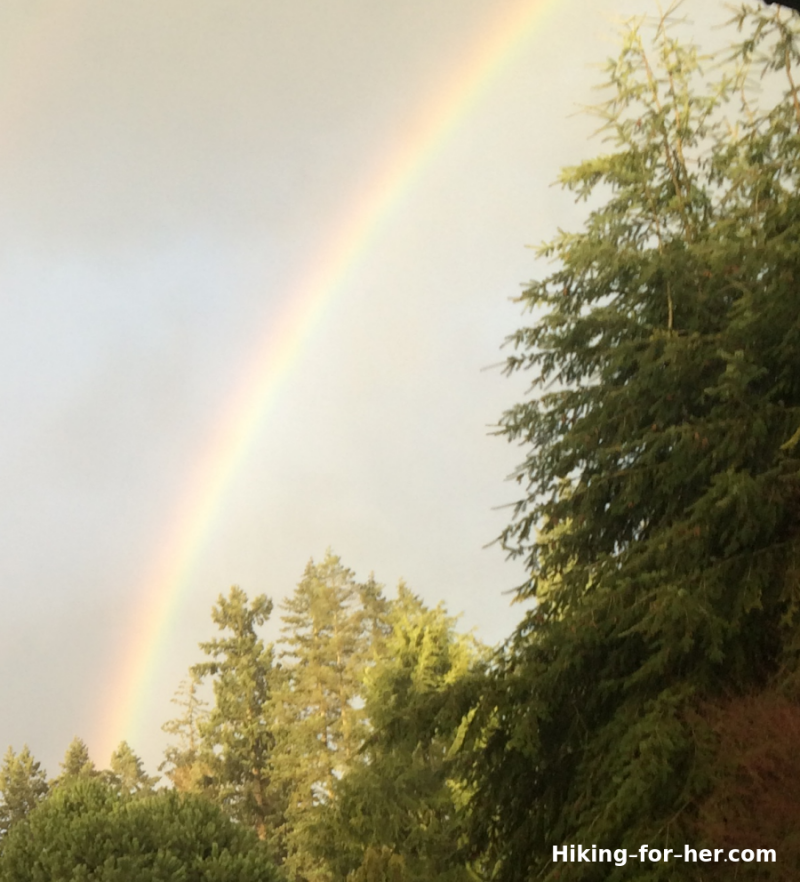 Your pot of gold at the end of this rainbow is somewhere over the trail

Spring hiking gear list:
worthy additions
for comfort and safety

Every hiker has a particular set of "must have" hiking equipment, depending on what spells comfort, safety and fun for you on the trail.
Don't be shy about adding the gear that makes you feel great on a spring hike, as long as the weight of your backpack does not affect your trail performance.

Examples:
Bring a backpacking chair to sit on at your spring campsite. An indulgence? Sure! But you're worth it.

Or use an inflatable cushion between you and the damp, cold rocks during a lunch break.
Personal favorite
My favorite comfort item on a spring hike?
A piping hot drink to enjoy when my hands and feet get cold. It also adds to safety, keeping hydration levels high.

A double walled Hydroflask carries the hot water.
I add my favorite tea bag to my cup (green tea has lots of antioxidants!), and enjoy a freshly brewed steaming cup right there at my lunch spot.
Or brew up a fresh cup with your JetBoil!
Food is a safety item
plus a comfort item
on your spring hiking gear list

You might be surprised by the amount of calories your body will burn through just to keep your internal temperature steady.
And that translates into a huge appetite.
Be prepared with extra portions of your hiking lunch.

And take these Hiking For Her hiking snack suggestions seriously - they're chosen for taste but also for nutrient density to keep you going.
Bring at least a liter of water (in a bottle or hydration backpack) for a day hike, and feel smug about having a bit left over when you get back to the trail head.
You might also be surprised by your lack of thirst on cool weather hikes. Vow to drink often, whether or not you feel a thirst sensation.

Don't want to carry the weight of adequate supplies of water?  You can treat surface water using these methods.
Tip:
One of the quickest, easiest ways to treat water on a hike is a personal water filtration unit.
Read my LifeStraw review here.
Enjoy your spring hikes!

That's the bottom line, isn't it?

Enjoy the changeable weather, the fresh green sprouts of life, and the sounds & smells of Nature waking up after a long sleep.
Laugh at the mud on your pants as you splash through trail puddles.
Seriously, go right through them with the best boots on your feet. It cuts down on trail erosion (and makes you feel like a super woman).

Take lots of pictures, and be sure to post your favorite spring time hike here, for all to enjoy.
More hiking gear tips for you to enjoy here!

Home page > Best Hiking Tips >
Spring Hiking Gear List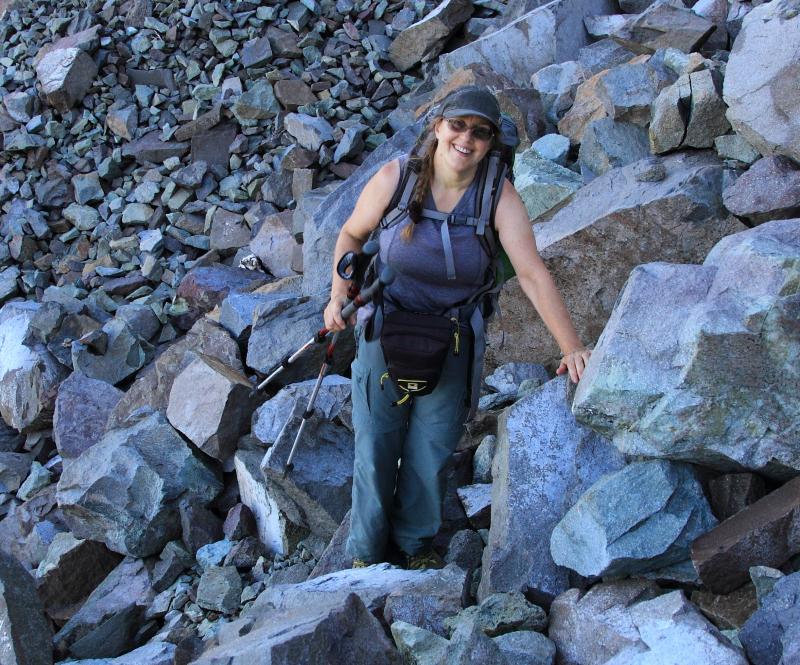 About the author
Diane is the founder of Hiking For Her.
She's been on a hiking trail somewhere in the world for nearly five decades & loves to share her best hiking tips right here.





All rights reserved. 





Photo credits: All photos on this website were taken by David Midkiff or Diane Spicer except where noted.
As an Amazon Associate, Hiking For Her earns from qualifying purchases.