Enjoy Happy Trails, the free monthly newsletter from Hiking For Her.

Receive a free resource: Hiking Layering System Explained
Dayhike Checklist:
Don't Forget Anything
On Your Next Hike
by Diane Spicer
Got a few minutes?
Let's take a look at how to make a dayhike checklist.
In a hurry?
Skip down for my checklist.
It's organized into essential items, add ons, fun stuff, and what to do at the trailhead before your hike.
Preaching to the choir?
You might already know this, but here it is, just for the record.

A dayhike checklist is the only way to guarantee that you're prepared enough to have a safe, enjoyable hike.
If you leave things to chance and memory, you're going to disappoint (and possibly even endanger) yourself.
And if you don't know what to take on a hike, using a checklist will save you trouble down the road trail.
Here's one more compelling reason to know what to take on a hike:
How long
is a good dayhike checklist?

The list is as long as it needs to be, given the type of day hike you're planning.
If you like to stick to well maintained, extensively signed trails, you're going to need a very short list...

Do you tackle trails that take you into the double digit mileage range with elevation gain and loss?
Then don't skimp on the details. Build up a long checklist and stick to it.
With every mile you put between yourself and "civilization" (or at least the trail head), you need to be more and more thoroughly prepared.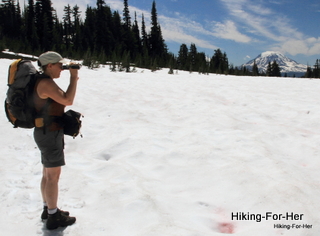 If you follow your dayhike checklist, you'll be prepared no matter what you find on the trail!

How to create a checklist
for a day hike

Every hiker needs to be prepared to either turn around, or tackle what's in front of her.
Sometimes Mother Nature has nasty surprises in store that only your checklist can prepare you for.
That's why a checklist must include the big categories that important to your health and well being:

Each big category contains many options that you will need to pick and choose from, based on your hiking style and plans.
If you're new to hiking, use a checklist to build an inventory of hiking equipment that you'll need to own - eventually. To start off, concentrate on safety items and comfortable hiking clothing and boots.
If you've logged plenty of trail miles, use the list as a tool to quickly double check yourself before you leave for the trail head.
If you're a grizzled trail veteran, use the checklist at the start of every season

to review which gear needs to be replaced, repaired, or retired for the upcoming trail work.



Get started here...

There is no "one size fits all" dayhike checklist. (the bad news)
You're going to have to create your own version. (good news - trust me!)
To get you started on your list of "must take" items for a hike, I've created resources to share information with you in each of those big categories.
Read these tips and recommendations with your personal filter in place: what makes sense for the type of hiking you're going to do?
Your answer will change with the seasons, and expand as your hiking confidence grows.

Hiking clothing on your checklist
Read about 
general types of the best clothing for hikers
Consider my 
specific recommendations, the outdoor apparel I know works well on the trail in all seasons.

Outdoor gear for hikers

Safety items
Nobody is going to take care of you out on a hiking trail, so it's up to you to be prepared.
No worries! This website is bursting with factual, trustworthy information on how to get ready for hiking.
Start here:
The ten essentials are a common sense list of what you need. 
Survival gear is also recommended; that link brings you to my tips for putting together a survival kit which can ride along in your backpack (and hopefully never needs to be used).
Best hiking food
There's food.
And then there's hiking food.

Hiking water
Believe it or not, water is considered a nutrient for your hard working hiker's body.
Hiking water and hiking water bottles are 2 topics you should read about before you write "water" on your dayhike checklist.
Curious about sports drinks for hikers? Read this.

Now add a little fun into the mix!
Here's where that dayhike checklist really gets personalized!
If trail time is going to be fun, you might have to bring along a few toys.

Get that checklist started!

You're armed with the facts, and plenty of ideas to get started on writing your checklist.
Won't you feel better at the trail head, knowing that you have everything you need to stay safe and comfortable during a hike?
I thought so!
You're my kind of hiker: prepared and confident.
Don't be shy about asking me questions.
Use this link to contact me! I'm happy to talk with newbie hikers.
Too shy to ask a question?
The best day hike is the one that you remember for all the right reasons.
Enhance your chance to dance down the trail, by using a dayhike checklist.
Just for fun, let's compare notes.
Here's my tried and true free dayhike checklist!
(free pdf download)
It includes trailhead tips and add ons, too!
Dayhike Checklist
Hiking For Her: Hiking tips you can trust!