Enjoy Happy Trails, the free monthly newsletter from Hiking For Her.

Receive a free resource: Hiking Layering System Explained
Picking The Perfect
Backpack For Hiking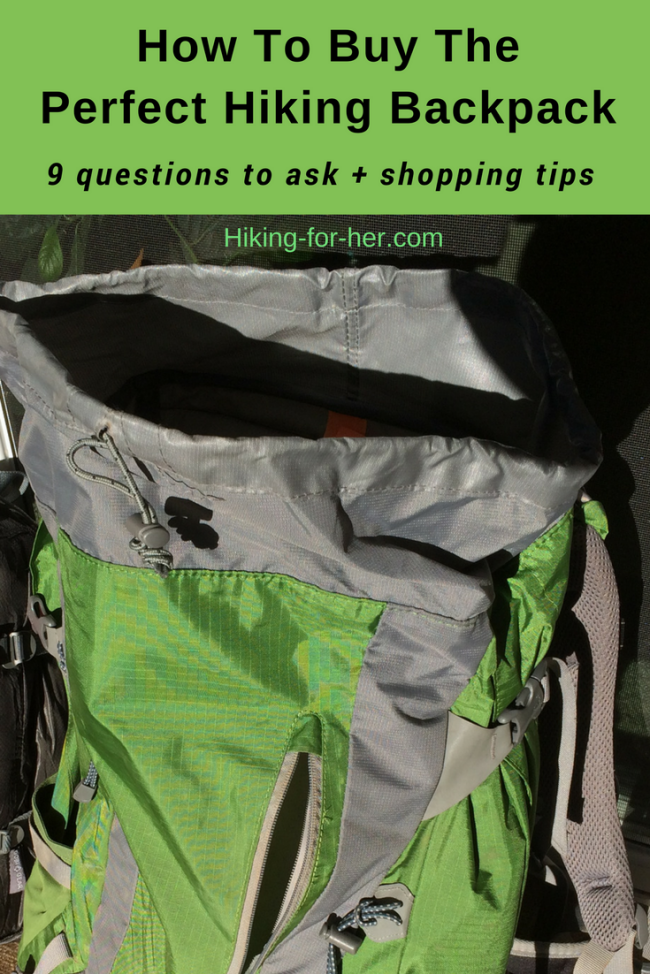 How to buy a backpack
as a female hiker

Here's what you're looking for: useful tips on how to purchase a womens backpack for hiking.
But let's start out with the truth:
Hiking backpacks can be a real pain to shop for.
There are an overwhelming array of options, hiking brands, sizes, and styles.
If you don't know exactly what to look for, you can end up with the wrong pack.
That translates into sore shoulders, skin rubbed raw, painful lower back, and more.

Less money in your wallet, too.
Don't believe the
"one size fits all" lie

Our species has two genders, and those genders have anatomical differences.
Luckily, many hiking gear companies have caught on to why backpacks designed for women are essential.
We're not just smaller versions of men!
We have hips.




Our breast tissue hates to be compressed by tight straps.




Our legs & knees bear weight differently.



Our shoulders are more narrow.

Torso length is highly variable.


Women look for thoughtful little features like a lip balm pouch on a fully padded, highly adjustable backpack hip belt.




And we're picky about colors (how many day glow hunter orange packs have you seen lately on women hikers??).
But...
Having said all that, I'm going to take some of it back: a non-curvy, broad shouldered woman may find that men's packs fit best.
So will other females whose anatomical curvature just happens to fit a particular manufacturer's specifications.
So don't be adamant on finding a woman's backpack - fit will dictate everything.
Stay open to trying on MANY backpacks until that magical moment when you say "Ah, this is the one."

Pay attention to
hiking backpack anatomy

Here's a quick list of the parts of the hiking backpack you must pay attention to when you try it on:
a) shoulder straps (padded is preferable)

b) back panel (ventilation is good)

c) hip belt (padded, adjustable)

d) sternum (chest) strap (adjustable)

e) carrying capacity (volume and dimensions)

f) weight of empty pack (stripped down versus all bells & whistles)
g) frame: internal frame is common, but it's not unheard of to find an external frame backpack

Note to self: Color is not a feature!!
Don't fall in love with a pack because it's a pretty hue unless it ALSO has every single feature you need.
Although if you reject a great pack because it's just not your color, I understand.

Name the purpose(s)
of the pack

Which of these describe the type of backpack you might be looking for?

every day low cost backpack which can double as a "school" backpack




small volume travel or carry on pack that you will also hike with



day hike backpack (which could be a lumbar pack)


moderate volume backpack for an overnight or weekend backpacking trip

large volume pack for multi day backpacking trips with heavy loads


ultralight pack for long trail hiking or heli-hiking




mountaineering pack capable of carrying specialized gear in addition to food and shelter




winter sports pack for snowshoeing, winter hikes, and/or skiing



If you're shopping for one particular type of hiking backpack, don't waste time with the other types of packs.
Give up the idea that there is one general purpose hiking backpack that will take you on day hikes, backpacking, and rugged backcountry adventures.
A woman hiker's gear locker soon fills up with backpacks if the hiking habit becomes stronger.

So which pack are you interested in shopping for right now?
Essential pack features
to keep in mind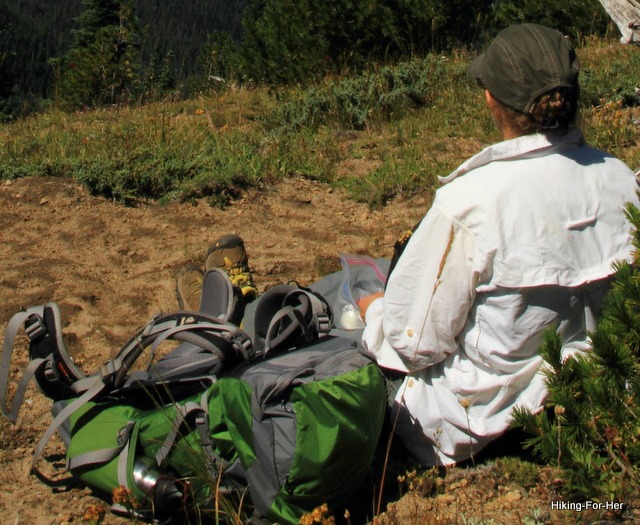 Sitting in the dirt with a favorite backpack
Keep in mind that you may have to try on a lot of packs.
OK, to be brutally honest, you SHOULD and MUST do that (it's that important).
But before you get near any packs, figure out exactly what kind of hiking pack you need.
A few hints on how to pick the best backpack for hiking will get you rolling.

Pack size
How much carrying capacity ("how big") do you need?
Depends upon your hiking plans, right?
If you're planning a multi-day backpacking trip, your pack needs are large.
Or maybe you just need a generously proportioned daypack. Some of them can be cinched down for smaller loads but will expand to handle bigger ones.

Be aware that packs are advertised by their volume:
Be prepared to look at all of the numbers on the tags.
Tip: Numbers make you cross eyed? When you hit your favorite gear store, just ask the sales staff to show you the small/medium/large capacity packs which fit your frame and hiking situation.
Here's where it pays to use a store with educated, experienced staff who will lead you right over to the packs for your plans.

Weight
How much does the empty pack weigh?
You shouldn't go above 2 or 2.5 pounds empty for a day pack, but will probably need to go a bit higher for longer trips in rugged terrain.
There's ultralight gear you can consider, but be prepared to pay extra for a pack that weighs less (ironic, isn't it?).
Backpack price ranges
Ah, now we're getting down to the tug of war between wants and needs.
What you want to buy might not match with the amount you have in your budget for that particular piece of hiking gear.

What are you prepared to spend?

Where can you find the best deal?

Are you taking advantage of rebates,

discounts

, sales, membership pricing?
All great questions!
Only you know the answers.
But a word of counsel: Some gear is worth the extra money, and some isn't.
Read my tips on this website, consider my gear reviews, and don't be shy about sending me your questions so you will get a good deal on worthy hiking equipment.
See that blue TOP button over on the right? Use it to get to the website search box.

Brands you're interested in
Do a bit of background research and if you're partial to certain brands with good reputations in the outdoor community, call ahead and make sure those are in stock.
And do those brands carry gear specifically designed for women?
You want to try one lots of women's backpacks, not generic ones.
Unless you can't find one that fits.

Then fall back on trying on the men's versions of the brands you gravitate toward.
And if you're a small woman, a large kid's pack might fit your shorter torso (and some of them adjust nicely).
Words of wisdom:

Features you must have
Every hiker has a unique constellation of trail preferences, and you're no different.
So not every hiking pack will be able to satisfy you.
Examples are in order:

If you use a hydration system, you'll need a hydration pack built to accommodate it, with a hydration sleeve or appropriately sized hydration compatible features.
Maybe you need more than one internal compartment (probably not in a day pack, but a reasonable need for backpacking).
Or you prefer two roomy side mesh pockets for water bottles.
Perhaps you want to lash gear such as trekking poles, sleeping bags, crampons or an ice axe to the outside of the pack - you'll need to consider attachment options.
Does the pack come with a rain cover?
Here in the

Pacific Northwest

, I consider that an essential piece of gear.

But you might never need it.
If you're bony in the shoulder area, well padded shoulder straps are a necessity, not an option.

How you get at your gear matters
Some of us (not mentioning any names) are fussy about how to get into the pack:
top loading with drawstring closure and buckles to lock it down tight




side access via zippered pockets



stretchy outer side pockets for bottles and gear you want to keep handy


quick access to gear via front stash pocket or pockets on shoulder strap or hip belt

bottom access via one or more zippered compartments

This may sound picky, but if you're frustrated every time you try to get something out of your pack, it will erode your enjoyment of hiking.
Then you'll have to go into Backpack Avoidance therapy.
It won't be pretty.
So make a quick list of options you know you'll want to use, and then keep track on your hikes (use your hiking journal) of what your ideal backpack looks like for the next time you go pack shopping.
Don't forget to
carry a load before you buy

But before we get inquisitive, here's a pro tip:
Be sure to load up the pack with some weight before you put it on. It's a fast way to find out the pack isn't for you.

REI stores (a gear co-operative) have an assortment of bean bags for this purpose, but other stores might let you put heavy items into the pack and walk around for awhile.
You should take many, many steps and bend over in the loaded pack (the "tie your shoe lace" motion) several times.

Try to simulate trail conditions as much as possible.
Again, REI stores have an area in the store with uneven terrain and steps so you can get a feel for whether or not you and the pack have become one.
(They are one of the few hiking gear outfitters that get this part of the equation right.)

Be sure you go up AND down these inclined planes.
Or perhaps there are stairs somewhere in the store that you could use for this purpose.

For more tips on how to choose a suitable pack, read the wisdom of REI.


Nine important questions
to ponder
when you try on backpacks

Now that you have some familiarity with how backpacks are made and marketed, let's turn to getting the best fit possible in your quest for the perfect hiking backpack.
Making a spreadsheet of the questions, great idea! Go old school and record your answers with a pen (gasp!) as you try on various packs.
Question 1:
Does this pack conform snugly to my back?
(but not in a death grip)



Question 2:


When I start walking in the pack, does the hip belt gouge me or put pressure on my rib cage?




Question 3:


As I'm walking, do the muscles in my neck feel strained or pulled?
If YES, did you snap together the sternum (chest) strap? There are strap adjustments you should try before you discard the pack entirely.




If the pack doesn't have one of these straps, I'd pass it up. Neck strain leads to head aches, sore shoulders, back misalignment, and potential knee problems.

And it's tough to make good trail decisions when you are in pain.



Question 4:


When I swing my arms (like I would when I use hiking poles) do I hit the sides of the pack?



Question 5:


When I bend over (simulating the action of tying a boot or picking up a water bottle), does the top of the pack hit me in the back of the head?



Question 6:


When I slide a hand up under one of the shoulder straps, can I close my hand comfortably around it?



Question 7:


Is this pack ventilated?
If NO: No big deal if you're only using it strictly for winter hiking, but in general, look for a pack built to let your body heat escape.

There are various well-hyped ventilation "systems" for this, with names specific to each brand. You'll get to know them quickly.

Don't be swept up in the marketing buzz words, just use common sense and look to see if the pack directly contacts your soon to be sweaty back.


Built in room (airflow allowances) with mesh back panels is the best way to go for three season hiking.

Question 8:
Do I understand what all of the straps are for?
Do I even need all of the features?
If UNSURE, take off the pack and sit down next to it.

Play with all the zippers, straps, buckles, and doo-dads until you are comfortable with the design of the pack.


This will help you make reasonable adjustments once you put it on again, too.

Once you know a load lifter from a sternum strap from a compression strap, put the pack back on and begin to make adjustments.

Be clear about your hydration choices, and choose the pack that works best for you.

If NO and you feel irritated by the question, this pack has too many adjustment features for you. Go down one model (watch the price drop, too).




Question 9:


Does this pack make me look fat?
KIDDING! Just kidding!
(Or am I?)
Don't get discouraged!

Don't fret if Round One of gear shopping hasn't gone well.
The perfect pack is now closer to reality.

You just have to explore a wider range of brands.
And write down your observations and notes on the packs you didn't like (use your spreadsheet or trail journal).

Patience, my dear.

All of this attention to detail will be so worth it once you hit the trail in comfort.
Backpack shopping tips

Consider finding the right pack every bit as important as finding the right mate, and devote the same amount of brain power and time to the job.
If you think I'm overstating my case, we should talk (either about finding a mate or a pack, I'm game for either one).
Gear shopping tips
to keep you sane
Bring snacks to keep your blood sugar high enough to cope with all of the fiddling involved in pack adjustments.

Wear a sports bra and whatever type of hiking clothing you expect to wear on the trail.

Pin up your hair or wear your hiking cap or hat so it won't get in the way.

Figure out your torso length before you go, to determine if you need a small, medium or large pack.

Watch this video

for how to measure it.




Don't feel that you have to "settle" for a "good enough" pack just to get it over with. Leave the store, or the website, and return when you're feeling more energetic.



Consider this your quest to find THE pack, and devote as much time as necessary to finding it.
Remember the story of Cinderella - your "prince of a pack" is out there somewhere, waiting for you. Or the Starship Enterprise waiting to whisk you to a trailhead ;)


Don't put time pressure
on yourself

Not be a buzz kill, but don't wait until the day before you leave for the trail head to find your perfect backpack.
Ready to be even more purposeful in your search for the right pack? Hurrah!

Backpacking Memory Lane

Allow me to pose, and answer, this question:
"When is a backpack more than just a pack?"
When it's a cherished memento.
Do you remember your first pack? (kinda like a first kiss memory)

I surely do.
It was a hideous neon orange color (designed for deer hunters, probably).
It had an external aluminum frame with huge metal pins, one giant cavernous internal space, and several external pockets with heavy metal zippers.

The straps were canvas, poorly padded and sewn onto the pack with black thread.
It had a tag that said "Size: Large".

My parents bought it at a gas station in town (we call them convenience marts now) in 1971 just before I went on my first backpacking trip.
I thought it was the most beautiful thing I had ever seen.
As a young teenager, I learned to backpack wearing that clumsy, over sized pack.
Somewhere along the way, over many household moves, I lost the pack. I'm still sad about that.
Why?
Way more than just a way
to carry my tent

It represented so many good memories for me:
independence as a teenager




learning about the outdoors from mistakes & triumphs




building strong legs from carrying the load as I listened to the frame squeak with every step




losing a bag of gorp to a ravenous chipmunk who chewed through the pack & left a long lasting "don't do that again" lesson




trail friendships that lasted for decades



... and so much more.
It would be fun to wear that pack one more time.
At least I have one picture of my youthful self in it (me on the left), looking a bit overwhelmed by the bulk of the pack.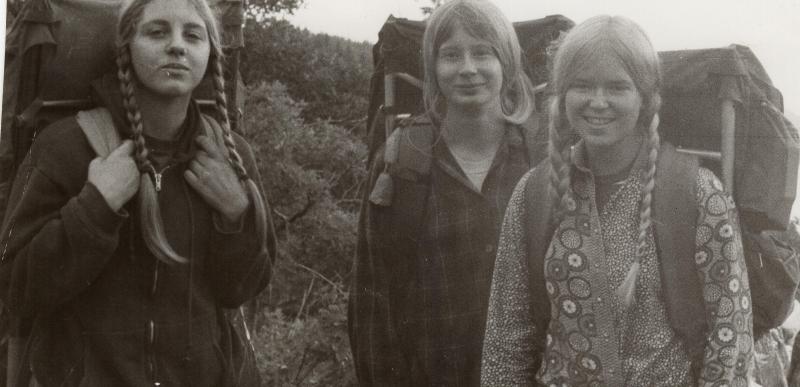 You are spared the day glow orange color of my backpack, on the left

Need more suggestions
to find the perfect pack?

If you need more gear shopping suggestions, send me your question(s).
I hope you believe it when I insist that it really is worth the time investment to get a properly fitted pack that will add enjoyment, not agony, to your trail time.
Happy Gear Shopping!
P.S. Carrying the ten hiking essentials inside your pack makes it even more perfect.

Home page > Best Hiking Gear >
Best Backpack For You