Enjoy Happy Trails, the free monthly newsletter from Hiking For Her.

Receive a free resource: Hiking Layering System Explained
MSR Snowshoe Review:   Women's Revo Ascent

by Diane Spicer
This MSR snowshoe review kicks around the merits of putting a pair of Revo Ascents on your feet.
What's that you say?
You're just getting started with snowshoeing?
You're going to need warm, durable winter boots before you look at the best snowshoes for your winter hiking plans.
No one asked for, or paid for, this review.
My own money was used to purchase these snowshoes, and all comments and photos are my own.
One more disclosure in this MSR snowshoe review:
I wore a men's pair of MSR shoes for 8 seasons of snowshoeing, and was delighted when women specific designs for narrow(er) strides and smaller boots finally hit the market.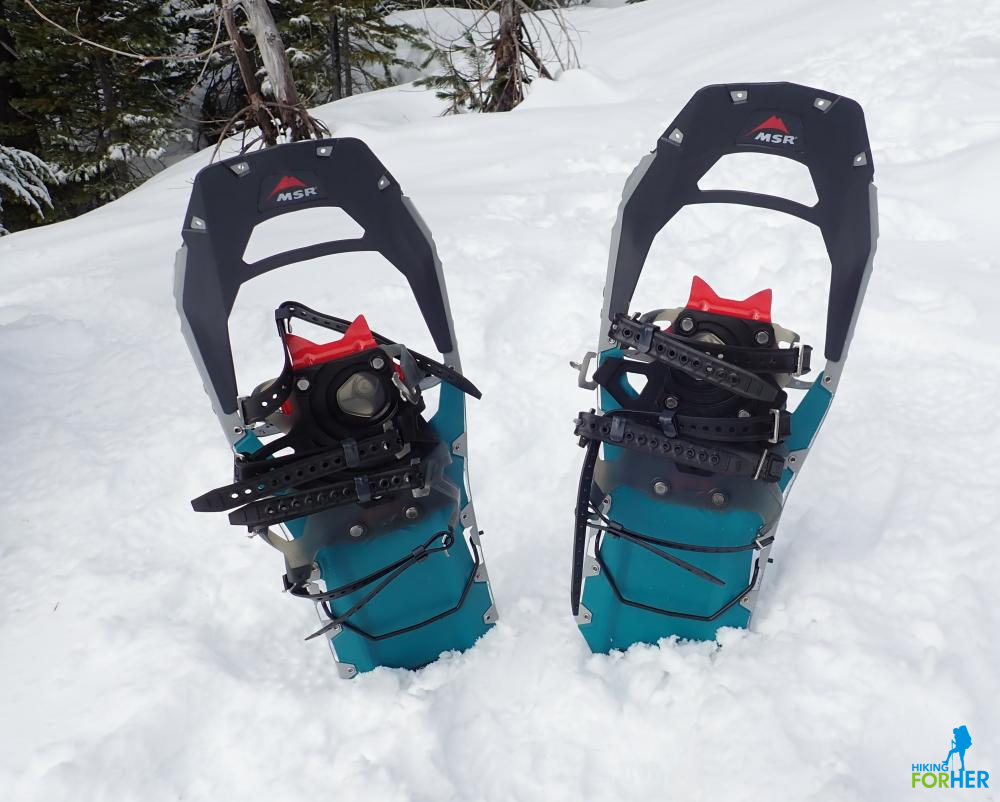 MSR snowshoe review:
let's talk specs
Every woman knows that a shoe wardrobe makes sense.
You wear sandals to the beach, you wear flats to the grocery store... form follows function, right?
Same idea with snowshoes.
If you're just now starting to think about snowshoeing, read about snowshoe designs.
Otherwise, these specifications won't make sense.
MSR Revo Ascent 22 inch women's snowshoes:
22 x 8 x 2 inches

Weight: 2 pounds per snowshoe


Recommended max load: 180 pounds

Frame material:

DTX (Martensetic) steel

Deck material: injection molded plastic

Rubber strap closure method

Toe crampons for extra stability


Heel lifts

Also available in 25 inch length (210 pound max load)

Optional 5 inch modular flotation tails


Made in United States
Note
These are similar to the MSR Lightning Ascent snowshoes, which cost ~$60 US  more, but are 4 ounces lighter (frame is aluminum) and probably hold up better against rock gouges due to a TPU-coated nylon deck.
MSR snowshoe review:
let's talk ease of use
No need to figure out which snowshoe is left, which is right.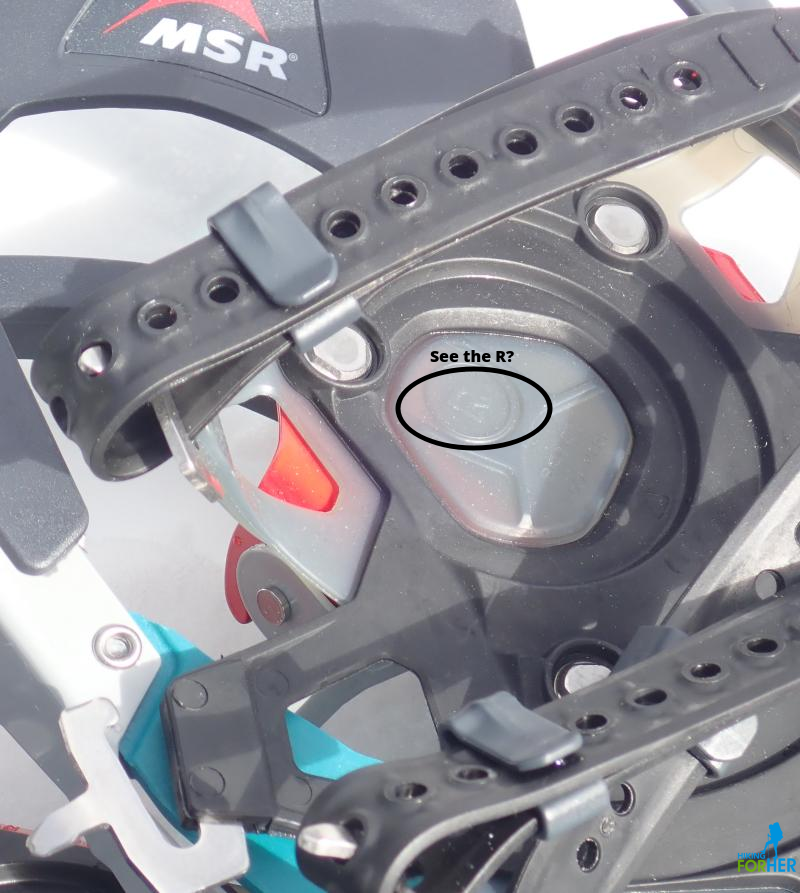 Also notice the straightforward "metal tooth goes in the hole" binding approach.
Simply pull the rubber strap toward the metal, select the hole which feels snug but not death grip-like, and you're done!
A total of four times does the job:
one back strap to secure your boot heel

three forward straps to strap in your arch and toe areas
See the four straps?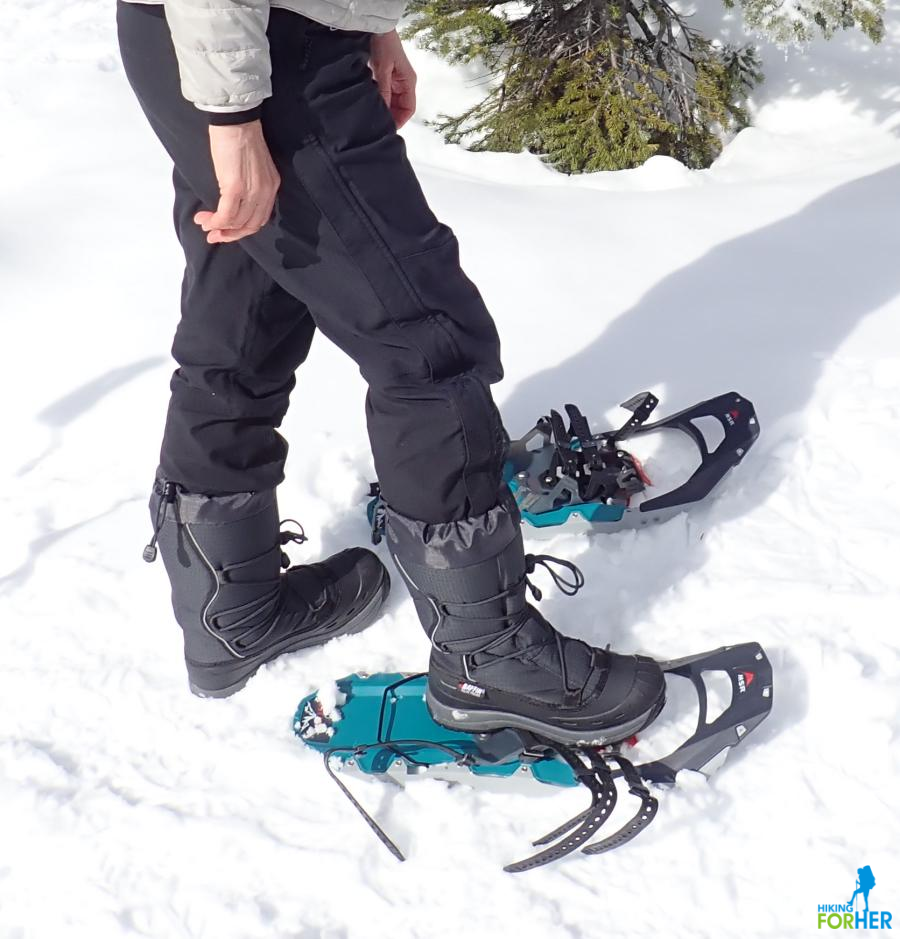 Step one: Get the correct snowshoe seated comfortably beneath your boot.
It's important to position your boot far enough forward from the heel lift, but not so far forward as to bump the plastic decking.
Remember, your foot will be carrying the weight of the snowshoe but also has to move as your stride adapts to the changing terrain.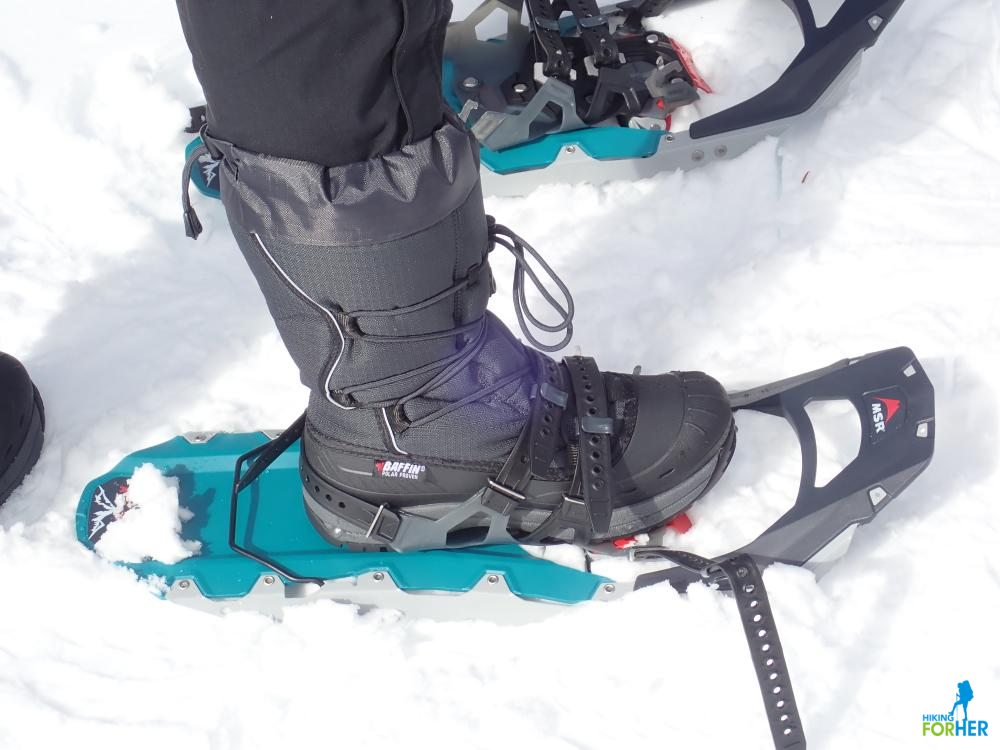 Step 2: Get the back binding strapped down tightly, and begin to work on the front strips.
This isn't a hard and fast rule, but for me, strapping my heel in first allows me to feel confident that my foot is in the correct position.
It's also the only strap to lock into place on the inside of my leg, and feels just a tad harder to do if I'm using my non dominant hand.
Pull each strap to a snug position
Lock everything down.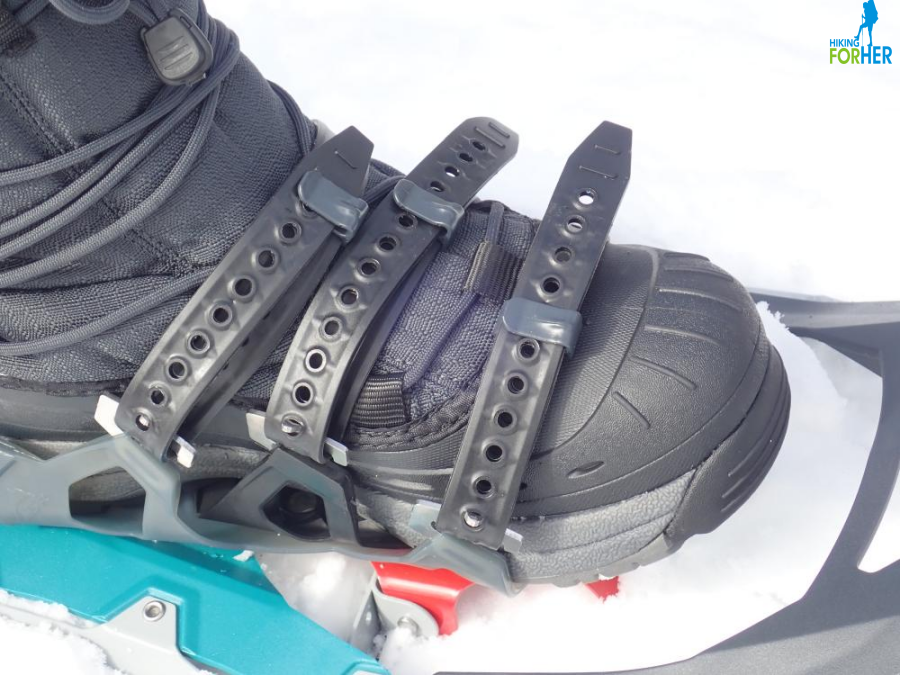 A plastic clip can be slid along the length of each strap to find the best place to secure everything - and avoid a tripping hazard.
Pick up your leg and be sure the snowshoe is attached to it!
Then give it a good shake to check your bindings.
Off you go!
MSR snowshoe review:
let's talk performance
Heel lifts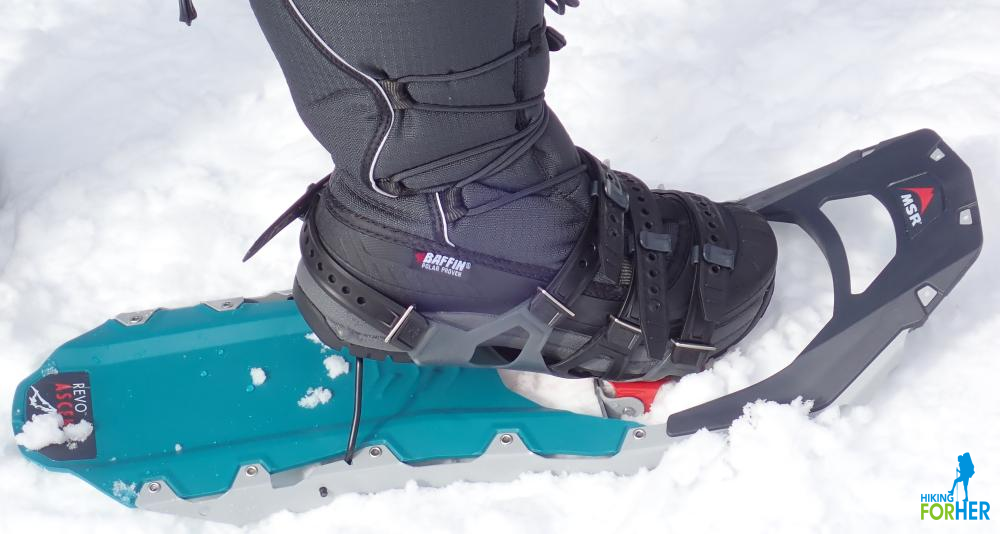 Heel lift locked into position
When tackling a long upslope, you want an easy way to get your heel lifts deployed.
Why?

If you're using poles (and really, for stability's sake why aren't you?), reach back with the grip end of your pole and pull the heel lift up.
It's easy to snap it back into place once you've conquered the elevation gain.

Crampons for grip
Note the crampons, with an abundance of metal external traction teeth.
That's what gives you a solid grip on steep slopes or icy patches - which have been known to occur simultaneously!



Bindings
The bindings are as comfortable as it's possible to be with boots and snowshoes on your feet.
I must admit that I love MSR bindings because they stay put, don't get all iced up and frozen shut, and can be adjusted easily to much smaller or bigger boot sizes when someone borrows my shoes.
They stay pliable even in cold temperatures (MSR rates them to -20F).

They're simple to operate, even with the diminished dexterity of gloved hands.
And so easy to release at the end of the day, when I'm tired and just want to get out of my boots.

Who these snowshoes
will - and won't - serve well
This particular model of MSR snowshoes is designed for harsher conditions and challenging terrain.
If you prefer to stick to level terrain, or groomed trails used by cross country skiers or snowmobiles (walking off to the side of the track, of course), these snowshoes are overkill for you.
If you don't mind (or actively seek out) steep slopes, intermittent corrugated cardboard versus deep snow conditions, icy patches, or all of these, putting these snowshoes on your feet will absolutely help you keep your grip without undue leg fatigue.
Here's the marketing lingo in this MSR snowshoe review:

MSR Revo Ascent snowshoes:
conclusion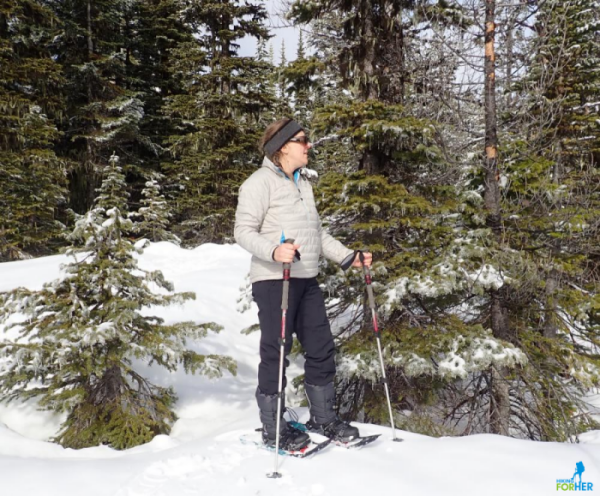 All geared up: layered clothing, warm winter boots, trekking poles, and my trusty snowshoes. Now where did I leave my pack??

More snowshoeing tips
for you
Snowshoeing might seem straightforward, but it takes some planning and the right gear to stay safe and comfortable.
These are the best snowshoeing tips for intrepid women looking to get started with this fantastic sport:
Home page > Best Hiking Gear Reviews >
MSR Snowshoe Review
Hiking For Her: Hiking tips you can trust!