Best Safety Tips
For Snowshoers
Including Resources

by Diane Spicer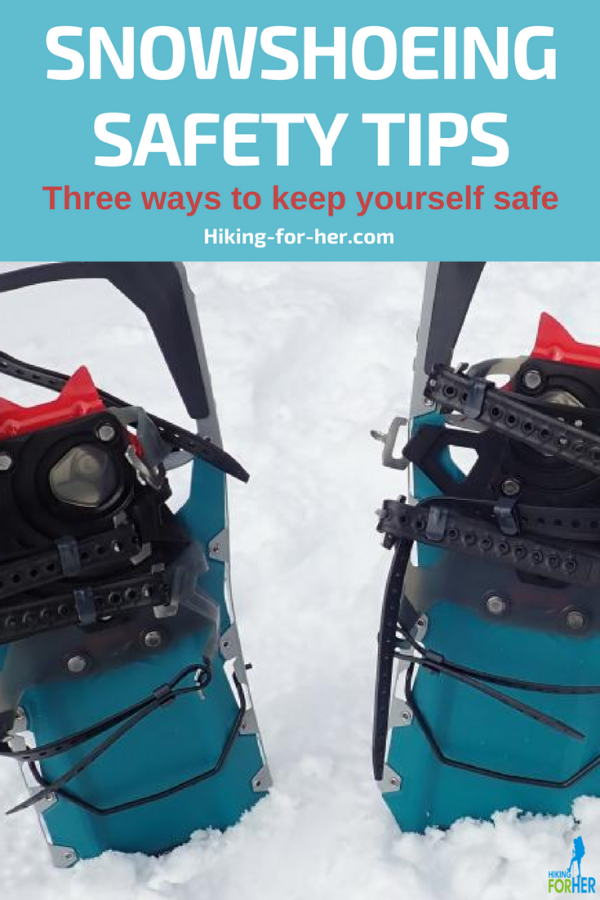 You want the best safety tips for snowshoers, right?
Let's not waste another minute with a long winded wind up.
Here's the delivery, in three part harmony: basic safety tips for snowshoeing. These include:
Planning

Smarts

Flexibility
Of course we start with planning! It's the key to a safe snowshoe trip.
Safety tips for snowshoers:
it's about
planning
There are several things you've got to be on top of before you head out the door.
Failing to plan is planning to fail, as they say.
And for this vigorous winter sport, planning is your ticket to safety.
Especially if you're heading into mountainous backcountry!
Destination planning
Let's lump weather and location together.
Be proactive:
Check the weather forecast for the exact area you're going to be in. Here's a great weather site to use.
If avalanche terrain is part of your plan, check that forecast as well. Use avalanche.org.

Gear and nutrition planning
Your body is your vehicle into the snowy wonderland, so treat it right.
Use Hiking For Her's snowshoe gear guide.
Heed these snowshoeing food and drink tips.
Now let's turn to the second major way
to stay safe as a snowshoer.

Safety tips for snowshoers:
it's about
smarts
You've got two things to be smart about:

Lenticular clouds like these mean the weather is changing

Be smart about terrain and weather
Winter hiking adds a brand new dimension to the joy of the trail.
It also adds new worries.
Examples: dealing with the cold and adjusting your pace to accommodate conditions.
Dress in appropriate moisture wicking, insulating layers by using Hiking For Her's guide.
Pacing recommendations are here.
And you will meet brand new hazards as a winter hiker:
Be especially alert for them as you move across the terrain.
If you have even a shred of doubt about your ability to surmount them, turn around.
There is no shame in knowing that you need a stronger outdoor skill set for snowshoeing. Keep reading for tips on how to tackle that deficit.

Play it smart with human interactions
Every group has leaders, whether by overt agreement or tacit understanding.
If you're the leader, you have responsibility for pacing, destination, safety, and morale.
If you're following someone's lead, you've got responsibility for keeping up.
And speaking up.
No matter your role, you've got to pay attention to the people who are snowshoeing in front of and behind you.
If someone looks tired, cold, or otherwise not enjoying the day, speak up!
And not only that, you need to communicate clearly.
Women seem more willing to talk about what's going on. Yet we are hesitant to inconvenience anyone.
Here's the deal:
If you have to be the one who brings up a problem, so be it.
It's better to talk it through than to ignore it until you can't ignore it any longer. That's when bad stuff happens.

A note about solo snowshoeing
While I have done this, I don't recommend it any longer.
Why not?
Short winter days.
Unpredictable weather patterns.
Thin margins for staying safe in the face of an error or injury.
Increased fatigue due to heavier winter gear.
All these make me hesitant to recommend solo snowshoeing to anyone.
And with age, comes wisdom.
Now we move on to our third big snowshoeing safety topic.
Safety tips for snowshoers:
it's about
flexibility
Here's where most women shine: being able to change plans on the fly when it's clear that Plan A is not working out.
A few examples:
The weather is changing fast. The route is becoming obscured. Visual contact within the group is deteriorating.

Your terrain becomes more difficult than your map indicates. This is sometimes due to the scale of map you're using.
A gear malfunction slowed down the group. But you came to the rescue with your gear repair kit!
I urge you to let go of the rigidity of a plan to make it to Location X, no matter what.
Don't let your trail companions talk you out of what you know, or feel, to be the right decision for you.
When you're tired, the group, or part of it, should turn around.

When you have a gut feel that something is not right, turn around.

When conditions change, bail on the plan.
And when you just don't feel the snowshoeing love, you know what to do!

Resources for safe snowshoeing
If you're going to be spending your day on snow, know how to approach it.
For example, if you're heading into steep terrain, learn the basics of avalanche safety.
Backcountry Babes runs courses and trips.
More of a do-it-yourself-er? Read this:
Another source of outdoor education for snowshoers: classes and events at REI Co-op.
Snowshoeing is a blast!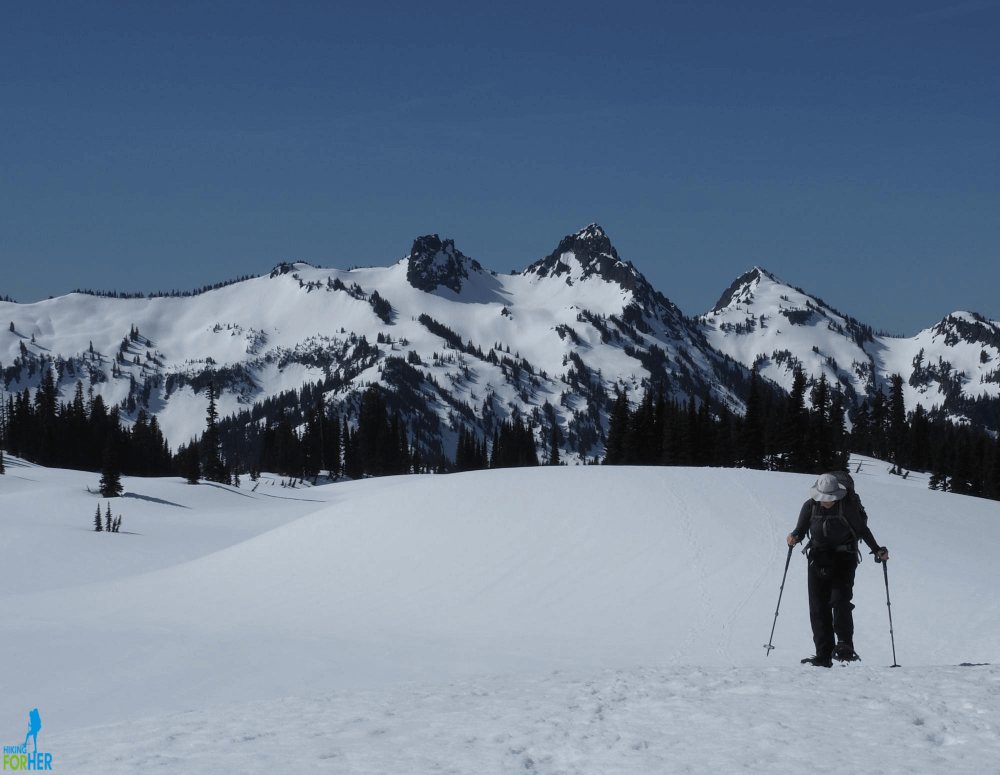 Silence and the snowshoes on your feet are the perfect recipe for a fantastic snowshoe hike!
The freedom of tromping over snow laden hills and valleys wearing snowshoes?
It is something you have to experience for yourself, at least once!
Relax and enjoy your snowshoe trips by heading out prepared, smart and flexible. 
Let me know if you need answers to questions, I'm here to help.
Home page > Snowshoeing Tips >
Best Safety Tips For Snowshoers
Hiking For Her: Hiking tips you can trust!
This article was printed from Hiking-For-Her.com