Enjoy Happy Trails, the free monthly newsletter from Hiking For Her.

Receive a free resource: Hiking Layering System Explained

Best Winter Hiking Boots:
Find Your Pair Fast

by Diane Spicer
What are the best winter hiking boots for your feet?
Depends on where you're going to wear them, the activity level you'll be putting them through, but also upon the shape of your arch and width of your foot.
Let's take a closer look at how to choose the perfect pair of winter boots.


Where will these boots go?

In the snow and mud, I know.
Hiking trails become muddy, frozen, slippery, or buried beneath snow as the seasons change from their summer time splendor.
This puts your feet, and the rest of you, at risk.

Your regular hiking boots aren't going to cut it.
Your feet deserve stability, good thermoregulation and protection from the elements.
You need the best winter hiking boots when you take them into specific conditions.
Examples:

If you'll be booting it up snowy trails, your winter hiking boots are going to have to handle accumulating snow in the tread so you don't lose your grip and fall.
Sometimes you'll have to add additional traction to your boots,  to handle not only snow but ice.
If you're snowshoeing, you need boots that can handle the bindings plus protective gear.
If you're not sure what the conditions will be, err on the side of caution and wear heavier (warmer) winter boots.


Best winter hiking boots features

Look for these features in any boot you're considering for snowy, cold conditions:
seam-sealed waterproof design
removable, thick synthetic liner that can be dried overnight and replaced in the morning (for snowshoers) or 200g - 400g synthetic insulation

a lacing system that can be easily managed with gloved hands
good arch support to prevent foot fatigue
plenty of wiggle room for your toes, which should be encased in warm socks
tread that resists getting iced up or clogged with mud
You will find different heights, so be sure to select the one for your expected snow levels. If in doubt, go higher to protect your calves and heels.

Best winter hiking boots brands

Here's where personal experience and a lot of winter hiking experience kick in.
I grew up in a snowy, cold upper Michigan town, so I know winter boots inside and out.
And have worn out plenty of pairs.
I also snowshoe. A lot.
So based on all of that, I have whittled down to only a few brands that perform well for me.
I can recommend them for you, but remember, your feet, stride and conditions are different than mine.
You might find lists of "10 best winter hiking boots" on other sites. I stick to a few curated pairs - only what works, that's the Hiking For Her motto!

The brands I have on my feet currently are these:
The brands that I see rave reviews for:
KEEN winter hiking boots

One of the few companies that has earned my trust for winter boots: KEEN.
I use them for lots of three season trail miles, and have come to enjoy their out of the box comfort along with their durability.
Their winter boots, also good.

Here's why their boots are worth a look for winter weather:
Waterproof but breathable materials
Nice high design to cover your ankles and lower calves (I'd still recommend wearing gaiters)
Easy lacing system
Decent tread
Lighter weight compared with other brands

Note that I don't wear these boots for snowshoeing, because you can't remove and dry the liner material. I want as much dry insulation between my feet and the snow as possible, day after day. (see Baffins below)

However, for booting it up snow packed trails, or for plowing through slush and mud on a winter hike, these boots are the real deal.
And they look kinda cute with my jeans tucked into them for a quick trip to the grocery store.
Just sayin' ;)

Baffin winter hiking boots
If you want warm, dry fully functioning feet in the worst winter conditions, check out Baffin boots.
Note that these won't be comfortable for long hikes in the snow for some people. But they are superb for keeping feet warm and dry.
I use these for snowshoeing, or for long winter chores like shoveling snow.
The pair on my feet:

Baffin Flare Tundra Rated Snow Boots
Why I love these best winter hiking boots:
Extended height uppers eliminate the need for gaiters (unless you want to add them for warmth)
Pull on style with easy lacing system, no fumbling in cold conditions
Raised ridge on heel is compatible with snowshoes
Removable inner boots
And lots more! Be sure to check them out.
More winter hiking boot brands
to consider
I hike in Salomons during three season conditions (see my review here), and they make winter hiking boots that are well built.

Oboz Bridger 7" Insulated Waterproof Boots




For a heavier pair of winter hiking boots which are also compatible with snowshoes, this pair from Oboz works well.

The weight is 2 lbs. 9 oz. per pair, with winterized rubber outsoles to keep out the cold.

Bonus: These boots are available in wide sizes, too. You don't see that very often, so if you hike with wide feet, try these boots.


Best Winter Hiking Boots
Frequently Asked Questions
(FAQ)

The thing about Hiking For Her that is different: I answer every email I receive. And lots of them are about which hiking boots to buy.
How to find winter hiking boots are included in those general questions!
So I pulled together my answers to winter hiking boots FAQ for you.

Click on a question to get started with finding a great pair of winter hiking boots for your feet.

If you are hiking a lot in conditions with snow on the ground, you will need an insulated hiking boot with good traction. Pair them with gaiters, and you should have dry, warm feet.

If you're in wet winter conditions (mostly mud), you can use a full length set of gaiters (up to your knees) over your regular waterproof hiking boots.

Read about gaiters here.

You can use traction devices on your hiking boots to increase the amount of traction you get on icy trails.


Read about hiking boot traction devices here.


If your winter hiking conditions are dry and cool, no need for special boots. Be sure your socks are thick enough to handle the cool temperatures without being too bulky inside your boots. You want good circulation to your toes.

An insulated pair of hiking boots to keep your feet dry and warm are essential for winter hikes.

Tip: Look for a pair of winter hiking boots with removable moisture wicking liners. You can dry the liners out between hikes.

Boots that are called winter boots or "snow boots" don't necessarily give you the comfort and support for hiking, so be sure you are looking for winter hiking boots.

These boots will be insulated and have soles with a large number of grooves to provide traction on icy trails. Look for a high cut pair to protect your feet from snow and cold temperatures.

You are looking for three things: a pair that is waterproof, insulated and easy to get on and off.

If you're a snowshoer, be sure the boots are compatible with snowshoes.

There is no need to go up in size when shopping for winter hiking boots.

Bring the warm, thick pair of sock you will use for winter hikes to determine if the toe box is roomy enough for them. Check that your heels don't slip with each step.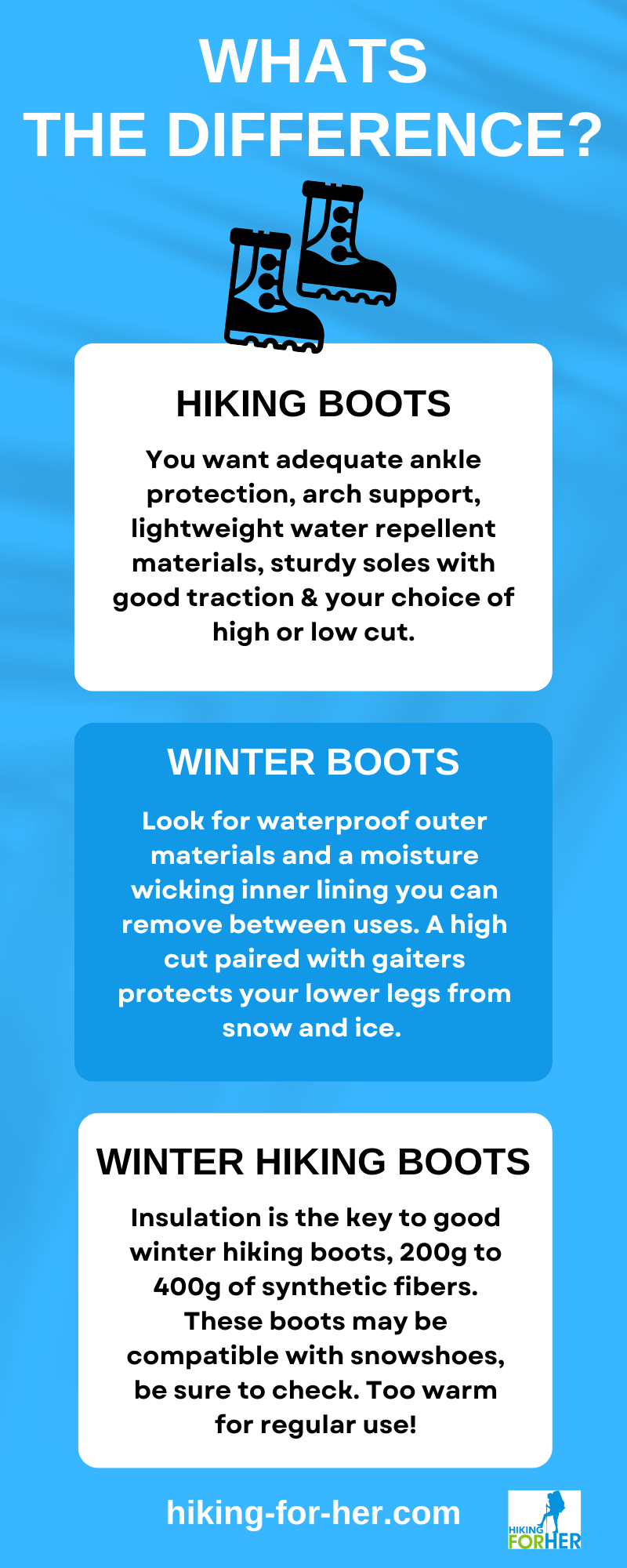 Best winter hiking boots conclusions

Do not mess around with your feet in cold, wet conditions.
Hypothermia sets in really fast if you're not paying attention to your core body temperature, and just think how much heat you'll lose to the cold ground if you wear sub-optimal boots.
Sometimes you can get away with less expensive hiking gear, but not for your feet.
Invest in a great pair of winter hiking boots, and then relax into the wonderful vistas that unfold during winter.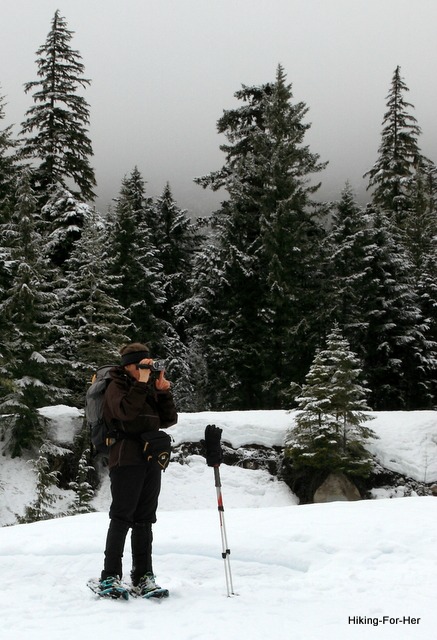 More winter hiking tips can be found here!
Or dive into all of my snowshoe tips.
Home page > Best Hiking Gear >
Best Winter Hiking Boots
If you purchase hiking gear through the affiliate links on this site, you don't pay extra but Hiking For Her receives a few pennies on the dollar.
Thank you for supporting this site by purchasing high quality hiking gear that keeps you safe and comfortable on the trail! It's my pleasure to share these tips with you.

Hiking For Her: Hiking tips you can trust!