Enjoy Happy Trails, the free monthly newsletter from Hiking For Her.

Receive a free resource: Hiking Layering System Explained
Non Hikers Guide To
Gifts For Hikers:
Give Them
What They Really Want!

by Diane Spicer
Jackpot! A non hikers guide to gifts for hikers, right here on your screen.
You're smart!
You're turning to this non hikers guide to gifts for hikers because you know that you don't have a clue what makes a hiker sigh in satisfaction once the gift is opened.
You might have a vague idea about boots and backpacks, but really, don't your hikers already have those?
And while you're a little suspicious of anyone who gets dirty, sweaty and sore FOR FUN, you're willing to help make trail time more safe, exciting or worthwhile.
So congratulations for turning to this guide to hiking gifts.
Over the nearly five decades of trail time (yup, you read that right) under my boots, I know my way around trail worthy hiking gifts.

And just in case you're wondering, this gift guide for hikers is gender neutral - because all hikers want the same 4 things.

See? This is gonna be easy!
It can't get any easier
than this
Skip all the stuff below and cut to the chase:
Let outdoor experts decide what makes sense for your hiker, by filling out a quick profile of your giftee.
Still with me? (small hiking joke)

Then let's talk about the Big Four.


Non-hikers guide to gifts for hikers:

4 basic rules
Or maybe that should be "guidelines", given the title of this page, right?
You want your favorite hiker to have these things during a hike:

Comfortable feet

Delicious trail food

Safety
And after a hike, relief from soreness, #4.
So let's get busy building your customized hiking gift! 
Comfortable feet: a podiatry plethora
of potent pampering

Assuming your experience of hiking is limited, you will have to trust me when I say that the well being of a hiker's feet are top priority.
But I know you know why!
Achy, sore, cramped, blistered feet keep a hiker off the trail. And that makes a hiker cranky!
So here's what you're going to do:
Prepare a podiatry plethora of potent pampering.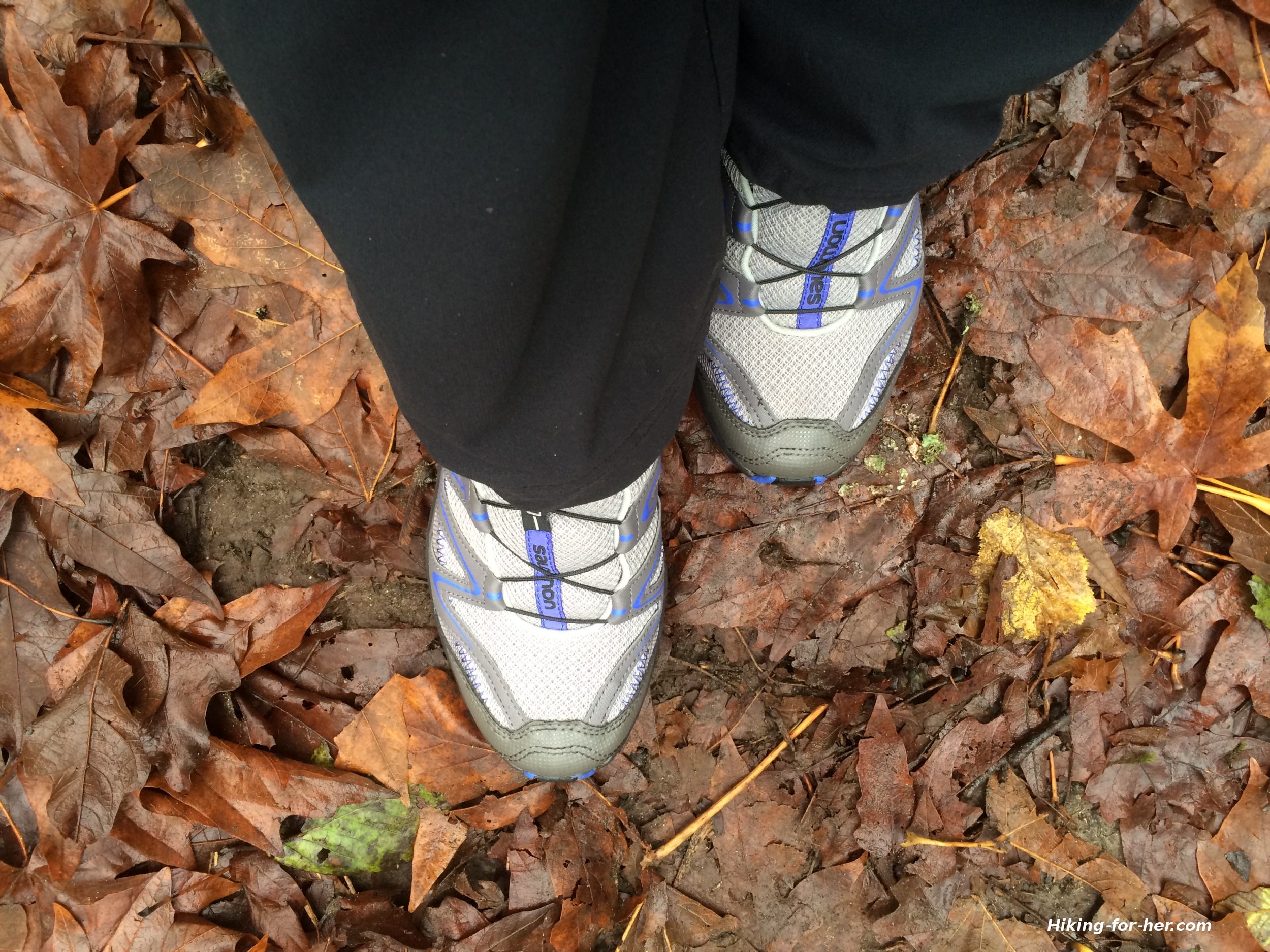 Hiking feet work hard!
And to show you that a non hikers guide to gifts for hikers can be painless, all you have to do is select from the following products that I use to keep my well used hiking feet going, mile after mile.
Socks
Don't think of socks as dull and boring.
To a hiker, they're essential elements of a successful hike!
Foot care gifts for hikers
You know what to do!
Now wrap up all of this foot pampering goodness with a big pretty bow (or some paracord, even better), and you're on your way to being nominated for the best gift giver of the season.
Or keep reading this non hikers guide to gifts for hikers for additional goodies.
Up next in the non hikers guide
to gifts for hikers: food

If a hiker's mind is not on her feet, then it's probably looking forward to a trail snack, lunch, or a hearty backpacking dinner.
So here's the next thing to consider for the perfect gift for a hiker:
Fabulous food to fuel a fun-filled foray.
(Yes, I'm having fun. Picking out gifts should be fun!)
See that yellow bag in the lower right corner?

That's my hiking food sack.
It's a hugely important piece of hiking gear!

And here's what it contains to keep a hiker going hour after hour:
Carbohydrate rich snacks for energy
Macrobars, and good luck picking a favorite flavor. They're all great!
Nutty goodness for flavor and energy rich fats


For specific gluten free and paleo options, go here.
Delicious protein for stamina
Chocolate, for motivation and delicious rest breaks
Divine Chocolate (well named)
Now it's time to look great
on the trail

I'm sure you were expecting some clothing in a non hikers guide to gifts for hikers who happen to be women.
And I don't want to disappoint.
So here are my top 3 picks for athletic clothing that will ensure a gasp of surprise and delight from your hiker.
A jacket to keep her warm and dry in windy, wet conditions
A hat to guard against hypothermia
A great pair of fingerless trail gloves that allow full finger movement while keeping her warm

If you need more ideas for suitable hiking clothing, consider the womens hiking clothing I use.
Next up in the non-hikers guide
to gifts for hikers: safety

You love your hiker.
You love giving your hiker presents and tokens of your affection.
So why not give one of the biggest gifts of all?
Personal safety and the ability to be found
if anything goes wrong
Not to rain on anyone's parade, but things happen on a hiking trail that can be uncomfortable or difficult to deal with.
Knowing that your hiker can communicate with civilization and ask for help is a wonderful gift for her, and let's face it, for your peace of mind as well.
You have several options of gifts that enhance safety. If you'd like to read up on these navigational and personal safety devices, go here first.
Or go straight to these options for a much appreciated addition to her hiking gear locker:
Personal Locator Beacon (SOS message)
Satellite Messenger (communication + SOS + tracking options)
More safety gift ideas for your hiker
A survival kit that can be tucked into her backpack and forgotten until it's needed. 

Again, the underlying gift is peace of mind for both of you!
Here's how you can put together a hiking survival kit.
A trail journal not only provides a place to jot a few thoughts, but also to note road and trail conditions which can impact a safe return trip to that area. 

A hiking wallet designed to stow important cards, cash and paperwork is always a thoughtful gift because it keeps valuables safe from tumbling around in a backpack.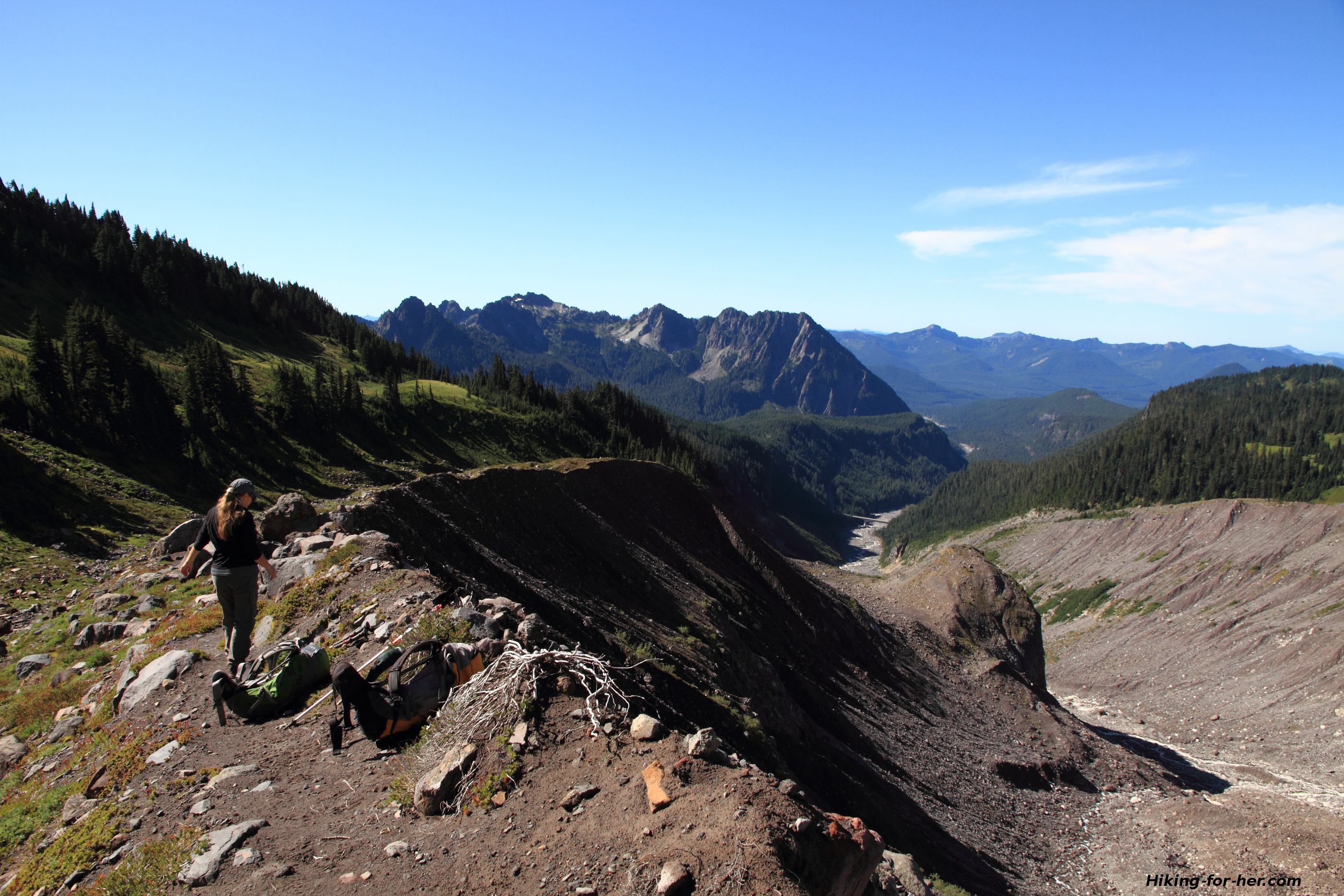 Hikers explore dicey trails, like the edge of this steep moraine on the flanks of Mt. Rainier. Safety first!

After a hike: help for
hiking soreness

You might have heard your favorite hiker mention her musculo-skeletal pain or sore spots after a hike.
Here's a great gift to help with that little hiking souvenir: a muscle roller stick.
Kind of a rolling pin for sore muscles!

Very good way to bring more blood flow to a sore area, and encourage the release of myofascial trigger points.
Another way to do this?

A solid foam roller.

Non hikers guide to gifts for hikers take home message:
comfort & safety are the best gifts

It's easy to skim through a catalog and pick out a jacket that you think she might like.
Or cruise through the mall and pull something off the shelf that the sales person (probably a non-hiker) assures you is "this year's best seller".
But you're taking a much more thoughtful approach! You're investing time and energy into your hiker's well being.
I'd say that hiker is lucky to have you around ;)
But wait, what's that?
We forgot about fun gifts for hikers?
Gotcha covered:
And this non hikers guide to gifts for hikers doesn't have to end here!

For even more gift ideas, visit the Best Gifts link below.
Home page > Best Gifts For Hikers >
Non Hikers Guide To Gifts For Hikers
Some of the links in this non hikers guide to gifts for hikers are affiliate links.
I only recommend products and services which I use myself, because I know they work and I trust those companies.

What this means to you is that using a link to make a purchase will send a small amount of money to Hiking For Her while costing you nothing extra.
It's one way you can support the mission of this website: To get, and keep, hikers on a trail in comfort and safety.
Thank you most sincerely.
Hiking For Her: Hiking tips you can trust!