Womens Hiking Underwear:
How To Find The Best
by Diane Spicer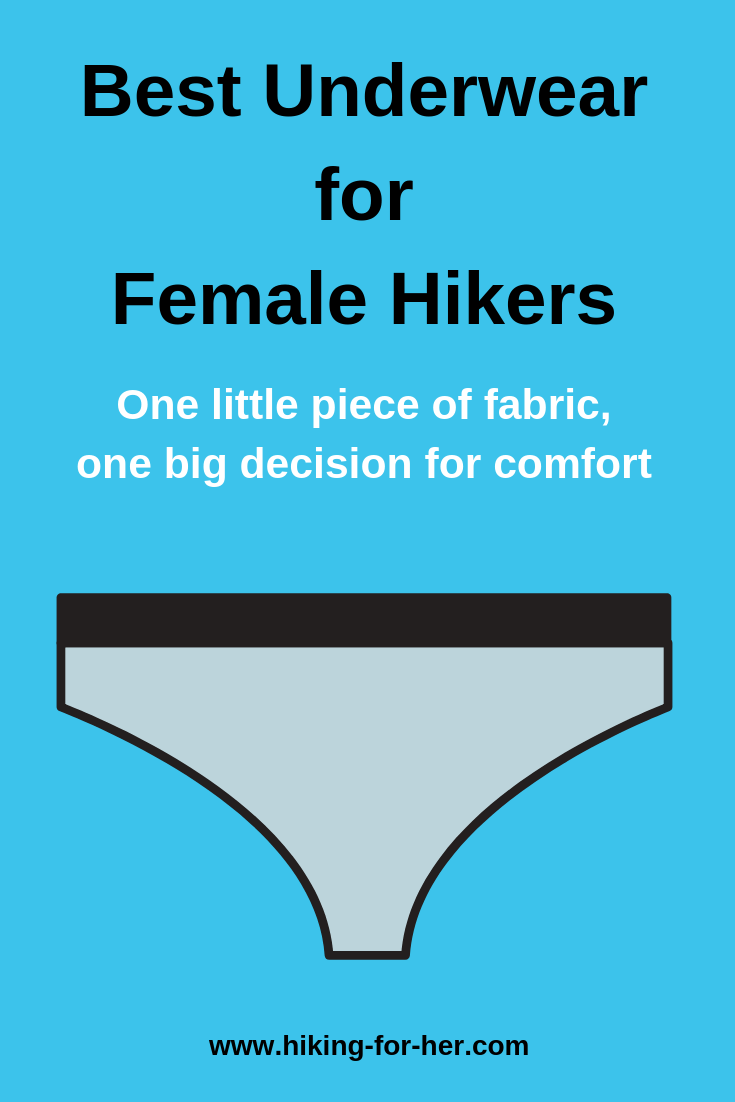 Womens hiking underwear seems shrouded in mystery, based on the amount of email I get about this topic.
Let's cross that mysterious bridge together and get real about what to wear next to your skin on your next hike.
Then you can hit the trail in comfort.
And confidence.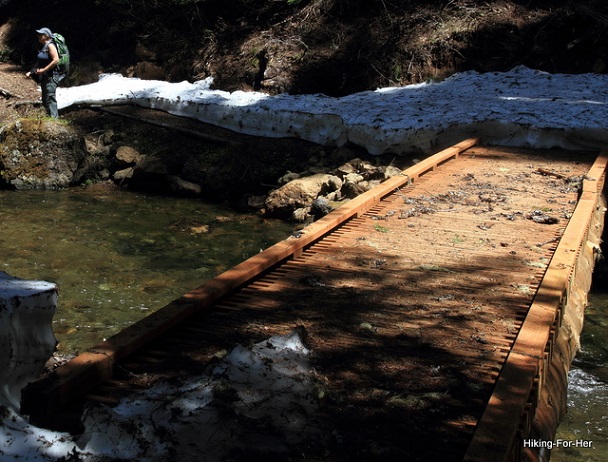 Cross the bridge from regular underwear to the best womens hiking underwear for your trail plans

Womens hiking underwear
bare truth

Here's the cold, hard truth about a hiking trail: it doesn't give a rip about your comfort.
Which is why women hikers have learned to dress in layers of protection against cold, heat, copious moisture, damaging ultraviolet rays from the sun, wind, abrasive surfaces, prickly vegetation, stinging insects, intrusive eyes - maybe all on the same hike!

Why you should
choose high quality
hiking underwear

So what's more fundamental than the fabric you pull on to cover your private areas?
Without a doubt, you can purchase cheap underwear at your local big box store, and they will serve you well on a dry, warm, short, flat trail.
But once you gain an appetite for less straightforward hiking, you will need to invest some time and money in high performance undies.
Gulp
Yes, that means an increase in cost from the bargain bin cheapie cotton undies you might wear to a yoga class or on a neighborhood walk.
But your time, effort and money also buys you all of the essentials for comfort and safety:
good ventilation & breathability

absorption of sweat 

moisture wicking away from delicate skin

easy wash and wear (important on extended hiking trips)

fast drying fabric (no clammy feeling)

comfy fit

antimicrobial fabrics to avoid stinkiness

absence of chafing seams

dependability over many seasons of usage.
So please don't sacrifice your safety and comfort by starting off your layering system with the wrong underwear!
Look for these three things
first
You are seeking three important qualities in your perfect hiking underwear:

1. Top notch fabrics:
Natural materials made by Mother Nature, such as silk. No cotton!!
Human made fabrics such as nylon, polyester, polypropylene and other obviously made up words.
2. Comfort:
Look for a bit of spandex added to enhance stretch.
Seek out a "no seam" style so it won't bind or chafe you.
Anti chafing tip: use BodyGlide on delicate areas.
3. Fit.
Some women like thong underwear for daily life, but on the trail, think about how many steps you are going to be taking.
A boy short cut might not play well with your choice of hiking pants.
A hipster panty (not a trendy flannel shirt wearer, but a pair of hiking underwear that sits on your hips) gives you enough coverage to keep your pants, shorts or skirt in place - but doesn't bind or constrict you at the waist.
Get real about
womens hiking underwear
rules
Luckily, there are just a few hiking rules to follow when selecting the best womens hiking underwear for your hiking plans.
And they come directly from that list we just looked at!
No cotton
If you've heard veteran outdoors women say "cotton kills", read this for an explanation, and some best practices, to avoid trouble like hypothermia on a hiking trail.
(Hint: Cotton is not just a problem on a winter hike.)
No binding
You want free movements around your joints in order to stay safe and balanced while navigating the trail. 
No blood flow restrictions to your big muscles groups, either.
And why get crabby because your underwear is too tight? 
This "no binding" rule becomes even more important when going off trail.
And don't think you will never have to go off trail.
And you'll need to make pit stops off trail during the day, right?
Remain flexible about the cut and style of underwear that will work best for you on the trail. You might be surprised that a bit more fabric gives you better performance!
High quality fabrics only
Let's call out the attributes of great hiking underwear again:
moisture wicking

breathable

fast drying

antimicrobial

soft against skin
These types of fabrics are your ally on the trail, day in and day out. So if the tag or description doesn't feature most (preferably all) of these words, move on.
Tips for success
You know exactly the type of fabric and fit you're looking for now.
But don't start your quest for hiking underwear by looking at price.
More expensive doesn't guarantee a good fit for your hiking plans (a

lthough there is no denying that it may indicate durability and other important factors.

)

Less expensive should not be ruled out immediately if the quality indicators are all there.
Rather than seeking out the highest price point and assuming that it's got to be top of the line, here's how to find high quality choices:
Stick with brands that long time hiking women have found to be high performance. That's why you're reading this, right?

Try out each suggested brand and keep notes on what you liked or what didn't work for you on the trail. 

Sometimes the brand offers more than one style or cut, and you just need to figure out what works best for your shape and type of hiking. Don't abandon the brand right away.
But what about
the price?
Once you've met all 3 quality indicators (fabric, comfort and fit), then you can start hunting for the best price.
You might be in for a bit of sticker shock.
They don't give away high performance technical hiking underwear!
But rest assured, you'll be wearing these far less than your daily choices (will last longer), and they're built to take what the trail dishes out (durable).
Tip:
Look for bargains, most frequent at end of season sales.
And always look in the bargain bins at REI Co-op's outlet.
Usually buying in bulk (3 or more pairs of hiking underwear at a time) gives the best cost savings for shipping and final price.
On the other hand, if you're just starting out on your search for the best womens hiking underwear, buy one pair at a time and put them to the challenge of a hiking trail. 

Why make costly, non-returnable mistakes?
Recommendations
of best hiking underwear
based on long trail time

I've been on the trail nearly fifty years (yes, I'm still at it, and loving every minute of it!) so I have a few tips for you in your quest for the best hiking underwear.
And I may be playing fast and loose with the definition of "underwear".
If you wear it under your clothing, that's underwear, right?
So let's include sports bras for hikers in our recommendations.
On top
For the best sports bra tips for hikers, read this.
If you need some tips on finding the best plus size hiking sports bras, read this.
Title Nine is a company that is women owned and led, with women who dedicate a lot of time and effort to finding the perfect sports bra for active women.
They offer an expansive collection of styles and sizing.
Here's their page with tips on how to size up the bra you need.
Bra Fitting Guide | How to Fit a Bra | Title Nine

On the bottom
Okay, this is solidly in the category of underwear, we can all agree.
For day hiking panties, consider the ones I rely upon.

Or look at these, which have been great on multi-day backpacking trips because they are comfortable, dry fast, and take up almost no room in a backpack.
I bring 3 pairs of these women's high cut briefs on a multi day trip:
one pair to wear,

one pair to dry after washing them out, and


one as a back up pair to change into in case of trail emergencies (unexpected menstrual flow, soaking while crossing a stream, you get the idea).
The back up pair also serves as my clean underwear strategy for the last trail day, when I know I'm heading (reluctantly) back to civilization.

Another option to consider
Title Nine's underwear is also a great pick for hikers:

| | |
| --- | --- |
| | |

Need more
womens hiking underwear ideas?

Nothing is more irritating on the trail than underwear that binds, chafes, migrates into unwanted areas, and leaves you a soggy mess at the end of the day.
I'd be happy to answer any questions you have, just use this CONTACT link.
Congratulations on your proactive search for the best womens hiking underwear.
You'll never have to throw your sports bra or uncomfortable panties into a raging river (something

Leave No Trace

principles frowns upon heavily).
Now how are you doing on your sock quest? Hiking socks are another underestimated piece of hiking gear.
Womens Hiking Underwear
Some of the links on this page and elsewhere on Hiking For Her earn a small commission if you purchase through them.
You pay nothing extra to get great hiking clothing and outdoor gear!



Hiking For Her's weekly emails keep you current on hiking & backpacking news.


Free, fast, fun info for you, every week of the year.

Use the box below for fast sign up!






flash giveaways
timely deals
steep discounts
freebies

resources
Why wait a whole month?
Plus, there's never enough room in the newsletter to share it all, so why miss out on exclusive Hiking For Her giveaways, limited time gear deals and discounts, freebies, updates, and more?

A short, info packed weekly email update will keep you current on all things hiking!
When you sign up to receive this update, you are agreeing to Hiking For Her's privacy policy.

Don't miss out!

Read more about these hiking weekly updates
As an Amazon Associate,  Hiking For Her earns from qualifying purchases. 

HFH Policies