Enjoy Happy Trails, the free monthly newsletter from Hiking For Her.

Receive a free resource: Hiking Layering System Explained
Rainier Hiking Pinnacle Peak:
Best Day Hike
With Video And Trail Description
By Diane Spicer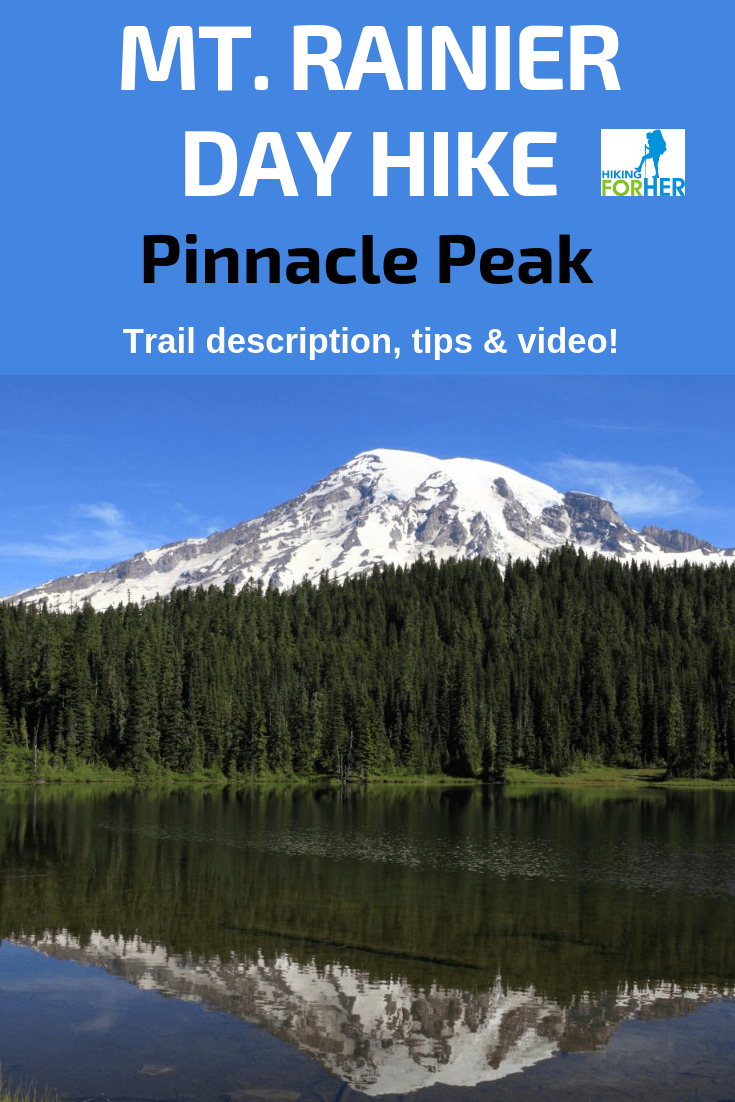 This Mount Rainier hiking Pinnacle Peak experience absolutely deserves a place on your short list of the best Mt. Rainier day hikes.
And I'm about to convince you, by presenting a detailed trail description, photos and videos I've gathered over several trips up to Pinnacle Saddle from Reflection Lakes.
Come along with me!

Mount Rainier hiking
Pinnacle Peak trailhead
Mt. Rainier general hiking info:

There is an entrance fee.
You don't need a day hike pass.
No pets or bikes are allowed on the trail.
For more information from the National Park Service about Rainier hiking Pinnacle Peak,
Stevens Canyon Road (either from Longmire, at the bottom of the hill, or Paradise, at the top of the Nisqually Entrance to Mount Rainier National Park, brings you to the Reflection Lakes parking lot.
After you spend some time admiring the lakes, locate the trailhead across the Stevens Canyon Road, roughly at the midpoint of the parking lot and across from the largest of the Reflection Lakes.

At the sign, you are at 4,900 feet and will hit the saddle at 5,900 feet.
Mount Rainier hiking
Pinnacle Peak
length & elevation gain
Round trip distance: 2.5 miles to the Pinnacle Peak saddle

Elevation gain: around 1,000 feet, but it's gained in a short distance (pace yourself)
You get huge views, even on a hazy day, for not much sweat in this hike.


Mount Rainier hiking
Pinnacle Peak
trail description

You'll work a bit, ascending through moderately dense forest on a well maintained dirt trail.
Soon you will break out of the trees for a few tantalizing views of Rainier.

After a mile, the footing turns rocky.
Marvel at the perfectly engineered rock walls on your left.

Switchbacks will take you the rest of the way up to the saddle.
The saddle is between Pinnacle Peak and Plummer Peak, in the Tatoosh Range.

Your reward: a close up view of Mount Rainier, and Paradise Lodge nestled on its flank, to the north.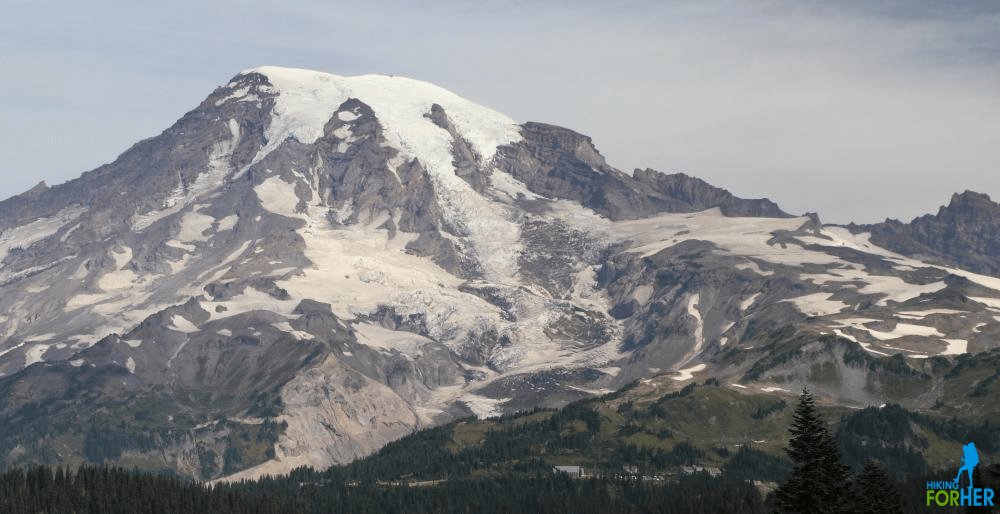 Mount Rainier takes center stage, but don't miss that big brown gash in the bottom center - it's the Nisqually River valley! And did you spot the buildings at Paradise in the lower right corner?
Catch your breath, turn around, and you'll see the glowing white mound of Mount Adams in the foreground, and blown up, bleak Mount St. Helens.
You'll also see meadows, the Tatoosh Range, and maybe some marmots or goats.


Mount Rainier hiking
Pinnacle Peak
trail cautions

There are no opportunities for water beyond a small seasonal stream around the half mile mark, so be sure you bring enough so you can spend a lot of time up top without getting dehydrated on a clear, hot summer day.
There is nothing hard about the footing, and the trail is plenty wide. However:

For a bit more adventure
If you locate the climber's trail skirting the slope to the right, you can continue past the saddle to the shoulder of Plummer Peak.
Enjoy a small tarn and lots of rocks to sit on.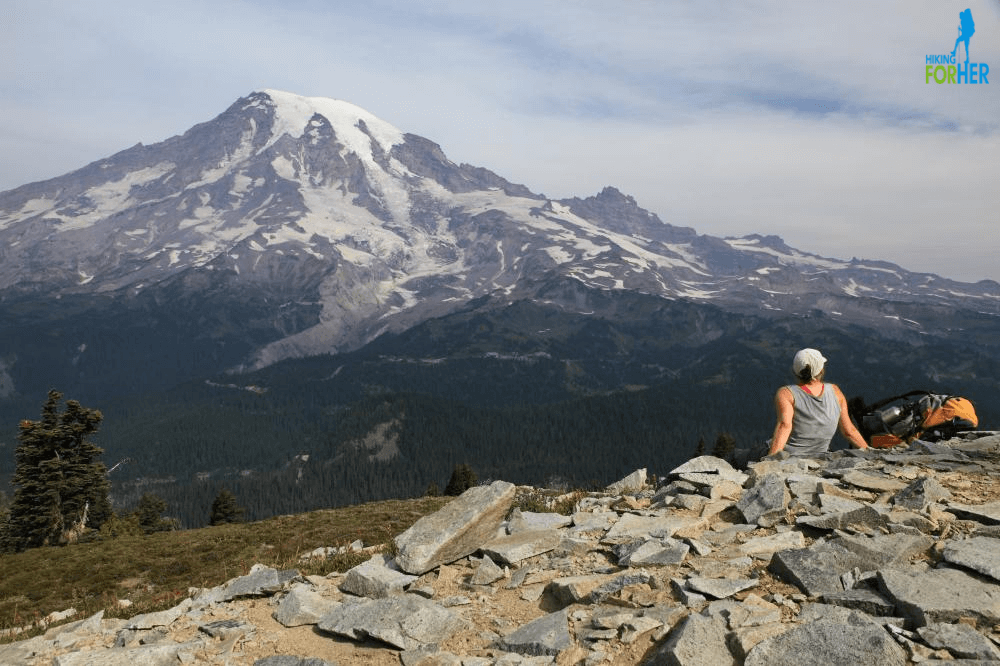 If you want to get higher, with a wider field of view, continue on a climber's path to this shoulder of Plummer Peak
There are a few potentially uncomfortable spots with tricky footing and a few steps of exposure - not recommended for youngsters or in wet, windy weather.

Gaining the summit of Plummer Peak will require using some hand holds on logs and rocks, like this.

See the route you left behind, in the upper right of this photo? You're scrambling!
If you don't like to come off steep spots, call it a day at Pinnacle Saddle and you won't be sorry with your under three mile sweat investment.
Or wander for a bit along the spine of Plummer Peak, with meadows on one side and gorgeous Mount Rainier on the other.
If you continue on to Plummer Peak, expect rocky footing and a somewhat airy experience

Mount Rainier hiking
Pinnacle Peak
trail trivia

Pinnacle Peak (not the saddle) is smack dab in the middle of the Tatoosh Range.
Eagle Peak, accessed from Longmire, is at the other end of this range.
Why hike it?

This question is super easy to answer:
Because your day begins with a pristine white volcano reflected in a lovely alpine lake and just gets better from there!

The trailhead couldn't be easier to access. (Can you say "paved parking lot"??!!)

And while this trail can get busy on summer week-ends, you have options to continue past the saddle and get a reprieve.
Insider tip:
Save this one for a clear day so you can add a photo like this to your hiking memories: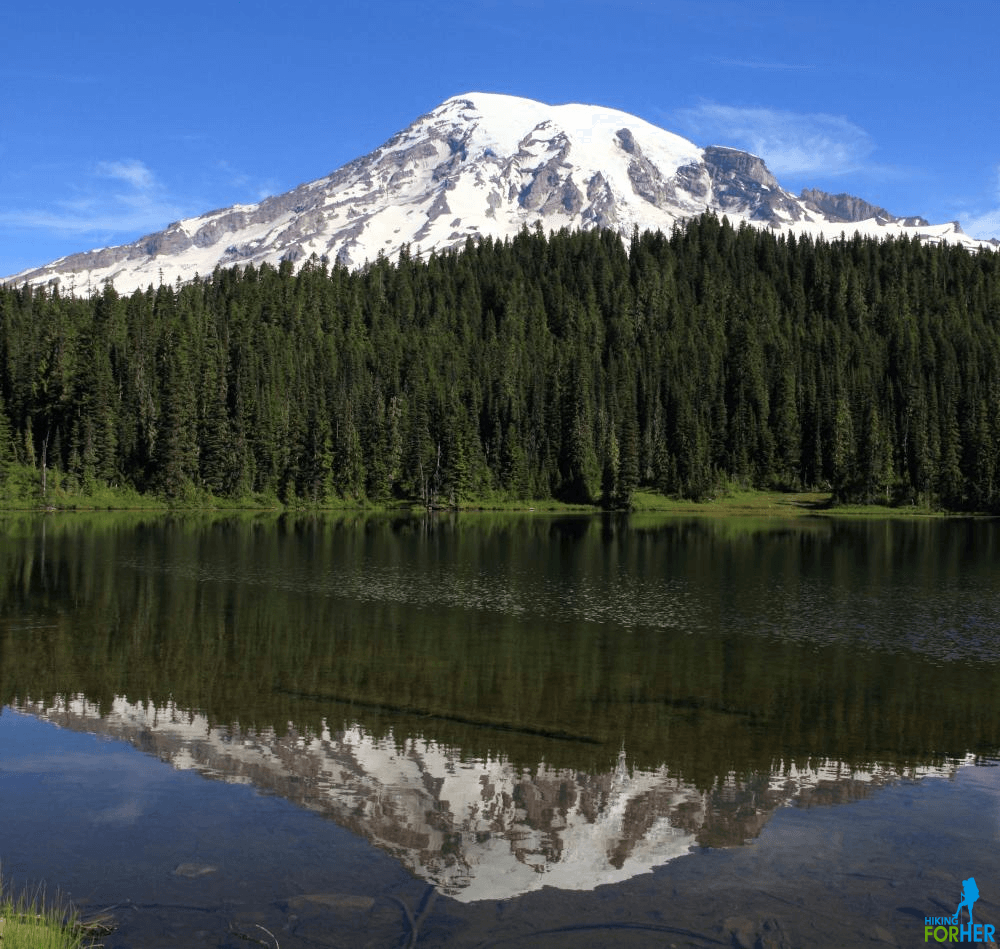 Best wishes for clear skies and calm waters!

Rainier hiking Pinnacle Peak
& beyond:
your questions?
Planning a Mount Rainier day hike trip? You really should consider adding Rainier hiking Pinnacle Peak to your dream list.
Contact me if you've got any questions about why I recommend it as one of THE best places in the park to admire the beauty that is Rainier.
More great Mount Rainier day hikes for you to explore: photos, trail descriptions and video!

Mount Rainier Hiking Pinnacle Peak