Enjoy Happy Trails, the free monthly newsletter from Hiking For Her.

Receive a free resource: Hiking Layering System Explained
Mount Rainier Hiking
Glacier Basin:
Video And Tips For
The Best Rainier Dayhike

by Diane Spicer
Mount Rainier hiking Glacier Basin is something you should consider if you like to get away from the crowds which gather higher up the mountain.

Mount Rainier hiking
Glacier Basin trailhead
Mt. Rainier general hiking info:

There is an entrance fee.
You don't need a day hike pass.
No pets or bikes are allowed on the trail.
For more information from the National Park Service about Rainier hiking Glacier Basin,
Exit Highway 410 and drive to the Mount Rainier National Park White River Entrance Station.
In a bit less than five miles, cross a beautiful bridge over the White River, then turn left into the White River Campground and drive up the winding road.

Park in the free day use parking lot on your left (north side of road).
After you get your boots laced up, exit the lot and turn left. Walk uphill on the campground road (east) through the upper campground area.
Mount Rainier hiking
Glacier Basin
length & elevation gain
These statistics show you a moderate day hike, which you can check off your list in about 4 hours (not recommended but if you're in a hurry, go for it).
All measurements are approximate.

Round trip distance: 7 miles

Trailhead elevation: 4,300 feet


Elevation gain: 1,650 feet

Mount Rainier hiking
Glacier Basin
trail description

The trail starts off at a gentle grade on a rebuilt section of old road, but gets progressively steeper as you near the basin.
The White River will be your constant companion on your left as you ascend.

Marvel at the huge chunks of Mount Rainier strewn along its bed.

The video gives you the sights and sounds!
Glacier Basin Camp, a wilderness camping spot used as a launching point by mountain climbers, is tucked into forest.
It's reached in about three and a half miles.
You're almost to the sweet spot!

Keep hiking for a few more minutes to break out into the basin.
Here, your (somewhat limited) views of Mount Rainier, and the proximity of the roaring river and abundant flowers, will lull you into serenity.
The lushness of the upper meadows: paintbrush, lupine and more

Or you can keep going!
(highly recommended)
If you're longing for solitude and the chance to bump into mountain goats, ground squirrels and climbers, keep hiking uphill along a beaten in route.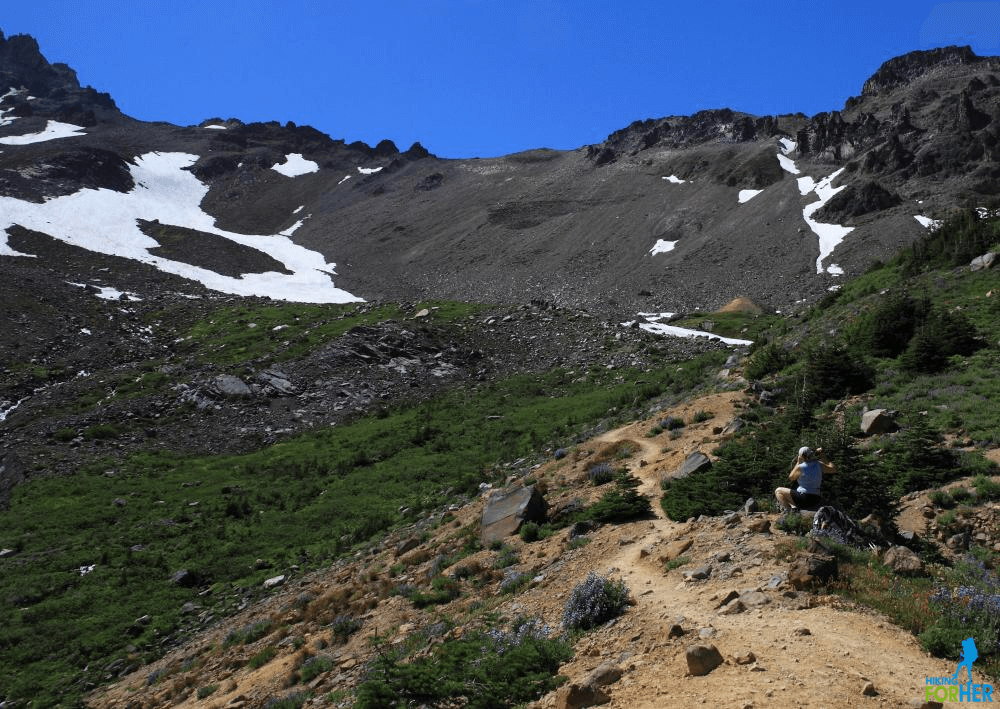 There's a hard to miss route skirting the right hand side of the basin, ascending gradually to the headwaters of White River
Views of Ruth Mountain and The Wedge, along with mountain goat spotting opportunities and lots of terrain to appreciate wildflowers, will be all yours as you push further into the basin.

This climber's route takes you to the headwaters of White River, and shows you where the climbers are headed:
In technical speak:
Inter Glacier to Steamboat Prow at 9,400 feet, the spot to base camp for a next day attempt to summit Mount Rainier.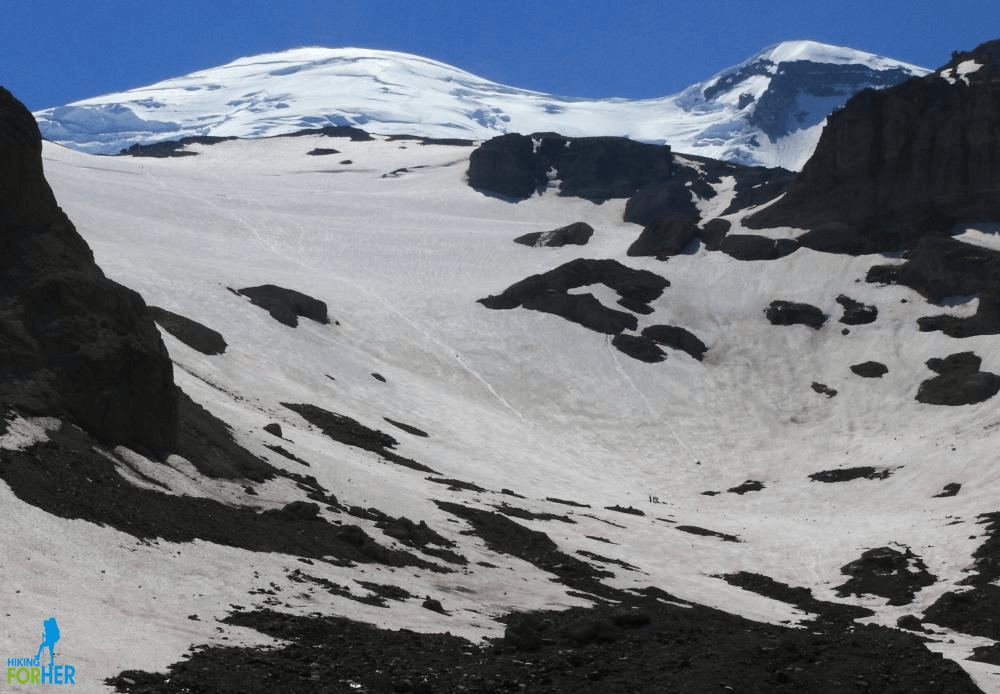 See the ant trail on the left? It's heading up to Steamboat Prow on Mount Rainier

Mount Rainier hiking
Glacier Basin
trail cautions

The White River entrance to Mount Rainier opens when the snow melts and closes when the snow flies.
In other words, you have a short window of time to enjoy Glacier Basin.
This trail is suitable for kids, with solid footing and nothing too steep. Take it slow and steady, bring water and snacks, and they'll love it!

After floods in 2006, the first section of trail was relocated above the river, making it easier than ever 
Any time you're hiking along a wild river, it's tempting to rock hop and wade, but this water is extremely cold and dangerous.
Mount Rainier hiking
Glacier Basin
trail trivia

History buffs will enjoy the (failed) significance of this hike.

Sharp eyes along the trail (remnants of a road) can spot the rusty remains of long abandoned copper mining operations from the late 1800's.
Why hike it?
Here's a laundry list of why you should consider this one of the best Mount Rainier day hikes available to you on the Sunrise side of the mountain:
easy, well maintained trail which gently pulls you upward into the basin




a riot of colorful wildflowers

chances to spot mountain goats and mountain climbers




an entire day with the wild and boisterous White River

fewer people on the trail compared with other popular Mount Rainier day hikes

You can customize this hike
If you're up for a knee twinging challenge in order to gain even bigger views, you can begin your day at Sunrise with a hike up to Burroughs Mountain, then drop off all the way down to Glacier Basin.
Burroughs day hike description and video here
And if your knees and attitude are in great shape, you can do the reverse:
Divert off the Glacier Basin trail within the first mile or so, and climb up to Burroughs to gain a larger perspective of the White River valley

You have another diversion option at the one mile mark:
Hook a well signed left for a quick quarter mile add on before you continue on to the basin.

Your reward: a stunning view of Emmons Glacier, which is the largest glacier in the 48 contiguous United States.
Insider tip
Make some time at the end of your day to walk down to the White River from the parking lot to access a perfect sitting spot.
The rocks should be warm, and your feet should be sore.

This is one athletic river!
Pick a warm(er) rivulet with a handy flat rock beside it, and enjoy some hydrotherapy

Rainier hiking Glacier Basin:
your questions?
The video and photos can give you a feel for the worthiness of this Mount Rainier day hike, but you may still have some questions.
Contact me, and I'll help you decide whether or not to add Glacier Basin to your Rainier hiking wishlist!
More great Mount Rainier day hikes for you to explore: photos, trail descriptions and video!

Rainier Hiking Glacier Basin
Hiking For Her: Hiking tips you can trust!