Enjoy Happy Trails, the free monthly newsletter from Hiking For Her.

Receive a free resource: Hiking Layering System Explained
Trailfoody Review:
Is This Hiking Food Subscription
Service Right For You?
by Diane Spicer
Update: Trailfoody has put their subscription service on hold right now. Once they are in operation again, I'll let you know right here.

This Trailfoody Review takes a look at a subscription service for hiking food.
Never heard of this idea?
Come along with Hiking For Her as a sack of trail food chosen by Trailfoody is tested for its nutrition and taste on a snowshoe hike.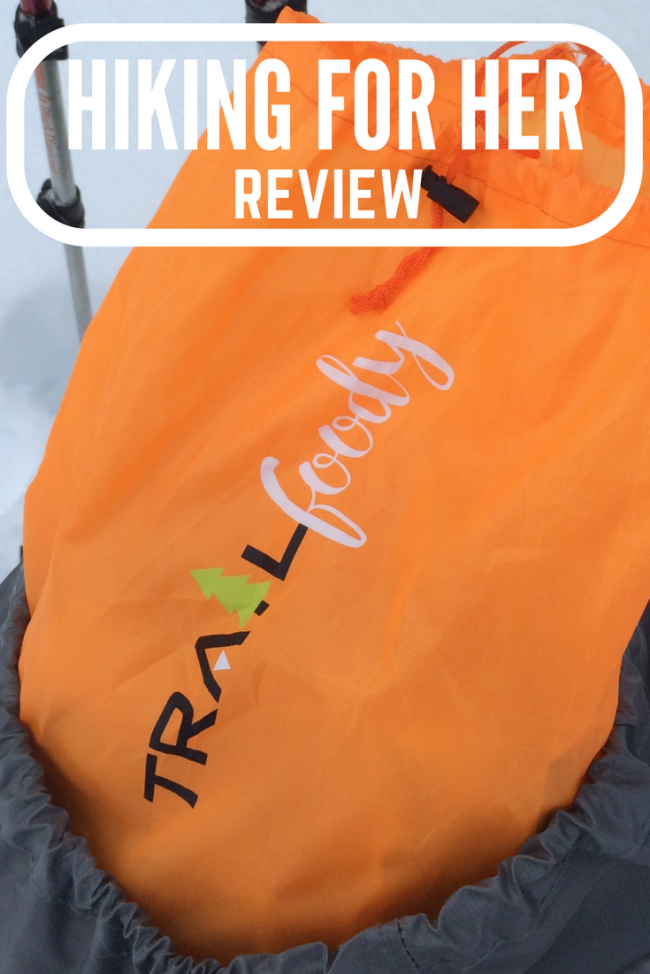 But first...

a few disclosures


Hiking For Her received a Trailfoody Wanderer box in exchange for an honest look at the experience of receiving a sack of hiking food without knowing what was in it.

Sort of a new trail adventure!


There is no financial relationship between Hiking For Her and Trailfoody.

UPDATE: Currently, Trailfoody is unavailable. Stay tuned for more news.


This review is provided to you because HFH is all about
getting you onto the trail, happy and prepared with the best hiking food.


Now let's get down to some serious snacking...

First impressions

A paper box with the Trailfoody logo arrived in the mail.
What was in the box?
A bright orange sack made of durable fabric.
But here's the more compelling question:
What was in the sack with the drawstring closure?

Lots of trail food, some of which I had never thought about taking on a hike: green olives, for example.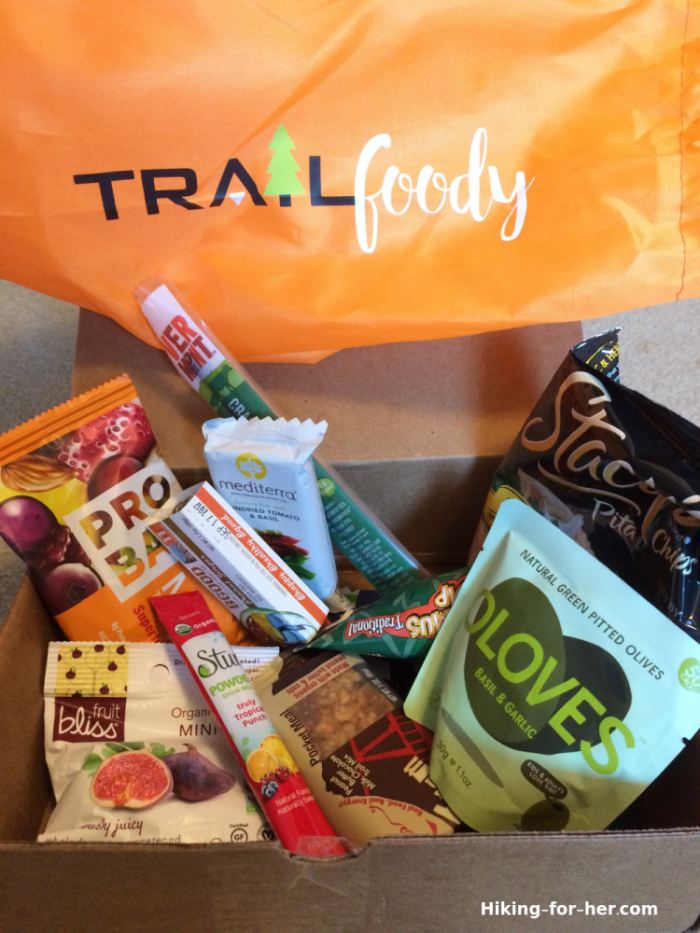 I had flashbacks to trick-or-treating as a kid. Remember the moment when you dump your bag onto the table and paw through it to see what you want to eat first?
So the first thing to note in this Trailfoody review:
This hiking food subscription service combines some tried and true favorites like trail bars with some unusual food selections and artisan brands.
The nutritious details
in this Trailfoody review

I'm a hiker who pays more attention to the calories and nutrients in hiking food than I do to flavor or taste bud satisfaction.
Let's do a quick summary of the nutritional aspect of this sack of Trailfoody, using the "Big Three" categories of nutrients: carbohydrates, protein and fats.
But I'm not entirely inhuman, so hang on (or skip down) for the details on whether or not this food satisfies the palate.
Carbohydrates first!

Carbohydrates are valuable to a hiker's hard working body because they provide fast energy throughout a hike (fuel in the tank, so to speak).
In this Trailfoody sack, there were a lot of simple and complex carbs, as there should be in trail food.
A quick & dirty carb tally:
Of course, this hiking food also delivered some protein and fat.  But mostly, carb heaven.
An important note: organic honey was the sweetener of choice in the trail bars, along with organic dried fruits. Very nice way to get the glucose (sugar) your cells demand on a hike!

Protein for staying power

Protein is necessary for post-hike rebuilding and repair.
But it's also important in a "mixed nutrient" lunch to give your body its staying power on the trail.
And to fill you up.

Two major sources of protein were provided in this Trailfoody review:
A cracked pepper beef & pork stick (Vermont Smoke & Cure), surprisingly free of offensive preservatives, antibiotics or hormones: 6g of protein

A squeeze tube of hummus (chickpeas/garbanzo beans) with 7g of protein
If you're a big person or have a big appetite for protein on a hike, this amount might not keep you going.
You could bring a bigger Trailfoody sack (see below for how to do that).

But I found it more than enough to keep me happy during a vigorous snow shoe hike: 9+ miles round trip, 2000 feet elevation gain over a 6 hour period.


Fats for satisfaction

My body needs to know I've eaten something, or it keeps demanding more food.
These calorie rich nutrients trigger satiety, an important brain feedback mechanism that lets me know that I've just had a satisfying intake of nutrients.
There were 2 big sources of high quality fats in this Trailfoody review:
A cute little pouch of green olives (Oloves, basil & garlic), 3g of total fat

A trail bar from BGood, labeled an artisan chocolate energy bar (peanut ginger) with a whopping 14g of total fat. Just the thing for a long day of snowshoeing!
Let's emphasize the high quality aspect again: no cheap or processed oils, just naturally occurring oils in the olives and organic peanut butter in the bar.
Total calories
in this Trailfoody review

Some of us hikers count calories, both on and off the trail.
The total number of calories, should you consume this entire Trailfoody sack of hiking food, is 1629 calories.
That's for weight maintenance.
No joke! If snowshoeing suddenly sounds like a good way to enjoy more food, get started here.

If I was hiking for weight loss, 1600 calories would be just about the right number to consume for the entire day of vigorous exercise in order to move the needle on the scale the next day.
I ate breakfast at home before dipping into my Trailfoody stash. I also wolfed down a hot dinner once the Trailfoody sack was empty.

So at the end of the day, I had consumed just about the right amount of calories (1600 divided by 2 people) to keep me fueled for snowshoeing in deep snow at 35F.
Something important to note in this Trailfoody review:
I came off the trail mildly hungry, not ravenous like usual. Something about that cold, crisp air just turns me into a bottomless pit.
But not this time!
What this says to me is that I had the right mix of nutrients, and plenty of them, all day.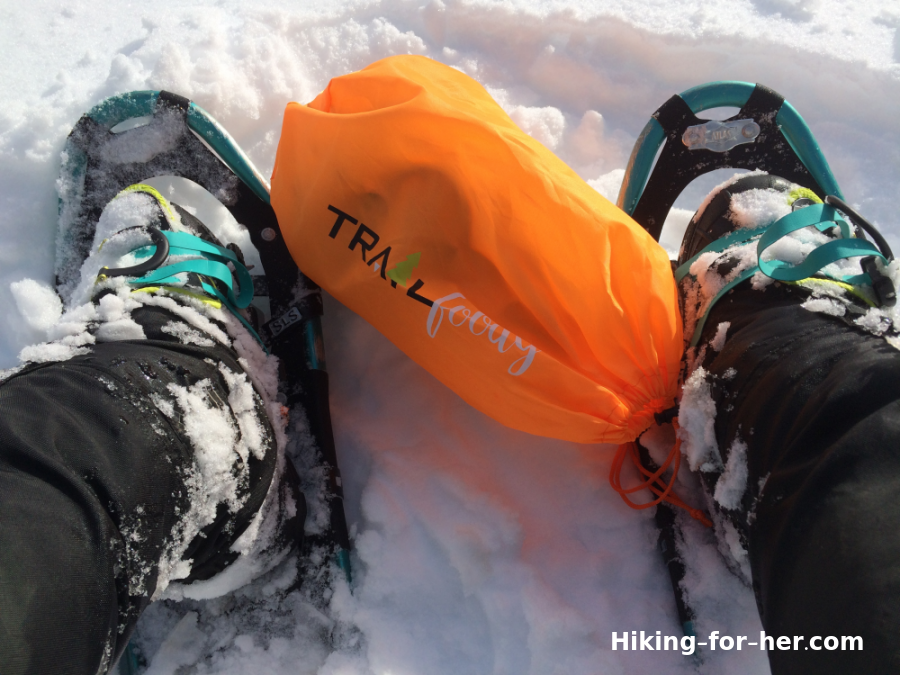 The low down
on flavor and taste

Now we get to the subjective part of this Trailfoody review:      taste.

A few disclosures to display my biases:
Because I watch my calories, I make every bite of food count in my daily nutrient totals. So if it doesn't taste good, I don't "spend" my calories on consuming it.

I like spicy, flavorful food.

I prefer to support small, artisan brands whenever possible.

I need to hike gluten free for medical reasons.
Here's the conclusion I reached at the end of the day of backcountry snowshoeing with my Trailfoody sack:

This food provided an amazing variety of satisfying flavor combinations from interesting companies.

It also offered lots of possibilities for creative pairings.

And be honest: When was the last time you had a Mediterranean themed lunch on a winter hike?

Let's get more specific.

The hummus with wheat based pita chips was enjoyed by my non-GF hiking partner. He kept saying "Geez, I wish you could taste these, they're great." (Now I know how the dog feels when I eat in front of her.)

Everything else I could enjoy (and did!). That's huge for a gluten free hungry hiker.

The fun Mediterranean vibe (hummus, olives, figs and pita) put me in mind of soft warm breezes and water views, even as I sat on my tarp eating my lunch in the snow.
The Superfruit Slam ProBar was deliciously fruity, and large enough to split between two hungry hikers. It would definitely satisfy my inevitable fruit craving on multi-day hiking trips.

The BGood bar - wow! I was impressed with the organic ingredients, and the taste was outstanding. If you can get away with it, do not share this trail bar :)

A few notes to consider in this Trailfoody review:

The olives were a bit oily, so I was glad I had remembered to bring along a plastic bag for the used food wrappers. It's always a good idea to keep food odors out of your hiking gear, right?

And packing out your trash adheres to the Leave No Trace principles we hikers know and love.
To my way of thinking, this food is for the trail rather than at home snacking. Why? It's high calorie and nutrient dense: more fuel than I need for my off trail time.


I brought along a few sandwiches and extra trail bars, "just in case". Never touched them! My hiking partner and I were fully satisfied with the food in the Trailfoody pouch.
You will never lose this food bag - the bright orange color guarantees that you'll spot it fast.
Tip: You can spray water repellent fabric conditioner on the sack and re-use it on every hike this year!
It could be used as a lightweight gear or first aid bag, too.

How Trailfoody's subscription
service works

Just like an old school magazine subscription, your Trailfoody package(s) will arrive each month.
You can sign up for 3 different levels of service, depending on how much food you want delivered each month.
The Wanderer, the option in this Trailfoody review, included a meal-on-the-go and four energy bars.
It was plenty of food for one hiker with food left over, or enough food for two hikers with moderate calorie requirements.

You will definitely be able to enjoy a tasty lunchtime meal from your Trailfoody sack, with trail bars to enjoy for your rest breaks and second lunch.
Or back at the trail head, if you don't gobble it all down during your hike!

Why Trailfoody is such a
great idea for hikers

At least 4 reasons:
Thoughtfully selected trail food by a company who "gets" what trail food should be

The element of surprise: new flavors and brands in each box

High quality food with ingredients that work with, not against, your hard working muscles

Convenience

I can see this service working well if:
You work hard all week and barely have time to breathe, let alone buy nourishing, tasty food for your week-end hikes.

Nutrition comes first (as with me), and you're always on the prowl for new options which are organic, fairly sourced, particular to your dietary restrictions, and have the right balance of carbs, protein and fats.

You're a newbie hiker, with no idea about the best trail food to carry.
Or if you are a (secret) couch potato, use this service as total convenience to fuel your snacking habit. I'll never tell.

Trailfoody review: conclusions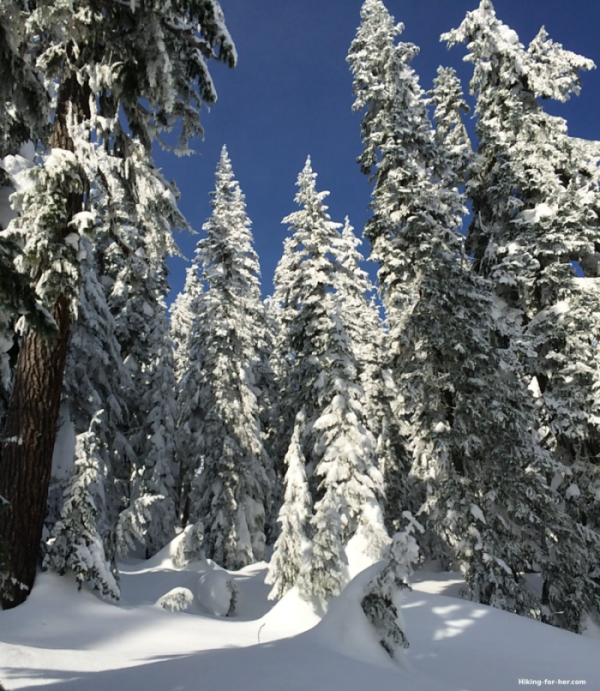 Trailfoody fueled me all day in these high, cold backcountry snowshoeing conditions
Make no mistake: This is high quality hiking food.
The companies represented in this sack of trail food are the ones I've turned to myself, plus several new options I'm eager to taste again.
The ingredients were free of high fructose corn syrup, unnecessary artificial ingredients, weird colors or preservatives.
Organic ingredients and natural sugars from rice syrup, honey and fruit were predominant on the labels.
Food = fuel, so you might as well put the good stuff in your tank, right?
More great news in this Trailfoody review:
All of the food in the bright orange sack had the attributes you look for on the trail, including

lightweight

nutrient dense

generous expiration dates


minimal packaging



Now add in the fun element of a surprise in the mail each month, and I'm a believer.
The Trailfoody subscription service is a smart idea for hikers, and one that I plan to use.
What about the cost?

You might be wondering if you could save money buying these snacks on your own during your trips to the grocery store, or in bulk purchases.
It might be possible, but here's the thing: what is your time and energy worth?
What if you want to hit the trail one bright sunny morning, and your pantry is bare?

You'll have to stop at a store, locate some suitable food, and pay whatever the going rate that day is for trail bars and snacks.

And have a few less hours of hiking time.

Another question: Do you have storage space for bulk purchases?

What about a system to track the expiration dates and rotate the food into your lunch bag? Nut butters will go rancid, trail bars get stale if you don't use them within a few months.

One more thought:
Much of the cheap "convenience" food available in the United States is loaded with extra cane sugar, salt, artificial flavors that dull the taste buds, and chemical colors.
If you're like me, nutritious, convenient and tasty hiking food is a non-negotiable item.
Questions about this
Trailfoody review?

I'm glad I had a chance to share this Trailfoody review with you, and welcome any questions you have.
If you need some help with calculating your exact hiking calorie and nutrient needs on day hikes and backpacking trips, try my series of Fast Facts for hikers.
Trailfoody Review
Hiking For Her: Hiking tips you can trust!