Enjoy Happy Trails, the free monthly newsletter from Hiking For Her.

Receive a free resource: Hiking Layering System Explained
Waterproof Hiking Boots:
Best Options
For Hiking Women

by Diane Spicer
Women's waterproof hiking boots are only necessary for those who want dry feet in all types of weather and terrain.
In other words, if you don't expect to get your feet wet, don't pay the premium for the best waterproof footwear that money can buy.

But ask yourself this question:
Is it reasonable to expect that keeping feet dry on every hike, year round, is an achievable goal?
Let's explore the best hiking boots for women on the market today, and then you can decide for yourself if your regular hiking boots are good enough for the trails you use.
Or whether you need water shedding boots when the trail is less than dry!


Waterproof hiking boots:
how to achieve this?

Standard hiking boots have components that are put together for protection, shock absorption, ankle support, stability, arch support and cushioning of a hiker's feet.
To read about them, use this guide to buying hiking boots.

Expect an outer, inner and midsole as standard features of a hiking boot.
A shank for rigidity might also be used, depending on the price point of the boot.
But when you add in the additional requirement of waterproofing, there are only 2 ways to deliver it:
Additional construction features;

Waterproof materials, either natural or human made.
Let's consider how waterproof boots are constructed first.
Construction features of
waterproof hiking boots

Every hiking boot has an outer sole, usually made of rubber, attached to the rest of the boot (midsole through uppers).
For a boot that is designed to exclude water, the stitching and attachment points must be sealed or taped.
The amount and type(s) of materials used to keep out water will vary. So there's a range of weather proofing: water resistance through waterproof.

Application of waxes or oils to the stitching and seams will "seal" the vulnerable points.
If you need boots that will stand up to hiking through streams, snow fields, or summer rainstorms, a waterproofing strategy should become a regular part of your boot maintenance plan.
Here's how I waterproof my hiking boots.
Bonus: The waterproofing barrier extends the life of my leather boots by decreasing abrasions and cuts when hiking on sharp, rocky surfaces.
Waterproof hiking boots:
materials

For feet that will be completely submerged in water for longer than a minute or two, you would need to wear rubber boots to guarantee dryness.
Ever walked around in rubber boots?
Sweaty feet, not to mention your socks slipping around inside of them = no fun (and possibly life endangerment).

Not an option for a hiking trail!
Which means manufacturers of waterproof boots for women hikers need to rely on materials other than rubber.
Here are their choices:
Full grain leather that accepts waterproofing coatings;

Gore-tex or Dri-Lex (branded materials) breathable boot linings which act as a barrier (waterproof membrane) to moisture;

Other materials that will accept a durable water repellent treatment, which enhances the ability to exclude water molecules.
Note that these choices may allow water to penetrate the upper layers of the boot, but not reach your feet.
Or at least not reach your feet quickly.
Everything has a failure point, right?

Putting construction & materials together,
what do you get?

Hopefully, a decently waterproof hiking boot!
Plus support, durability and comfort :)

There's an entire universe of them for women hikers, as you can see here.
To get a feel for the best features, let's examine this one in detail.
KEEN is a hiking boot brand that I wear, and trust, on hiking trails that I know will deliver their share of water and mud.
The KEEN Durand uses waterproof, breathable (very important for foot comfort) membranes along with waterproof leather uppers to create the best chance of dry feet for lightweight hiking.
Break in period: non existent; comfort right out of the box plus an easy lacing system.

The over-the-ankle design has two advantages in wet weather on a backpacking trip or day hike. The design:

I've worn these boots (along with gaiters) in ankle deep water crossings, and came out unscathed. That's why they are top rated in my book.

I've also pushed them on water logged treks across mountain meadows and sloppy snow fields, and been satisfied with their ability to keep my feet dry - up to a point.
That point exceeded several hours of wet, wet hiking terrain.
However, even when my outer pair of socks began to feel damp, the boots kept my feet warm. That's important for comfort but especially for safety.

The reality of backpacking boots
Every boot will fail if pushed hard enough.
The KEEN brand of hiking boots will maximize your chances of dry feet in all but the most extreme hiking conditions.

This boot also dries out quickly if the outer materials become saturated.
For more options for waterproof hiking boots for women, check out this selection.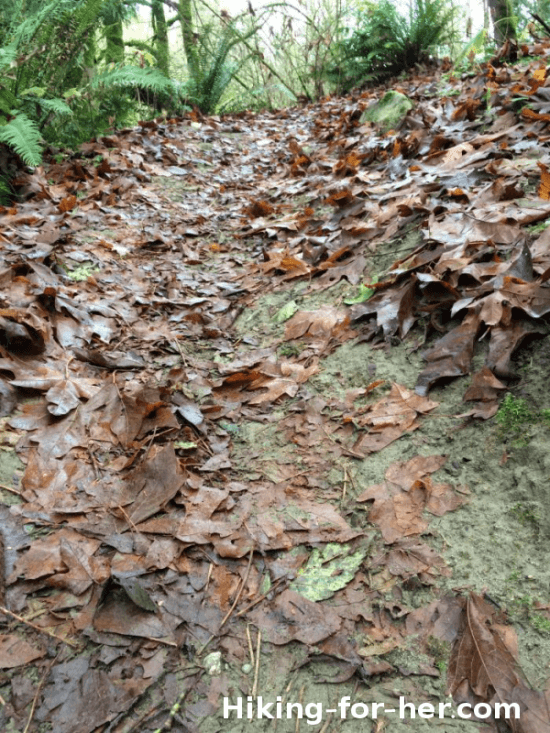 Get a grip on a muddy trail with the traction of well designed waterproof hiking boots

A few cautions with
waterproof hiking boots
If you hike in heavy (full grain) leather boots, and they become saturated with water, don't dry them near an open heat source.
Why not?
They will shrink!
All of your hard working breaking them in, and molding them to the peculiar contours of your feet, will be for naught.
Instead, stuff them with clothing or newspaper or whatever you have, and allow them to dry slowly.
If you plan to hike in the winter, whether on compacted snowy trails or using snowshoes, you need winter boots. These are designed to be waterproof, and have additional layers to trap body heat.
Do you really need
waterproof boots?

So, what have you concluded?

For me, waterproof boots are worth the extra money because comfortable hiking feet give me an extra edge of safety in wet weather and slippery trails.
But if you stick to dry weather hikes, you probably don't need them.
Worried about extra weight?

Rest assured, not every waterproof boot is heavy and clunky.
You can choose a lightweight, minimalist style that will still protect your feet from water.

Or you can go "whole hog" for leather boots, for the best shot at keeping your feet dry. Some of them are surprisingly light.
You should also consider womens waterproof hiking shoes, just to do a thorough job of it!
Tip:
For your next birthday or holiday present, ask for a gift card from REI Co-op so you can try on all of these options!

Questions
about hiking boots?

Send them to me via this CONTACT link.
If you need some general tips on choosing the best hiking boots, here they are.
And don't miss these easy boot care tips, to keep them (and you) happy for many years on the trail.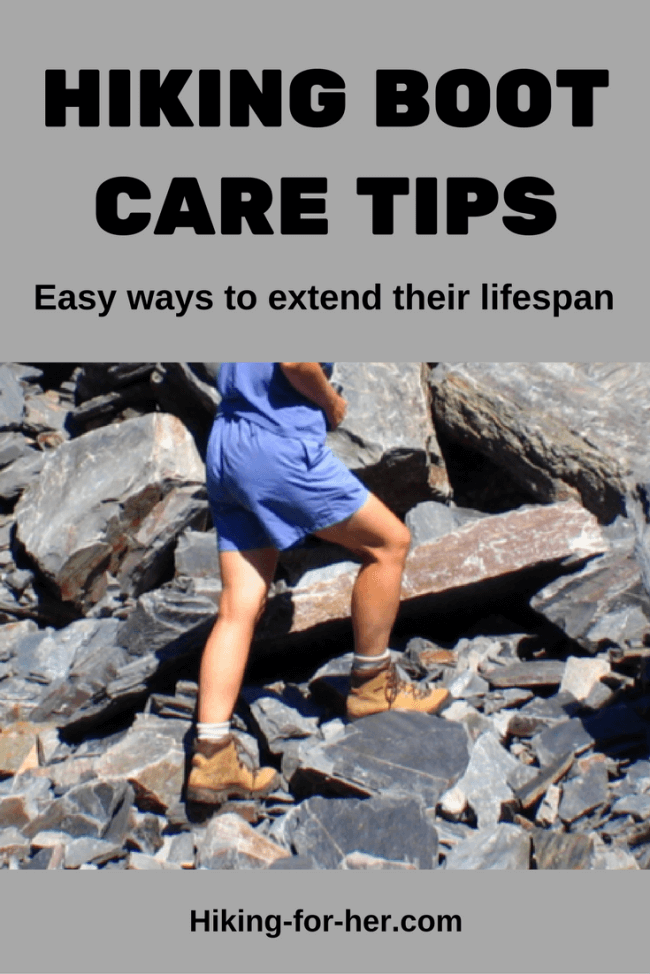 Home page > Best Hiking Gear >
Best Women's Waterproof Hiking Boots
Didn't find what you were looking for? Use the blue TOP button
on the right to jet back up to the search box.
Hiking For Her: Hiking tips you can trust!