Enjoy Happy Trails, the free monthly newsletter from Hiking For Her.

Receive a free resource: Hiking Layering System Explained
Hydro Flask Wonder Collection:
Beauty Meets The Beast,
October 2019
by Diane Spicer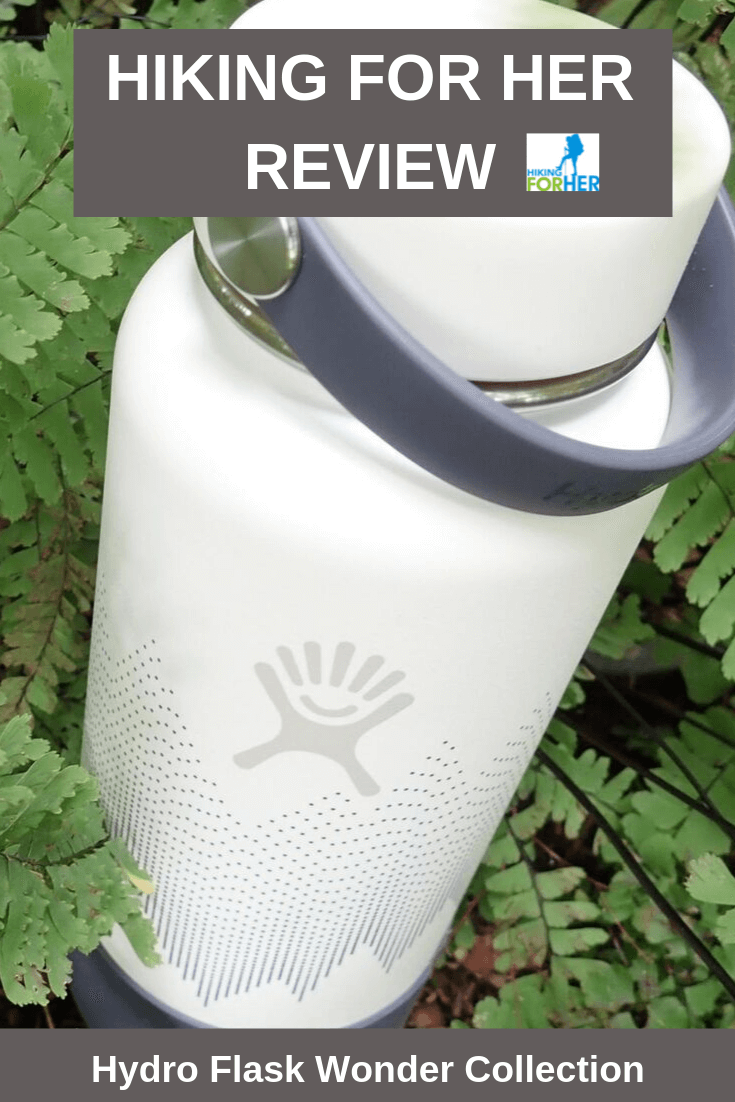 This Hydro Flask Wonder Collection review shows you how a well designed water bottle can put function AND beauty into your hands on the hiking trail and beyond.
Hiking For Her received a limited edition Hydro Flask from this collection in exchange for an unpaid, honest review.
None of the reviews you read on this website are paid for, and never will be. Just honest opinions on hiking gear, freely shared.
I'm a true believer in the quality and durability built into every Hydro Flask, and you can read more Hiking For Her reviews of their great products here:
If you purchase a Hydro Flask through the links on this website, HFH receives a small percentage of your purchase price.
What's being reviewed here?
A 32 ounce, wide mouth bottle called Snowcap from the limited edition Wonder Collection is on display here.
It's also available in a 20 ounce coffee style for your morning commute to the trailhead.
See all of your Hydro Flask options here.
Product specifications
Let's not get carried away with good looks.
As hikers, we demand functionality from our gear.
Work beasts, in other words, that can perform well and literally go the distance with us.
This Hydro Flask Wonder Collection bottle is a fusion of beautiful appearance and thoughtful design to solve a hiker's hydration needs.
The specs:
Insulated to keep beverages cold up to 24 hours, hot up to 12 hours

No BPA or Phthalates

Capacity for enough water on a day hike in moderate to cool temperatures (carry two Flasks in hot conditions)

Comes with standard screw off lid, but compatible with a flip up lid or a lid with a straw to personalize the sipping experience

Wide mouth fits most water filters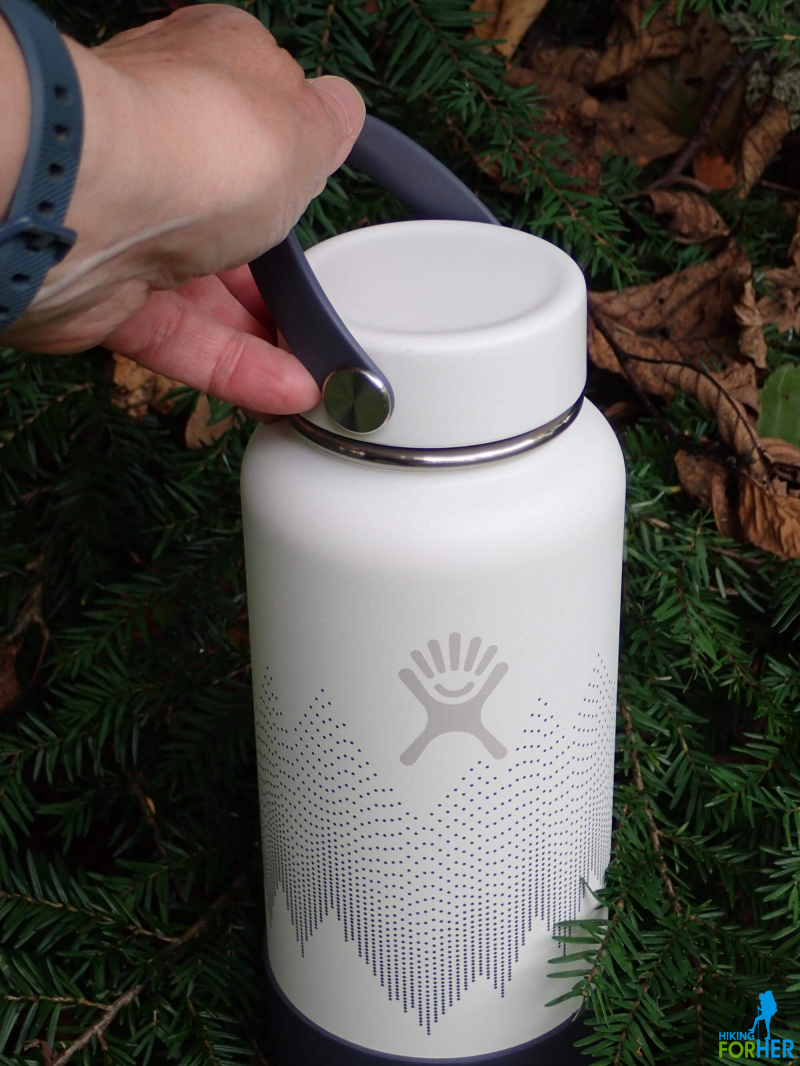 More to love as a hiker
Integrated easy grip carrying handle on lid

Sweat proof finish: no beading up inside your backpack

Texture and dimensions are easy to grip even when gloved up

Flex boot at base, for more stability on tippy surfaces
First impressions count!
When I saw this limited edition design from Hydro Flask, I literally said WOW! out loud.
It's gorgeous! 
I also made a mental note: impressive gifting opportunity for the holidays.
Because I'm a big fan of alpine hiking terrain with permanent snow fields and glaciers, the name Snowcap makes me smile.
You could also consider the design evocative of a starry night on a winter hiking trip - another reason to smile.
This design is available in other lovely color choices, all named for memorable moments in the good life of hiking and camping:
Alpenglow (reddish orange tones)
Dawn (golden)
Dusk (deep blue)
Why Hydro Flask Wonder Collection
is trailworthy
Water bottles get knocked around a lot on trails, and I know for a fact it's not just me with horror stories to tell.
Cracked, dented, leaky bottles are sometimes the result.
I've seen a Hydro Flask dropped on its pretty little head when passing the hot chocolate across a rocky perch. 

The beverage spilled (sad event), but the Flask survived to serve up something delicious on the next hike - and it's still going strong.
After hiking in all sorts of nasty terrain with abrasive and gritty opportunities to scuff up these bottles, I've got some results to share with you:
Hydro Flask products come with a lifetime warranty, and speaking from long experience, they stand up to what the trail dishes out, year round.
So don't let the good looks fool you
A Hydro Flask is built to take whatever you throw at it.

Not that I'm recommending that you throw things at it, of course.
The sweat proof finish holds its color and resists scratching (unlike plastic bottles), so this design will be there forever.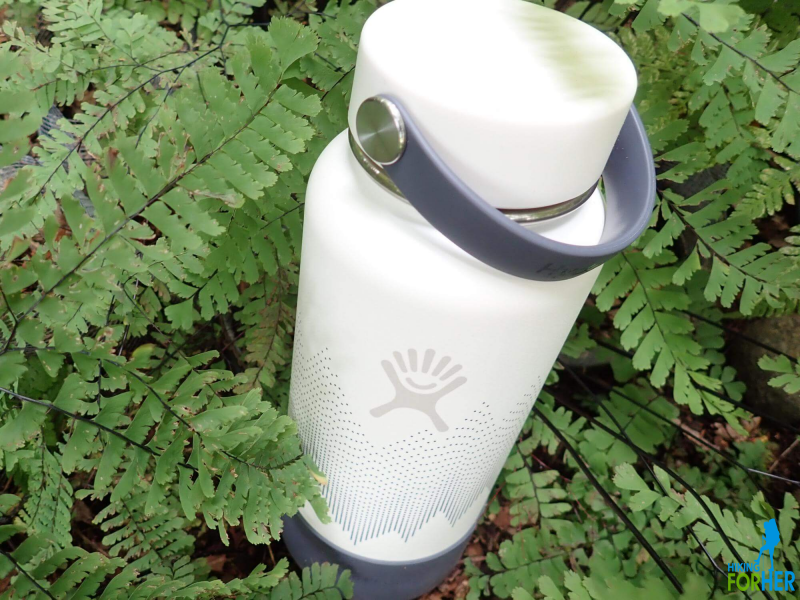 I need to warn you
Prepare yourself for something new:
How many times have you had that happen on the trail??

There's nothing else as attractive + functional on the market right now for hikers, and folks are going to notice it!
True temperatures?
Do these bottles really keep your beverages at the desired temperature?
Yes, within reason.
Really cold or blazing hot conditions will eat into the stated times (not verified for this review) a bit. 
Here's how to help them do their job:
Pre-chill in the frig and add ice to your beverage before a hot weather hike.

Pre-heat with hot water, fill immediately with your hot beverage, and then tuck the bottle into an extra thick sock inside your backpack for cold weather hiking. Open sparingly throughout the day.
What about the price?
If you're a newbie hiker, use whatever water bottle you have handy.
But as your hiking skills grow, realize the wisdom of investing in quality gear from a trusted company like Hydro Flask.
If you're a green hiker, relish the fact that you keep cheap, flimsy single use plastic bottles out of the landfill by using this heavy duty durable bottle for years, if not decades, to come.
Are you a multi tasker? Use one durable, attractive bottle for work, school, travel, sports and the gym.
Worried about how to keep the nooks and crannies of a hydration bladder clean? No worries here.
And all of us can appreciate this bottle's sturdy feel and easy off durable lid every time we pull it out of a pack pocket.

Hydro Flask Wonder Collection
is only here for a limited time
Sad to say, these Wonder-ful beauties will disappear one day. 
No worries, Hydro Flask will come up with something just as cool that will do a beastly good job of keeping us hydrated on the trail.
But why wait?
Snag one now for yourself or a favorite trail buddy.
The only snag?
Choosing your favorite color!
And once this limited edition is gone with the wind, be sure to check out all of your other options from Hydro Flask.
Home page > Best Hiking Gear Reviews >
Hydro Flask Wonder Collection Limited Edition 32 Ounce Review
Hiking For Her: Hiking tips you can trust!