Enjoy Happy Trails, the free monthly newsletter from Hiking For Her.

Receive a free resource: Hiking Layering System Explained

Mozy Review:
Stay Warm And Mobile Outdoors
By Diane Spicer

This Mozy review was written for one purpose: to share a new way to keep both your body heat and your mobility on a car camping trip or at a cold, wet trailhead.
As with every other review on this website, the comments, opinions and photos belong to Hiking For Her except where noted. They were not sponsored, paid for, or influenced in any way.
Disclosures in this Mozy review
A Mozy was provided free of charge for the purpose of testing it for this Mozy review.

Hiking For Her has no affiliate relationship with this company.
This review is being written during the "stay at home" restrictions in Spring 2020, so it was not tested at an actual campsite.
Instead, the backyard was repurposed to simulate all the actions I would have taken at a trail head and car camping site.
So what is a Mozy?
A Mozy review should start off with a definition, so here it is:
Mobile + Cozy = Mozy
Still not clear?
Try this scenario.
Have you ever wrapped yourself in an old blanket and hunkered down around a campfire?
And then watched the blanket slide down around your feet when you:
stood up to add a log to the fire?

dug around in the cooler for a snack?
This is the solution to mobile warmth for your lower body that stays put: a hands free, wearable, better-than-a-blanket called Mozy.
So here's an improved definition:
Mozy is an adjustable, technically designed thermal wrap sitting securely around your body which can be adjusted to accommodate your movements.
Image courtesy of Mozy
You can get up to speed on what a Mozy is all about here. 

In this Mozy review, I share the user experience from a hiker and camper perspective.
Let's start the review with the "technical" part.
Mozy review: specifications
How the two layered Mozy is built:

Interior: soft Polartec fleece lining to trap body heat
Exterior: durable black 200 Denier nylon shell to repel moisture, biting insects, cold breezes 
This creates a serious warmth sandwich!
Note the wide elastic panels to keep the Mozy in place once you secure it to your torso.
It's not going anywhere except along for the ride when you move.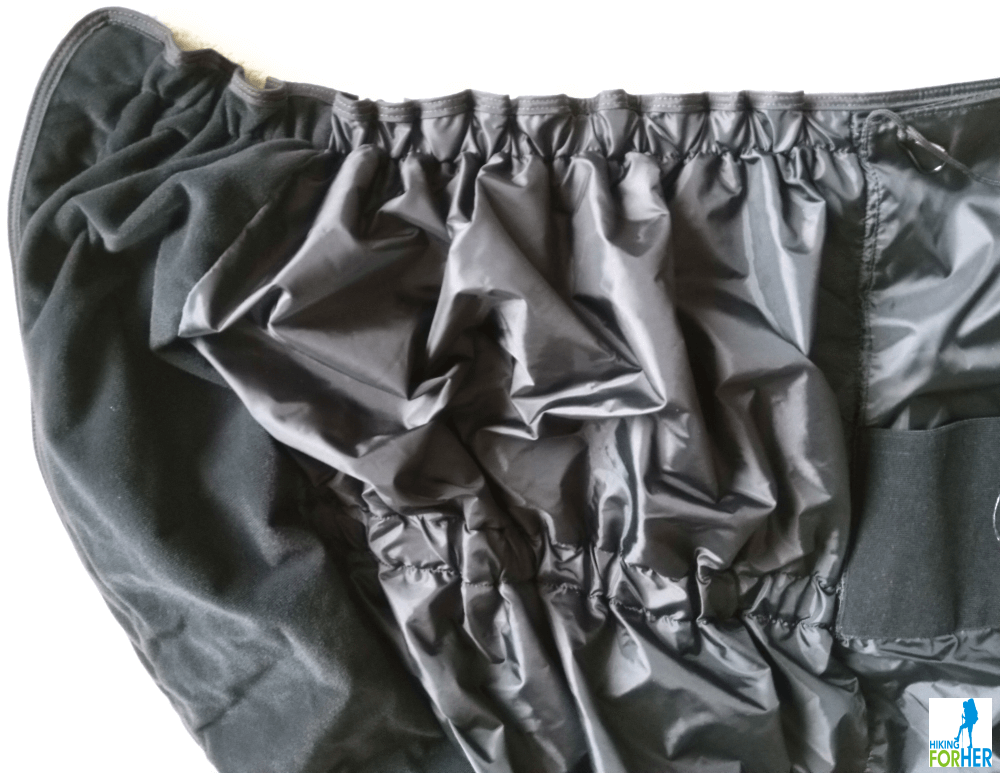 Softness inside (on the left) meets tough durability on the outside in the good Mozy design

User experience specs
I was impressed by the many design features that make Mozy a great improvement over just wrapping your torso and lower body in a stadium blanket:
Adjustable concealed elastic will accommodate your clothing layers and snug the Mozy around you

Hook & loop closures along right edge will secure the Mozy to your body, from waist to ankles

That same system works to fold it up, away from your lower legs, to whatever height you prefer (no tripping)

Weighs approximately one pound, not bad for camping gear and not noticeable when it's wrapped around your body

Three spacious pockets (two different sizes) will keep your personal items within easy reach (phone, snacks, gloves)

Convenient small carabiner holds keys securely

Packs into its own pocket

Carrying strap makes it easy to transport over your shoulder

Machine washable in cold water, gentle cycle, tumble dry on low (Note: I always hang up my camping and hiking gear to air dry, sparing it the heat of the dryer to extend its lifespan.)
Super easy to don your Mozy
You can put on a Mozy in about 5 seconds, even in low light conditions.
Find the edge with the pockets, and take it from there: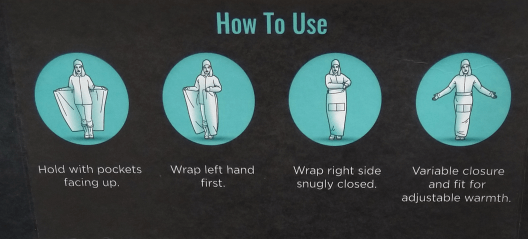 Easy instructions from the Mozy box for putting on this warmth trapping device

Ways to use a Mozy
in your outdoor pursuits
Day hikers can pull on a Mozy to warm up after a chilly hike as they sort through gear, remove boots, and get ready to leave the trail head.
Car campers will appreciate the torso and leg warmth while being able to move around to tend to kitchen chores or walk down to the lake.

Sports fans will immediately recognize the benefits of bringing along a Mozy: storage, weather proof exterior, and coziness so you can concentrate on the hockey game, not your cold legs.
Heads up, parents: Wrap up your chilly dog or child, or dog + child, in a Mozy! Then Instagram the cute photos :)
Grilling out on a windy, cold spring or fall afternoon?
Hanging out on the porch or balcony?
Inner lid of the box gives you everything you need to know to put your Mozy into action in the outdoors

Here's how I used my Mozy
I loved the idea of wearing a windproof, moisture resistant blanket that won't slide down around my ankles while I do camp chores.
That's why I agreed to write this Mozy review: to test the ability of this thermal blanket to stay in place AND move with me.
Because I'm not a "stay in one place and veg" kinda hiker/camper.
Except after dinner (keep reading).
So here's how I used my Mozy.
Simulated camp kitchen trial run
After a long day hike, once you're back to your campsite it's time to E-A-T.
But imagine trying to keep a cozy blanket around your torso as you do all the bending, twisting and reaching that food preparation requires.
In the Mozy, you can fold the bottom corners up and attach them securely (loop and hook closure) so your ankles and legs can move freely.
That means you can:
Get the stove fired up without tripping

Fill the cooking pot and boil some water while staying warm

Move all around the picnic table to chop up veggies, dump the pasta in the pot, and dig out the hummus for appetizers while wearing your Mozy
Here's the punch line for campers:
Love the pockets!
There are three pockets nicely placed on Mozy's right hand side.

Two small pockets, located low on the front, are a convenient place to stash small items you need:
the lighter for the stove, the twist tie from the bread, your glasses so you can read the directions on the package as the light fades.
The upper large pocket is really deep, running from the top of the Mozy to behind the bottom of the 2 small pockets.
Pocket placement, carabiner and carrying loop on the Mozy
And because of the water repellent outer layer combined with the easy care machine washing instructions, no worries if you slop some pasta sauce or salsa onto your Mozy.
The solid black color hides stains until you can wash it.

And the nylon fabric won't hold onto much.

Simulated camp chair deployment
After making dinner, what's better than relaxing in a comfortable camp chair with a cup of tea and a good book as the day draws to a close?
Having someone else cook dinner while you're in that chair for an hour or so longer ;)
Either way, the Mozy guards your torso and legs against cool breezes and any tea slopping which occurs as you swat at mosquitoes.
How do I know?
I plopped down in my favorite camp chair in the backyard, and read my Kindle for awhile.
I was careful to choose a cool evening to test the thermal capacity of the Mozy.
What I liked most
about the Mozy experience
I enjoyed the snug feeling of being encased in softness without being worried about getting wet or dirty.
I liked how quickly my legs warmed up, too.
Because it wraps all the way around, sitting down on cold surfaces like rocks or picnic benches won't be a problem.
The hook and loop closure system didn't snag my fleece jacket, wool gloves or nylon hiking pants, and I felt good about that!
I'm hard on my gear, so it was reassuring to see how well built the Mozy is - thick and even stitching, generous thickness to both layers, and a solid feel to it. Nice quality!
A few cautions in this Mozy review
It's only fair to point out the minor concerns I had in this Mozy review.
There is a soft black fuzzy fabric panel that runs the length of the front of the Mozy.
The inner thermal layer is also soft, black and fuzzy.
But anytime you have a soft, black and fuzzy combo, you're going to catch every stray dog hair, lint and ... well, you know.
Don't let that stop you from wearing a Mozy!
The only other thing to mention is the shoulder cord to carry the Mozy (see thin black cord in photo above).
Be sure to tuck it into that pocket before you begin to use your arms and hands, otherwise you might get tangled up in it.
And you don't want it to dangle near the camp stove or fire.
Fun little touch to report
in this Mozy review
In addition to the removable Mozy patch you see in the photo above, you can choose a patch to attach to your Mozy.
Mozy gives you lots of patches to choose from.

Here's the one I recommend for us hikers!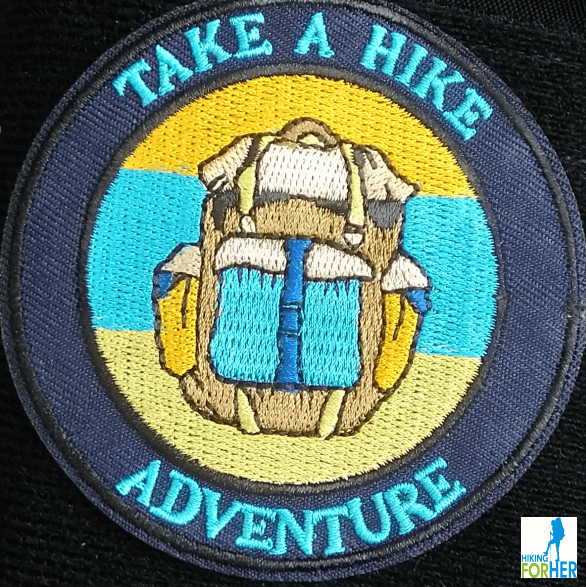 Tip:

If you like to collect patches from your favorite national parks and hiking destinations, the Mozy lower pockets are the perfect place to display them.
No sewing, j

ust stick them on and they stay there no matter what.

Move them around in your own unique array of good memories!

Mozy review conclusions
Every once in a while a product comes along that is designed to solve a problem for an outdoorsy person, and then it goes ahead and does just that.
In my opinion, this innovation called Mozy is solid for all these reasons:
Well designed to keep you warm, but also give you full mobility

High quality materials and construction

Thoughtful add ons like 2 types of pockets (one really large, two more modest in size) and a carrying loop

Full length leg coverage when you need it 

Adjustable length to regulate your trapped body heat when you are inactive

Machine washable, making it easy to get the camping grit and campfire smoke out of it

Easy to re-purpose for all your outdoor needs: sports events, concerts, boating, gardening as the sun goes down
Sounds like I'm a fan of Mozy!
After testing it under two different simulated conditions, I can't wait to take it for a spin on my next camping trip.
It will store easily with the rest of my gear, making it easy to find and put on whenever I feel chilled. 
True story in this Mozy review!
Remember, I'm not paid to write hiking gear and camping equipment reviews. 
I sincerely like this new addition to my camping gear. 
And I think you will, too.

Thank you!
Thanks for reading this Mozy review.
It's my pleasure to introduce you to the stuff that works to solve the problems we all face as outdoor adventurers.
Home page > Best Hiking Gear Reviews >
Hiking For Her Mozy Review