Enjoy Happy Trails, the free monthly newsletter from Hiking For Her.

Receive a free resource: Hiking Layering System Explained

REI Adventures For Hikers:
How To Choose 
The Right One(s) For You
by Diane Spicer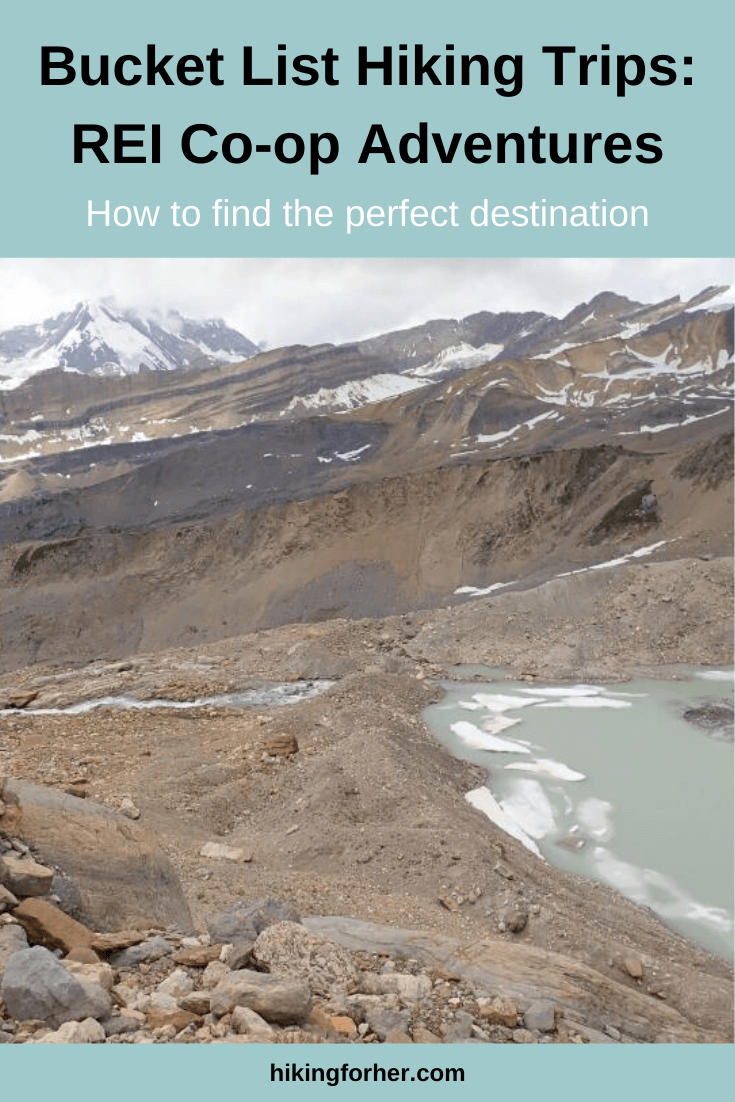 REI Adventures for hikers is a synonym for "hiking trip".
And there are plenty of reasons for you to enjoy a hiking trip this year:

Vacation
Celebration
Bucket list 
Holiday
International travel
Exploration
Family time
Hiking For Her can help you choose the best REI Adventure for your hiking style.
Let's begin with asking the obvious question: why does joining REI Co-op makes sense for hikers? (Hint: Save money, year after year!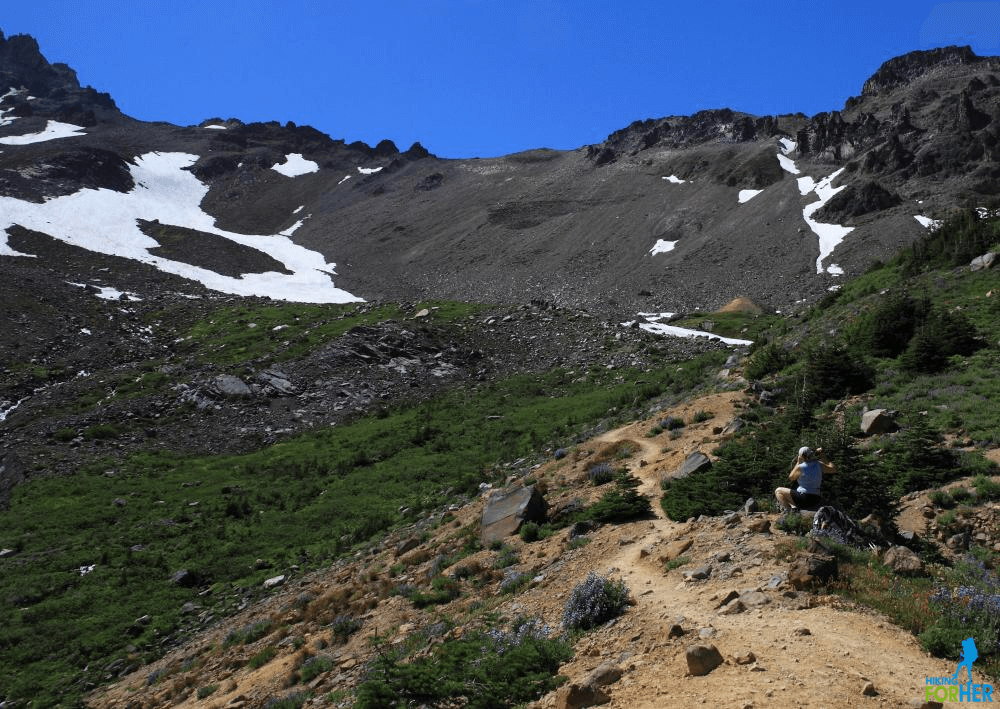 Get out there! No more excuses

The benefits of REI Co-op membership
for hikers
The strength of a cooperative lies in its size. It leverages its purchasing power to reward its members.
And it supports them in their hobbies and passions with great deals and member-only activities.
So here's why joining the Co-op makes sense for you as an individual.
Being an REI Co-op member is inexpensive: a one-time $20 fee.
In exchange for your $20? You receive a member discount on Adventure trips, merchandise, classes, and events.
You can look forward to an annual rebate on purchases, too.
As an REI Co-op member, you can expect to receive at least fourteen membership rewards in all. That's seriously rewarding!
Read about the benefits of REI membership here
Also important to note
Hiking For Her has been an REI member probably since before you were born (or 1977, to be exact).
And it's also why Hiking For Her is proud to be an REI Co-op affiliate.
Your purchases through the links on this website earn a small commission for HFH. It adds nothing to your cost.
Now let's get started on choosing your REI Adventures for hikers!
We'll begin with a definition to narrow down the type of hiking trip you'd enjoy most.
What's your definition of
a hiking adventure?

No one can hike your hike.
And no one should define what adventure means to you.
A big adventure might be going camping for the first time.

Maybe it's a long day of hiking in a new place, followed by a delicious meal and a soft bed.

Or it might be a bit more rugged: exploring a remote wilderness with only the gear on your back.
So how do you define adventure? 
Use this checklist for starters
Here's a quick little checklist to craft your definition of hiking adventure.
Use it to uncover your tolerance for the things associated with adventure.
Your answers will range from "low", "moderate", to "high".
Physical discomfort for days at a time

Physical risks

Mental discomfort (language barriers, foreign currency, learning new skills)

Amount of support you need to feel comfortable
What emotions do want to feel 
on a hiking adventure?
Each hiker hits the trail for different reasons, and emotions play a large role in those reasons.
So do hiking goals.
Claim your power to define what you want to experience on a hiking adventure in two steps.
1. Glance through the following list.
2. Decide which of these would lure you out of the comforts of home for a hiking adventure:
Challenge

Connection

Excitement

Amusement

Relaxation

Serenity

Fun

Intensity

Curiosity

Delight

Exploration
Do you see why it's important to set your expectations first?

Once you're clear about what you're looking for, you can make an informed choice with less chance of disappointment.
All done with your introspective questions?
Great! You're only one step away from choosing the perfect hiking trip.
Final question
for choosing the right hiking trip
this year
How much time and money do you want to spend for this adventure?
REI Adventures for hikers can be as short as a few days, or as long as several weeks.
Don't forget, REI members get discounted rates.
And when you sign up for an REI Co-op hiking trip, you'll be pleasantly surprised at what's included in the trip price.
Tip:
Look through the itinerary and the trip details to arrive at a total cost for the trip.
Now for the exciting part: you're ready to choose your adventure!
Look at your choices of
 REI Adventures for hikers 
to get your endorphins flowing 
Adventure Travel & Active Vacations Worldwide | REI Adventures
Now that you know what your budget and comfort zones are, it's time to narrow down your Adventure choices.
Take your time to savor all your possibilities! 
REI organizes the trips by activity level (easy active, moderate, strenuous).
You can "meet" your trip guides and read their bios.
Prior trip participants rate every hiking adventure, so at a glance you'll see which trips and guides are well loved.
Tip:
Read the comments to get all the details from a hiker's perspective. Sometimes you can pick up priceless tips on packing and gear.
Now let's look at some tempting REI Adventures for hikers.
I've organized them by type of hiking trip.
Best day hiking trips
Are you the kind of hiker who likes to hit the trail hard, but sleep in a cozy bed to recharge for another day of hiking?
Then consider this trip to Sedona, Arizona.
REI Adventures for hikers who prefer this style of hiking are plentiful.
Here's another option, a great one for families: Signature Camping in Yellowstone National Park.
You use a comfortable campsite, fully equipped and centrally located in the heart of the park. 

Every day you enjoy an iconic Yellowstone adventure. 

Read more here.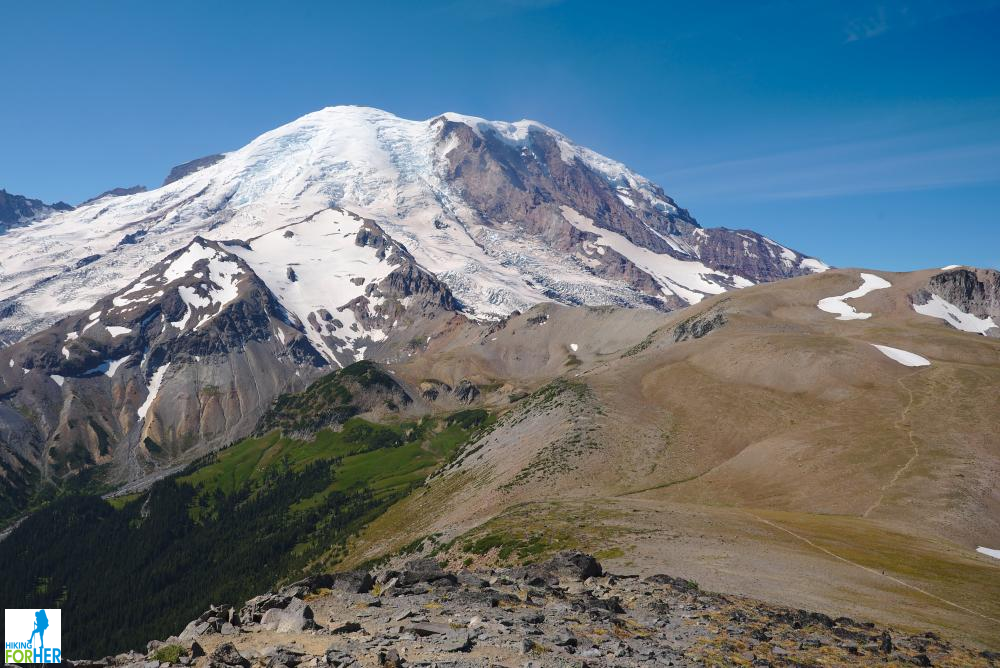 Mount Rainier National Park has splendid day hikes

Long weekend trips for hikers
Don't have a lot of time, but yearn to get some dirt on your boots?
These REI Adventures for hikers take you someplace special in three day and four day trips.
Places like:
Now that's an adventure bucket list if I've ever seen one! These trips are a great chance to polish skills and build friendships, too.
Hut to hut hiking
Does hut-to-hut hiking appeal to you?
It should! A lighter pack (around 20 pounds) and more time to explore, just for starters.
REI has pulled together a trip in the White Mountains of New Hampshire for you!
Choose your departure dates, June through October.
Best backpacking trips
An REI backpacking trip will teach you best practices for hiking and camping.
Important things like:
You'll experience camaraderie as you enjoy outdoor time in fantastic destinations, including:
Get started choosing a trip here.
Women only Adventures
for hiking and camping
Do you want an adventure, but don't have a travel companion?
REI Co-op pulls together fantastic hiking trips for women. Their destinations that will make you smile:
Machu Picchu
Greece
Italy
New Zealand
Iceland
Reasons to love women only hiking trips
Avoid the awkward social dynamics of traveling in a mixed group of new-to-you hikers.
Enjoy the company of like minded women.
Learn from the female guides.
The trips hit all the sweet spots: local culture, great food, and fantastic hiking.

All the little details of the trip will be arranged for you, so it saves you time and mental fatigue.
REI gives you a personal Trip Specialist. This is a woman who works with you to get you ready for your adventure, with no loose ends or unanswered questions.

Hiking trips to U.S. National Parks
Most hikers have a bucket list. 
And most lists have at least a few of the United States National Parks penciled in.
Time to get to that list! REI Adventures for hikers take you to iconic National Parks, including:
Grand Canyon
Yosemite
Glacier
Yellowstone
Olympic
Zion
So. much. exploring!
What are you waiting for?? Pick one and get packing!
If you prefer lodge based hiking trips, check these out.

So which of these
REI Adventures for hikers
is going to be your first choice?
REI Adventures.
Two little words that signal something really good is about to rock your hiking world.

You've decided to let REI Co-op handle all the planning and trip logistics for you.
Smart move!
Now choose your Adventure destination, using the tips I've shared.
Your next smart move?
Use the search box at the top of the page to choose the best hiking gear and outdoor clothing for your trip.
The upward pointing arrow over there on the right will get you to the magic box of hiking wisdom.
Happy Adventuring!
Home page > Best Hiking Resources >
Choose The Right REI Adventures For Hikers
Hiking For Her: Hiking tips you can trust!