Enjoy Happy Trails, the free monthly newsletter from Hiking For Her.

Receive a free resource: Hiking Layering System Explained

Best Backpacking Gear List:
Use It Or Forget It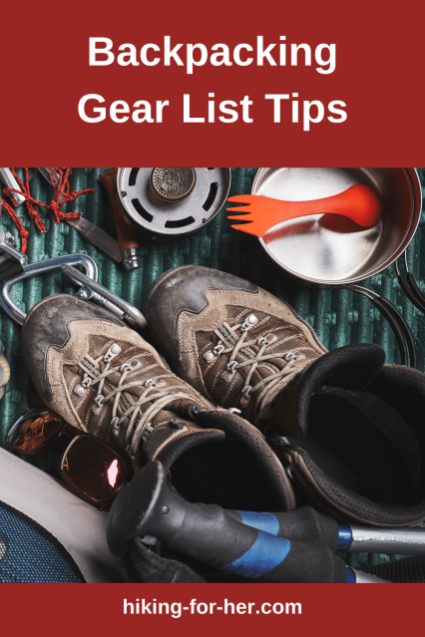 The best backpacking gear list is the one you use each and every time you plan a backpacking trip.
Otherwise, forget it - as in, forget the map sitting on the end table, or forget the extra bag of trail mix under the front seat of the car.
I'm sharing my best multi day backpacking gear list because I've been there and done that ;)
And not just a list!
A thorough guide to selecting the best backpacking gear for your outdoor adventures.
Would you expect anything less from Hiking For Her?
Here only for the checklist?

Heads up!
This backpacking checklist is written for one backpacker who is heading into territory where self sufficiency is required.
Your own judgment and common sense are required to make this backpacking checklist work for you.
If you're planning a short 3 day or quick overnight trip, you can pare down this list.

If you're teaming up with a trail buddy, you can split some of this gear between two packs, and thus lighten both loads somewhat.
However, two people need twice as much food and water, plus two sleep systems, a bigger shelter, and more stove fuel, so you won't exactly float down the trail together ;)
Best backpacking gear list
categories

Let's call them The Big Three Of Backpacking, as in the three major categories on your planning checklist to think about as you're pulling backpacking equipment out of your gear locker (or shopping for it):
Survival items
Backpacking essentials
Personal comfort and safety
Let's take them in that order.
Why?
Because being uncomfortable on a backpacking trail is one thing.
But survival is everything.

Best backpacking gear list:
begin with survival gear

The length of your hiking trip, your destination, as well as the date on the calendar, all drive the type and amount of backpacking equipment you need to meet your basic needs.
Because shelter from the storm becomes real in a hurry on a backpacking trip, let's start with backpacking equipment that keeps you warm, dry and sheltered.
Pay close attention to this part of the best backpacking gear list!

Your backpacking
shelter options
One of the major expenses on your best backpacking gear list will be your shelter.
Anyone who is heading into uncertain weather conditions or high elevation terrain is going to want adequate shelter.
Most backpackers, even ultralight hikers, carry at least a tarp to create a home base for sleeping each night.

Those who like the comfort and shelter of walls, ceiling and a floor rely upon backpacking tents.
Explore your options:
Your choice of shelter is important, so if you're certain that you're a tent sleeper, slow down and do some research before you choose your portable home away from home.
Hiking For Her backpacking tent reviews:
Tip:
Renting a tent is a great idea if you're uncertain about its weight and performance for your hiking style.
REI gear co-op offers gear rentals.
And you can get a great deal when they clear out these tents every year!

Backpacking food plan:
spend time on this part of the best backpacking gear list

Your body will work hard on a backpacking trip.
You need to give it the fuel it needs, and it will need a lot.
Let go of any preconceived notions of how you're going to eat lightly and lose weight, or lighten up your backpack by bringing candy bars and energy gels.
Therein lies madness!
You'll be chewing your own fingers on Day 2!

And your tent mate's on Day 3 - ew!

As a veteran of a few backpacking trips that were a disaster in terms of menus and meal quantities, allow me to share some ideas on putting together simple, healthy backpacking food plans.
If you're in the mood for more general hiking food tips, along the lines of why you need to balance the Big 3 nutrients, try these:
Do you have dietary restrictions or preferences?
So do I, so I'm sharing some freeze dried backpacking food options to explore as you plan your breakfast and dinner meals:
Coming soon:

backpacking breakfast ideas

lunch ideas for backpackers


backpacking dinner meals
Best backpacking food tip:
Don't let anyone else plan your backpacking menu, unless you look over her shoulder and approve of the quantity, flavors, amounts and types. Trust me on this!
Water treatment & storage
Examine the maps carefully as you plan your backpacking route.
Without accessible surface water, your outdoor adventure plan fails before you even put on your socks.
And note the word "accessible".
Even if the map shows your trail hugging a river or stream, or with tiny lakes dotting the route, ask yourself:
Is this a year round water source?

If it's seasonal only, am I going there at the right season?

Are there steep banks or cliffs, allowing me to access the water only at certain points?
And a tip:
Even if you're sure you can access the river, be prepared for brush choked river banks, or streams that are lined with nasty spiky plants like devil's club (a particularly well named plant) or poison ivy or poison oak.
The backpacking reality: sometimes you have to work hard for your water, and be alert to dangers blocking your path.

Oops
Sorry for the digression.
I do not want you to make a miscalculation and run out of water, because a dehydrated backpacker is in trouble.
Back to the topic: safe drinking water on a backpacking trip.

How will you guarantee that your drinking and cooking water is free of disease causing organisms (pathogens)?
You're going to treat it right, using the best options on your best backpacking gear list. Here's how:

Storing and carrying your hydration is a matter of personal preference.
I've found these approaches to have merit:
Communication devices
The point of backpacking is to leave behind the outside world and immerse yourself in Mother Nature's realm.
However, issues of safety come to mind, especially for a solo backpacker.
You can't predict what the trail or the weather will offer you, so having a communication plan with the outside world, regardless of how many miles away it is, makes sense.
Start with this backpacking fundamental:

Leave your hiking itinerary with at least two trusted "anchors". Read more:

You might also want to consider carrying a piece of battery operated technology.
It's more weight in your backpack, but less weight on your mind, if you're venturing into the backcountry or regions known to be problematic for bears encounters.

Your choices for this segment of the best backpacking gear list:
Satellite phone (rent one because they're costly)

Why not your cell phone?
It's risky as your primary strategy!
You're relying upon signal coverage, battery life, and your ability to control moisture and temperature levels from harming the device.
For popular trails with excellent chances of meeting other backpackers when you need help, use your own judgment about relying upon a cell phone for communication.
Before going into the backcountry with just a cell phone, think long and hard about your decision.

Navigational aids
If you don't know where you're going, you're lost before you even begin.
And the entire trip might be lost if you have to spend day(s) and night(s) figuring out how the heck you got lost, or more importantly, how to find yourself again.

Sitting and waiting for Search & Rescue (SAR) to do their thing, not recommended as a backpacking plan.

Maps are navigational aids that only work if you know how to read them. 
You have two approaches:

Paper topographical maps, kept in waterproof sealable pouches, are mandatory for backpackers who like to pay close attention to the terrain they hike through.
Maps loaded onto an electronic device, allowing you to zoom in & out and to track your coordinates, work if your batteries hold out or can be recharged on your trip.
Old school is best, because a paper map isn't going to refuse to open or be unable to display your coordinates.

Some basic map information:

Best backpacking phone apps (coming soon)



Preparing for bears
Wishful thinking is not going to keep a bear out of your camp kitchen.
Take precautions for impeccable food storage.

NOTE: If you're backpacking in regulated areas, your choice of bear deterrents for food are made for you, so be sure to read the fine print if you're headed into a national park or other public area.
Here are bear deterrent tips:
If you're not backpacking in bear territory, a food canister or sturdy mesh food bag can be used to guard against chewing rodents, raccoons and other mammals.
Now that we've got your basic backpacking survival gear squared away, let's turn to equipment and necessities.
---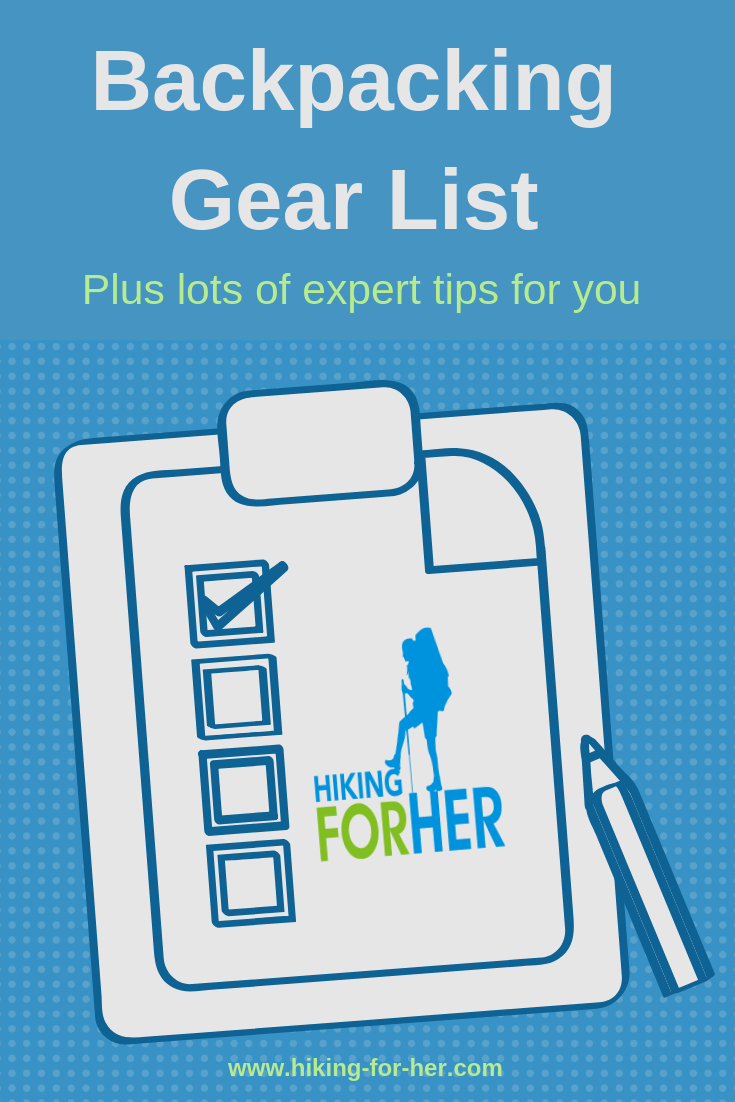 Essentials on your
best backpacking gear list

It's essential that you make good choices in trail footwear, outdoor clothing and trekking poles.
Your backpack is an essential part of a successful trip.

You'll also need to put together an appropriate sleep system and a camp kitchen.
All of this essential talk is based on The Hiking Ten Essentials, which you've probably heard about!
For backpackers, it's kicked up a couple notches.

Backpacking boots & trail shoes
Here's where I see a lot of beginner backpackers go wrong when pulling together their best backpacking gear list.
What you put on your feet is critical to your ability to carry a loaded backpack for hour after hour, day after day, until you can set down your pack at home and not have to pick it up again for a long time.

Gravity pulls your weight + your load's weight down, down, down, and your feet distribute that weight after it passes through your hips, knees and ankles.
If your boots or trail shoes aren't built to support your arches, protect your ankles, avoid blisters, and cushion each step, hello, Lucy! You're in trouble!
Read up on your backpacking footwear choices, and promise me that you'll put just as much time and consideration into your choice as you will for your backpack and tent!
Your choice of socks matters, too:
Best outdoor clothing choices
for backpackers

If you're accustomed to choosing clothing based on price, color or cut, you've got to develop a new mindset as you shop for the best outdoor clothing for backpacking.
As a backpacker, you want need clothing which is moisture wicking and breathable so you sop up your sweat and off gas it into the atmosphere without overheating.
No comment on whether or not backpackers contribute to global warming
You also want fabrics that repel or omit water, depending on your budget and your destination.
It's okay to let go of your delusion that it won't rain on YOUR backpacking trip.
Even if you luck out and suffer sunburn rather than prune skin, there are plenty of opportunities for water to contact your skin:
water crossings
wet brush along the trail
breakfast at a dew soaked campsite
laying flat to filter water at stream's edge

mud puddles that swallow you whole (!)
So evolve into the wonderful world of water repellent and water proof backpacking clothing, and grin in the face of nasty weather.

Many outdoor clothing options to consider:
The importance of
trekking poles to a backpacker
Hiking For Her has a distinct bias toward having trekking poles, also referred to as hiking poles or walking sticks, firmly in hand.

All of the reasoning and logic is here, along with detailed recommendations:
Poles are a necessary item on the best backpacking gear list, in my humble opinion (and 45+ years of trail experience). If you're an older hiker, you'll know why!

Backpacking backpack choices
You have lots of questions, of that I have no doubt.
Like "How big of a backpack should I buy?"
Or "What the heck does 50L mean??"
Here are some answers to get you started on choosing the right backpack for a backpacking trip (or lifetime hiking career):
Backpack shopping tip:
Buy a backpack just large enough to accommodate your backpacking gear. In other words, bigger is not better in the backpack world.
Hint:
Aim for 35 - 50L for a short backpacking trip, and go up to 70L for a longer trip.
If you're a larger person with a lot of gear, you can push that 70L even higher, but think carefully about why you need to. If you skipped the ultralight link above, use it now.

The best backpacking gear list
includes a backpacking sleep system
Although one could argue that a sleeping bag or backpacking quilt is shelter, let's keep it right here as a fundamental piece of the backpacking puzzle.
Your goal as a backpacker is to sleep through the night in warmth and dry comfort, without lugging around a heavy bag or quilt.
That's essential for your health on a backpacking trip, and thus for your safety.

Get started on selecting your sleep system with these tips:
Another vital component of your sleep system is your choice of sleeping pads.
Self inflating pads are convenient, while non inflatables are inexpensive and durable.

Tips here:
Sleeping pad review (coming soon)



Backpacking camp kitchen
Here's where we stray into hiking psychology territory.
For some backpackers, the sight of the shelter and kitchen spot at the campsite is an emotional tie to home, comfort, safety, and a sense of ease before turning in for the night.
For other backpackers (especially ultralight hikers), setting up a camp kitchen represents time, weight, effort - factors which erode the purpose of the trip: go fast, go light, go hard, set some personal best records.
But for all backpackers, food is security.
And it's muscle fuel.
That's why this is an important category in your best backpacking gear list, and deserves thoughtful attention.

To decide how much weight in your backpack, and how much of your gear and time budget, to devote to food preparation on your backpacking trip, do some reading:

Illuminating choices on your
best backpacking gear list

Skip the idea of being in your sleeping bag, snug as a bug in a rug, before darkness descends.
Go straight to the reality that you're going to need a headlamp or flashlight when you hunt for a campsite after a long day, or cook dinner at twilight, or rummage around in your backpack for those clean socks you're craving inside your tent.
My bias is toward headlamps, because they free up your hands and can be adjusted, and directed, in the desired direction.
Onward we go into the third category on your best backpacking gear list, one which is every bit as important as your boots and sleep system!

Backpacking comfort
and happiness items on your
best backpacking gear list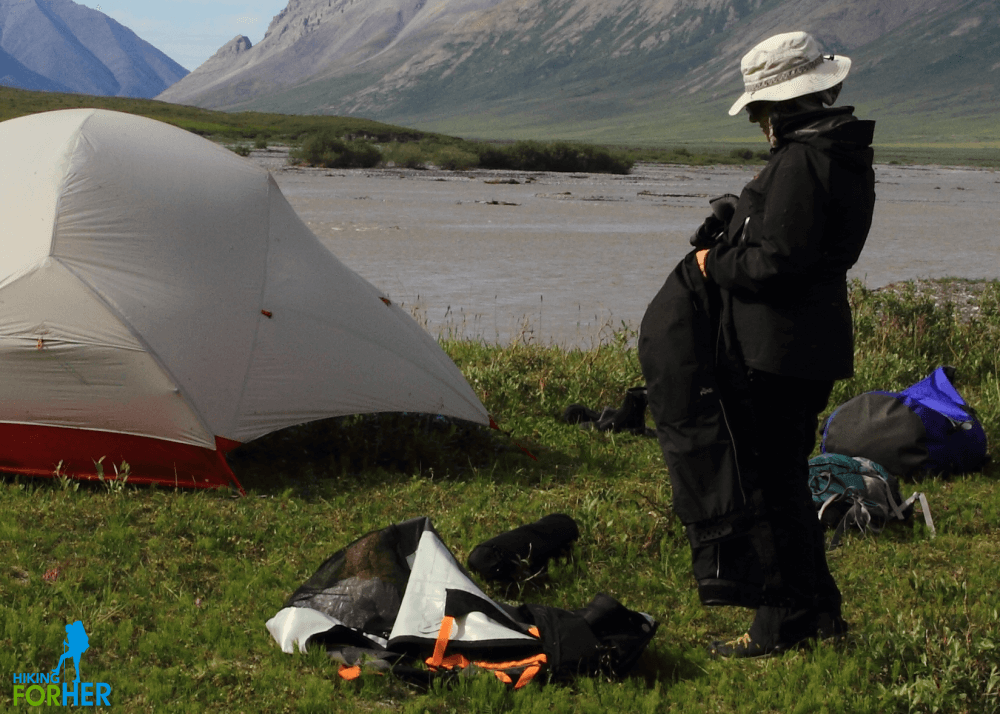 Getting the campsite ready for a restful night
It's always puzzling to read about the deprivation and torment some backpackers put themselves through on a backpacking trip.
The usual answers revolve around glory, record setting, testing limits, extreme sports, endurance events ... but I'm guessing that if you're reading this, you're going backpacking because you want to have a good time.
And you desire to come home in reasonably good shape!
So consider bringing along a few things that make you smile, or sigh with contentment at the end of the day.
Some recommendations:
The free pdf checklist (link at top of page) has lots more suggestions for you.


Best backpacking gear list resources
for you

There are a few other things you might want to consider as you transition into the backpacking life:

Add these supplies into your best backpacking gear list as you acquire them, always keeping weight and durability in mind.

An example of using
a best backpacking gear list

Still with me?
Then you might like to see how a backpacking trip in a remote Alaskan area of Wrangell St. Elias was successful, in large part because of the best backpacking gear list I used.
The trip description highlights how each piece of backpacking equipment was used, what I should have left home, and why I selected the gear and clothing I brought.
It also has a free pdf of the trip checklist, for your convenience. You can compare it against the more generic, and thus customizable, gear list offered here (use floating TOP button on your right to scoot back up to the pdf link).

Questions about putting together
your best backpacking gear list?
I'm here for you!
Send me your question about putting together your best backpacking gear list, and I'll do my best to give you my honest assessment of what fits best for your hiking style.
Why would I offer to do this?
Because your plan to go backpacking will bring you joy and adventure, and I'd love to help you get ready for it :)
And that includes self care tips, like these!

Home page > Best Backpacking Tips >
Best Backpacking Gear List