Enjoy Happy Trails, the free monthly newsletter from Hiking For Her.

Receive a free resource: Hiking Layering System Explained

Hiking For Her Review:
Title Nine Clamberista Pants

By Diane Spicer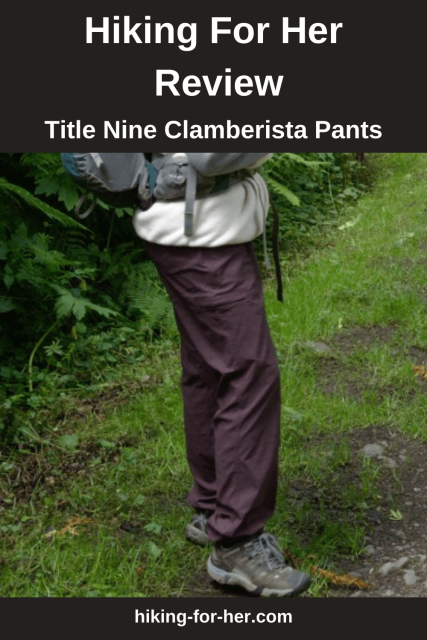 Title Nine Clamberista pants need to be on your radar if you're looking for a comfortable, high performing pair of hiking pants.
And aren't we all?
Throw in a great female focused company, thoughtful features designed for an active woman, and you're all set for hitting the trail, regardless of the weather.
Let's get started on this Title Nine Clamerista pants review, with all the details so you can make a good decision.
Disclosures in this Title Nine
Clamberista pants review

A few things to note before you go any further:
Hiking For Her has a lot of Title Nine clothing, and puts it to good use on trails of all sorts.
For example, here's a review of their stretch tights I use a lot.
So there is a built in bias toward this high quality clothing, because I know it works.
Hiking For Her is not a Title Nine affiliate.

Oh, and by the way, all images in this Title Nine Clamberista review are my own.


What is being reviewed:
Title Nine Clamberista Pants

In this review, we're taking a close look at Title Nine Clamber pants, regular length, in the color "raisin".

They are available in sizes 2 -14, with more color and length choices.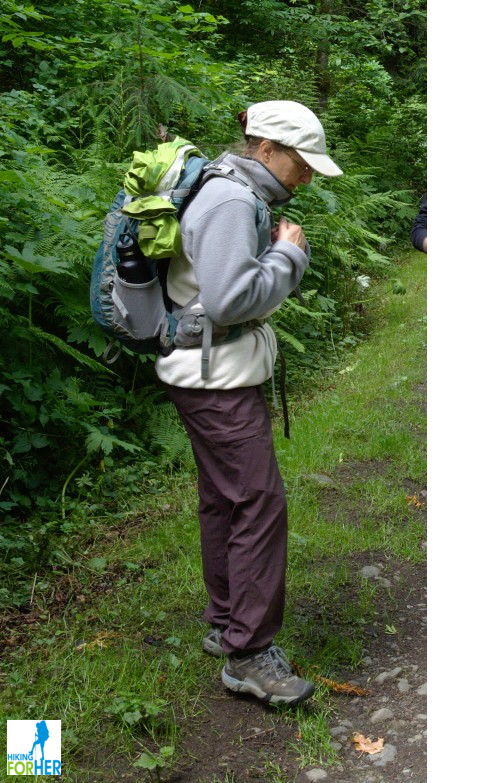 Technical details
Hiking women want pants that work just as hard as we do, right?
Here's what this pair of pants will give you on your next hike:
A jogger-like style, with an adjustable cinch at ankle

Abrasion-resistant and fast drying ClambR™ fabric (93% nylon/7% spandex with DWR)
Elastic waist with internal drawstring, mid rise

Two front, two back envelope flap, one zippered side pocket
Available only at TitleNine, so you won't look like everyone you meet on the trail

What I love about these Title Nine
Clamberista pants on the trail

92% of reviewers on the Title Nine website would recommend these pants to a friend.
So I'm in good company when I gush a little about these pants to you, my virtual friend.
Here's what makes these pants trail worthy from my perspective:
Waistband that is non-binding, allowing for a full range of hiking movements
Cinchable ankle area, for tucking into longer hiking socks to keep debris (and bugs) out of hiking boots
Roomy pockets, including a zippered one on the right thigh which is the perfect size for your lip balm or a snack for your trail buddy
Fabric thin enough to vent your body heat, thick enough so you're not hesitant about abrasive surfaces

Neutral colors to fit in nicely with your current hiking clothing
Easy to pull on, easy to eat second lunch due to the relaxed, adjustable waistline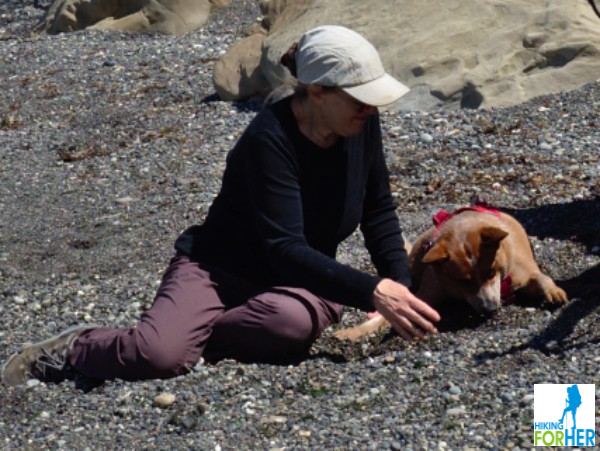 And don't be afraid to get down in the dirt and rocks, these pants can take it!

A few hiking notes about these
Title Nine Clamberista pants

The legs on these pants are a little different than you might expect on a jogger style pants.

Each ankle has a drawstring for a full range of adjustments to get the pants legs as snug (or not) as you want.
Pull the drawstring in tight when you want to keep your body heat, or to protect your ankles while hiking through rocky or bug ridden terrain.
Loosen the ankle drawstring when you want more ventilation, or a more streamlined look to the pants.
Either way, as a hiker, you'll be able to get what you need out of these pants.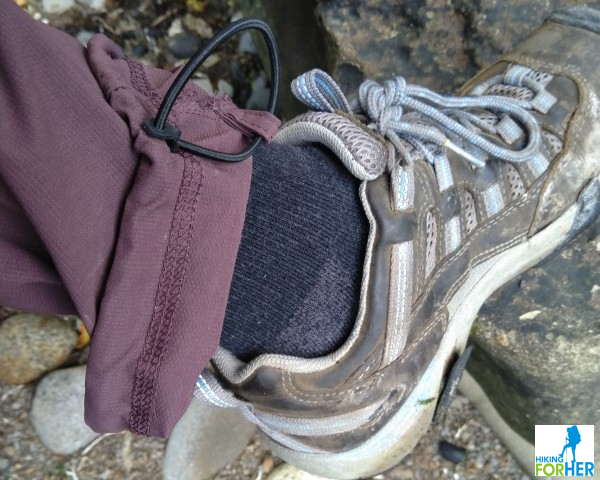 Adjusting these pants is a cinch!

One caveat
You will have to take off your boots to take off these pants, because the legs are not wide enough to go over most hiking boots.
Trail shoes, like the ones I'm wearing in the photo above, maybe.
On the other hand, it will be easy to pull on your rain pants over these pants.
Trail tip: Always buy rain pants with zippered legs so your trail footwear can stay on, keeping your all important feet dry.
Fit and sizing notes

These Title Nine Clamberista pants felt a little roomy, although they were my usual size.
Roomy in the waist, roomy in the thighs.

I love that!
I had no hesitation about clambering (thus, the name) onto logs or rocks.
But if you want a snug fit, consider one size down, due to the jogger style (looser thighs). The waistband is really forgiving!
And about the "regular" length, in case you're petite or tall.
I'm 5'3'', and the amount of fabric didn't overwhelm me.
If you're tall, consider these pants in a longer length designed for your long legs.
Price
If you've been on the trail for any length of time, you've probably already solved the conundrum of quality versus price for yourself.
Me?
I'm in the quality camp, meaning I invest in my hiking gear and clothing because I want it to last many seasons.
These pants are priced at $89 US at the time of this writing.
You get a lot to love for that price! And it's going to last.
Why Title Nine?
Title Nine has been making functional, durable clothing for outdoorsy women for a long time, since 1989.
They are woman owned and run, so they really care about the details for a perfect fit.
I know this for a fact. Here's another review of a Title Nine hiking shorts and shirt combo I wrote.
So what's the bottom line
in this Title Nine Clamberista pants review?
Two hiking poles up!
I don't review a lot of hiking clothing, but when I do, I put it to the test before I say a word about it.
These pants endured a 7 mile hike, stood up to a cool-ish morning and a warm (70F) afternoon, sat on boulders and dirt, and kept me feeling great through it all.
If you like a more loose style of hiking pants, these are for you. Your thighs won't strain against the fabric as you lift your legs.
You can adjust the ankle fabric as you need to during the day.
And with plenty of pockets, you can stash your lip balm, a snack, trail notes and more without hindering your movements.
Thanks for reading my Title Nine Clamberista pants review!
Home > Best Hiking Gear And Clothing Reviews >
Title Nine Clamberista Pants Review