Enjoy Happy Trails, the free monthly newsletter from Hiking For Her.

Receive a free resource: Hiking Layering System Explained

Heads Up, Hikers:
Title Nine
Power Stretch Tights Review

by Diane Spicer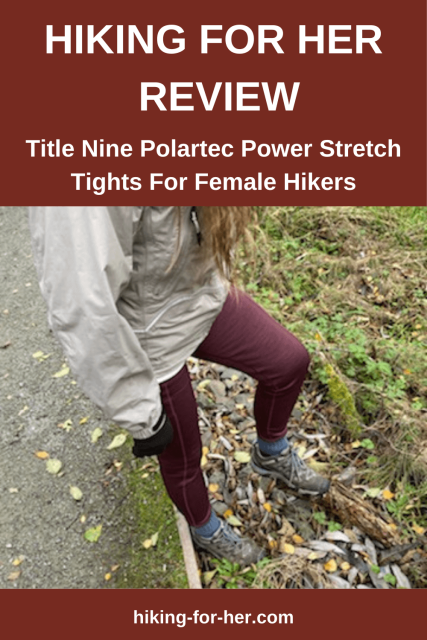 This Title Nine Power Stretch Tights review asks, and answers, this question:
Will these tights perform well on chilly to cold trails?
That's an important question for a hiker's safety and comfort, and Hiking For Her is all about keeping you in a safe, comfy zone regardless of what the weather throws at you.
Before we get into the details in this Title Nine Power Stretch Tights review, a few disclosures.

Or skip down to these details in the review

Disclosures in this review

Are you aware that many hiking gear and outdoor clothing reviews that you read are bought and paid for ("sponsored") by the company?
Also noteworthy when you're searching for reliable hiking information: Many links in the reviews and articles you read are "paid placement".

You can make up your own mind about whether or not you want to read those types of information, but rest assured that Hiking For Her never accepts money to praise or place a product on this website.
Every review is fair, unbiased, and written from the perspective of a seasoned female hiker testing out products and then reporting her findings.
And you will always know if there is an affiliation between HFH and the company being reviewed, because it's disclosed early in the review.


Specific disclosures in this Title Nine
Power Stretch Tights review

In this case, Title Nine contacted HFH and wondered if trying out a pair of these stretch tights would be a good idea on cool weather trails.
So a pair of tights was received in my choice of color and size, in order to test them out on the trail.
I'm always game for anything Title Nine makes, because I've been wearing their stuff on the trail for many years and know it can stand up to what I dish out as a hiker.
Hiking For Her is not a Title 9 affiliate.

All photos, comments and opinions being shared with you in this review belong to Hiking For Her unless otherwise noted.

Now let's get to it, shall we?
What's being reviewed by
Hiking For Her

Hiking For Her received a pair of Crash 2.0 Polartec Striated Tights in the color "Raisin" for this review.
Update: These are no longer available. See all Title 9 tights and leggings here.

Trail tip: Socks pulled up over the ankles traps body heat and prevents debris from contacting your skin

Title Nine Power Stretch Tights Review:
The Fabric

Polartec® Power Stretch (90% poly/10% spandex) is what you want when the weather turns chilly.
It traps your body heat and blocks breezes.
And the 10% spandex gives you freedom of movement.

But "stretch while moving" is only half of the story.
This fabric recovers from all of the moves you make as a hiker:
pulling your backpack on and off many times a day

navigating trail obstacles and rocky outcrops

plopping down for a snack break on dirt and rocks
You know the drill!

But there's even more to love as a hiker about this fabric, beyond warmth and stretch.
It wicks moisture from your sweat, and allows it to evaporate as you hike.
No wet, clingy underwear or drowning in your own clammy sweat! Less chance of chafing, in other words.

One more hurrah for these hiking tights: super soft against your skin.
Easy care fabric gives you
lots of time to hike

The tag on these tights gives these laundry instructions:
I agree with the line drying suggestion, because it will extend the life of the tights and make them less likely to sag or bag.
Easy to deal with these tights, wouldn't you agree?
What to focus on
when choosing hiking tights

When you're seriously considering a pair of tights for hiking, the fabric is where you should focus your attention first.
That's why it's first in this review.
For future reference, here's the hiking mantra for high performance outdoor clothing:
Wicking
Breathable
Temperature regulation
Comfort
Durability
More details here.

If the fabric holds up to scrutiny on an item of outdoor clothing, the next thing to consider is the fit.
Since this pair is definitely fit for purpose (*groan*), let's tackle that next in this Title Nine Power Stretch Tights review.
Title Nine Power Stretch Tights Review:
The Fit

Tights are meant to fit (wait for it) tightly!
Even if you call these leggings, you're expecting them to hug your legs... right?
So don't be shy about how close fitting this pair of Title Nine Power Stretch tights will fit you.

They don't hold you in a death grip, but they do snug up, especially around the calf and ankle areas.
And that's a good thing! You don't want to be a saggy baggy when you're trying to conquer a brushy trail.
And less fabric billowing around your legs streamlines you on breezy days.

But what about comfort? That's super important if you want to use these tights on hike after hike.
So let's look at these areas next:
Notes on the waistband

This waist band is really forgiving for any woman who needs to bend, twist, lift legs high to step over trail blowdowns, and breathe deeply on a hike.
That's all of us hikers, right?

See that little band of black at the bottom of this photo?
That's your comfort secret!
It's an interior drawcord, so you can snug up the waist or allow it to expand, as needed for layering (or second lunch on the trail).
Appreciate these details on the hem
I turned up one of the legs so you can see the reflective strip (on the lower right).
Also appreciate the solid seam stitching.
That's important especially on the hems, where a hiker gets a lot of abrasion, wear and tear, and moisture accumulation.

Title Nine Power Stretch Tights Review:
Trail Performance

Hikers need to keep their leg muscles warm so they can go the distance.
And then turn around and go the distance back to the trailhead!
So a pair of these Polartec tights need to keep you warm without overheating you.
Did these achieve that objective?
Yes! I covered a lot of ground and never felt chilled, even though looking at me it doesn't seem as if I'm wearing an adequate base layer.
Trail Tip:

It's good to start off a little chilly on a hike, otherwise you have to stop within 10 minutes and peel off layers.
So if you fear that your legs need two layers to start out, fear not. These tights will trap your body heat and not let go, beginning with your first steps.
Rainy days on the trail

Are these Power Stretch tights waterproof?
Nope, and that's okay, because the slippery smooth outer fabric will allow you to pull on your rain pants quickly when needed.
Versatility of these tights

Day hikers: Pull these on and get out there!

Cold weather backpackers: Wear these tights all day and as you perform routine camp chores.
Or stash them inside your sleeping bag as your clean bottom layer for sleeping. Cozy!

Snowshoers: These will make an excellent base layer as you break trail! Dry snow will slide right off.

Dog walkers: In my mind, you're a hiker because you're outdoors and covering some ground. These tights are for you!

Campers: Need a cozy layer as you prepare dinner at the campstove? Want to block breezes as you sit in your camp chair with a book?
Gotcha covered!
You'll reach for these tights at home, too.
They look good enough to wear on walks or errands.

Enjoy their cozy comfort on the couch during a Netflix binge, paired with your favorite fuzzy socks.
Rugged enough for off trail treks?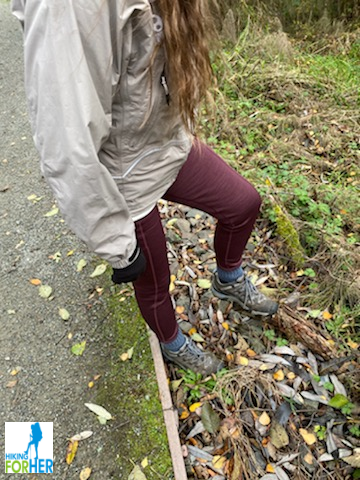 Should I go off trail in these tights?
Sometimes I enjoy stepping off the trail to explore.
Other times, I need to step off the trail to (ahem) take care of business.
Either way, these tights are not going to complain.
They're built to stand up to abrasion, a lot of dirt, and dry, cold breezes.
Bonus: The dark color choices (there are 5) will hide the dirt you happen to carry along with you after your lunch break.
One note of caution:
Here's a nice little touch
Say you want to take these tights for a spin around the block, or through a local park as you walk your dog.
And you want to stash your keys or lip balm.
Or on a day hike, you want to keep a small snack handy - some nuts or dried fruit.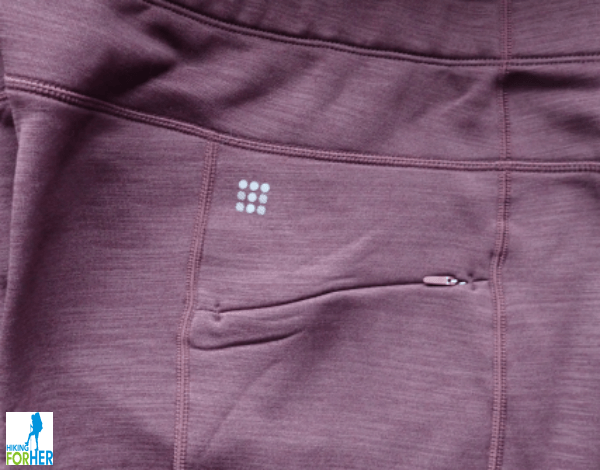 This zippered pocket, conveniently located on the right upper thigh, will keep what you need within easy reach.

Title Nine
Power Stretch Tights Review:

The Price
When it comes to warmth, choose wisely for your outer layers.
These tights will keep you warm enough through cool hiking weather (spring, fall, maybe year round depending on where you hike) as your outer layer.
Save some money with just this one base layer, so you can avoid wearing a pair of thin tights or leggings under trail pants.
At the time this review is being written, these tights cost $99 US.
Not bad for a high quality base layer from a trusted company like Title Nine!
My advice:

To keep the warmth and wicking of this layer going strong when precipitation starts to fall, pull on your rain pants (read a review of the pair I wear here).

Trail Tip:
Backpackers & day hikers use rain pants as an outer wind blocking layer in dry weather.
You can skip that step (and save money by extending the life of your expensive rain pants) when you've got these tights on, thanks to the tightly woven exterior on top of the warm inner fleece.

Title Nine
Power Stretch Tights Review:
The Conclusion For Female Hikers

Would I recommend these hiking tights to my best trail buddy?
I just did!
You're my virtual trail buddy any time you visit my website :)
Or add then to your gift wish list.
They're a great outer layer for any outdoors woman, and you can quote me on that.

Home page > Best Hiking Gear And Clothing Reviews >
Title Nine Power Stretch Tights Review For Female Hikers
Hiking For Her: Hiking tips you can trust!