Enjoy Happy Trails, the free monthly newsletter from Hiking For Her.

Receive a free resource: Hiking Layering System Explained

Hiking With Wide Feet:
Wide Width Hiking Boots
That Will Make Your Feet Smile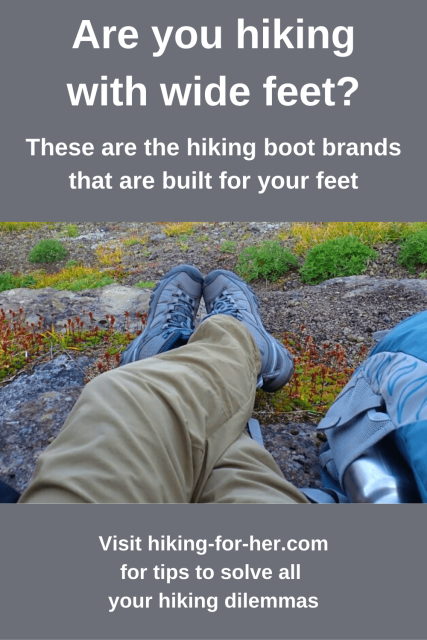 If you're hiking with wide feet, you know what I mean when I talk about smiling feet!
Smile, purr, send little heart emojis into the air, it's all good when it comes to finally finding a pair of hiking boots that fit your wide feet.
So let's get to it!
Just so you know, I recommend the brands and stores that deliver the goods. Some of my links go to trusted affiliates, meaning Hiking For Her earns a small percentage of your purchase price.
It costs you nothing extra to support this website while hiking with wide feet ;)

Best brands for hiking with wide feet
As a hiker, I have my personal favorites that I know work for my quirky ultra wide feet.
I also follow all the hiker chatter on line, so I learn about hiking boot brands reported to work well for hiker's wide feet.
Although I try hard to give you reliable information, please be flexible with these recommendations.
Your wide feet are unique, and you will have to experiment with the brands I'm about to recommend.

Ready?

Here are my two lists of wide width hiking boot brands you should look at.


My personal list
of hiking footwear that accommodate wide feet

These brands have been on my wide feet for decades:

My researched list of wide width hiking boots
that are reported to work well

These brands perform well for other hikers with wide feet, based on top selling statistics and trail reports:

General tips for shopping for wide boots

Before you dig into particular brands, it's important to realize that every outdoor brand becomes known for certain important features.
The brands of hiking footwear I'm sharing here have wide width options along with their other options, or are built with a wider toe box to begin with.
But beyond brand names, it is important to know exactly how to shop for wide width trailwear.
Drop down to my tips before you buy a pair.
And if this is your first pair of hiking boots, read my detailed tips for selecting the right pair here.
Now let's take a tour of those brands!


Why Keen boots make hiking with wide feet
a comfortable experience
Here's the whole story in one diagram: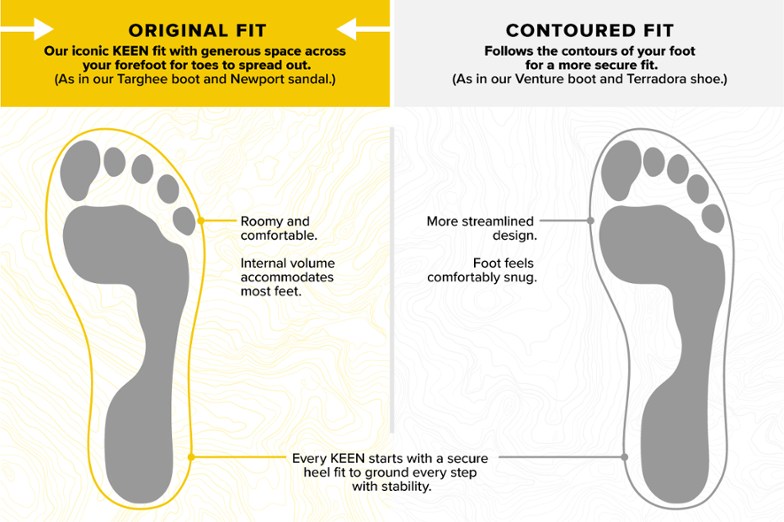 This diagram is courtesty of REI.
And here's the boot you will find on my feet for day hikes on established trails, wearing a day pack.

KEEN Targhee III Waterproof Mid Hiking Boots
You can read my detailed Targhee review here.


Salomon hiking boots if you are
hiking with wide feet
These are the boots I use when I need good traction and ankle support, on day hikes as well as multiday trips.
Salomon X Ultra 4 Mid GORE-TEX Hiking Boots
Note that these boots have a high cut. If you don't want your ankles surrounded and protected, consider these Salomon trail shoes instead.
They are what I wear for straightforward day hikes on non-rocky, dry to moderately muddy trails.

Salomon X Ultra 4 Low Hiking Shoes

Zamberlan hiking boots for wide feet

These boots are built for rugged use. And the price reflects that.
So only look at these if you're going to be wearing them through tough conditions.
Zamberlans are on my feet when I do multiweek backcountry treks, because they stand up to water, rock, jagged trail debris, snakes, and more.
And while they are not labeled "wide width", the toe box is plenty roomy for my wide feet.
They also receive rave reviews from hikers with toe problems, including hallux rigidus and arthritis.
Zamberlan Vioz GTX Hiking Boots
An important sizing note
I always go up one full size with this brand, to accommodate foot swelling and my two pairs of hiking socks.
In fact, the first time I bought a pair of Zamberlan hiking boots, I made the mistake of ordering my regular size. They were a bit snug :/

So if you're going to use sole inserts, or are at all concerned that your regular size might be too snug, order up one size.

Merrell trailwear when
hiking with wide feet

These are the trail shoes I wear when I want to go fast and light, with minimal weight on my back.
They give good traction and are quite comfortable.
Ordering up a half size gives you a good chance that you will enjoy roominess, if you have any doubt.
Also, I only wear one pair of socks with them, and never get blisters.

Merrell Moab 3 Waterproof Hiking Shoes

Oboz hiking boots in wide widths
These boots seem to run a bit small, so be sure to order up a size, and make certain you select the wide option.
Oboz Bridger Mid Waterproof Hiking Boots

LaSportiva boots for wide feet

These boots are ankle protectors, so choose them for trails that will fling roots, rocks and debris at you.
And the tread will impress you.

As with many European brands, they can run a bit narrow. You know what to do if you're hiking with wide feet!

La Sportiva Ultra Raptor II Mid GTX Hiking Boots

Altra Lone Peak boots
These boots feature a wide foot bed, nice and roomy for your toes. They call it the "Footshape toe bed", designed to allow your toes to relax and spread out naturally.

They run up to a size 12.
Altra Lone Peak Hiker 2 Hiking Boots

Tips for shopping
for wide width trail footwear

There are many brands which have given hikers with wide feet good outcomes. And now you're familiar with some of them.

Here are a few general tips for shopping for wide width hiking boots, to make your choice a bit easier. You want to be hiking with wide feet and a wide smile on your face, right?
Hiking boot reviews are gold mines of information

As with buying any hiking gear, read the reviews and cross check user experiences before trusting your feet to any one brand.
Pay close attention to how reviewers describe their feet.
You want someone to mention a wide width.
And if you're lucky, they will also mention their arch height.

If in doubt, go up in size
If you have feet that are just a tad bit wider than "normal", you might not have to worry about sizing.
But if you have truly wide feet, and have struggled with sizing before, order up a size or at least a half size.
And pay attention when you look at the boot, either on line or in the store.
You want the "wide" version if the brand makes regular width as well.

Relax, it's REI!
Because you are purchasing from REI Co-op, you can return the boots and try another size if they aren't perfect the first time.
Be prepared!
I don't recommend that you pop into a gear store on a whim to try on wide width boots or trail shoes.
Go at the end of your day when your feet are at their maximum size.
And bring your own hiking socks, so you can get an exact feel for how wide the boots run.
What's that? You don't use dedicated hiking socks? Read this!

If the lacing right out of the box seems weird on your feet, unlace them and try some other lacing techniques, like these.
Pro tip

Once you've found your perfect wide width hiking boot, buy two pairs if budget allows.
Brands have been known to switch up their designs, leaving some of us a bit disgruntled when replacing wide boots.
Need insoles that fit wide hiking boots?
This company is all set to help you out: TreadLabs.

Check out their wide insoles that work hard to cushion and protect your hiking feet from impacts.

If you want more tips on how to use hiking boot insoles, read this.

I reviewed TreadLabs insoles here.


Embrace hiking with wide feet
Don't let the width of your feet slow you down.
(Ha! A hobbit foot just flashed through my mind. Embrace the width!)
Take good care of your wide feet with my foot care tips for hikers.

BTW, If you've found other brands of footwear that makes hiking with wide feet a good experience for you, drop me a line here. I'll add it to our list!
Home > Best Hiking Gear >
Hiking With Wide Feet: Best Hiking Boots