Enjoy Happy Trails, the free monthly newsletter from Hiking For Her.

Receive a free resource: Hiking Layering System Explained

Outdoors Skill Building:
Hikers Need-To-Know Basics

by Diane Spicer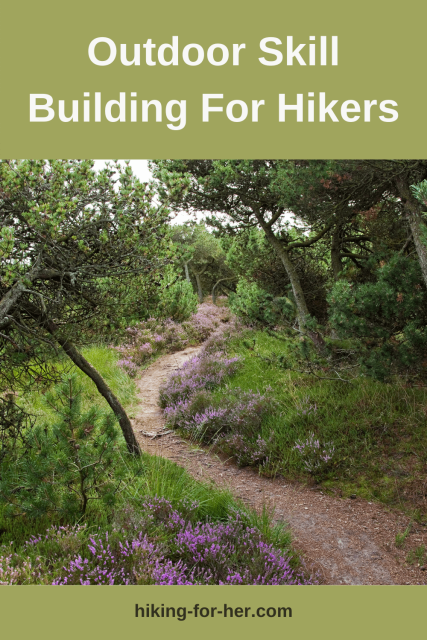 Why bother with outdoors skill building as a hiker?
Maybe you're like me: obsessed with being not only a better hiker, but a more capable outdoors person.
Outdoors skill building is a great hobby, and if I had more time to devote to it, it would be number one on my list of ways to be a better hiker.
But let's be reasonable.
We all have time constraints, right?
Work

Family

School
Hobbies
Chores


Outdoors skill building:
some examples of resources

But if you're motivated, there are ways to devote attention to skill building activities which can be fit into any schedule.
I'm speaking specifically about free on line resources.

By making a wish list of outdoors skills you want to develop, you can prioritize your time and whet your appetite for a wider knowledge base.
Then you can delve in deeper, or not, depending on your preferences.
For example, maybe you've never done any hiking outside of fair summer weather. But when you see pictures of snowshoers, you are intrigued.
Outdoors skill building is an incremental process. The sooner you get started, the sooner you can get into the backcountry!
If you'd like to learn how to get equipped and ready for floating on the snow, start with these Hiking For Her resources:
Another example
How would you keep yourself safe and out of trouble if you got delayed on your return trip to the trail head?
To explore the full range of options for learning new outdoors skills on this website, use this site map.

Outdoor safety skills for hikers

Why not spend some time thinking through what to do before you need to make a decision about your safety during wild weather or unexpected trail developments?
These links take to all of my resources and tips for safe hiking:
Even more resources to build outdoor skills
as a hiker

Beyond offering my own resources, I'd love to be able to help you develop your trail skills, and in fact it would make a fine excuse to meet each other and spend some time on the trail, wouldn't it?
But let's do the virtual version.
Here's a suggested list of resources for you to dip into as you begin exploring ways to expand your outdoor skills knowledge base.
I'll add to this list as I find more great sources of knowledge for you.
In no particular order: ways to explore building some outdoors skills to make you a stronger, smarter hiker:
Survival videos U.S. Army Field Manual
Hiking For Her's Outdoor Skills For Hikers

Lots more coming soon :)
Now it's up to you for
outdoors skill building

That should be plenty of options to get you thinking about how to build a stronger set of skills as a hiker.
I'll be adding more outdoors skills resources as I navigate cyberspace in search of good sources of knowledge for you. It's the whole reason for this website!
I call it the "seek and share" imperative.
By the way, I welcome your suggestions.
Send them here.

It's just one way of being a good (virtual) trail buddy!
Home page > Hiking Resources >
Outdoors Skill Building

Hiking For Her: Hiking tips you can trust!