Enjoy Happy Trails, the free monthly newsletter from Hiking For Her.

Receive a free resource: Hiking Layering System Explained
Rainier Hiking Narada Falls:
Video And Tips For
Your Best Rainier Day Hike

by Diane Spicer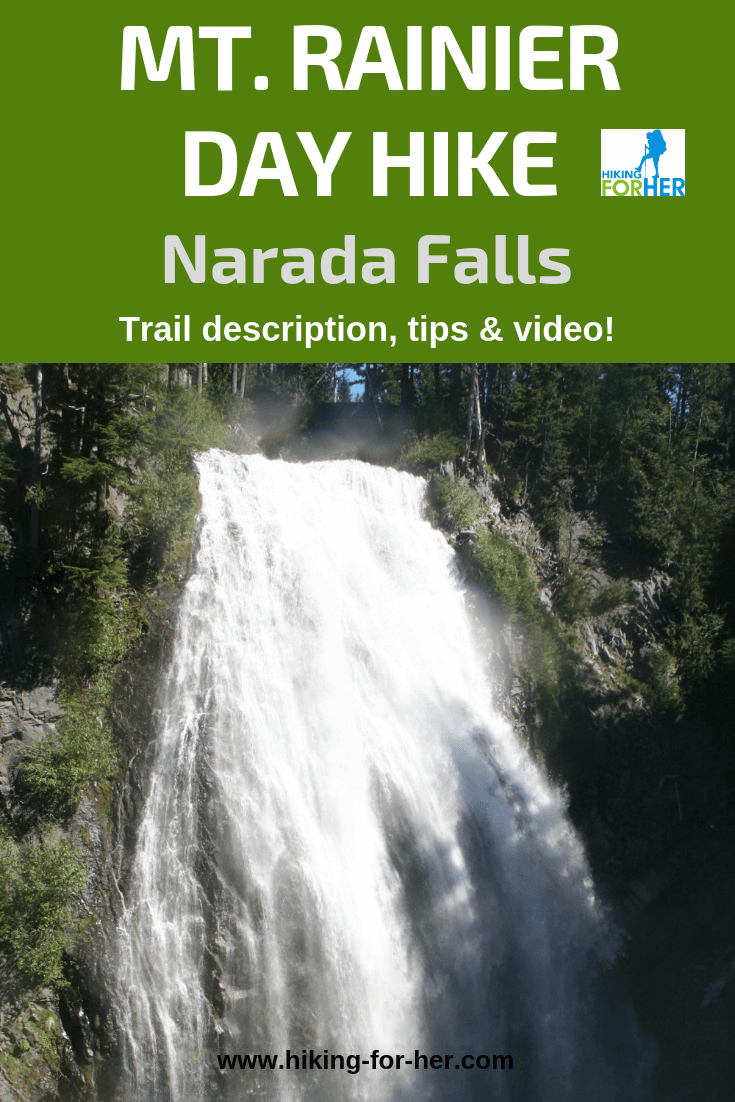 Rainier hiking Narada Falls is something of an open secret.
Everyone else drives up to Paradise for the easy trails, wildflower meadows, and achingly beautiful view of The Mountain.
You, however, are about to discover some great hiking on a little traveled trail, perfect for the days when Mount Rainier is hidden in clouds or drizzle or you just want to slow down and savor life.

Shhhhh! It's our little secret, okay?
Mt. Rainier hiking
Narada Falls trailhead
Mt. Rainier general hiking info:
There is an entrance fee.
You don't need a day hike pass.
No pets or bikes are allowed on the trail.
There is free parking at Narada Falls and Paradise.


Mt. Rainier hiking
Narada Falls
length & elevation gain

One way distance from Paradise: 1.6 miles

Elevation loss if starting at Paradise: 900 feet
Narada Falls cascades 175 feet in a horsetail manner, creating huge sprays and a thunderous noise for your auditory and viewing pleasure.

I'm not kidding about the thunder.

Mt. Rainier hiking
Narada Falls
trail description

This is one of the most versatile and little used trails in all of Mount Rainier National Park.
So let's give you all of the options to make this hike exactly what you're craving.

Easiest viewing option

Truth be told, you can drive about 14 miles and park in the Narada Falls parking lot, using the Nisqually Entrance (Paradise).
The short but steep trail down to the base of the falls is wet and slippery, so keep a tight grip on wobbly folks.
From the upper day use area, you can wander among the trees for awhile and then use your car to access the Paradise Highway to climb up and up for fantastic views of Mount Rainier.

Craving a one way
down hill hike?
Leave your car in the Paradise parking lot and lose 900 feet of elevation over a mile and half or so.
It will take about an hour at an easy pace, but what an hour!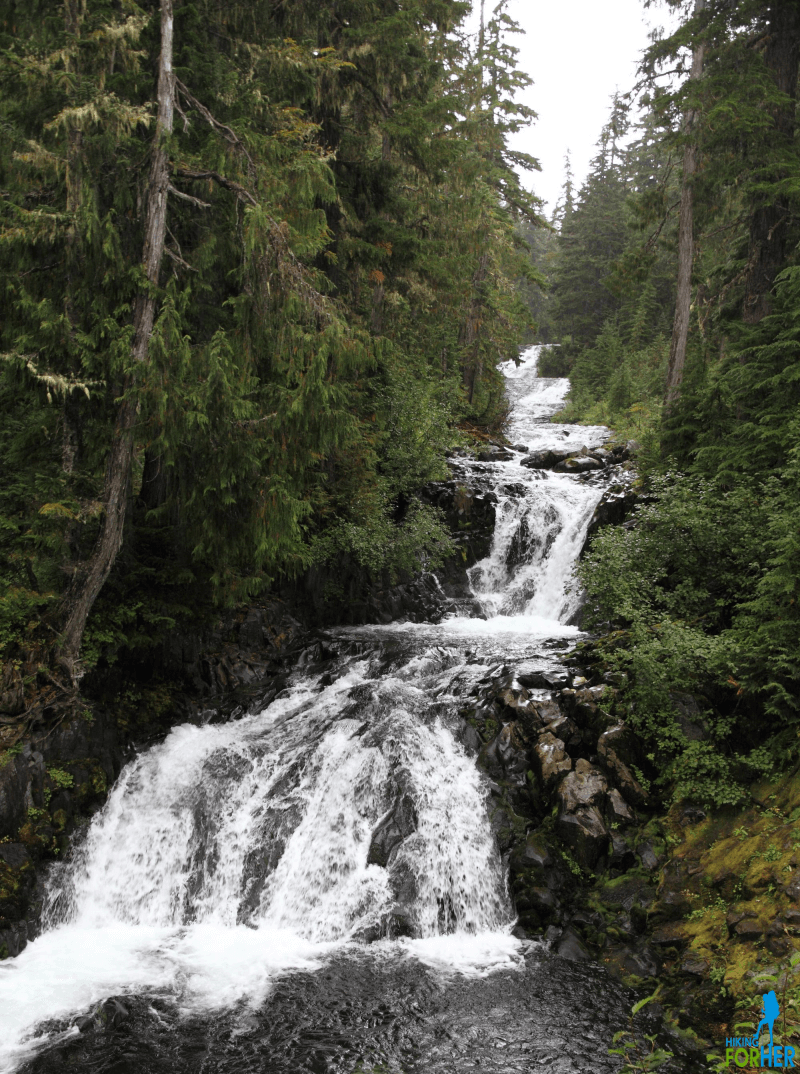 Your musical companion on your hike
The footing is solid, the ferny forest is dense and intriguing, and you'll have the constant music of rushing water all the way down to Narada Falls.
Brace yourself:
Whoever you left your car keys with can drive down and pick you up ;)

Or make it a lovely round trip
I know you will find this to be a shocking revelation, but not every day at Mount Rainier National Park is sunny.
If you happen to be at Paradise on a foggy, cloudy or drizzly day, don't despair!
This hike gives you a lot of beauty and serenity when Mount Rainier isn't "out".

The trailhead is a bit tricky to find, so ask at the visitor's center for directions.
You will need to head east, walking beside the Stevens Canyon one-way downhill road.

 Keep a sharp watch for the Lakes Trail as it plunges off on the right hand side.
Once you're off the road, you'll enjoy walking through an open meadow in Paradise Valley until the trail plunges into the forest.
The Lakes Trail veers off to your left, and if you're up for it, you can make a loop by going to Reflection Lakes before ending up at Narada Falls.

You will stay on the Narada trail and cross Stevens Canyon Road less than a mile further down hill, to regain the trail as it continues downward in the cool cover of the forest.
Be sure to enjoy the various river viewpoints before you reach the Narada Falls parking area.
Here's the secret: hiking back up to Paradise isn't much of a chore on the well maintained, well graded trail.
And you'll have the river viewpoints mostly to yourself!

Crystal clear water in Paradise River

For the ambitious hiker:
a long, lovely
double digit mileage hike
If you're staying at Longmire National Inn or Paradise Inn, you can hike from Longmire to Paradise (or vice versa) and back again in one long day.
You'll be looking at a round trip of 14 miles, with an elevation gain and loss of 2,800 feet.
Take it slow, bring lots of snacks, and enjoy each and every sight, sound and texture of this lovely trail.
Crossing the Nisqually River's raging waters on a footbridge is just one highlight (see video).

You could also make a shorter round trip from Cougar Campground (past Longmire) up to Narada Falls and back.
Lots of options!

Mt. Rainier hiking
Narada Falls
cautions

You will admire the beautifully made stone bridge across the Paradise River at the top of the falls.
But it should be your first clue that this a rocky area.
If you're going to take the short but steep trail to the base of the falls for your best viewpoint, it's going to be both rocky and wet.
Spray from the falls keeps it that way 24/7.

The best viewing time is midday, when the sun hits the water just right.
Mt. Rainier hiking
Narada Falls trail trivia

The name of the falls gives a nod to the Narada Theosophical Society in Tacoma, Wa.
It was bestowed upon this beautiful spillage of water in 1893 by Frederick Gordon Plummer, a member of the Society.

FYI: Plummer Peak, right next door to Pinnacle Peak, makes a fine day hike destination and leaves from Reflection Lakes just beyond the Paradise area.

 Find the trail description, photos and video here.
Why hike it?

If your idea of heaven is the sight and sound of cascading water, this is your hike.
Where else can you spend all day communing with clear, clean, musical water?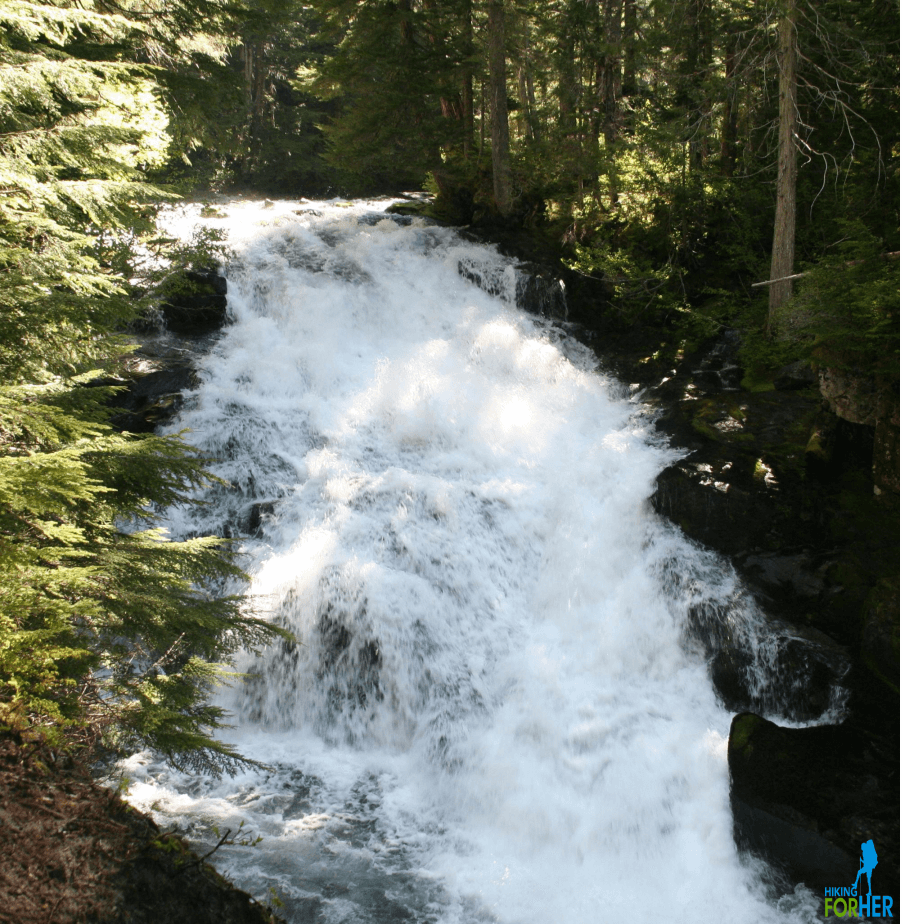 Carter Falls on the Paradise River: just one of the lovely cascades waiting for you on this hike if you push on past Narada Falls toward Longmire
On a rainy day, you can use the indoor plumbing and sitting space at the Narada Falls public restrooms for a snack, diaper change, or to rest before you continue on with your day.
On a fine sunny day, use the picnic tables located near the parking area to share your lunch with stellar jays (see video).
Mt. Rainier hiking
Narada Falls questions?

I'm here for you!
Contact me and I'll get you answers to your questions about Narada Falls. It's one of my favorites for many different reasons :)

More great Mount Rainier day hikes for you to explore: photos, trail descriptions and video!

Mount Rainier Hiking Narada Falls
Hiking For Her: Hiking tips you can trust!