Enjoy Happy Trails, the free monthly newsletter from Hiking For Her.

Receive a free resource: Hiking Layering System Explained

Women's Sleeping Bag
Gear Review:
Is This The One For You?

by Diane Spicer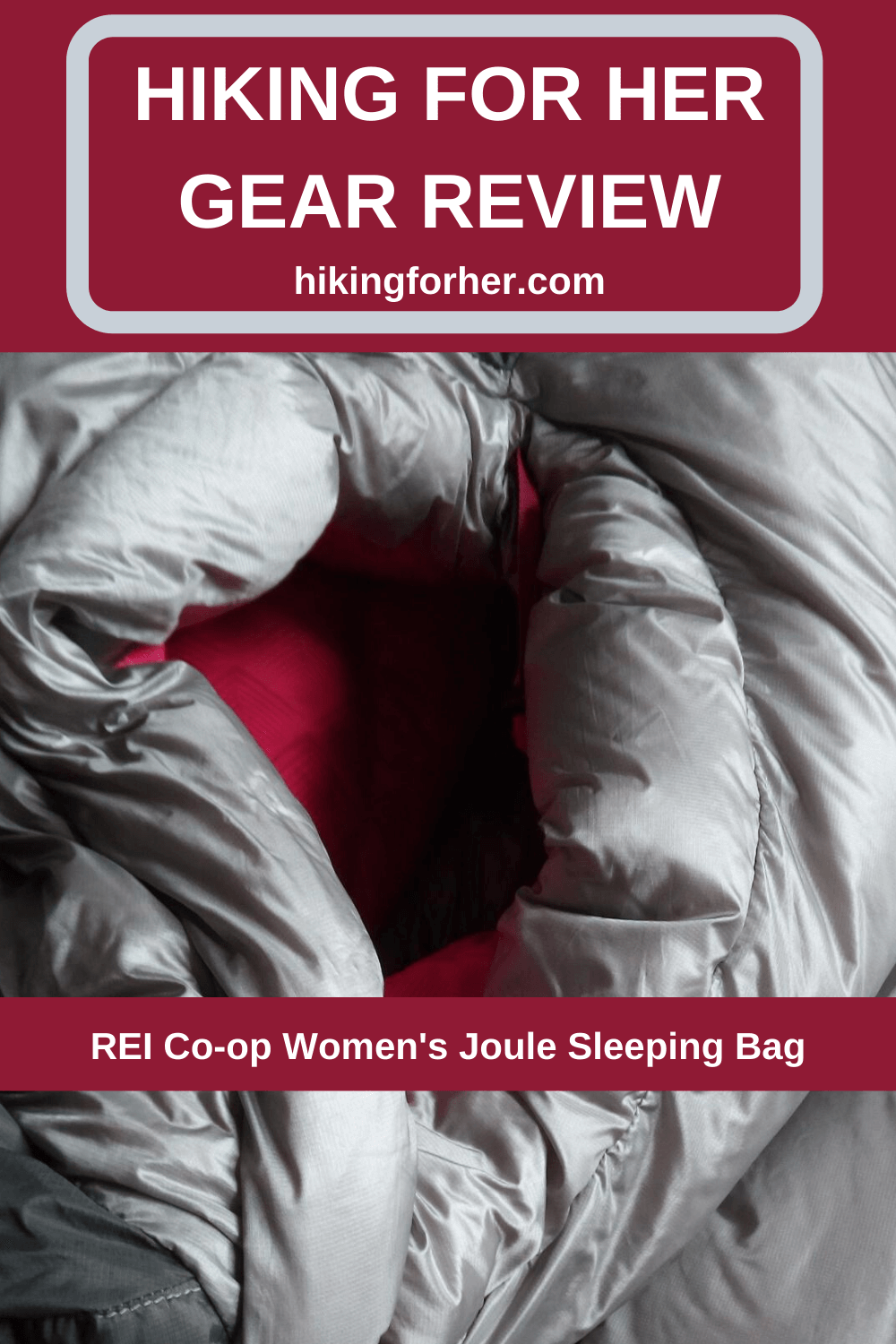 A sleeping bag gear review needs to cover the best features and the pitfalls of this important piece of hiking equipment.
And it doesn't hurt if it's written by someone who paid for the sleeping bag with her own hard earned money, and then tossed it into a backpack for weeks of outdoor adventures.
And might have tossed and turned a few times in it, too!

If you agree with this assessment of a trustworthy sleeping bag gear review,  you've come to the right place!
If you'd rather read some tips for how to pick the best backpacking sleeping bag for your hiking plans, go here.
Or be a rebel: use a backpacking quilt using these tips.

Let's get started.
Time marches on, taking backpackers and REI with it.
By that, I mean that the Joule sleeping bag is no longer available.
This bag is a worthy replacement.
Full disclosure: This is an affiliate link, meaning that it costs you nothing extra to purchase this bag by using the link, but a small amount of cash flows my way to maintain the Hiking For Her website.  Much appreciated!
Marmot Trestles Elite Eco 20 Sleeping Bag
Read this review to learn how I size up bags.
Then do your shopping with these tips in mind.


Sleeping bag gear review:
Name the name already!

After an extensive search of my options, I settled on the women's REI Joule sleeping bag (no longer available).

This bag was purchased with my own money, and no one asked me to write this review.
As always, I'm just sharing some trail knowledge with anyone who needs it in this sleeping bag gear review.
If you're a science geek, you'll note that the name "joule" is a nod to a unit of energy dissipated as heat. Subliminal advertising, perhaps? It made me chuckle!

If the clever name went right past you, do not fear. There are plenty of other ways to figure out what's important in this sleeping bag gear review.
Let's get started.

How warm is it?

I'm assuming that warmth is your first priority in a great sleeping bag for backpacking.
It's the first thing I look for when I read a sleeping bag gear review.
Why do I rate warmth "top importance"?

After a long hard day on the trail, you need to sleep soundly in order to tackle the trail again in the morning.
That's why I searched for a bag that was rated "three seasons". Curling up in a toasty warm sleeping bag from spring through fall is one of my top priorities as a hiker.
This bag is rated at 21F (European Norm) which is near -5C, but I caution you to accept any sleeping bag warmth rating number with a bit of skepticism.
Why?
Because your conditions might be a bit different than the testing conditions.
If you're sleeping in windy wet cold conditions, the bag might not perform as well as when the wind isn't blowing.

If you crawl into the bag wet and exhausted, your core temperature might not be up to the task of heating up the bag completely.
Temperature ratings differ between genders
Also, women's bags are rated differently than men's bags.
At different stages of life women run "hotter" (menopause or pregnancy) or "colder" than the women who tested the bags.
Bottom line:
Add a few degrees to the temperature rating, somewhere around 28F degrees (or 32F, freezing, just to be extra safe).
If you know that you will only be camping in warm dry conditions, don't bother with this bag - it's overkill.
Take a look at this one instead.
Sleeping bag construction matters
The bag is constructed in a unique way to ensure that it will get you through cold nights:
"Mummy" style i.e. tapered through the torso and legs, wider at the top; this traps heat against your body and doesn't waste body heat warming up "empty" space;




Coated duck down (700 fill) to create "loft" - think of it as insulating spaces that are water repellent;




Vertical and horizontal "baffles" for thermal efficiency. This creates a "wrapped up in a blanket" feel that I like.



The water-repellent 700-fill-power duck down in this sleeping bag really does the trick!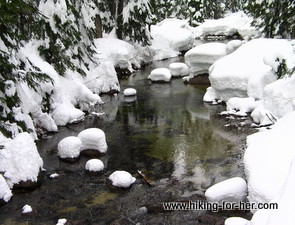 The Joule sleeping bag is not designed to stand up to winter conditions.

How heavy & bulky is it?

Every sleeping bag gear review needs to address this important backpacking issue.
After warmth, weight is my highest concern.

Lugging along a really heavy, but warm, sleeping bag is a mistake I see lots of women making. You need to find a balance between weight and warmth that works for you.

This bag has a dry weight of 2 pounds, 2 ounces for the "regular" length. Extreme lightweight backpackers will be scandalized by this heaviness!
There are other sleeping bags which are lighter, so if you need ultralight backpacking gear, don't look at this bag.
Also, if you're a really petite woman, the regular length might be too much for you.
This bag doesn't pack down extremely small - around 6 liters.
However, using this compression sack and good planning, it rides nicely in my pack without hogging too much space.
I can live with the weight -vs- warmth trade off, for sure. That's why I went into detail in this sleeping bag gear review, so you can decide for yourself.

How comfortable is this sleeping bag?

The Joule sleeping bag is lined with ripstop nylon.
I've really come to appreciate ripstop nylon over my hiking career, and here it's especially valuable to prevent tears and nicks in the fabric.
Why? Because losing feathers will degrade the bag's ability to keep you warm.
In a tent it's almost impossible to avoid sharp edges, grit, tree roots and rocks, so a durable fabric is really important.

But then again, there's always duct tape!
The outside of the bag is nylon taffeta. It's a bit on the slippery side, makes rustling sounds when you move, and may not play well with your sleeping pad.
There are waterproof fabric panels that are "breathable", which is good way to allow moisture to exit the bag without accumulating on your body.
They placed extra down at areas where women get coldest, following the "wider hips and narrower shoulders" design that mark a woman's sleeping bag.
I had no trouble falling asleep in this bag.
The right handed zipper was in the right place for a quick exit. It hasn't jammed yet!
I bring this up because sitting with a stuck zipper in a cold tent, trying to unjam it by headlamp, is NOT FUN.

The hood is a nice feature, because although I sleep in a fleece hat (unless it's really, really warm outside), I like the option of added softness and warmth around my neck.
Another idea: stuff extra clothing in the hood, as a pillow. Or splurge on this backpacking pillow.

The pivotal question for a
sleeping bag gear review:
How expensive is this sleeping bag?

Here's where things take an interesting turn in this sleeping bag gear review.

Price is a moving target for a hiker:
Cheap = a fast decision and a short gear lifespan.
Paying more is a commitment to your comfort and safety, and also your investment in taking good care of the gear.
If you're only going to take a few hiking trips that require a sleeping bag, buy a cheaper bag.

But if you're looking for a bag that will stand up to many years of hard usage, this bag is it.
How reliable is this backpacking
sleeping bag?

A bag should keep you warm and provide a comfortable sleeping environment.
This bag achieved both objectives, even when the weather was stormy and the inside of the tent was soggy. NO shivering for me!

The "polymer coated" down fill seemed to hold its own against damp chill and accidental water spills (Hey! You try pouring cold water from your metal water bottle into your mouth in the middle of the moonless night.)
The water repellent outer coating was much appreciated when I found myself curled up against the rain soaked tent wall, too.
Would I buy it again?

My biggest problem with this bag is that it's lined in bright pink.
I am not a fan of pink in any hue, so the bright pink is particularly irksome.
Why do gear companies make women's stuff in pink? We're not 13 years old any more.
I got past this aversion by the realization that my eyes would (should?) be closed when I'm in the bag.
But I did cast envious glances toward the men's version of the bag, lined with a delightful spring green nylon.
UPDATE: The newest version of this sleeping bag is a color called Vin Rouge. Love it!
Picky, picky!
Now that you know how nit-picky I am, you should also know in this sleeping bag gear review that yes, I'd buy it again.
REI is a good company to do business with, not only because of their generous return policy but also because they're not going anywhere as a company.

I've had my REI membership card since 1977!

Which means a lot of years of cashing in my annual rebate (around 10% of what I've purchased) year after year for more great hiking gear. Read about more rewards here.


REI continues to provide lots of good gear advice, including 

this article

 on how to choose the best bag for your needs.



This sleeping bag keeps me warm and stands up to wet Pacific Northwest and Canadian Rockies hiking conditions.
It's fairly priced, and if the feathers stay put inside the bag, it will last me for many, many years to come.
And it doesn't slip off my sleeping pad.
So take a hard look at this womens sleeping bag!
Sleeping bag gear review:
final verdict

I recommend this sleeping bag for you if you:
plan three season hiking trips where moisture is a given 

don't count every last ounce of weight 

are an average sized woman

appreciate sleeping warm without having to wear lots of constricting layers
Loving the color is a bonus!
Remember, you sleep with your eyes closed :)
UPDATE: This bag is no longer being offered. Here are all the REI sleeping bag options for women backpackers.
Now that you know what to look for, shopping for the perfect bag just got a whole lot easier.

---
Home page > Best Hiking Gear > Hiking Gear Reviews >
Sleeping Bag Gear Review
Hiking For Her: Hiking tips you can trust!