Enjoy Happy Trails, the free monthly newsletter from Hiking For Her.

Receive a free resource: Hiking Layering System Explained
Ice Age Trail Tips

by Diane Spicer
These Ice Age Trail tips are geared toward one purpose: your successful navigation of this fascinating long trail.
Use these ideas to get ready for next summer's adventure on the Ice Age Trail.
But first things first!

Let's orient ourselves in time and space first.
The Ice Age Trail was first proposed in 1958 by Ray Zillmer, a Wisconsin hiker.
In 1983, the National Park Service completed a plan for the trail, meaning that it was slated as an "actual" trail for building and maintenance.

This long trail covers over 1,100 miles (1,170 km), with about 620 miles currently marked (usually by yellow rectangles).
Many local groups take responsible for maintaining the trail as it winds its way through the state of Wisconsin.

Why the Ice Age Trail is so cool

I have a deep fondness for the rolling terrain of Wisconsin, having grown up right next door in upper Michigan.
And spent a few years living in Green Bay, Wisconsin, which is near one end of this meandering hiking trail.

The state of Wisconsin is unmistakably marked by glacial activity, meaning that mounds of glacial debris make for some interesting hiking.
Personally, the Kettle Moraine area is a favorite.
But there's lots of terrain (including moraines) to choose from: lakes, rivers, and more.

NOTE: Moraine is a geologic term for the accumulation of dirt and rocks pushed around, and finally deposited, by a glacier (a river of ice).
There are terminal moraines, which mark how far the glacier got before it retreated.
And there are lateral moraine, marking the edges of the glacier as it scraped its way along.
Now you get the "ice age" connection, right?
The Ice Age Trail follows the path that retreating glaciers left on the landscape.
So when you hike the Ice Age Trail, you're literally following the flow of glaciers as they retreated under the relentless pressure of a warming globe.
And only 15,000 years ago!

How cool is that?!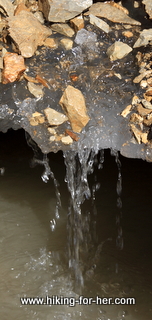 The Ice Age Trail shows you the power of glaciers: melting ice and depositing rocks on the landscape, one day at a time

Five Ice Age Trail tips

Now let's get to those Ice Age Trail tips.
Tip #1
Tip #1: Hiking in this terrain and climate can be tricky because it's wet, cool, and buggy.
That's why you need this gear:
Tip #2
Cherry pick the best of the best if you don't have time to do the entire trail.
Get a feel for which terrain along the Ice Age Trail intrigues you the most by pouring through the Ice Age Trail Alliance website.
Tip #3
Tip #3: Spring and fall are favorite times to visit this trail. Why? I can think of 2 splendid reasons.
First, the trees are either just leafing out or dropping summer's bounty, giving you increased sight distance and the ability to really appreciate all of the glacial debris: boulders, mounds, gravel, sand and lots more.
Second, the bugs in cool weather aren't as fierce as during the humid summer heat.
Full disclosure: Spring and early summer (April - June) are prime wood tick season.
Bring along an inexpensive tick removal tool like this one.
Tip #4
This long trail has some unofficial connecting routes, so you'll need a current, detailed map like this one for each segment.
To make life easy for those who want to conquer this trail one segment at a time, use this Ice Age Trail atlas of maps for planning and navigation purposes.
Eventually, you'll become a proud member of the Thousand Miler club!
Tip #5
If you're a lake lover, this hiking trail through Wisconsin is for you!
Use those maps listed above to decide which lakes you want to spend some quality time camping beside.
The call of the loon at night is balm for the soul. That's the most important of all the Ice Age Trail tips!

Bonus Ice Age Trail tips

Bonus tip: I find that doing a little reading before I hit the trail really enhances my enjoyment of exploring an area.
Knowing which birds, animals and plants to expect along the trail can also be a safety factor in a successful hike.
But wait! Let's not neglect the star attraction of this Ice Age Trail: geology!
Read up on the geology of this hike right here.
You'll be much more prepared for understanding the contours of the land.
And you'll know the difference between a moraine and an esker. Brag worthy tip right there, my friend.

Here's another book you might like to read before you hike through this very special place in the United States, by renowned writer Aldo Leopold.
Now that you understand the geology, the title "Sand County Almanac" should make sense to you.

Ice Age Trail hiking takes you near his "shack" in Sauk County: just one more "how cool is that" factor for choosing this trail for your next hiking adventure.
And before you dive into the Ice Age Trail experience, read my review of Melanie Radzicki McManus' book entitled Thousand Miler: Adventures Hiking The Ice Age Trail.

Ready to start planning?

These Ice Age Trail tips should get your mental gears humming as you plan a day hike, a section hike trip, or go for the entire ~1,200 mile route.
If you hike this wonderful trail, be sure to get a sticker with the official logo: a mastodon! How cool is that?

Be sure to utilize the best hiking tips on this site to make your selection of outdoor time along this trail as safe and enjoyable as possible.
No icy fingers and toes on the Ice Age Trail, that's my motto ;)
Ice Age Trail Tips
Hiking For Her: Hiking tips you can trust!