Have the freshest free hiking tips sent to you each month!

Best Backpacking Tents
You came to this page because you want me to name the best backpacking tents, right?
OK, here's my answer:
The best ones:
will keep you warm and dry,

are easy to set up,

don't weigh a ton (wet OR dry),

won't collapse or blow away in a sudden squall, and

provide high quality essential features along with "comfort" features.

Sounds like a tall order, right?

Let's say you want to go ultralight - hard and fast and unburdened on the trail.
I wouldn't sing the praises of a fully loaded tent with all of the bells and whistles - that would waste your time (and probably annoy you).

That's why my information needs to be broken down into categories.
Advice on what's "best" will change, depending upon your intended use of the tent.
Makes sense, right? There is no "one size fits all backpackers".

And be forewarned. If you really get into this backpacking thing, you will acquire more than one tent.
A pricey habit, but completely justifiable, in my mind!

And of course you must also consider these common sense variables: "need" -versus- "want" -versus- "can afford" -versus- "can carry for days at a time."
Whew! That's a lot of stuff to consider!
Can't we break it down to the essentials?
Sure!
Essential Factors in the
Best Backpacking Tents
Here's the bottom line when considering best backpacking tents:
Every tent must keep your body and your gear safe, regardless of weather conditions. If it fails that simple little test, put it in the pile with other garage sale items.

In order to perform well for you, your shelter needs functional construction:

So in your purchase decision, you must balance not only the tent's price, but what your money is buying in terms of quality, smart design features, weight, ease of use, and longevity.

Let's take a brief look at some of these essential features.
TENT DESIGNS
Which footprint will give you maximum room for your plans?
Not sure?
SEASONS AND USAGE
How many times each year, and where, will you be using this as your home away from home?
If you're just starting out as a hiker, you don't need a tent which is designed for the rigors of Mt. Everest.
Likewise, if you're going to be out in all kinds of weather for weeks on end, you don't want fancy bells and whistles, you want SHELTER!!
One of the first pieces of data you should zero in on is weight.
If you're going to car camp, no problem - go for a heavier model.

But if you're backpacking, that tent figures heavily (Ha! hiking pun) into your calculations.
Going solo? You really need to balance weight and performance!

So be prepared to answer those questions (how many times, and  when and where) when you go into a gear store and start looking at tents.
And be suspicious if the salesperson doesn't ask you!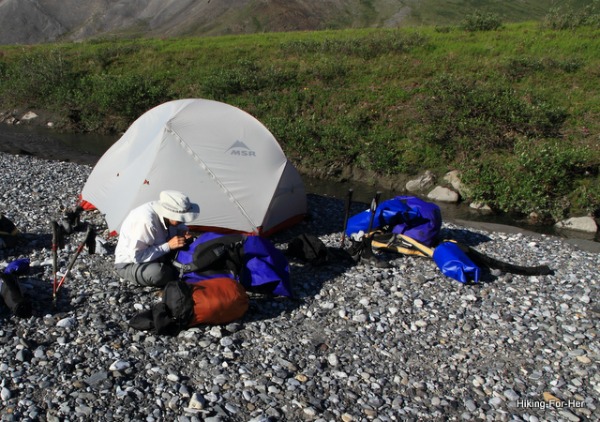 One of the best backpacking tents I've found: MSR Hubba Hubba.
You owe it to your trail comfort and safety to spend some time answering another question:
"What makes this particular shelter a candidate for my essential gear list?"
Check out all of the variables I've outlined above. You want to be ultra-certain about the best backpacking tent for you, right?
Here's the tent I'm currently using, because all the variables line up and make it a reliable, durable, lightweight shelter.

Want to do your own due diligence?
Here's where spreadsheets come into their own.
Maybe it's because of my science background, but I just love to set up a table and enter the data whenever I'm considering a major gear purchase.

Try it!
Make a list of my "essential features" down the left hand side, and list at least 3 candidate tents across the top.
Fill in the info as you research each tent, and Voila! You have a great little decision making tool.

Of course, if that seems a little geeky, you can always hold that garage sale for any "clunker" tents you purchase.
But I find that a supremely unsatisfying back up plan.
Your pre-purchase thoroughness will eliminate the need to stand on your lawn with a "For Sale" sign, when you could be backpacking instead!

Home page > Best Hiking Gear > Best Backpacking Tents
Didn't find what you were looking for? Use the blue TOP button
on the right to jet back up to the search box.
Why wait a whole month?
Plus, there's never enough room in the newsletter to share it all, so why miss out on exclusive Hiking For Her giveaways, limited time gear deals and discounts, freebies, updates, and more?

A short, info packed weekly email update will keep you current on all things hiking!
When you sign up to receive this update, you are agreeing to Hiking For Her's privacy policy.

Don't miss out!

Read more about these hiking weekly updates
Save Time

Save Time & Money


Hiking For Her's weekly emails are the best way to find out about current hiking:


flash giveaways
timely deals
steep discounts
freebies

trail news

resources




Free, fast, fun info for you, every week of the year