Enjoy Happy Trails, the free monthly newsletter from Hiking For Her.

Receive a free resource: Hiking Layering System Explained

Best Backpacking Tents:
How To Find Them!

by Diane Spicer
You came to this page because you want me to name the best backpacking tents, right?

Hop down to the bottom of the page to see my recommendations.
Or stick with me here while I outline why you want to carry the best backpacking tent possible.

In exchange for your hard earned cash, the best tents:
will keep you warm and dry,

are easy to set up,

don't weigh a ton (wet OR dry),

won't collapse or blow away in a sudden squall, 

provide high quality essential features along with "comfort" features,
and won't poke a crater in your hiking gear budget.
Sounds like a tall order,
right?
Finding the best backpacking tents can be daunting, if you think of a backpacking tent purchase as a major ordeal.
Here's how we'll roll...
I won't sing the praises of a fully loaded tent with all of the bells and whistles - that would waste your time (and probably annoy you).

Instead, my advice for zeroing in on the best backpacking tents will be broken down into categories.
Advice on what's "best" will change, depending upon your intended use of the tent.
Profound trail wisdom:

There is no "one tent fits all backpackers".
Followed by:
a sincere word of warning
Be forewarned.
A pricey habit, but completely justifiable, in my mind!

And of course you must also consider these common sense variables: "need" -versus- "want" -versus- "can afford" -versus- "can carry for days at a time."
Whew! That's a lot of stuff to consider!
Can't we break it down to the essentials?
Essential factors in the
best backpacking tents
Here's the bottom line when considering best backpacking tents:
Every tent must keep your body and your gear safe, regardless of weather conditions.

In order to perform well for you, your shelter needs well designed functional construction:
floor




walls




ceiling




seams




rain fly




poles




stakes

vestibule(s)




ground cloth (footprint)
That link covers all of them!

That's a lotta data!
So in your purchase decision, you must balance not only the tent's price, but what your money is buying in terms of quality, smart design features, weight, ease of use, and longevity.

Let's take a brief look at some of these essential features so you're armed with knowledge as you go in search of the best backpacking tents.
TENT DESIGNS
Which footprint will give you maximum room for your plans?
Not sure?
SEASONS AND USAGE
How many times each year, and where, will you be using this as your home away from home?
If you're just starting out as a hiker, you don't need a tent which is designed for the rigors of Mt. Everest.
Likewise, if you're going to be out in all kinds of weather for weeks on end, you don't want fancy bells and whistles, you want SHELTER!!
One of the first pieces of data you should focus on: weight.
If you're going to car camp, no problem - go for a heavier model with double doors, vestibule, and a rainfly.

But if you're backpacking, that same tent figures heavily (Ha! hiking pun) into your calculations - it won't be the right choice.

So be prepared to answer those questions (how many times, when and where) whenever you go into a gear store and start looking at tents.
And be suspicious if the salesperson doesn't ask you how many seasons you'll be using this tent, and for which type of hiking and camping!

Final question
You owe it to your trail comfort and safety to spend some time answering another question:
"What makes this particular shelter a candidate for my essential gear list?"
Check out all of the variables I've outlined above.
You want to be ultra-certain about the best backpacking tent for you, right?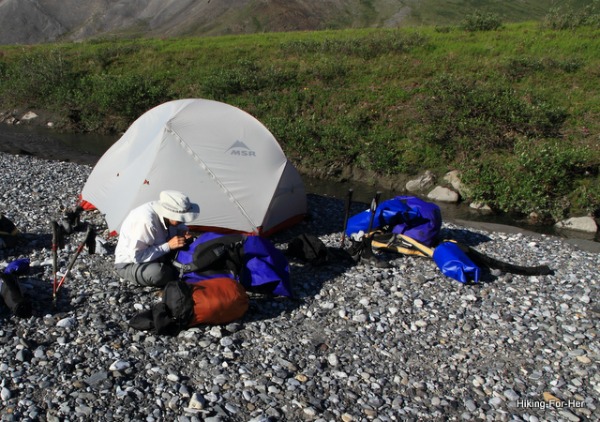 One of the best backpacking tents I've found: MSR Hubba Hubba.

Backpacking tent
recommendations
Hikers ask this question, so I'll share the answer to which tents I use for my backpacking needs.


Here's the tent I'm currently using, because all the variables line up and make it a reliable, durable, lightweight shelter.
Here's my Hubba Hubba review.
I also use it for car camping when I'm doing serial day hikes out of a campground.

Do your due
Want to do your own due diligence?
Here's where spreadsheets come into their own.
Maybe it's because of my science background, but I just love to set up a table and enter the data whenever I'm considering a major gear purchase.
Try it!
Make a list of my "essential features" down the left hand side, and list at least 3 candidate tents across the top.
I'll get you started with three worthy recommendations for a two person tent, including my fave, the Hubba x 2.
The REI website makes it easy to compare and contrast the features you really want in your backpacking tent.

This MSR Hubba Hubba NX 2 tent is worth a look for all the reasons I expound upon above (it's the one I use on all my backcountry adventures):

---
The Marmot Tungsten 2P UL tent (footprint included for some nice cost savings) is worth a look for its spacious design for a lower price point ...

---
... while this REI Co-op Half Dome 2 person tent is worth a look for three season hiking with generous floor space, easy set up, and two doors. Plus two vestibules for gear storage!

---

Now for the fun part...
Fill in the info as you research each tent, and Voila! You have a great little decision making tool.

Of course, if that seems a little geeky, you can always hold that garage sale for any "clunker" tents you purchase.
But I find that a supremely unsatisfying back up plan.
Your pre-purchase thoroughness will eliminate the need to stand on your lawn with a "For Sale" sign, when you could be backpacking instead!
And before you go off to buy a tent, more backpacking tips for you!
Because buying a backpacking tent is just the beginning of a long, happy habit of collecting the best hiking gear ;)
Home page > Best Hiking Gear >
Best Backpacking Tents
Hiking For Her: Hiking tips you can trust!