Enjoy Happy Trails, the free monthly newsletter from Hiking For Her.

Receive a free resource: Hiking Layering System Explained

Best Organic Backpacking
Food For Your Next Adventure

by Diane Spicer
Organic backpacking food fuels hikers who wish to avoid chemicals such as pesticides, herbicides, antibiotics, fertilizers, additives and hormones in their trail menus.
But the best organic backpacking food has still got to tick all of the backpacking meal boxes:
lightweight

easy to rehydrate

tasty
satisfying portions

fast cooking, preferably in one pouch or pot without a lot of extra fuss and bother
Things get even more interesting for a hungry backpacker when the diet is further restricted due to personal or medical reasons:
vegetarian

vegan

gluten free
paleo
sugar free

food insensitivity or allergies to peanuts, corn, dairy, citrus, soy or other food groups.
Which camp(s) are you in?
Why you're searching for
organic backpacking food information

The main camp you're in is no secret.
You must be interested in the healthiest backpacking food to fuel your hard working body on a long hiking trip, or you wouldn't be reading this.
The question is, where can you find reliable, high quality organic backpacking food?
There are two places to look:
First, let's look at the convenience of letting someone else do the heavy lifting for you.

Buy pre-packaged
organic backpacking food

To get up to speed on backpacking food in general, read this.
There are some tried and true companies that crank out reliable and tasty freeze dried and/or dehydrated backpacking food.
Mountain House comes to mind.
Read my recent review here
But to find a company that also includes "organic" in their repertoire, you're going to have to look a bit harder.
I rely upon a handful of companies which I can recommend to you, so please allow me to detail why I use them.
Backpackers Pantry
If organic is on your wish list, rather than a must have, non-negotiable item, take a look at Backpackers Pantry.
Be sure to take advantage of the bulk discount. Save 10% when you buy 8 or more, which you should, because you're going to be hungry!

I've eaten their food for over two decades, and been highly satisfied for the following reasons.

This company is serious about letting you know what's in each entrée, by providing a plain English list of ingredients in all their backpacking food, organic or otherwise.
You'll see they use a minimal amount of artificial additives, while delivering a good flavor/nutrition balance.
A few of their selections are also organic, with unique twists on the usual backpacking fare:
They have backpacking entrees for hikers who are gluten free, vegetarian and vegan.
They are mindful of allergens, separating their peanut processing to prevent cross-contamination.

In my experience, the flavor and satisfaction in each packet of food is high.
Drawbacks of this type of backpacking food
High sodium content and clunky foil pouches (to withstand boiling water) are two drawbacks to traditional backpacking food such as this.
You might be able to talk yourself out of these objections, mostly because sodium is depleted after a long sweaty day on the trail.
You might will find yourself craving salt!
And here's a great reason for enjoying the pouch method of cooking: you don't need to get a pot dirty to get a decent meal into your stomach at the end of the day.
So while you have to backpack out the foil pouch, you don't have to clean a cooking pot!

More backpacking kitchen tips here


Need lower sodium?
Want minimal packaging?

If you want to go organic with lower salt and minimal packaging at every meal on your backpacking trips, there are 3 companies I can recommend.
All of them eliminate the hassle of pulling together your own organic ingredients.
Do, however, expect the usual assortment of pasta, grains and beans with various flavor twists.
Outdoor Herbivore
Outdoor Herbivore has a lot of credible, detailed information for you about why going organic is a good choice for optimal body function.
As the name implies, don't expect meat in their offerings. Vegetarian backpackers, rejoice!

They also accommodate gluten free and vegan hikers.
Their food is a combination of freeze dried and dehydrated ingredients, and they are very good about explaining exactly what has happened to the food before it arrives at your backpack.
Look closely to see what their current organic backpacking food options may be.

Wild Zora
This company started out as Paleo Meals To Go, and morphed into Wild Zora.
Read my review of their pre-organic days here

Recently they've started to offer organic backpacking food.
I also find their meat + veggie bars to be very tasty and filling, perfect for long days on the trail.

Patagonia Provisions
This is the new kid on the block.
Well, not really.
Patagonia has been a respected, socially responsible outdoor gear company for decades.
Now they've turned their attention to delicious organic backpacking food any hiker can enjoy while knowing how much care was taken to select sustainable sources of healthy trail nutrition.

Their soups and chili are meat- and dairy-free, made with certified organic, non-GMO ingredients. Great base for a filling organic backpacking meal!

Their animal protein sources include some thoughtful offerings as well:

Read my detailed review of this food here.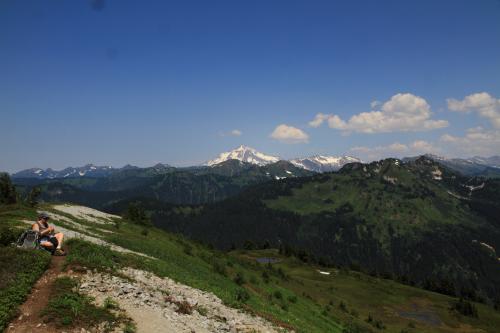 Snack break on the trail - should you go organic or not?

What about organic
trail bars?

For organic, vegan, soy-free and non-GMO trail bars I rely upon these: GoMacro Bars.
Buying these trail bars in bulk is the only way to go, because the price per bar can be cut way, way down.
If you're new to this brand, it will be a lot of fun to taste test several different flavors.

The variety of flavors will keep your taste buds quite happy while supplying your hard working body with lots of clean carbohydrate fuel. Avoid food monotony!


Kate's Real Food

That sounds promising! Who doesn't want real food on a backpacking trip?

And believe me, it's tasty.
Check out all of the tempting organic snack food choices.
Instant, organic energy on the trail
For even faster energy on the trail in a tasty organic package, I rely upon Honey Stingers.
These are seriously great hiking snacks!
The best price can be found with this variety pack of different flavors.
Super easy way to sample all of the goodness.

A note about organic food prices

If you're new to the concept of organic backpacking food, a word of warning: this high quality convenient food is not cheap.
Part of the reason is because organic food is more expensive to purchase.
And it must be handled separately during the processing and packaging processes, to avoid cross contamination with non-organic food.

In addition, the market demand for organic hiking food is not very strong, at least right now.

All of this translates into a higher price point for organic food, compared with regular pre-packaged backpacking meals such as Mountain House.

However, if you regard this food as an investment in your body, it's easier to accept the premium price.
I know from experience that I just feel better when I give my body food that is as real as possible, especially when I'm pushing myself on a backpacking trip.

However, there is another way to negotiate the steep price tag.

Keep reading.
Put together your own
organic backpacking options

If you have an abundance of time, plus a fervent desire to go organic on your next backpacking trip, you can prepare your own organic backpacking food.
This approach gives you a lot of control over the quality and variety of your backpacking menu.
Freeze drying food at home is not practical, but dehydrating it can be.
Read about the difference here.

After you remove all of the water molecules from your entrées and snacks, you'll need to package it into individual portions.
North Bay Trading Company has a wide selection of hard to find organic foods that are high in carbohydrates, the most preferred energy source on the trail.

You may find your creative culinary juices (and your saliva) flowing as you consider how to combine organic sweet potato powder, dried portabello mushrooms and organic rice into a delicious backpacking dinner.
If you are fortunate enough to live within striking distance of stores which offer bulk bins of organic pastas, grains, beans, rice and dehydrated soups, you're in organic heaven!
Either way,
good luck on the trail!

Hikers who pay close attention to their food choices usually embrace all of the hiking best practices discussed on this website.
Thoughtfulness and advanced planning are two attributes any hiker should cultivate, right?
Best of luck working out your unique hiking nutritional needs.
If you'd like to get into the nitty gritty of calculating how much fuel (i.e. food) you need for an upcoming backpacking trip, take a look at these Fast Facts instant download booklets.
Home page > Hiking Nutrition >
Organic Backpacking Food
Some of the links on this page and elsewhere on Hiking For Her bring you to merchants which do not charge you extra when you purchase, yet provide a small amount of your purchase price to this website.
It's a simple way to keep all of this free information flowing freely! Thank you for your support.

Hiking For Her: Hiking tips you can trust!