Enjoy Happy Trails, the free monthly newsletter from Hiking For Her.

Receive a free resource: Hiking Layering System Explained

Best Active Clothing
For Women:
How To Dress For Hiking

by Diane Spicer
How to buy the best active clothing for hiking is a skill, almost an art, because as a female hiker you want to purchase the best athletic clothing that can be:
used for more than one outdoor (as in "sweaty") activity;

repurposed as women's workout clothes the other six days of the week;


washed dozens and dozens of times without losing shape or function;

layered or un-layered as needed;

pulled out of your pack without looking like the dog's breakfast.
Is this asking too much for adventure apparel?
Never!
Brand new to hiking?

Then start with this hiking clothing guide, which covers how to build a clothing layering system - and exactly which pieces of hiking clothing you need to stay calm, cool and collected on a hiking trail.
Best active clothing
for women hikers

Trying to figure out what to wear hiking is an art as well as a science.

To buy the best hiking clothes for your trail plans, you'll have to do a balancing act between these features:
versatility
durability
performance
price points
Let's tackle these one at a time.
'Cuz tackling is active, right?
Or actively skip to the details on hiking clothing:

Versatility
Hikers and backpackers know that buying a piece of hiking clothing for just one narrow purpose is a bad move.
You want to have a small tried-and-true collection of athletic clothing that takes you on the trail, and off again.
Therefore, run from the glossy ads that zero in on a narrow temperature range, or are meant only for flat, dry trails.
Instead, look for performance pieces of active clothing that can take whatever you're going to dish out.
And come out looking great, time after time.
Better yet, perform well for YOU under all kinds of conditions, as high performance hiking attire.

Best tips for shopping for active clothing
Here are some of my best active clothing tips to make your shopping adventures more fruitful:

Buy zip-off pants that double as shorts. Don't like the way they look? Try these, I love them!
If you need petite hiking pants, read this.
Don't be frustrated by hiking clothing companies that ignore you if you don't fit into their narrow size ranges. Instead, read this!
Wear a hiking skirt that takes you from trail to your favorite pub for dinner. Be sure to read the comments from other women who agree that a trail skirt is a smart move.

Choose a hiking shirt that can be worn as long sleeves, or short sleeves, depending on insects, weather, sun exposure, and the amount of bushwacking you need to do.
Wear 2 pairs of socks, and remove one of the layers (either the thin liners, or the heavier outer "hiking" socks) as you change activities: walking, running, canoeing, or biking.
Layer on a hiking vest as soon as you feel chilled. Peel it off and stow it in your pack when you feel warm enough.
Too warm? Hike in shorts!

Dressed for the weather and having a great time at a rocky lunch spot

Durability
Don't throw away your money on less than stellar brands.
Stick to the quality manufacturers to get the best value.
How to assess quality?
Four tips for you:
1. Look for companies that have been in business for a long time.
They

want need long term loyalty, and will earn your trust by supplying high quality products. (see recommendations below)
2. Ask other hikers you meet on the trail what their favorite pieces of active clothing are.
Be sure to ask the brand name and sizing. Some companies run small, some large, others are "true to size".
3. Go to a used clothing store and look for hiking shirts, shorts, pants, hats and jackets.
4. Browse through an outdoor gear store and feel every brand's fabrics.
Look at the seams, the zippers, the button holes. Which brands seem sturdy to you? Which ones use flimsy zippers or have loose threads?
Now on to the next indicator of quality in women's active clothing: performance on the trail.
Performance
Buy only what you need,
not what the magazine ads tell you to buy.
A beginning hiker needs basic active clothing that will stand up to a few hikes under mild conditions.
Notch up the types of hiking, and the performance of the athletic clothing must also ratchet upwards, or you risk your safety and comfort.
Things to keep in mind when you go shopping for hiking clothing:
Cotton kills. If you've never heard that hiking mantra, consider yourself warned right now. Read about hypothermia so you'll stay away from cotton hiking clothing, regardless of how cheap it is.

Dress in layers for the trail, meaning your base layer must be accommodated by the layers above it, yet perform well on its own when you get overheated or the weather improves.

Pay for the features you need, especially

waterproof

outdoors clothing. You might flinch at the price points, but technical gear will keep you safe.

Be sure your active clothing is machine washable, and preferably drip dry. You don't want to be a slave to your hiking clothes, right?

Concerned about UPF sun protective clothing being worth the extra money? Read this before you decide to skip sun protective hiking clothes.

Which brings up a critical part of shopping for active clothing: the price you pay.
Price points

You get what you pay for.
(sigh) A basic fact of life on Earth.

But don't pay more than you have to!
There are 3 ways to go about building up a high performing, durable and versatile hiking wardrobe.
Choose the one that resonates most strongly with you:
Buy discount outdoor clothing only.
Shop end-of-season and close out sales only.
Purchase replacement items or must-haves as you need them, but only from companies you trust. (see below for my short list of trustworthy sources)
Tip for used clothing deals

I would not recommend buying used active clothing except for high end jackets or rain gear which have minimal amounts of wear and tear.
Or unless you're dealing with a reputable company with good policies, such as REI's used outdoor clothing outlet.

How to buy active clothing
for hiking and beyond

Now that you know the four big components of how to shop for hiking clothing, it's time to add your personal twist.

Every hiker has her own take on what should come along on a hike.
And by hike, I mean the entire litany of possibilities:
day hikes

training hikes for upcoming trips

over night or weekend hiking adventures

shake down hikes to test gear and clothing 

backpacking trips lasting weeks to months 

backcountry explorations

international hiking trips
Each of these requires specific clothing to ward off insects, trail debris, temperature extremes, moisture, UV rays and more.
And if you're lucky smart, that clothing can be used in your every day life, too:
gym work outs, walking the dog, other sports, attending concerts or sports events, or just chilling.
To keep things simple, I offer only 5 tips for you to find the best outdoor clothing for your needs.

5 best tips for buying active clothing
for women hikers
Stick to reputable brands for hiking attire
Yes, I'm picky.
And I stick with what works.
What's wrong with that?
The best brands can be discounted sometimes, like REI Co-op's outlet.

Or at Moosejaw.
Backcountry is another great place to score deals on top notch brands, along with their discount site Steep & Cheap.


Get to know the companies that cater to your particular size and fit needs
Buy one piece of hiking clothing cautiously but optimistically.
Put it through its paces, and either pass it along to another hiker or "adopt" it into your athletic clothing closet.
Keep an eye on that brand, because sometimes it gets sold and the quality declines.

Other times, quality can improve because they switch supplies or try new designs.
Be an early adopter
If you're a "fashion forward" sort of hiker who likes cute hiking outfits, and you love to keep an eye on innovations in active clothing like new fabrics, use that habit to your advantage.
Jump on the latest color, fit, fabric or modification for the brands you trust.




Enjoy being the first one to have a new puffy jacket with baffles that are larger or smaller than last year's.

Embrace the retro styles that bring the 1970s and '80s back again.
This approach might cost you a bit of extra money, but no waiting around for gear reviews to pop up!
Don't be an early adopter
Again, go with your natural inclinations.
Let the kinks get worked out of the latest greatest jacket or pants, and then buy a pair the next year.
Or buy steeply discounted gear (see above) when the season is over.
Tuck it away and know it's there when you need it.
Stick to one brand
This approach works well if you want to build a bomb proof layering system that fully integrates and performs well, season after season, with minimal work on your part.
Some brands run a bit small, others are very generous. You'll learn which are best for your body as you build your hiking clothing checklist.

Mixing brands can create chaos if you have to return them for one size up or down.
Why guess whether or not a new jacket will play well with your vests and shirts?
Or 'hope" that your new rain pants will glide on easily over your other clothing?

One final thought about brand loyalty as a hiker: Look for quality details like good stitching, reinforced pockets, and flat seams as you begin to shop. Stick to quality!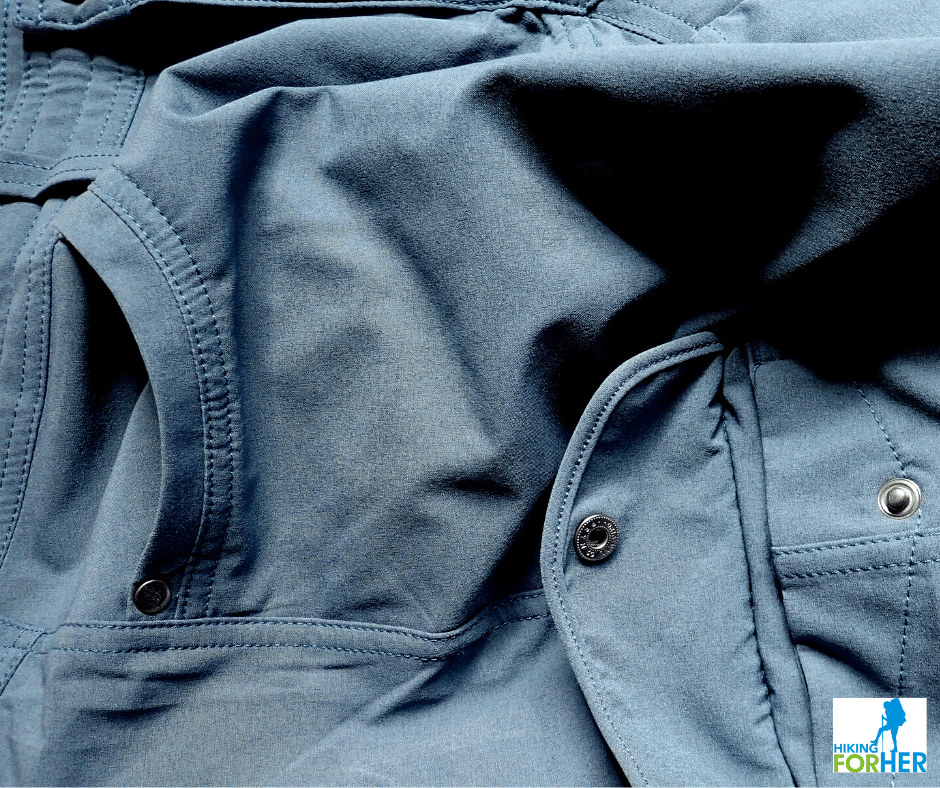 Quality hiking clothing means it will be with you for many seasons of hikes

My recommendations for
active clothing companies

Hiking has been part of my life for almost fifty years.
The rules on what to wear hiking have changed, and changed again, over all of these decades.

So that's why you may want to take a close look at the companies I'm about to name, because I've gotten great versatility, durability, and performance at fair price points from them year after year.
(I hate to say decade after decade, but that's the truth.)
These are not your super cheap brands.
But they are high performing, widely available, and they truly make an effort to understand the outdoor clothing needs of women hikers.

In no particular order, here are my recommendations for the Top Ten companies that sell active clothing for women hikers:
Ex Officio

Royal Robbins

SmartWool

Kuhl

North Face

Patagonia




Arc'teryx

REI

Sierra Designs




Columbia
Active clothing for women hikers should be able to handle other activites like rafting the Canning River, ANWR, Alaska, USA

Some of my favorite
active clothing sources

And the gear stores that I return to again and again?
Those that have earned my trust.

These are my exclusive sources of active clothing, along with hiking gear in general.
I use them because they have generous return policies and have been in business a long time.
REI

, a gear co-op founded in Seattle WA; I've been a card carrying member since 1978, and they never disappoint. The member rewards are mind blowing for hikers.
Backcountry: Marked down but top quality clothing can be yours, but it doesn't last long. So if you spot your size and color preference, scoop it up.
Patagonia: This company goes out of its way to do things right and to deliver high quality each and every time. They also offer used refurbished clothing.


Build your hiking clothing wardrobe
one season at a time

Best hiking tip I can give you:
Buy the performance pieces you really need, and then build a wardrobe around them.
Adventure apparel changes as your hiking skills increase, but you've got to start somewhere.

I consider a top performing jacket, durable pants, moisture wicking shirt and base layers (both top and bottom) to be a great start.
Be willing to pay for these, because they protect you from the elements (jackets and pants) or hug your skin.

Durability is a given with the top brands listed above.
Be kind to your girls!

Don't overlook the absolute necessity of a well fitted sports bra for hiking.
Lightweight moisture wicking bras are great for warm weather.

The level of support and coverage you want will change as your hiking activity level changes, so you'll need more than one sports bra in your hiking wardrobe.

Don't neglect to toss them when the fit goes haywire. You deserve great support!

And your feet!

How to choose hiking boots is no trivial matter.
Use these tips for a comfortable pair of hiking boots or trail shoes, and their loyal companions, hiking socks, and you'll be bombproof on the trail.
Finish up with these versatile pieces
of active clothing

Then buy a few foundational items to have handy once you're off the trail, like a clean shirt to pair with a skirt or leggings.

Stash these in a small duffel bag in your car, so they're handy whenever you're ready to step off the trail.

Switch out the stuff that gets ratty or baggy, or use it for doing yard work or paint jobs at home.
Have fun shopping for the new styles and colors - it will give your hiking routine a lift!
Don't give up!

Keep trying different companies until you find the best hiking clothes.
And then keep those companies in business by sending your money their way in return for great hiking clothing.
Give them feedback about what works, and what you don't like.

Take advantage of their seasonal deals and close out items.

Don't abuse their return policies.
Tip:
Add active clothing to your "hiking wish list" and encourage your family to give them as gifts for your birthday.
Any questions about
active clothing for women hikers?

These tips and tricks should get you started on the worthy goal of building a practical, versatile and high performance active clothing wardrobe for your trail pursuits.
Still have questions?

Contact me and send them my way.
I'm happy to answer them, because I know it will get you out on a trail faster, and with this on your face :)
Home page > Best Hiking Gear >
Best Active Clothing For Women Hikers
Some of the links on this page and on this site are affiliate links, meaning that if you purchase through the link Hiking For Her receives a tiny commission for bringing you to their great products.
You pay nothing extra, the company earns your trust and business, and this website keeps humming along cranking out the best hiking tips.
Three way win! WooHoo!

Thanks for your support, it is greatly appreciated.
Hiking For Her: Hiking tips you can trust!