Enjoy Happy Trails, the free monthly newsletter from Hiking For Her.

Receive a free resource: Hiking Layering System Explained
Best Backpacking Tips
For Women

by Diane Spicer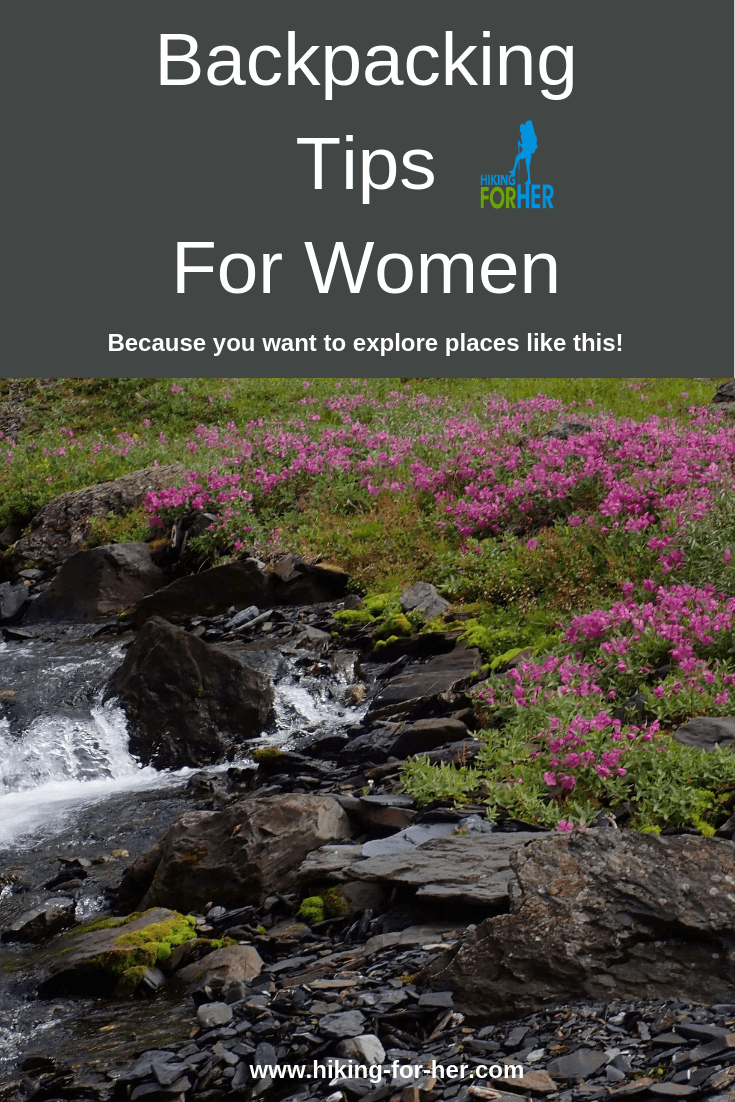 The best backpacking tips for women, coming right up!
But there's so much to say about backpacking...

Where to start??
Let's start at the beginning, with the word itself.

One little word says it all:
Your back will pack everything you need to survive:
Food.
Shelter.
Clothing.
Comfort.
Safety.

So what does the word

"backpacking"


mean to you?


I've shared the bare bones definition of backpacking.

But what exactly does the word mean to you?


Here it becomes highly personal, and it should!

We all go looking for the best backpacking tips for different reasons.

For some hikers, the word "backpacking" conjures up visions of a mule train: dust, sweat, grunting, perhaps a mule driver (a.k.a. trip leader).   Wouldn't it be great to avoid that mindset?
For other hikers, self reliance and freedom spring to mind. Foresight, planning, multiple trips to your favorite gear store (virtual or just down the street), pouring over

hiking trail maps

and figuring out where to camp, a chance to test your skills....all of this is just foreplay prior to the big event.



Or somewhere in the middle?
Other backpackers fall somewhere in between, recognizing that an investment in time (meticulous planning), money (adequate gear & technology) and effort (wearing a pack on the trail many hours each day) will pay off in glorious flower meadows, freshly caught lake trout, photos to hang next to your desk, and wildlife encounters (hummingbirds buzzing your red T-shirt, or maybe a glimpse of a bear).
Bottom line
on backpacking tips
What I'm trying to get at is the fact that there are as many approaches to backpacking as there are backpackers, and all of them have something to teach you about self reliance in the wilderness.
And there are tons of great backpacking tips for women out there in cyberspace.
Just be careful to decide whether your interests and skill level, as well as your budget, match up with the advice giver.

My take on backpacking
for women

What I'm offering you here is my take on things, as a woman who started backpacking in the 1970s.
If you want to cut to the chase, backpacking essentials for beginners are outlined here.
For a quick overview of the components of planning a backpacking trip, go here.
In my mind, your first order of business is to decide which approach to backpacking you're going to adopt.

There's the "

fast and light

" approach of the determined mile-loggers, who give backpacking tips on what to dump out of your pack. Lighter, faster, farther!



There's the equally legitimate "slow and heavy" approach of those who like to bring the comforts of home on the trail, including gourmet food and special touches such as the portable espresso maker. After all, it's their stuff to lug around! So their backpacking tips include how to feel like you're still back home!
And there's the middle ground: go as light as possible but don't sweat the details.


Backpacking tips to heed:
gear can make or break you
The approach you embrace will dictate the gear you carry.

If you're completely new to the idea of backpacking, read a lot of backpacking gear reviews until you're confident that you can make good gear choices.
If you've already gotten some backpacking experience, read the reviews to see what could make your outdoor time safer or more enjoyable.
One more tip: Don't poo poo the reviews that are written by hikers who backpack differently than you do. Their insights give you a well rounded idea of how the gear will hold up in all conditions.
And you just never know when you might be in that exact terrain, temperature, or predicament!

Backpacking photography
Some backpackers go out there for the photo opportunities, or the chance to see wildlife which are vanishing at a frightening pace in our developed world.
They're all about the type of lens, the tripod, the field guide - things which add weight but also add value to the trip.
Backpacking tips from an outdoor photographer will be valuable if you resonate with that type of trip.
Backpacking experts are
highly individual

If you gather 10 veteran backpackers around a camp fire, you'd hear 10 different versions of the best trail food, the safest way to treat water, the "must have" item that belongs in every pack.... 10 different sets of best backpacking tips!
And isn't that the fun of it?
So many glimpses into how to get away from the chains of daily life and get out there where you can breathe some fresh air and move at your own pace!
Now imagine me sitting in that circle of veterans.
I have only my little individual window on the reality of backpacking.
My experience is limited to the Upper Midwest, Pacific Northwest and western Canadian terrains, with a bit of California and New Mexico plus East Greenland thrown in for good measure.
So my backpacking tips won't ring true for everyone.
But I can at least offer you my short list of considerations before you set off on a multiple day backpacking trip.
Let's give it a whirl.
Why are you
backpacking?

The first thing I'll caution you about is this:
Be sure you're clear about why you're going on a backpacking trip!
Because your significant other wants you to?
Because you just bought a bunch of gear and wanna get out there?
Because everyone in your social group is doing it?
Or because you have a burning desire to feast your eyes on places that are new to you? (Ah! You're on my wavelength, and my backpacking tips will make sense to you.)


Once you're clear about your motives, you can work your way through all of the following backpacking tips, looking for what will deliver you the type of trip you're envisioning.

Physical conditioning
for backpacking

There's an easy way to do things, and a hard way.
The easy way to a fantastic backpacking trip is to treat your body with respect, and build up to the task at hand.
The hard way?
Max out your knees and back on one trip, and never go again.
Think you can "tough it out"?
At what cost??
And think beyond this trip to the possibility of chronic inflammation and back pain.

Pre-hike conditioning is a non-negotiable fact! Please seriously consider these backpacking tips so you can keep getting out there.
Sure, war stories ("I had 5 blisters on just one toe") might be fun to trade with your trail buddies, but wouldn't you rather brag about the number of animals you saw?

Best backpacking gear

Backpacking gear is a highly personal decision, for each and every single piece of gear.
Just because a salesperson eagerly assures you it will work great, the bottom line is "Will it work great for ME on this particular trip?
Repeat after me... "Will it work...."
The advice I give to solo hikers goes for all backpackers:
In picking out the right gear, you can go ultralight, you can go mid-range, or you can carry as much as your back will allow.
It's all up to your your endurance, plus your ability to sniff out bargains, trade with other hikers, read every credible gear review, and learn to make your own supplies (including dehydrated food).
Gear begins with what you put on your feet.
If you're on a budget, spend a lot of time renting or borrowing gear before you commit to a pack, tent, sleeping bag, poles, or other pricey items.
Some gear stores hold annual garage sales - be sure you have a list, and stick to it, or you'll get distracted by all of the so-called "bargains" which might not fit your needs.
For example, REI has a gear garage (clearance section) you should check often for deals.
And once you've got all of your gear, how to pack a backpack becomes important.
Where to backpack
as a beginner

One of my favorite past times is to pour over maps and guidebooks in the long, stormy nights of winter.
I have so many "wanna do" trips in my head that sometimes I can't recall my own phone number. (OK, to be honest, that's just one of the reasons. My age has nothing to do with it!)
So if you're joining the leagues of hardcore hikers who backpack, you probably have a mental list, too.
Best advice if you're a beginner: pick the easiest trip for your first time out.
You want to make your mistakes and maximize your trail time in a relatively safe and easy environment.
A bad first experience can ruin you for life.

You want to keep collecting backpacking tips, building up a wealth of knowledge so each time out gets better and better!
Save the epic survival struggles for when you are more at ease with your skill set.
Keeping notes during your trips creates a personal archive and serves as a great memory jogger to accompany your photographs.
Try to go with a veteran hiker for your first backpacking trip. Let her suggest a few destinations, and together you can decide what you feel you can handle in terms of length, terrain and climate.
Always have a backup plan for a nearby destination, in case Mother Nature throws a tantrum.
And be sure to obtain the necessary permits and passes so you don't return to the trailhead to face an expensive ticket - or the ugly reality of a towed car.

Backpacking trip
itinerary 
I am also a great believer in planning your route on paper, with contingency plans and options in case you need to make weather or health based decisions on the trip.
You'll be doing this for yourself, but also making detailed notes for whoever is back home keeping track of your departure and return dates.

Create a spreadsheet, and begin with Day One.

Start with a link or directions to the trailhead. They may be obvious to you, but you won't be looking for your car, someone else will be.

Record your license plate number, make and model of car.

Note your first day mileage, stopping point, and any trail issues that could affect them: re-routes, recent weather events creating blowdowns or rock slides, etc.

Detail your "Plan B" option, clearly labeling it as "just in case".
Keep going!
You're not done yet!
Day by day, where do you expect to be and what are your backup plans for campsites and water sources?
Critical backpacking tips:
Be sure to check in as soon as possible with whoever is holding your itinerary back home when your trip is finished.




Don't make them sweat bullets wondering if you're off the trail yet.

And don't make someone come looking for you when you're sitting at a restaurant gorging on pizza!
Backpacking food
ideas

Speaking of pizza...
You'll be heavily invested in your backpacking food after walking all day with a load on your back.
Many backpackers become mentally preoccupied on the trail by what they're going to eat when they stop, and it gets worse as the days go by.
In fact, I've known people who hike by their watches: time for a snack, time for lunch (or second lunch).
I'm more of the mindset that my body will let me know naturally when it's time to stop as my hunger level rises: my energy fades, my abdomen growls.

You could aim for the middle ground:
Keep some high energy snacks in your pocket and "graze" your way down the trail whenever a hunger pang strikes.
How complicated is it?

simple and hearty (if you'd rather be hiking or relaxing),




complex and gourmet (if your taste buds demand attention),



convenient (if you purchase dehydrated or freeze dried packaged meals)

inexpensive (if you scour the bulk bins or dehydrate your own food),


or a complete disaster (think "sawdust" with a nice chemical after taste).
Tip: If you purchase dehydrated or freeze dried food, eat the stuff at least once before you leave home.
Sure it costs money every time you open that foil pouch, but taste testing it at home can save you from misery or illness on the trail.

At the very least, talk to other backpackers about the brands, entrees, and special tricks they use on the trail.

Here's a guy, "

Chef Glenn

", who dishes out great backpacking food advice.
If you plan on bringing your own recipes and dehydrated ingredients, same advice!!
If you need some advice on calculating the amount of calories you'll need on your backpacking trip, I've got you covered right here.
Putting together your backpacking kitchen essentials also deserves some attention, but these tips will help.
Clean water
while backpacking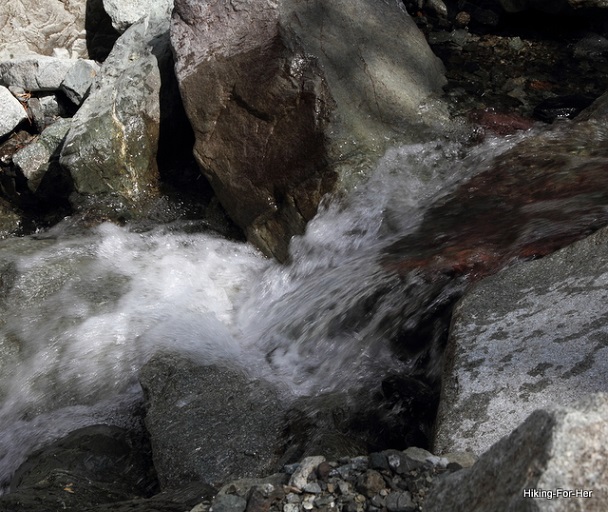 Sure looks clean to me! But is it?
As a hiker, you already realize the importance of staying hydrated.
When you're out for multiple days, you don't have the luxury of accessing safe potable water from a sink.
So devoting some planning time to locating reliable water sources along your route just makes sense:

You've identified water sources (springs, creeks, rivers, lakes) on your

topographical maps

long before you step foot on the trail, right?

You've factored in seasonal fluctuations, recent weird weather patterns (prolonged drought or monster flooding), and distances between water sources.
You've decided on a

backpacking water purification method.

You're confident about using your purification methods, and have a back up plan just in case.




You know that you can go without food for a few days, but not water.



Great! You're all set.
Now it's time to think about keeping warm and dry in all kinds of weather.

Backpacking
shelter choices

The ultralight crowd likes to go with just the bare minimum in terms of shelter: a tarp or a hammock strung between trees.
Others (myself included) like to have a solid roof over their heads in case of bad weather.
And having a floor under your sleeping bag can buy you comfort in bad weather, not to mention keep insects, reptiles and rodents away from you as you sleep.
One of your biggest investments as a backpacker is your shelter.
I'm not just talking about money investment.
You'll be using this shelter time and time again (I hope!) and will regard it as home sweet home in the wilderness.
That's why we're taking the time to stack the odds of a great trip in your favor.
Narrow your interest down by asking yourself what you need in a tent:
3 season or 4?




1 person or 2?




Room enough for a dog and your gear, or just your sleeping bag?

Head room so you can sit up comfortably?

Extra leg room?

One door or two?
Lots of questions need to be answered through your research.
Go through product guides, gear ratings, manufacturer literature, online forums, and other resources with several tents in mind.
You might be able to rent or borrow a few of your final choices before you purchase it - that's a luxury you should definitely take advantage of.
Test the tent's features under all kinds of conditions.

When you've made your final final decision, not only will you be sure that you love it, but also that you can set it up
by yourself,




in the dark,

with a 15 m.p.h. wind blowing,




stomach growling after 8 hours on the trail,

and wet to the bone.
No, really!!
If you backpack long enough, this scenario will come your way. But you can survive (even enjoy) it, because you took the scouting motto "Be Prepared", and these backpacking tips, very seriously.

And when the skies are clear and the night is balmy?

Be bear aware

Bears live in the beautiful places you want to visit.
So you need to understand how to respect their territory while keeping yourself safe.

Read these tips to be as prepared as possible:
  Best backpacking tips:
more resources for you

It's my hope that these backpacking tips have opened your eyes to the planning and forethought you'll need as a successful backpacker.
If you need more resources to plan your first-ever backpacking trip, drop me a line and specify what you're interested in hearing more about.
Or maybe you need to kick around the idea of a new piece of gear, and would like some recommendations.

To be sure you're making good gear decisions, we can arrange a personalized phone call to chat about hiking gear .
Either way, be sure to mention in your email where in the world & which season you'll be hiking in, so I can tailor my backpacking tips to your situation.
And if you'd like a hiking coach or mentor to get you started on successful backpacking, read this!

Best Backpacking Tips
Hiking For Her: Hiking tips you can trust!