Enjoy Happy Trails, the free monthly newsletter from Hiking For Her.

Receive a free resource: Hiking Layering System Explained
Camping Tent Rental:
Why It Makes Good Sense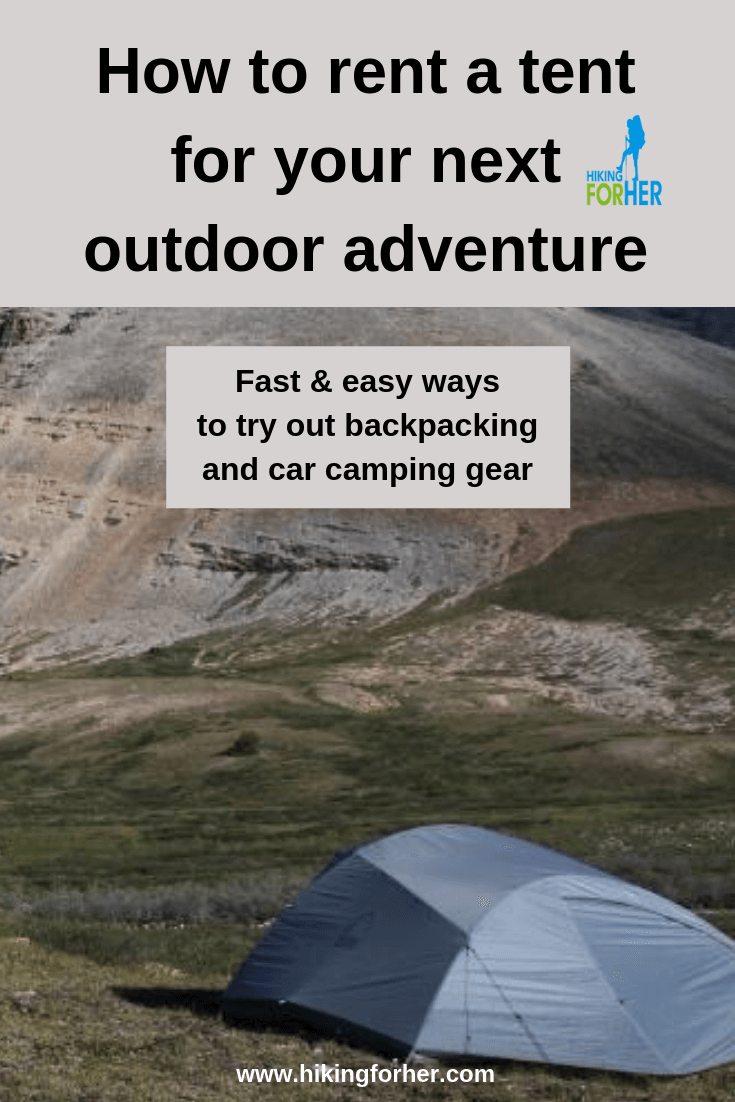 Looking for the best camping tent rental tips?
Yeah, I get it.
This whole hiking and camping thing might not be for you.
And the idea of a tent might be new to you - lots of questions floating around in your head.
What do you look for? 

How much should you pay?
So it makes good sense to rent what you need as shelter for your first few camping expeditions.
While hikers don't always camp (day hikers, lookin' at you), camping is compatible with hiking in the form of backpacking or using a campground as base camp for serial day hikes.
If you need to sort out the difference between hiking gear and camping equipment, read this first.
In a hurry?
In a hurry to rent a tent plus a whole lot more outdoor equipment beyond a tent?
Here's the place to start, Coozie Outdoors Arrive (recent name change):
Access Premium Brands for Camping & Backpacking Rental
Otherwise, stick with this page to give you the scoop on the best approach to camping tent rentals.


Here's the deal...

You've decided to do some camping.
That means you need shelter for cozy sleeping arrangements.
Which leads to the universe of tents.
But not all tents
are created equal
There are many different types of tents, to fit many types of outdoor adventures.
You might be planning to car camp: drive to a campground and set up the tent (see tips above).

Car camping means you can rent a tent that has a lot of bells and whistles on it, weighs a lot, and is really roomy.

It might even have more than one room! Great if you want to segregate sleeping from lounging, or separate sleeping children from adults.
Or you might want to hit the trail backpacking, but don't have a tent that is compact, lightweight, easy to set up and break down, extremely weatherproof, and roomy enough to accommodate your body and your gear.

Two completely different types of tents, right?

Let's tackle the different types of camping separately, so you can see your camping tent rental options at a glance.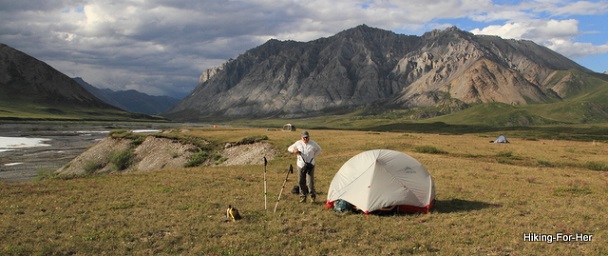 A tent is shelter from the storm but also psychological home base. Make sure it fits your outdoor plans!

What you need to know about

car camping tent rentals
Never rented a tent before?
Before you do, prepare your answers to three questions.
Warm bodies in a tent
How many people will sleep in the tent?
If you have large dogs, they count as people in terms of floor space.
You can rent tents that sleep 1 - 6 people mammals.
However, if you've got a lot of gear, or some of your folks are really tall, you should rent a tent that is officially rated for one more person than will be sleeping in the tent.
Example: If you are a group of 3 adults, rent a 4 person tent to give yourself plenty of floor space for comfortable sleeping.
Your other option?
Rent two tents. After all, it's car camping, not backpacking, so weight shouldn't be an issue.
Tent seasonality
Which season(s) do you plan to go camping?
A lightweight summer tent is the way to go if you're camping under dry skies with warm breezes.
Three season tents have two layers: the tent itself, plus a rain fly. Their floors are more rugged than summer tents, too.
However, a three season tent won't keep you as insulated and dry in early spring or late fall conditions as a tent built to withstand the fourth season: winter.
As you can imagine, the cost of a rental tent goes up in proportion to how many seasons it is built to stand up to and provide shelter for you.
Comfort and head room in a tent
Cramped quarters that force tall and large people to hunch over or hug in elbows all the time will ruin the camping experience.
If you have small children needing lots of diaper changes, or who are restless sleepers, being crammed inside a low ceiling small tent in the rain will diminish the fun factor.
Bottom line: pay attention to the dimensions of the tent, especially the head room.
Now it's your turn:
questions to ask
Questions you should ask the rental company:
1. Does this tent come with its own footprint?
2. Is it free standing?
Do you recommend staking it anyway?
For lots more tent features that you might want to consider, read this.
Figure out which things matter most to your camping enjoyment: space, comfort, protection against weather, ease of set up and tear down, cost, features like two doors.
You can't have it all in one tent, but you can definitely pick your preferred features!
What you need to know:

backpacking tent rentals
When you wander away from civilization, you need to be sure that the tent you rented can keep you warm and dry, safe and happy.
Here is everything you need to know about backpacking tents.
Decide which type of tent you want before you approach a rental place.
Camping tent rentals:
look here

With questions answered, you're finally ready to rent a tent.
And you feel confident that you know exactly which type of tent you need.
But there's one more hurdle:
Should you rent from a local store where you can pick up and return the tent after your camping trip, or use a mail order rental company?
If you want to go local, REI Co-op is a trusted gear store that rents outdoor gear, including tents.

Their rental policy is very straightforward.

Their gear is up to current standards and always in good repair.
You can check this for yourself when you pick it up!
In fact, I recommend that you examine the tent at home before you leave for your camping trip to be sure the zippers are functional, the mesh is unripped, the seams are solid, and the tent stakes are all there.
Even easier: have rental gear
shipped to your location

Having your rental gear shipped to you will add some expense, but it can be very convenient when your time is tight.
Tents don't weigh all that much, so shipping costs based on weight will be reasonable.

Check out this "by mail" camping tent rental company's suggestions for some great car camping tents.
Here's a fantastic option
to ease into the
camping tent rental world

A company called Tentrr has taken an entirely different approach to tempt you into camping.
Picture yourself here:

Yes, that's a campsite, but it's your own private campsite.
As in, skip all the nonsense that can occur in a public campground: noise, garbage, crappy campsite, barking dogs...
Thanks to Tentrr, you'll enjoy a tent already set up for you, and a camp kitchen with table.
In addition, you'll find a fire pit for roasting marshmallows, and some comfy chairs.
And here's the clincher: a camp toilet, so you don't have to figure out that whole "pee in the woods" thing.
Sounds good, doesn't it!
Do you have a reluctant
or first time camper in your group?
Ease them into the joys of a campfire, starry night skies and waking up to a dewy summer morning by letting Tentrr do all the work.
All you have to do is choose your destination (United States only), then choose among your options for camping sites on private land, and you're on your way to a great outdoor vacation.

No fuss, no checklists or crammed-with-gear car, no expenses for gear that you might not like to use again.
More details here:


Bottom line
on camping tent rentals

If you've read this far, you know that a great tent rental doesn't just fall from the sky.
Do your homework before you go looking for a camping tent to rent.
A small investment of time will save you time when it's time to sign the rental agreement, and probably money because you'll end up renting only what you need.
And it will definitely give you more comfort and enjoyment during your camping trip!
Intrigued with all of the ins and outs of tents?
Aha!
You've got a case of camping fever!
Welcome to the wonderful universe of hiking outdoor gear :)
Read more about camping hiking gear here!
Home page > Best Hiking Gear >
Camping Tent Rentals
Hiking For Her is an affiliate for great outdoor gear and camping tent rental companies which carry gear I know to be solid.
That means it costs you nothing extra when you use the links to purchase or rent your gear, but HFH receives a small percentage for recommending only the best of what works for outdoor adventures.

It's the way all of these hiking tips remain freely available to all.