Have the freshest free hiking tips sent to you each month!

Best Camping
Tent Rental Tips

by Diane Spicer

Looking for the best camping tent rental tips?
Yeah, I get it. This whole hiking and camping thing might not be for you.
So it makes good sense to rent what you need for your first few camping expeditions.
Hikers don't always camp, but camping is compatible with hiking in the form of backpacking or using a campground as base camp.
If you need to sort out the difference between hiking gear and camping equipment, read this first.
Otherwise, stick with this page to give you the scoop on camping tent rentals.
Here's the deal...

You've decided to do some camping.
That means you need a tent.
But not all tents are created equal.
You might be planning to car camp: drive to a campground and set up the tent (see tips above).
Car camping means you can rent a tent that has a lot of bells and whistles on it, weighs a lot, and is really roomy.

It might even have more than one room! Great if you want to segregate sleeping from lounging, or separate sleeping children from adults.
Or you might want to hit the trail, but don't have a tent that is compact, lightweight, easy to set up and break down, extremely weatherproof, and yet able to accommodate your body and your gear.

Two completely different types of tents, right?

So let's tackle the different types of camping separately, so you can see your camping tent rental options at a glance.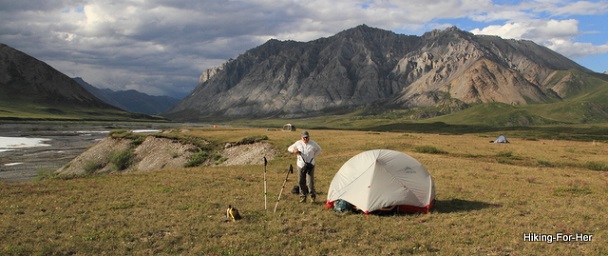 What you need to know about
car camping tent rentals

If you've never rented a tent before, be prepared to answer these questions:
1. How many people will sleep in the tent? (If you have large dogs, they count as people in terms of floor space.)
2. What season do you plan to go camping?
Three season tents won't keep you as insulated and dry in early spring or late fall conditions as tents that are built to withstand the fourth season: winter.

Rain weighs less than snow, so the tent design differs between three- and four-season tents in very important ways: weight bearing -vs- directing moisture away from the tent.



3. Do you need a tent with lots of head room to accommodate tall people?
Now it's your turn:
questions to ask
Questions you should ask the rental company:
1. Does this tent come with its own footprint? This gives you insulation and protection from cold wet ground.
2. Is it free standing? Do you recommend staking it anyway? This gives you a hint of how easy it will be to set up, and how much wind it's built to stand up to.

For lots more tent features that you might want to consider, read this.
Figure out which things matter most to your camping enjoyment: space, comfort, protection against weather, ease of set up and tear down.
You can't have it all in one tent, but you can definitely pick your preferred features!
What you need to know:
backpacking tent rentals

When you wander away from civilization, you need to be sure that the tent you rented can keep you warm and dry, safe and happy.
Here is everything you need to know about backpacking tents.
Decide which type of tent you want before you approach a rental place.
Camping tent rentals:
look here

Now you're ready to rent a tent.
And you feel confident that you know exactly which type of tent you need.
But there's one more hurdle:
Should you rent from a local store where you can pick up and return the tent after your camping trip, or use a mail order rental company?
If you want to go local, REI is a trusted gear store that rents outdoor gear, including tents.

They have

lots of urban locations

in the United States. Give them a call to see if they have what you need to rent.




Their rental policy is very straightforward.



Their gear is up to current standards and always in good repair. You can check this for yourself when you pick it up!

Or have rental gear shipped
to your location

Having your rental gear shipped to you will add some expense, but it can be very convenient, too. 
Tents don't weigh all that much, so shipping costs based on weight will be reasonable.

Check out this "by mail" camping tent rental company's suggestions for some great car camping tents.
Bottom line
on rental tents

Do your homework before you go looking for a camping tent to rent.
A small investment of time will save you time when it's time to sign the rental agreement, and probably money because you'll end up renting only what you need.
And it will definitely give you more comfort and enjoyment during your camping trip!
Intrigued with all of the ins and outs of tents?
Aha!
You've got a case of camping fever! Welcome to the wonderful world of hiking outdoor gear :)
Read more about camping hiking gear here!
Home page > Best Hiking Gear >
Camping Tent Rentals
Didn't find what you were looking for? Use the blue TOP button
on the right to jet back up to the search box.
Why wait a whole month?
Plus, there's never enough room in the newsletter to share it all, so why miss out on exclusive Hiking For Her giveaways, limited time gear deals and discounts, freebies, updates, and more?

A short, info packed weekly email update will keep you current on all things hiking!
When you sign up to receive this update, you are agreeing to Hiking For Her's privacy policy.

Don't miss out!

Read more about these hiking weekly updates
HFH Policies


Save Time & Money


Hiking For Her's weekly emails keep you current on hiking & backpacking news:


flash giveaways
timely deals
steep discounts
freebies
trail changes


resources

Free, fast, fun info for you, every week of the year