Enjoy Happy Trails, the free monthly newsletter from Hiking For Her.

Receive a free resource: Hiking Layering System Explained

The Best Daypack For Hiking:
What You Need
To Know Before You Buy

by Diane Spicer
Looking for the best daypack for your next hike?
Also known as a day pack?

Follow up question:

Yeah, me, too.
So to put the best daypack into your hands, let's make this a straightforward process by using a reliable gear source:
REI Co-op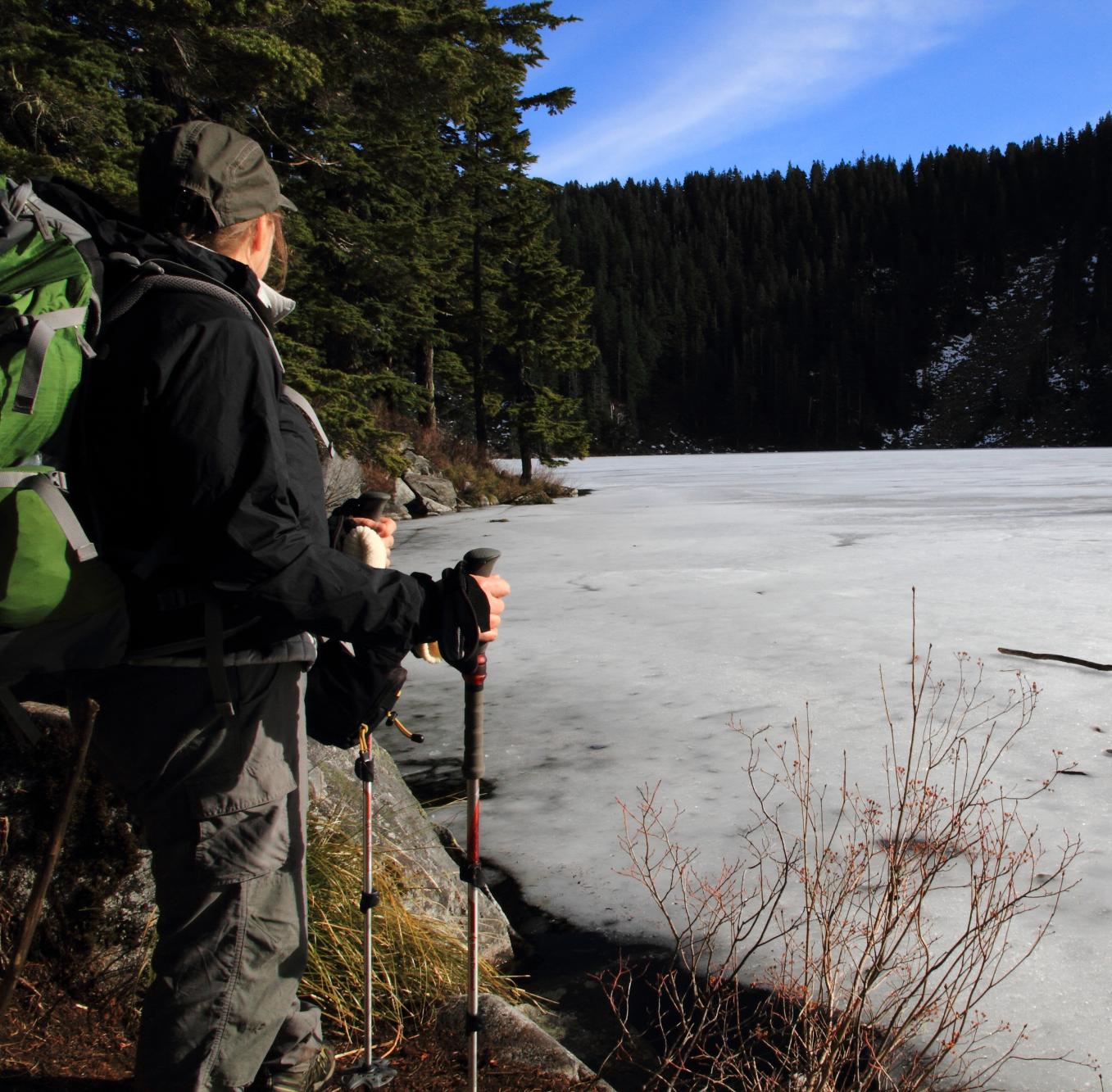 Then it's up to you to put it on your back and get out there!

Disclosure
Hiking For Her has been using REI Co-op gear for day hiking since 1977.
Also, Hiking For Her is proud to be an REI affiliate.
This means you pay nothing extra when you purchase the best daypacks through the links on this website, and Hiking For Her receives a modest percentage of the cost.

Hiking For Her has literally worn out many day packs, so these recommendations for the best packs are built around what really works and lasts on the trail over many seasons.
Let's get to it.

So where do I start?

So what's a hiking day pack?
It's a lightweight backpack to use for day hikes, with a smaller volume than a backpacking pack.

Every hiker has a different set of "must haves" for her best day pack.
Here's a list to get you started:

Size

Fit

Customization


Price

Features
Which one of these is your top priority?
Your second?
Keep prioritizing to create a shopping list to work from.

And since you're here, let's imagine that we're shopping together.
The best daypack
is
the right size

for you


Size can mean fit, which is covered next.


But for hikers, size really means volume -  like a Big Gulp compared to a sippy cup.
Except it's reported in liters, even for Americans.

This leads into an important question:
How much stuff do you want to carry on your hike?

Beginner hikers
If you're just starting out as a hiker, and plan to stick to short well maintained trails, you need a minimalist backpack:
The best daypack for you may be the Gregory Maya 16 Pack. Click on the photo for details and user reviews.

Ten essentials plus
Once you begin to tackle longer trails with varying terrain, you'll start carrying safety and comfort items.
That means a slightly larger volume is necessary.

To hold the ten essentials (recommended for any hike exceeding a few miles) and not much more, you need something like the Gregory pack mentioned above, but in a larger 28L size.
Tip: This backpack has adjustable torso length, hipbelt pockets and a rain cover, really nice features in a small-ish day pack.

Are you of the


Be Prepared

mindset?
Good!
Every serious hiker should be.

You're going to need extra room in your backpack for these:
You might also be a photographer, geologist, botanist - someone who wants to bring along specialized equipment on a day hike.

Your ideal volume range will be around 30 liters, no more than 50L tops. Keep reading for some recommendations.

Now let's transition into how to pick a backpack with the proper fit.

Best daypack

fit considerations
The glory of being a female hiker is that it truly doesn't matter what size and shape you are.
Eternal female hiking truths:

Except, not quite.
Females have unique chest dimensions, which can vary quite a bit over the years.
Ditto for waist and hip dimensions.
(See Adjustable Packs discussion below for more details.)

So while all worthy women's backpacks have contoured shoulder straps, a shoulder harness, a variety of compartments, and hip belts, you have to do some detective work to find the combo that suits your female body's unique dimensions best.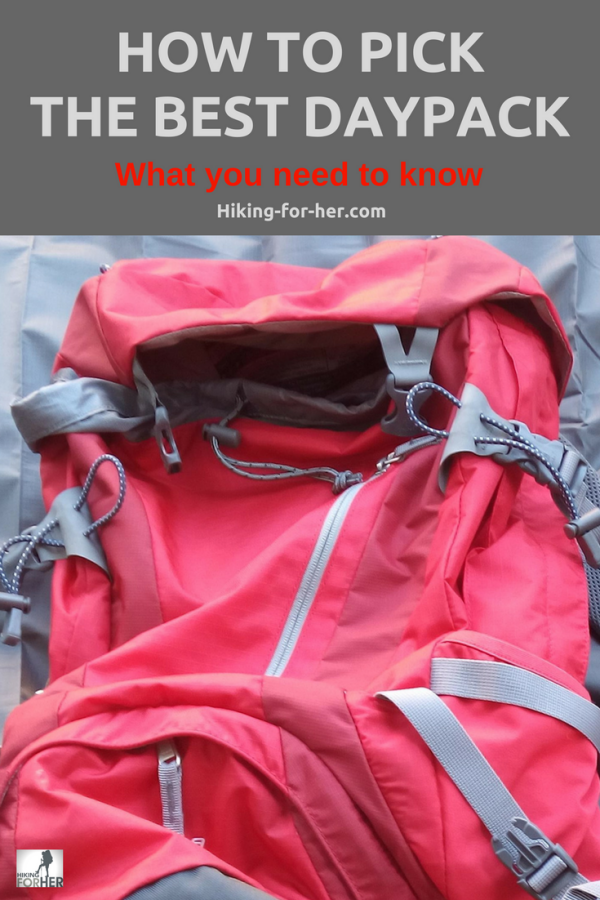 Let's lay out some options for you.
Best day pack for petite hikers

You need a pack with a shorter torso length.

This REI Flash 45L backpack starts at 16 inches, a good choice for small women who want a roomy, well fitted pack with plenty of space.

Best day pack for tall hikers

You have the reverse problem from petite hikers, and there are only certain packs which will fit your longer torso.
So be sure to zoom in on the correct backpacks before you go shopping, to avoid wasting time or being disappointed with fit.
For step by step instruction for finding your torso length (and other fit recommendations), use these REI tips.
Adjustable

daypacks


Every day pack has straps and buckles for creating a customized fit.

But sometimes, those are not enough when your weight and dimensions fluctuate due to pregnancy or a fitness regime.


You need to find the packs which give you a wider range of options for dialling in that perfect fit before you hit the trail.
Take a look at these packs

This Osprey backpack comes in two sizes, with a woman's contoured fit.
XS/S dimensions: 15 - 18" torso, 26 - 47" hips

S/M dimensions: 17 - 20" torso, 27 - 49" hips

And it doesn't hurt to mention its 2.5L hydration reservoir, in case that's important to you.

Not interested in using a water bladder?
Then this Osprey TEmpest 20L is a small backpack which offers the same sizing options as the Skimmer, but with room for your water bottles.
Looking for L/XL sizing in a small day pack?
Patagonia Nine Trails 26L Pack with a breathable back panel that can get you out on the trail.

Versatile torso & hip dimensions

If you're fitting a growing girl, or want to share your pack with someone else who is taller or shorter, an adjustable torso backpack is the way to go.
The Osprey Mira 32L backpack offers a 14 - 19 inch torso range.

The perfect

price
No doubt about it, hikers are great shoppers.
We don't want to pay too much, but we also know that underbuying a pivotal piece of gear like a daypack can come back to bite haunt us.
For this reason, we'll skip cheap, flimsy daypacks and go to the ones that deserve your attention.

This Refugio 25L day pack has a small price point, around $90 U.S.

The fact that it's a Patagonia pack is a good sign - they've been making quality gear for a long time now.
Another good sign: water repellent finish on the nylon fabric.
A few extras with this modestly priced pack:
removable sternum strap for when your load is super light

shoulder straps tapered to the female form

lots of compartment and pocket combinations for your water, ten essentials, or daily commute items
Note: This pack won't support a lot of weight on your back, due to its lack of a hip belt, but it's enough to get you started on day hikes.
Now let's consider a large pack.
Mid price range, higher volume daypacks

REI's Trail 25L pack comes in under $100 U.S., and delivers some nice features for that price.
Heads up: If you're looking for a hydration reservoir compatible pack, this won't suit you.
However, if you'd like a rain cover, several size options, and a low weight yet higher volume day pack, here it is:


Top end price range daypacks

Many of the day packs from Deuter and Osprey mentioned above are at the higher end of the price spectrum: $125+ U.S.
So what do you get for that extra cash?
Keep reading for the comfort features you're paying for - and enjoying - on the trail.
The best daypack:

additional comfort features
You'll need to prioritize what's most important for your comfort on the trail during day trips.
Higher end daypacks differ in the:
amount of padding

access points: top loading, front zippered pockets, etc.



ventilated back panel


number and type of pockets

options for attaching gear

inclusion of rain cover

hydration pack for water bladder storage


water resistance

specific trekking pole attachment points

But which features make the best daypack for you?

Get picky

As you can see from the list, the type of day hiking you do matters quite a lot when picking out a pack.

If you hike in high summer with practically zero chance of rain, why pay for a rain cover?
If you hike in cloudy, cool conditions, ventilation might not be a huge deal to you.
No need to carry an ice axe or poles? Then a myriad of attachment points on your pack are useless to you.

Clearly, you're going to need a shopping strategy.

Recommended strategy
to choose a day pack

It's easy to compare and prioritize daypacks on the REI website.
Just select what's most important to you before you start looking at packs, and before you know it, you'll arrive at the best daypack for you.
True story from a seasoned hiker: You'll save yourself a lot of frustration by being strategic.

Now try this

To find the best daypack on the planet for you:

Make a list of the features you absolutely must have (go back through the list above and take notes).
Go to REI's easy to navigate website filled with hiking and camping gear, and drill down to the volume of pack you want.
Select the features that really matter to you: torso length, volume, easy access to gear, etcetera.

Utilize their "compare packs" feature to narrow your search even further.
Before you know it, you'll have several reasonable choices.
Hiking For Her's
very best day pack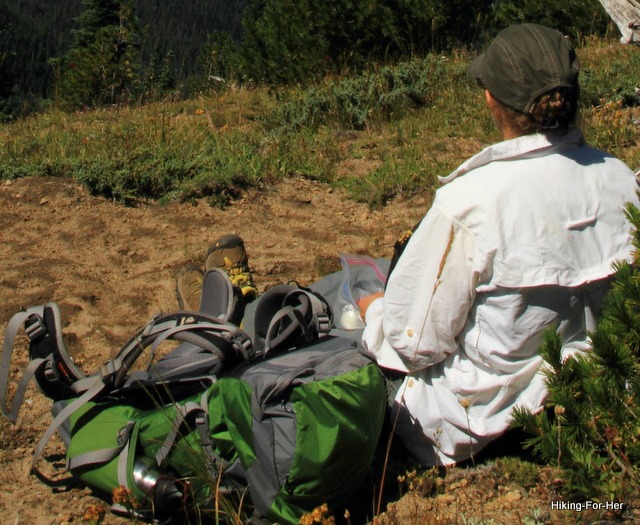 Sitting in the dirt on a day hike with my very best trail friend: my pack
Here's the daypack I reach for hike after hike:
I love how it checks pretty much all of the comfort boxes above, and how it stands up to rock abrasion, trail mud, and indelicate tosses into the back of the jeep at day's end.
The hip belt hugs me like none other, and I find it easy to get into and back out quickly, even in the rain.
The mesh back panel directs heat away from the core.

Note: This day pack fits torsos 14 - 18 inches, which works for me because I'm 5'3".
Might not work for you if your torso is longer, so be sure to check out the adjustable packs noted above.

But really... it's a great little pack to consider!


The best daypack
is the one you reach for,
again and again

Heed this humble advice:
If a pack doesn't fit, don't wear it.
You're going for the BEST daypack, right?
More tips and tricks for finding it are here.
Shopping at REI Co-op makes your quest easier: great customer service and generous return policies.

And fair warning:
Day hikes just won't be enough after a few seasons.
Be proactive.

Prepare for your ideal backpacking pack quest now. (coming soon)
Before you go, why not enjoy more tips on how to pick the best daypacks for women!

Home page > Best Hiking Gear >
Your Best Daypack
Hiking For Her: Hiking tips you can trust!