Enjoy Happy Trails, the free monthly newsletter from Hiking For Her.

Receive a free resource: Hiking Layering System Explained
Womens Narrow Hiking Boots:
Do They Exist?

How to find narrow hiking boots that not only keep your foot in place but also last more than one season is a frustrating quest.
Hiking boot companies don't seem to pay much attention to women hikers with feet that fall outside the norms, which includes those of us with wide feet, narrow feet, high or low arches, or any unique combination.

If you've been hiking for awhile, you know who you are.

If you're just starting out, prepare for trying on a lot of different boots.
It may seem like womens narrow hiking boots are an illusion, but these tips for finding the best hiking boots for narrow feet can save you some time and money.
Finding narrow hiking boots:
your options

You've got some options for finding your perfect pair of narrow hiking boots, so you'll have to decide where to start in your quest for comfortable feet.
Option A
You can work within the confines of available sizes and styles from reputable hiking boot manufacturers.
Sub-options:
Option B
Invest money into a custom fitted pair of hiking boots.
This will get you as close to an ideal fit as possible, but will divert money away from other hiking gear.
Option C
Go with Option A but add some tweaks:
Keep at it until you get as close to hiking boot nirvana as possible.
Option D
Forsake hiking boots altogether for some hiking shoes that keep your narrow feet firmly in place.
A closer look at
your narrow trail footwear
options
Let's take a closer look at your narrow feet hiking options, shall we?
And as we do, remember that your arch (or lack thereof, known as flat feet), play into getting a great fit just as much as your narrowness does.

Everyone has unique feet, and your goal is to find the pair that fit you and your hiking plans.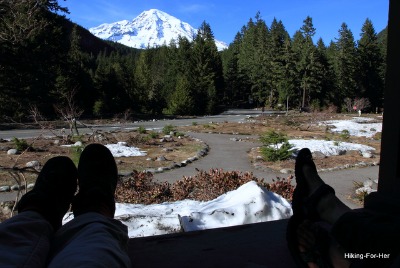 Hiking feet sometimes need a break,right?

Hiking boots for narrow feet:
what's available
on the market?

There are hiking boot companies that are known for their desire to provide a range of sizes for hikers, including narrow (and wide, but that's a different story) widths and half-sizes.
Let's name some names:
Because trends can change quickly in the market driven hiking gear manufacturing world, other brands may pop up on the narrow feet hiking boot radar and then disappear.
What this means for you, my narrow footed (low volume) friend, is that you should start with these three tried-and-true companies as you look for the best hiking boots.
Because we live in the age of on line searching, use search terms that describe your foot.
For example, if you know you have a low arch and very narrow feet, use this search string:
Not exactly sure how to
describe your narrow feet?

Get your feet measured accurately with what's called a Brannock device.

You'll know if you have, because the device is a metal "plate" that you stand on, with tabs that slide to measure the length and width of your foot.
Another boot tip

If you're searching those companies mentioned above online, look for detailed instructions on how to get the best fit for your particular foot dimensions.
Take a good look at their return policy. You want to try out the boots, and be able to exchange or return them if they don't work out.

Also pay attention to any feedback given by customers, which can steer you toward, or away from, particular styles.
For more boot buying advice, try my tips.
Narrow hiking boots:
custom fitted

There are hiking gear companies that would love nothing better than to make you a pair of dream boots, exactly tailored to your feet.
This is a lifesaver if your feet are two different sizes, or wildly different in volume.

And if you're not having any luck with finding a pair of hiking boots that stand up to your particular style of hiking, don't give up a sport you love without considering custom boots.
Again, using search terms including "custom" or "made to measure" will quickly bring you to the online companies that can help you.
You want a company that has been in business for double digit years.

And you want detailed instructions on how to measure your foot to create unique lasts, which are foot forms for you alone.

If you can travel to the store for an in person fitting sessions, so much the better.

Custom tweaks for
womens narrow hiking boots

If you've found a pair of boots that are close, in fact closer than you've ever come to the right fit, but you're still having issues with too much room, sliding heels, blisters or bumped toes, it's time to take things into your own hands.
The boots give you protection from the elements, a lacing system, and arch support.
Now you have to give them customized cushioning, a tighter grip on your narrow heels, and other custom tweaks.
Your goal: To fill up the boot so your foot doesn't slide around.

Some ideas:
Try different lacing techniques. You might need longer laces than the ones provided with the boots.

Play around with sock combinations. And once your boots have some miles on them, your sock combo might need to change as the boots begin to fit differently.

Use a pair of stock (ready to buy) inserts like these.
Put together a cushioning device that fits between the boot's tongue and your feet. Use a chunk of foam or wool encased in non-slip but breathable fabric.

Also try to fit your low budget cushion between the tongue and the laces before you give up. It might be exactly the boot hack that you need!

Jump on blisters as soon as they begin to form. Then realize that one particular area of the boot needs some work!

Bottom line:
Remain vigilant to how your feet feel as you start and end your hike.
You have lots of things you can try, so please don't let discouragement take you off the trail.

Ditch the boots for
some hiking shoes

I know that I speak heresy in the hiking world, but sometimes the best boots for the trail are shoes.
Look at the companies that offer narrow hiking boots to see if they have hiking shoe options for you.
If you're a hard core backpacker looking to do a long trail or wrack up serious daily mileage on a backpacking trip, shoes probably won't do your feet any favors.
But for day hikes and ultralight backpacking treks, maybe narrow hiking shoes will save your feet from major issues.
Get up to speed here.

Narrow feet + narrow hiking boots can be a match
made in heaven

I know how frustrating it is to search, and search some more, for a pair of hiking boots that won't mangle your feet.
And I know that it's going to be a big investment of time (and possibly money) to find ideal hiking boots.
So my wish for you is to this:
May this scientific approach I offer, using elimination and trial & error, bring you hiking trail happiness.
And if it helps at all, your wide footed friends with extremely high arches (that would be me) wish you all the best as you search for the narrow hiking boots of your dreams.
I'll leave you with a few foot care tips that you can apply immediately to your lovely narrow feet!

Home page > Best Hiking Tips >
How To Find Narrow Hiking Boots